Collecting Antique Silver

From claret jugs to tea sets and biscuit barrels, our wonderful range of fine antique silver offers something really special for collectors. Stunning pieces – both large and small – from the simple to the highly ornate. Collecting antique silver allows you to build an exquisite collection of special objects which are also a solid investment.
Antique silver is usually either made of sterling silver – an alloy of 92.5% pure silver and 7.5% copper, or silver plate – where a base metal, usually copper, is covered with a layer of pure or sterling silver.
Timeless and beautiful, antique silver pieces never go out of fashion. They remain popular and highly sought after even when other collectible items – such as furniture and textiles – may rise and fall in popularity.
Here at Regent Antiques, we take pride in our superb selection of fine antique silver, and we are always on the lookout for very fine pieces to offer to our clients.
One very fine example, is this rare and complete sterling silver condiment cruet set, bearing the full hallmarks for London 1800 and the maker's mark of the renowned silversmith, Paul Storr.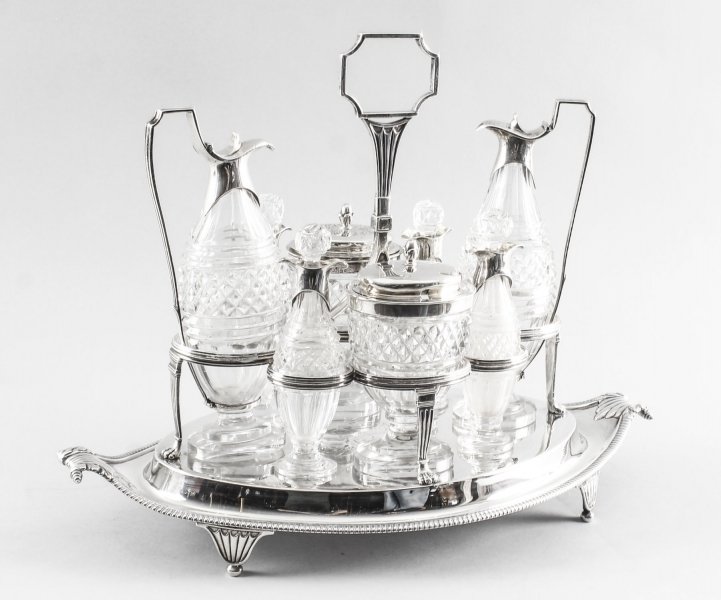 Born in London in 1771, Paul Storr was to become one of the most talented silversmiths of the nineteenth century. Today his legacy of exceptionally well-crafted silver, found worldwide in museums and private collections, leaves one in awe when comparing him to contemporaries.
This striking condiment cruet set features eight exquisite cut glass bottles for oil, vinegar, salt, pepper, mustard, etc. The oil and vinegar bottles have delightful silver handles and mounts. The silver frame bears the coat of arms of the Family of Pedley.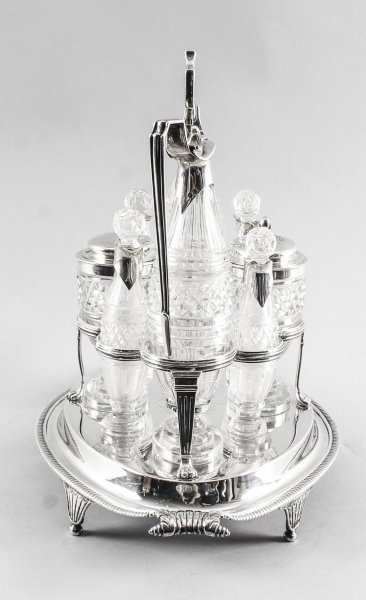 We turn to well known and highly sought after English silversmith Paul de Lamerie. This is an exquisite antique sterling silver gilt chalice cup bearing the hallmarks for London 1745.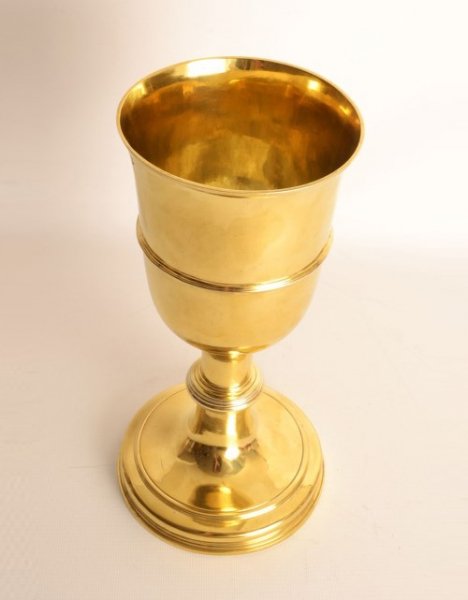 Paul de Lamerie was born in 1688, the son of a French nobleman, a Huguenot who left France to settle in what is now the Netherlands.
Paul de Lamerie's illustrious career as the leading silversmith of the time brought him great wealth He commissioned pieces for royalty and aristocracy across Europe and he eventually owned nearly 50 properties in Soho where he lived and worked. The Victoria and Albert Museum has described Paul de Lamerie as "The greatest silversmith working in England in the 18th century."
His early work was in the simple Queen Anne style producing unornamented tankards and teapots. However, by the 1730s, more elaborate Rococo designs were all the rage and Paul de Lamerie's pieces became increasingly ornate and highly decorated. This fabulous, spectacular and highly sought after silverware is the basis for his lasting reputation and the prime place he holds in the history of English antique silver.
Our chalice cup has a domed foot and the tall stem with plain beaded knop rises to the bowl which is divided by a wide band. The restrained form shown by this wonderful antique silver chalice illustrates that Paul de Lamerie, at the end of his working life, reverted to simple designs, in this case very similar to his earliest chalice for Milton Cleveden.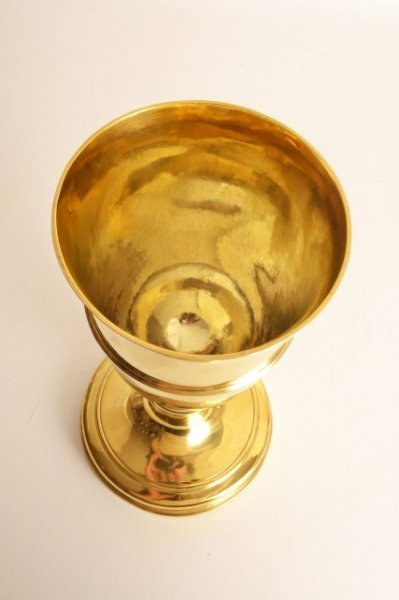 Still, on the theme of very rare antique silver, we have this magnificent Queen Anne silver lidded tankard bearing the hallmarks for London 1703 along with the maker's mark "LE" standing for Timothy Ley.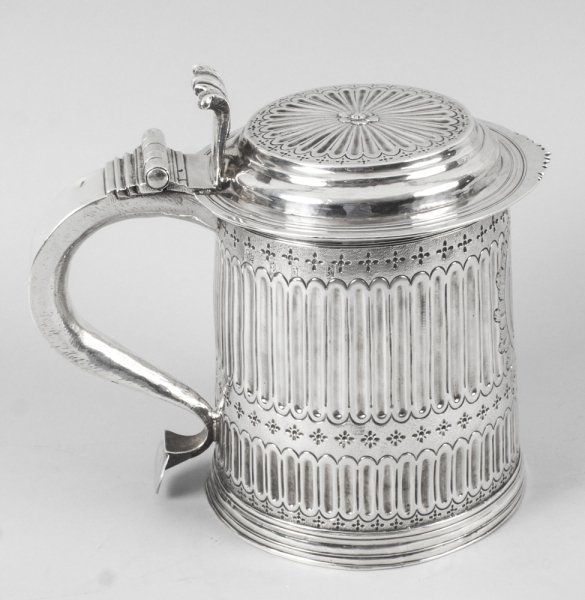 This beautiful tankard has a cylindrical tapering form with moulded foot, with a stepped lid that has a scalloped peak. It also has an S-shaped handle with a cast openwork thumb piece. It has the typical decoration of the period with two embossed bands of reeded decoration around the body, and of excellent colour. The front of the tankard has a beautifully engraved coat of arms of The Marital Arms of Portal and Peachy.  
Despite its age, this tankard is in remarkably good condition and shows no signs of damage or of ever having been repaired.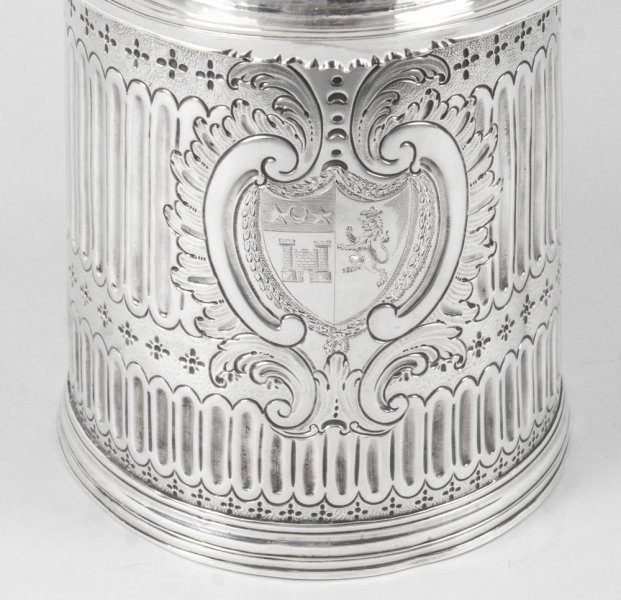 Next, it is very worth mentioning this impressive antique Edwardian sterling silver and cut crystal claret jug, which bears hallmarks for London 1910 as well as the maker's mark for the renowned silversmith and retailer "The Goldsmiths & Silversmiths Company" who operated out of Regent Street in London with a manufacturing base in Sheffield.
It is crafted in a vase-shaped form on a sterling silver mount which is decorated with floral, foliate and scroll embossed decoration within beaded edges. It has an attractive scrolling handle. The faceted cut glass body is raised on a star cut circular foot.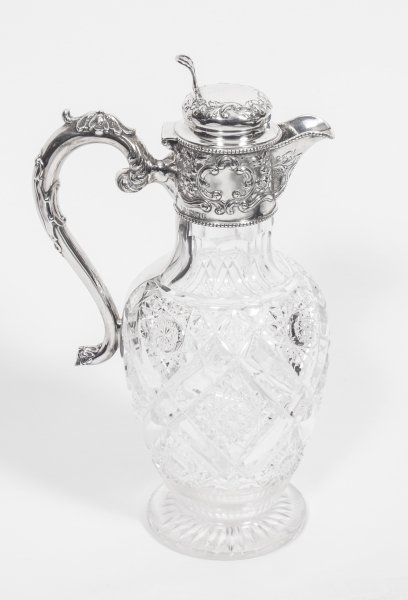 It is hardly surprising that, with such an enviable pedigree, the workmanship on display here is outstanding with the chased decoration being particularly crisp and striking. This is, without doubt, a piece that could equally find a home as a display piece or indeed as a claret jug to be used on special occasions.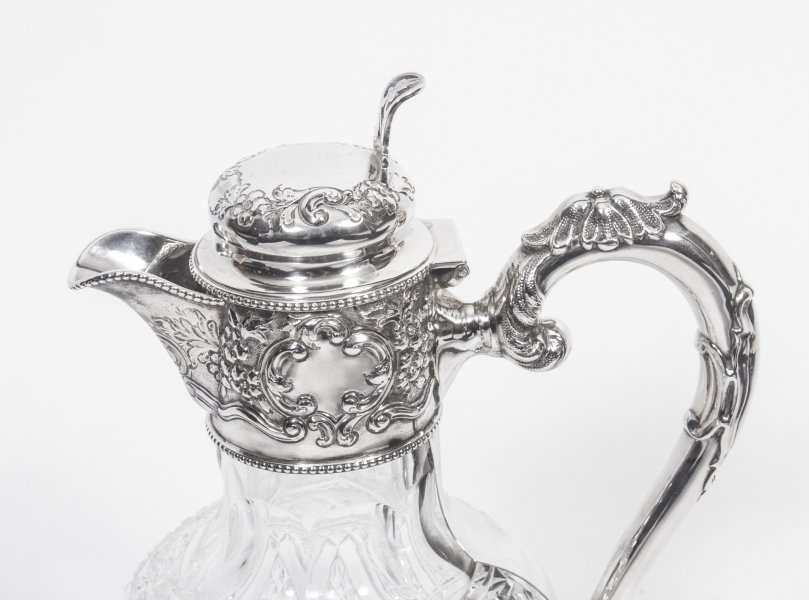 We close this review with a very fine and stylish George IV pair of sterling silver sauce boats, fully hallmarked for London 1830, and bearing the maker's mark of John & Joseph Angell.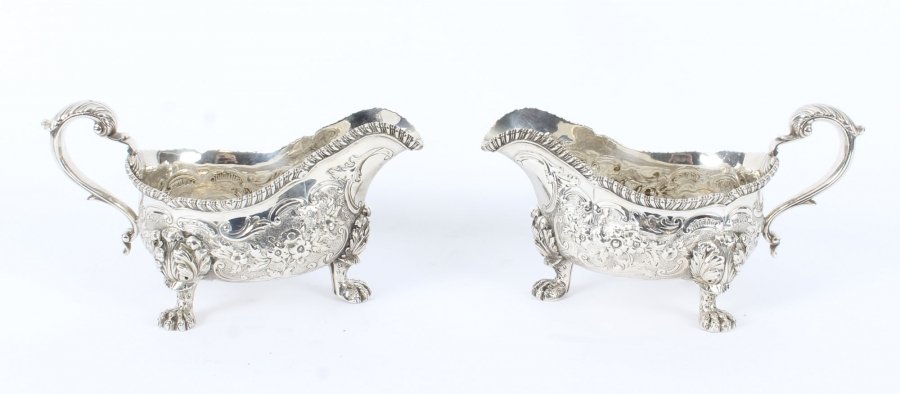 These sauce boats are of oval shape with beautiful gadrooned borders. The body of the sauce boats has lovely chased repousse' leaf, floral and scroll decoration against a textured background. They have a classic handle with chased leaves and stand on three large paw feet. The front of the sauce boats has a cartouche with three charming acorns.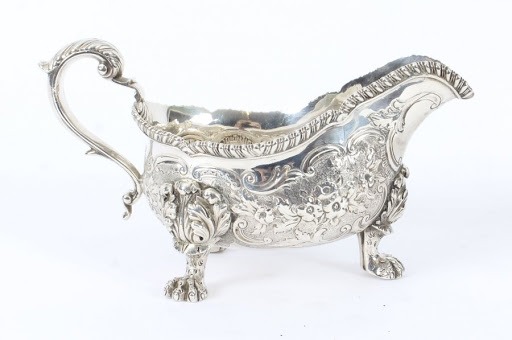 It's an excellent idea to see antique objects in person. Being mindful of this, please try to venture to our North London warehouse to view and examine our broad range of silver articles and other ornamental silver objects that we have in stock.
If you want to speak to an expert about any of our antique silver items, just call +44 20 8809 9605 or email info@regentantiques.com