The Timeless Allure of Antique French Clocks

Many of our customers, past and present, know us for our expertise in fine antiques and we are always on the lookout for new beautiful and desirable objects to bring to their attention. In this article, we look at the popular and attractive antique French clocks and show you a few fine examples of the unique and much sought after items that we are pleased to offer.
Timepieces appeal to collectors, but also to ordinary buyers who want something that is finely made and likely to hold value.
Lovers of antique clocks will want to take the time to look at this superb antique French gilt bronze mantel clock with a profusion of Bleu Celeste porcelain panels in the Sevres manner, circa 1860 in date.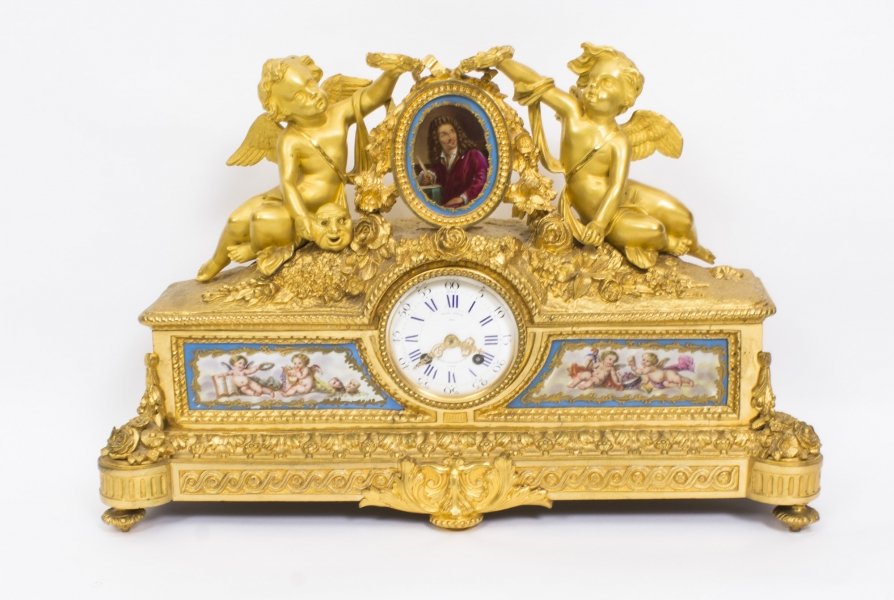 The case is mounted with two lovely cherubs holding wreaths on an oval Bleu Celeste porcelain panel of the playwright Molière. Jean-Baptiste Poquelin, known by his stage name Molière (1622 – 1673), was a French playwright and actor who is considered to be one of the greatest masters of comedy in Western literature.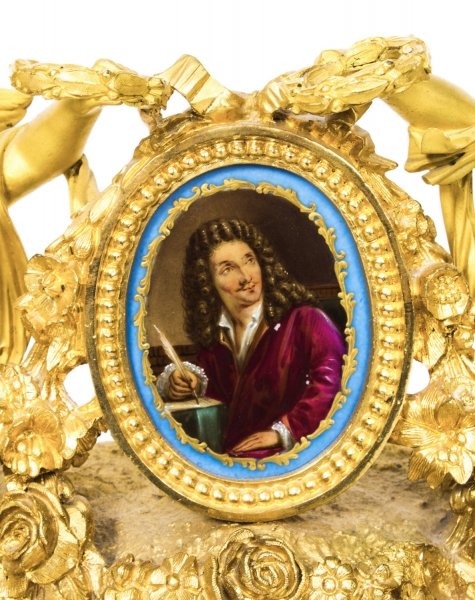 The base of the clock is decorated with flowers, raised on turned feet, and inset with Sevres plaques decorated with cherubs. The circular dial has Roman and Arabic numerals and it is signed on the dial "Prize Medal 1851 Miroy Freres Brevetés Paris".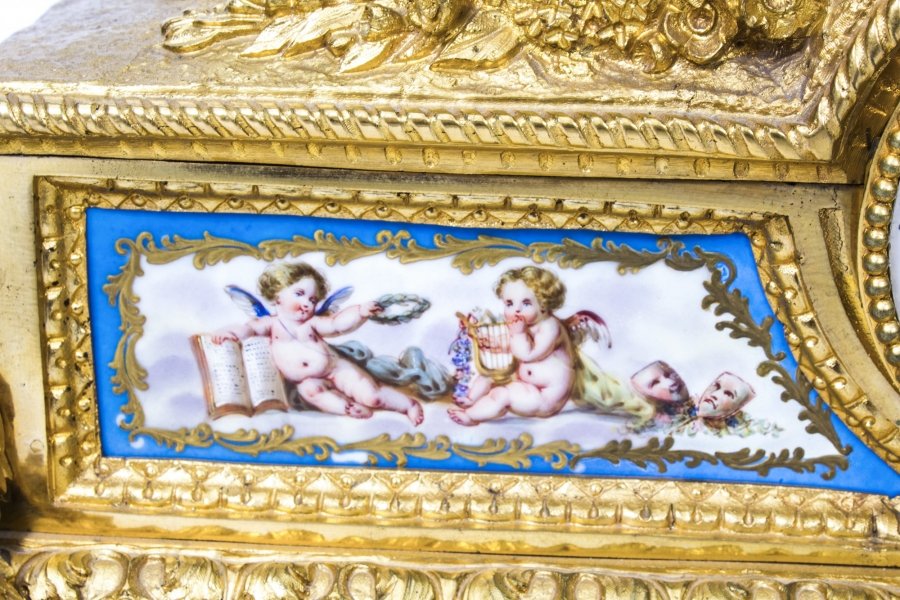 The clock has an 8-day striking movement. It is complete with count wheel strike and bell as well as with its original key bell and pendulum. This incredible clock is a must have for any collector of ornamental and decorative pieces.
Next up, is this fantastic quality French gilt bronze Rococo Revival mantel clock garniture, circa 1890 in date. The elaborately cast rococo case is ornately decorated with swirling acanthus and 'C' scrolls. The bronze patinated top is crowned with a cherub playing the lyre and sitting on a beautiful rococo base.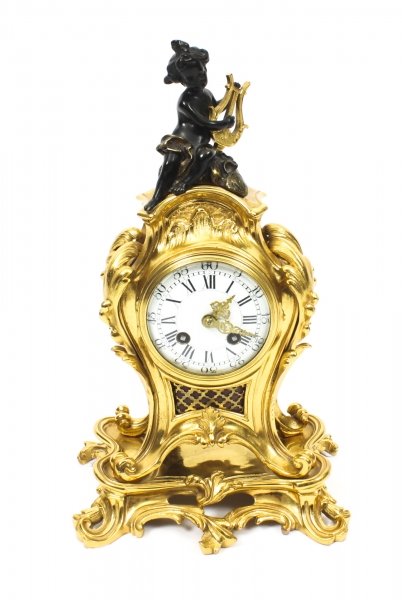 The white enamelled dial has Roman numerals and Arabic minute marks, the twin train movement with outside count wheel and striking on a bell. The movement has the serial number 1645 and the clockmaker's mark of Japy Freres on the backplate.
The clock comes with a fine pair of matching candelabra echoing the swirling acanthus, 'C' scrolls, of the clock and featuring three arms twin-scrolled arms and ornate stiff-leaf sconces.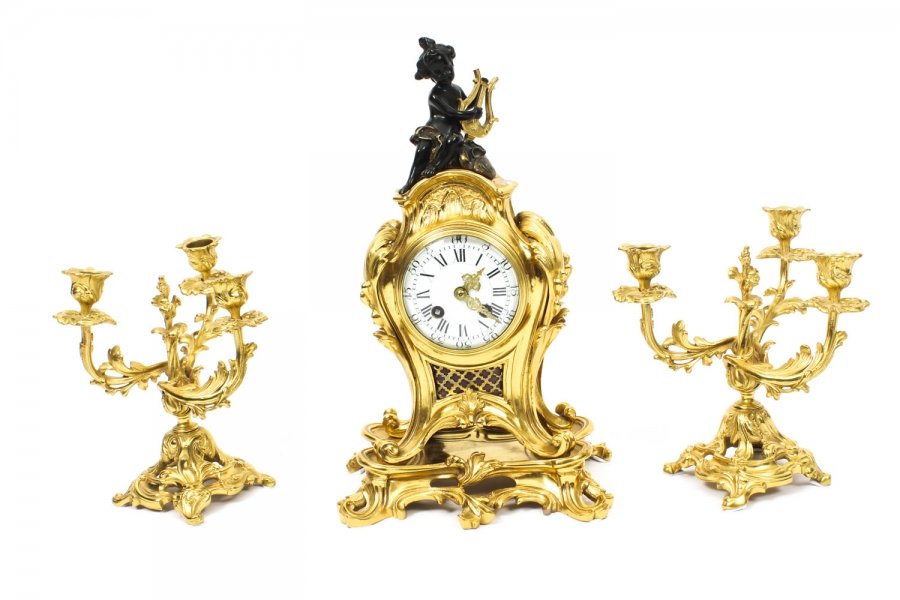 The French movement of this superb clock is of high quality and it is in excellent clean and running condition having been fully overhauled by our clockmaker. It features its original pendulum and runs for eight days. It strikes the hours and half hours.
Our next suggestion is this beautiful antique French Napoleon III ormolu and ebonised, Boulle portico mantel clock, circa 1870 in date.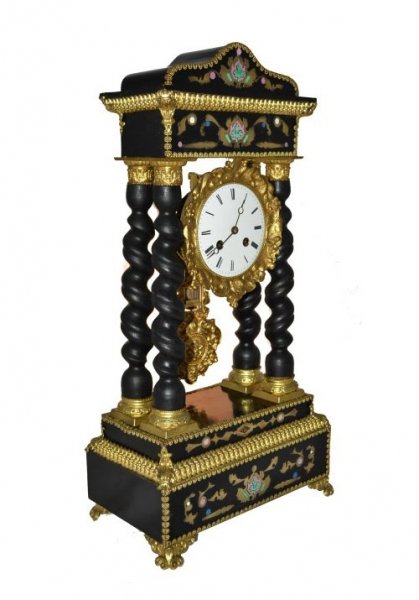 The clock is ornate with fabulous ormolu mounts as well as wonderful Boulle painted and inlaid decoration.
Andre'-Charles Boulle (1642-1732), was the French cabinet maker who is generally considered to be the preeminent artist in the field of marquetry. His fame in marquetry led to his name being given to a fashion of inlaying known as Boulle (or in the 19th Century Britain, Buhl work).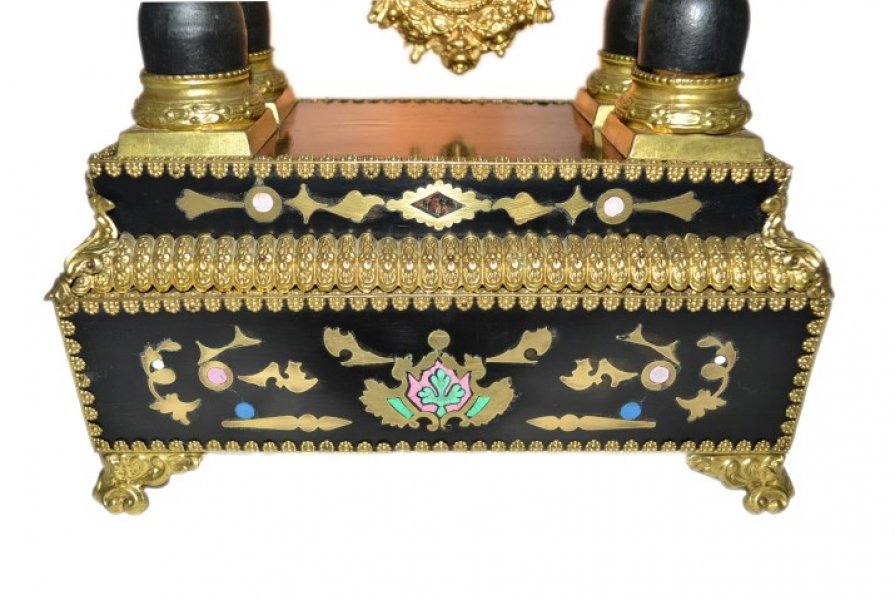 The clock has four ebonised barley twist columns and a large porcelain dial with Roman numerals.
The eight-day clock movement is in good working order and chimes the hours and half hours on a silvered bell. The movement is attributed to Japy Freres, Paris. Serial number: 1153 6*9. There is a brass plaque underneath which reads 'Brevets Paris'.
Complete with its original sunburst pendulum, bell, and key, this elegant clock keeps really good time and it is delightful to look at.
We have many more magnificent antique French clocks for you to enjoy, so visit our showroom if you can or view a selection online.
At Regent Antiques, quality antiques are our speciality, so have a good look around the website and don't hesitate to email or call us if you need any help or expert advice.