Stick to These Wonderful Antique Walking Canes

We often take the humble walking cane for granted – it's just a supportive walking device, after all. So why do antique walking canes deserve any more attention than that?
The answer is that they not only provide mobility aid but, for centuries, have also been highly fashionable and had a wide variety of purposes – and those are good enough reasons to be sought by the collector (the so-called 'rabologist').
The first use of walking sticks was as a defensive weapon. Later they became a symbol of authority and power, carried by royals, tribal chiefs and army officers.
After the 1600s, canes became in vogue for men – and ladies too – to carry as part of their daily attire, and turned into a necessity of the egocentric dandy in the 18th and 19th centuries. They were carried as an ornament and an indication of the owner's wealth and status. These canes could come in a variety of materials. Handles could be in gold, silver, ivory, porcelain, stone, wood or glass.
In Victorian times, canes started to be mass produced and some spectacular and unusual examples were created. These canes could be classified into categories and could have different functions. For example, defensive canes that contained hidden swords or blades; automated canes that had heads that moved at the touch of a secret button; marine canes – made by sailors – frequently using whalebone; and folk art canes, carved and used by shepherds and farmers. There were also canes that could turn into umbrellas or even musical instruments. Whoever you were, there was a cane for you.
This makes collecting antique walking canes an interesting and absorbing hobby that can appeal to those interested in social history, arts and crafts, and antique fashion design.
Despite having an enviable reputation as one of the UK's premier suppliers of very fine antique furniture and works of art, here at Regent Antiques we do also have some superb antique walking canes, both decorative and functional. So it's about time we give you a quick tour of some of the finest pieces we offer to our customers.
What better way to start than with this stunning antique diamond set and gold mounted walking stick, dating from the early 19th Century. This cane has a gold crop handle, and the shaft is applied with a diamond chip monogram "FC" under a coronet, complete with a chamois handle cover. This magnificent cane once belonged to Prince Ferdinand Pius Duke of Calabria (1896-1960). The Duke of Calabria was head of the House of Bourbon (Two Socialise) and Pretender to the throne of the Kingdom of the Two Sicilies.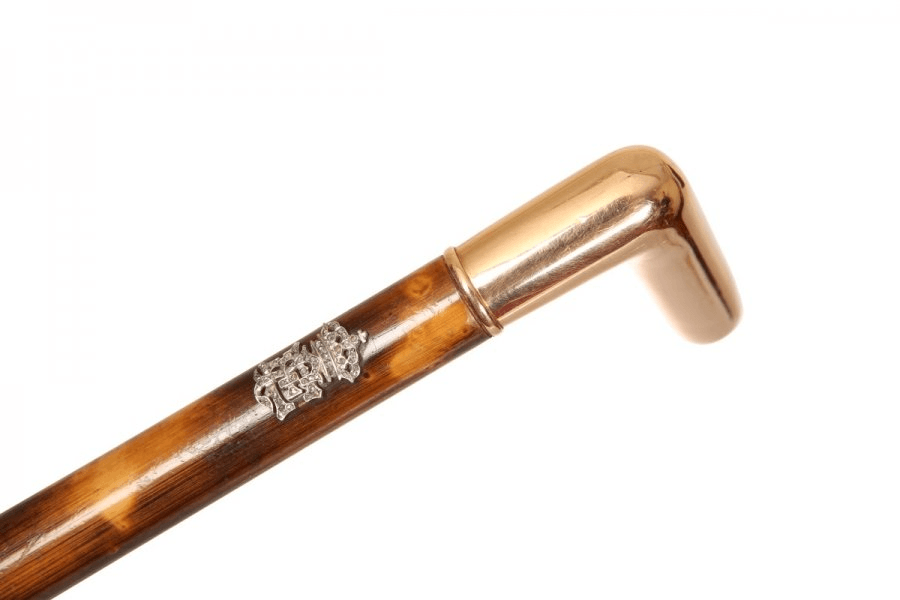 Recently arrived into stock, this is a magnificent Victorian walking cane with a 9ct gold pommel, dating from the late 19th century. The gold handle is beautifully cast with foliate and floral decoration. The cane is inscribed: 'Presented to Brother William Pym, Court Pride Durham no. 7622 Port Hope Ontario Canada. May 22nd, 1894.'
The cane has a malacca shaft with its original brass ferrule to the end. Malacca is a type of Rattan hardwood that has a rich and full color as well as interesting grain that comes from the coast of Sumatra. Malacca, rare and exotic also known as "King of canes" was the most commonly used material in making the canes' shafts.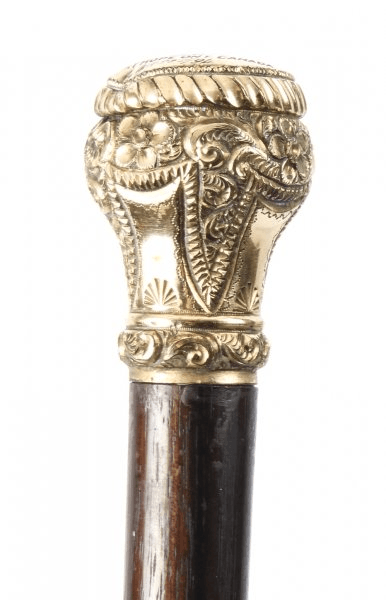 If gold doesn't do it for you then how about another of our recent additions, this time it's a beautiful antique English silver mounted malacca and horn sword walking stick, bearing hallmarks for Birmingham 1906. It has an exquisite L-shaped horn handle and it features a decorative sterling silver collar with a vacant shield. The Malacca shaft opens to reveal a four edge steel blade, and it is complete with its original large bronze ferrule.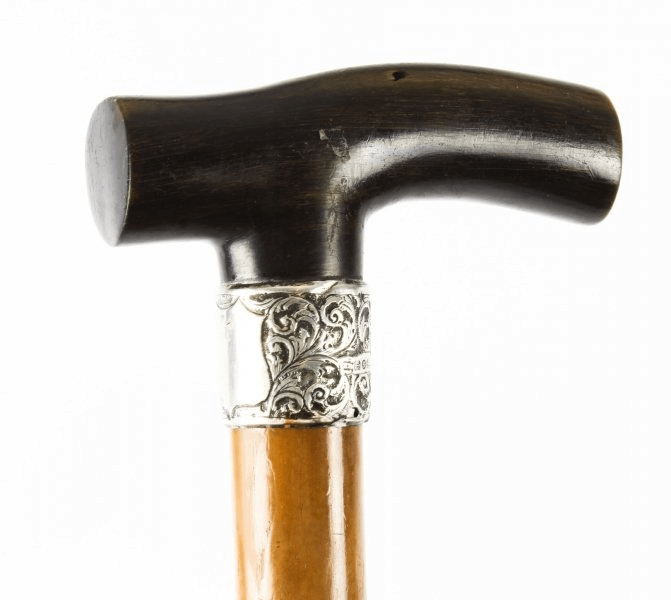 Our fourth featured offering is this splendid antique Continental walking stick with a Dresden porcelain mounted handle, circa 1880 in date. Dresden porcelain, also called Meissen porcelain or porcelain de Saxe, is hard paste or true porcelain originally produced at the factory in Meissen near Dresden in Saxony. With the increasing importation of Chinese porcelain from the Far East, the race was on to produce something similar in Europe. The secret was discovered about 1707 by Johann Friedrich Bottger and Ehrenfried Walter von Tschirnhaus who managed to produce something very similar to Chinese porcelain. It was highly prized and there was much 'industrial espionage' as others tried to find out the secret.
Our gorgeous cane has a very decorative Rococo style molded handle painted with panels of flowers on a puce ground. The bamboo shaft is complete with a modern rubber ferrule for ease of use.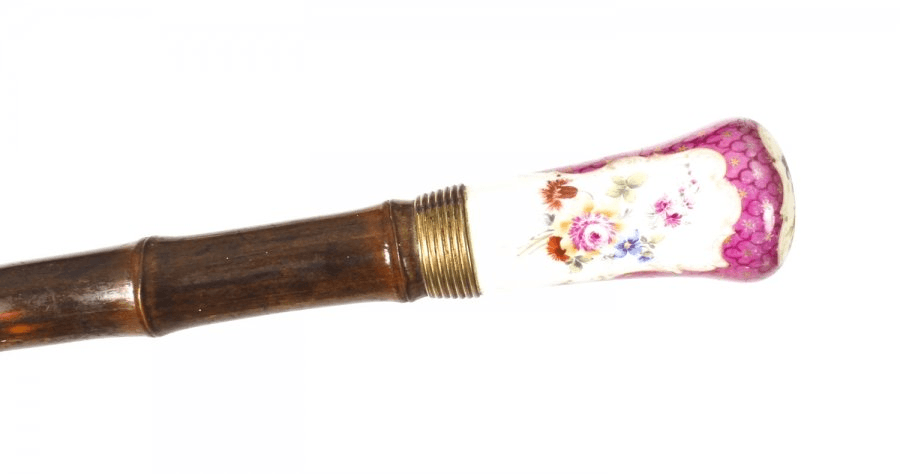 Lastly, we have selected a superb George V swagger stick with a gilt bronze handle with twin tiger's eyes and inscribed 'C. D. XMAS 1916', with a bamboo shaft, circa 1916 in date. Tiger's eye stone is a crystal with beautiful bands of yellow-golden color through it.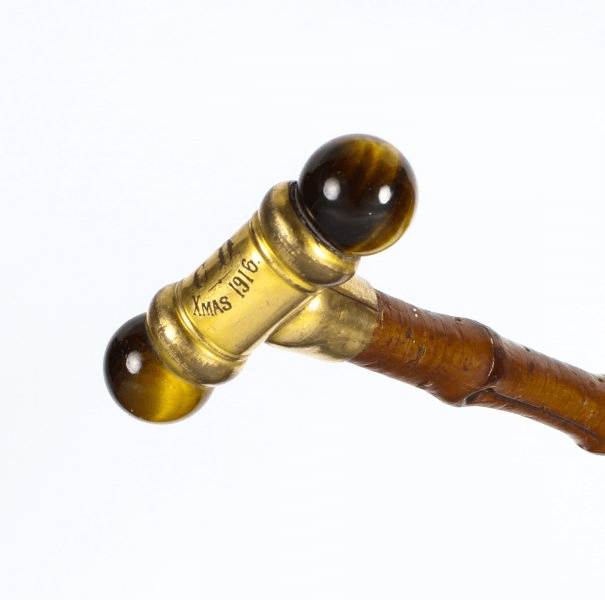 Our north London showroom is home to many more walking canes and you would be given a warm welcome if you make the trip and visit us there.
But if you can't make the trip be sure to check out the full descriptions and see the library of photographs we have for each item. Our antiques experts are on hand to answer your questions and give advice, just call +44 20 8809 9605 or email: info@regentantiques.com.
We will ship any of our superb walking canes to any worldwide destination so please contact us for a shipping quotation. Mainland UK deliveries are offered free of charge.