Antique English Silver Condiment Cruet Set Paul Storr 18th C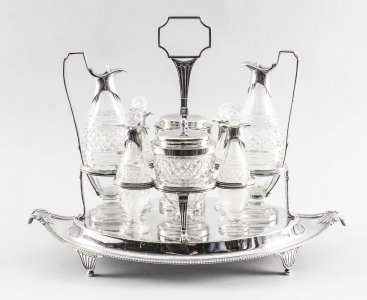 Click on image to zoom
For weekly notifications of new arrivals in your categories of interest please click HERE.
Our London showrooms
Open Mon to Fri 10am - 5pm
Open Sat 30th March 10am - 4pm
This is an exquisite antique large English George III sterling silver condiment cruet set with hallmarks for London 1800 and the makers mark of the renowned silversmith Paul Storr.

This rare complete set is in superb condition and features eight exquisite cut glass bottles for oil, vinegar, salt, pepper, mustard, etc.. The oil and vinegar bottles have delightful silver handles and mounts, and the silver mount on each bottle has a full set of hallmarks.
Provenance
The silver frame bears a coat of arms:
The Arms of the Family of Pedley
The armorial bearings as engraved upon this George III English Sterling Silver Cruet Set by Paul Storr hallmarked London 1800 are those of the family of Pedley. They may be blazoned as follows:
Arms: Sable three lozenges argent on a chief or as many fleur-delis gules
Crest: A demi-lion rampant argent holding in the paws a lozenge or charged with a fleur-de-lis gules
From an evidential point of view given the date of manufacture of this cruet set it was undoubtedly in the possession of Stanhope Pedley1 (baptised 26th May 1736 buried 11th July 18022), of Tetworth Hall in the County of Huntingdonshire. The Pedley family first took possession of Tetworth Hall and its surrounding estate when it was purchased from Sir Oliver Williams alias Cromwell3 by Sir Nicholas Pedley4 in 1648.

1 Some authorities name him as John Stanhope Pedley.
2 His will was proved on the 16th July 1802.
3 Sir Oliver was the uncle of the Lord Protector, Oliver Cromwell.
4 Sir Nicholas sat in the House of Commons for various Huntingdonshire seats between 1656 to 1679 and was a member of Lincoln's Inn having been called to the Bar in 1646. He was later appointed the Recorder of Huntingdon and a Serjeant-at-Law in 1675. He was knighted in 1672.
Tetworth Hall was to remain the family seat of the Pedley until the death of Mary Pedley (born 1747 buried 12th November 18275), Mary was Stanhope's sister to whom he left the Tetworth Hall estate upon his death in 1802. Stanhope and Mary's parents were John Pedley and Judith Stanhope. Upon Mary's death, the estate was bequeathed to one of her Foley cousins. Both Stanhope and Mary are buried along with their sister Catherine (died 1796) in the nave of the Parish Church of St Mary, Everton cum Tetworth6.
The armorial bearings of the family of Pedley appear to have been recorded by Sir William Segar, Garter King of Arms for James Pedley, of Abbotsley in the County of Huntingdonshire sometime during his reign as Garter (1607 – 33) which Sir Nicholas Pedley displayed at the Heralds' Visitation for the County of Huntingdon for 1684 before Sir Henry St George, Clarenceux King of Arms, upon a vellum certificate which exemplified a painting of the arms and crest as depicted and blazoned above signed by Sir William when recording his family's pedigree at the 1684 visitation7. So, saying, the correcting editors of The Harleian Society's volume on the Heralds' Visitation of Huntingdon (see footnote7) state that given James was either Sir Nicholas's uncle or great uncle, Sir Nicholas would not have been within the limitation of the original grant. As there appears to be no extended limitation granted to Sir Nicholas at the time of this visitation it would seem that Sir Nicholas's branch of the family which included his great grandson, Stanhope, the presumed owner of this cruet set bore these armorial bearings without authority.

5 Mary's will was proved on 24th November 1827.
6 This ecclesiastical parish straddles the county boundary of Huntingdonshire and Bedfordshire.
7 The Visitation of the County of Huntingdon 1684 made Sir Henry St George, Clarenceux King of Arms. Transcribed and edited by John Bedells, Howard Pursuivant Extraordinary. Corrected by The Hon. Janet Grant and Thomas Woodcock, Norroy and Ulster King of Arms. The Harleian Society, London 1994. Corrected edition 2000.
Condition:
In really excellent condition with clear hallmarks and no dings, dents or signs of repair.

Please see photos for confirmation.
Dimensions in cm:
Height 30 x Width 40 x Depth 20
Weight 38 troy oz - Silver frame
Dimensions in inches:
Height 1 foot x Width 1 foot, 4 inches x Depth 8 inches
Weight 1.18 kg - Silver frame
Paul Storr - born in London England in 1771, was to become one of the most talented silversmiths of the nineteenth century. Today his legacy of exceptionally well crafted silver, found worldwide in museums and private collections, leaves one in awe when compared to that of his contemporaries.After having served a seven year apprenticeship from the age of 14, he began his career in 1792 when he went into a brief partnership with William Frisbee. This did not last and in 1793 a new mark, (his initials 'P S') was entered. By the beginning of the nineteenth century he had established himself as one of London's top silversmiths producing, amongst others, commissions for Royalty.
In 1801 he married Elizabeth Susanna Beyer with whom he was to have ten children. In 1807 Paul Storr entered into a working relationship with Philip Rundell and by 1811 was a partner, and managing the workshops for Rundell, Bridge & Rundell.

During this period he kept his own marks and separate workshop. However it was through Rundell, Bridge & Rundell who were appointed Goldsmith in Ordinary to George III in 1804 that his reputation as a master silversmith grew. His talents lay in being able to transform ideas and designs from Rundell, Bridge & Rundell's designers, William Theed II, the chief modeller and head of the design department, and later John Flaxman II who succeeded him in 1817. During this period Rundell, Bridge & Rundell's reputation grew due to the patronage of the Prince Regent (later George IV).
Angelica Kauffman, RA (1741 - 1807)
was a Swiss-born Austrian Neoclassical painter who had a successful career in London and Rome. Though born as "Kauffmann", Kauffman is the preferred spelling of her name in English; it is the form she herself used most in signing her correspondence, documents and paintings.
While Kauffman produced many types of art, she identified herself primarily as a history painter, an unusual designation for a woman artist in the 18th century. History painting, was considered the most elite and lucrative category in academic painting during this time period. Under the direction of Sir Joshua Reynolds, the Royal Academy made a strong effort to promote history painting to a native audience who were more interested in commissioning and buying portraits and landscapes.
Despite the popularity that Kauffman enjoyed in British society and her success as an artist, she was disappointed by the relative apathy that the British had towards history painting. Ultimately she left Britain for the continent, where history painting was better established, held in higher esteem and patronized.
The works of Angelica Kauffman have retained their reputation. By 1911, rooms decorated with her work were still to be seen in various quarters. At Hampton Court was a portrait of the duchess of Brunswick; in the National Portrait Gallery, a self-portrait. There were other pictures by her at Paris, at Dresden, in the Hermitage at St Petersburg, in the Alte Pinakothek atMunich, in Kadriorg Palace, Tallinn (Estonia).
Satinwood
is a hard and durable wood with a satinlike sheen, much used in cabinetmaking, especially in marquetry. It comes from two tropical trees of the family Rutaceae (rue family). East Indian or Ceylon satinwood is the yellowish or dark-brown heartwood of Chloroxylon swietenia.
The lustrous, fine-grained, usually figured wood is used for furniture, cabinetwork, veneers, and backs of brushes. West Indian satinwood, sometimes called yellow wood, is considered superior. It is the golden yellow, lustrous, even-grained wood found in the Florida Keys and the West Indies.
It has long been valued for furniture. It is also used for musical instruments, veneers, and other purposes. Satinwood is classified in the division Magnoliophyta, class Magnoliopsida, order Sapindales, family Rutaceae.
Our reference: 09101
Please feel free to email or call us (+44 20 8809 9605) to arrange a viewing in our North London warehouse.
Shipping:
We ship worldwide and deliver to Mainland UK addresses free of charge.
A shipping cost to all other destinations must be requested prior to purchase.
To request a shipping quote for the items in your cart, please click HERE.
Delivery and return policy:
We require that someone be home on the agreed delivery day if applicable, otherwise a redelivery fee will apply.
In accordance with Distance Selling Regulations, we offer a 14-day money back guarantee if you are not satisfied with the item.
The item must be returned in its original packaging and condition.
Unless the item is not as described in a material way, the buyer is responsible for return shipping expenses.
Buyers are fully responsible for any customs duties or local taxes that may be incurred on items sent outside of the European Union.