Antique Dining Chairs in a Variety of Periods and Styles

When it comes to sitting comfortably and in style around your antique dining table, Regent Antiques offer a wide selection of the finest quality antique dining chairs.
In this article, we present a fine range of antique dining chairs in a variety of designs and from various times to accommodate your guests in complete comfort. All of these antique chairs are available for sale at Regent Antiques, enabling you to find the perfect match for your antique dining tables.  
Antique Dining Chairs in Hepplewhite design 
At Regent Antiques, we have a deep affection for the Hepplewhite design. The introduction of the much-celebrated shield-back dining chair was seen in the 1780s, with George Hepplewhite making the pattern much popularised. These chairs were made with oval, heart, and shield-shaped splats often ornamented with urns and vases, festoons, husks, drapery, and rosettes.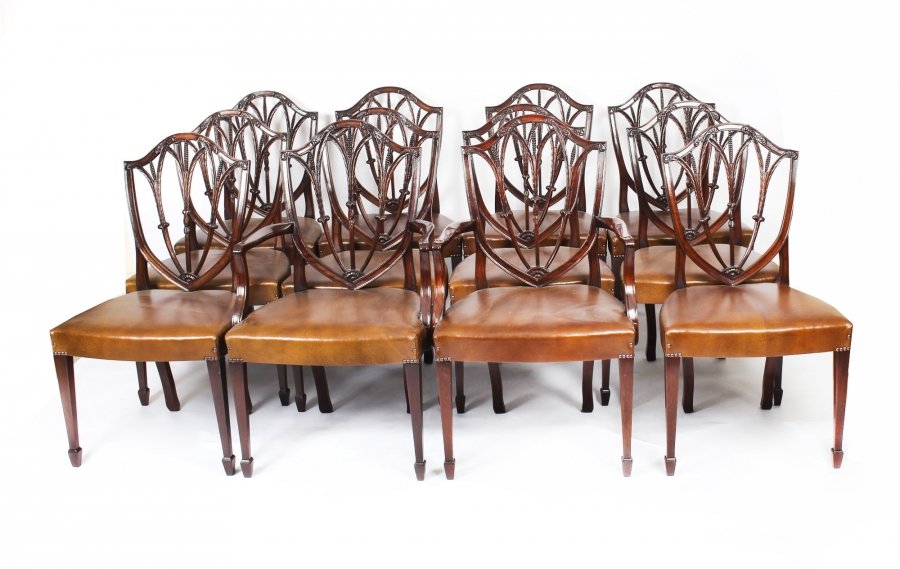 (This set of twelve Victorian mahogany antique dining chairs has a number of features typical of the Hepplewhite's late 18th-century design, most notably the interlaced shield-shaped back).
The Sheraton design
The success of the Hepplewhite design inspired the furniture maker Thomas Sheraton (1751-1808). Supported by a pierced splat, often in the form of a slender urn swagged with drapery or a classical lyre, Sheraton's chairs were also instrumental in promoting painted seat furniture, often producing floral-painted satinwood chairs. 
We are delighted to be able to offer you some remarkable examples of such an exquisite style of antique dining chair.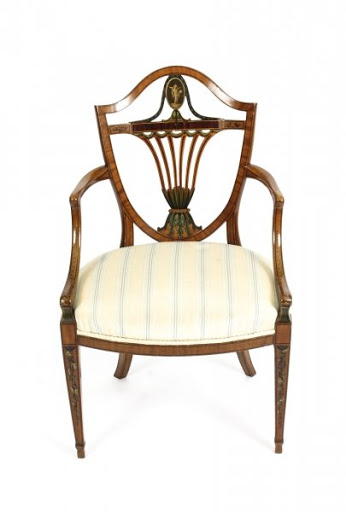 (A magnificent antique English Victorian Sheraton Revival satinwood armchair)
Chippendale Revival dining chairs
One of the most important British furniture makers of the past was Thomas Chippendale (1718-79), who wrote the first book devoted to furniture design in England, The Gentleman and Cabinet-Maker's Directory. Containing 160 engraved plates, it illustrated a full range of contemporary taste. Among them was a design for 'ribband-back' chairs, a master showcasing of the carver's skill. Very few of these were ever made because of the considerable expense and expertise required, and indeed fewer still exist. The majority of chairs copied directly from the directory were made during the Chippendale Rivavals of the 19th and 20th Century. This wonderful set of ten mahogany armchairs made in Chippendale Revival style available for purchase at Regent Antiques, carries on this proud tradition.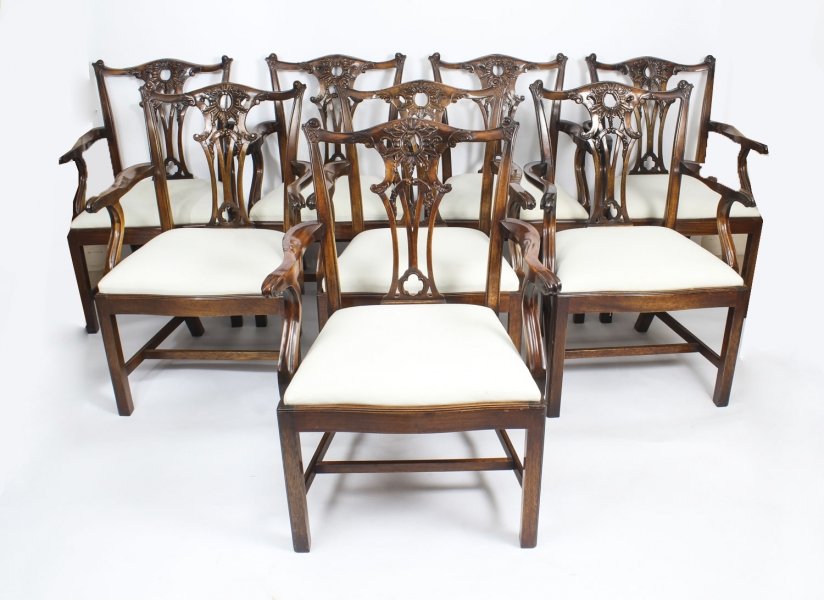 Regency Dining Chairs in the Manner of Gillows
Early 19th Century chairs showed interest in Roman, Greek and Egyptian ornamentation.
This can be seen in our classic Regency mahogany dining chairs, which are typical of the work of the firm of Gillow of Lancaster. The design is inspired by the ancient Greek "Klismos" chair and has a horizontal panelled tablet. First introduced in France, this chair pattern revolutionised chair design throughout Europe in the early 19th Century. Our English example stands on stylish turned and reeded front legs. They also have drop-in seats which have been wonderfully upholstered with classic Regency yellow stripe fabric.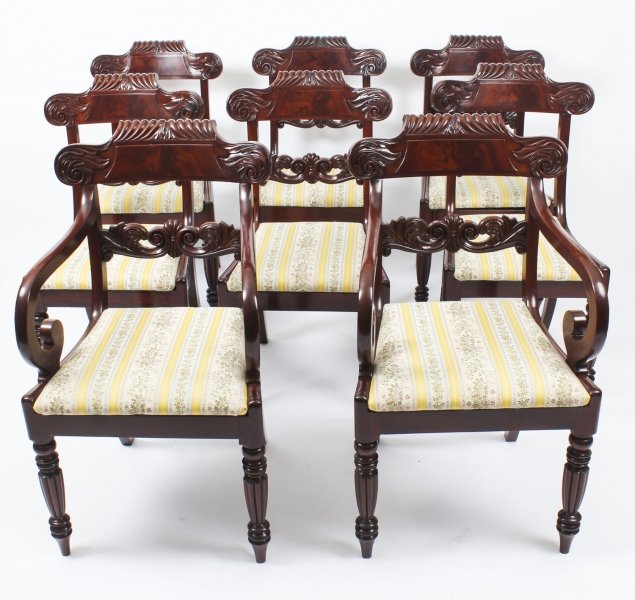 Balloon-back dining chairs
At Regent Antiques we are delighted to offer for sale a charming and comfortable type of antique dining chair called the balloon back chair. 
Balloon back dining chairs were the quintessential symbol of the Victorian era. The chairs were popular from the 1830s until the end of the 19th century. The term balloon refers to the rounded shoulders of the back with its nipped-in waist and curved crosspiece. In the second stage in the 1840s, the balloon shape has become more obvious due to the fully rounded crest rail. By the time of the Great Exhibition of 1851 during the third stage, the curves had taken over. The chairs became a symbol of elegance and grace. They became very popular due to their ornamental scrollwork and foliage and the great intricacy of detail.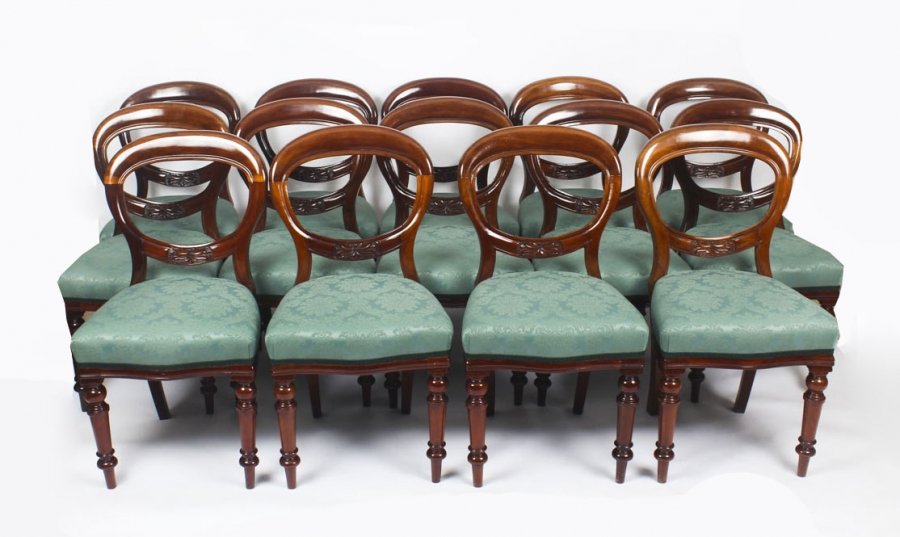 (A superb and rare long set of fourteen antique early Victorian balloon back dining chairs). 
A final word on antique hall chairs
At Regent Antiques, we also offer for sale antique hall chairs. 
Hall chairs were first introduced in Britain in the late 17th century. They were inspired by the Italian sgabelli, and were designed to be placed in the entrance hall, to be used by servants waiting to be called into one of the main rooms. Alternatively, they were used for guests to wait until they were invited into dining rooms. Hall chairs were of bold and simple design and frequently carved with motifs aimed at impressing the guests and emphasising the social status of the owners. 
Today, hall chairs can be added to a dining table when new guests are joining the feast.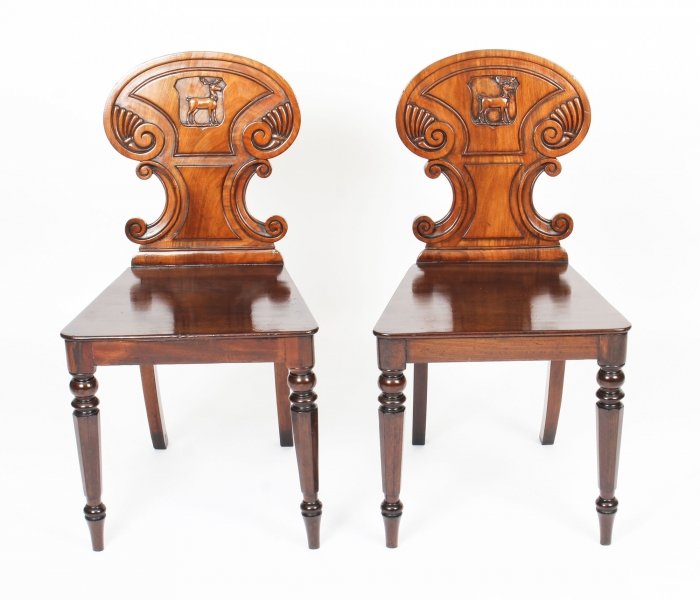 (A wonderful antique pair of Victorian mahogany hall chairs, circa 1860 in date).
To sum up
As we can see, each period of history tends to have its own special style of furniture associated with it. Our showroom has examples of many styles, which are timeless and persist across the decades and centuries. You can always be sure of finding the widest range of antique dining tables and chairs at Regent Antiques.