Explore Our Range of Magnificent Antique Dining Tables

Our extensive range of antique dining tables encompasses most sizes, styles and periods to meet different requirements and types of use.
Dining tables are arguably the most essential item of furniture. Since ancient Egyptian times, they have evolved from the simplest utilitarian form to items of great splendour. The latter is what we at Regent Antiques strive to offer to our discerning clientele. We offer carefully curated antique dining tables in a variety of designs taken from well known periods.
Antique dining tables with pedestal supports
Antique dining tables with pedestal supports are plentiful at Regent Antiques. They were first introduced during the reign of George II. These pedestals, closely mirroring contemporary tripod tables in design, were initially simple with a ring turned columnar shaft supported on cabriole legs and pad feet, often with leather casters. Casters allowed the tables to be moved around the room more easily. During the 1760s the shaft of the pedestals became rich and in both form and carving, with spiral fluting or foliate trails to the knees. With the advances of Neo-Classicism, the pedestals became again restrained in decoration featuring ring-turned columns with downswept reeded legs.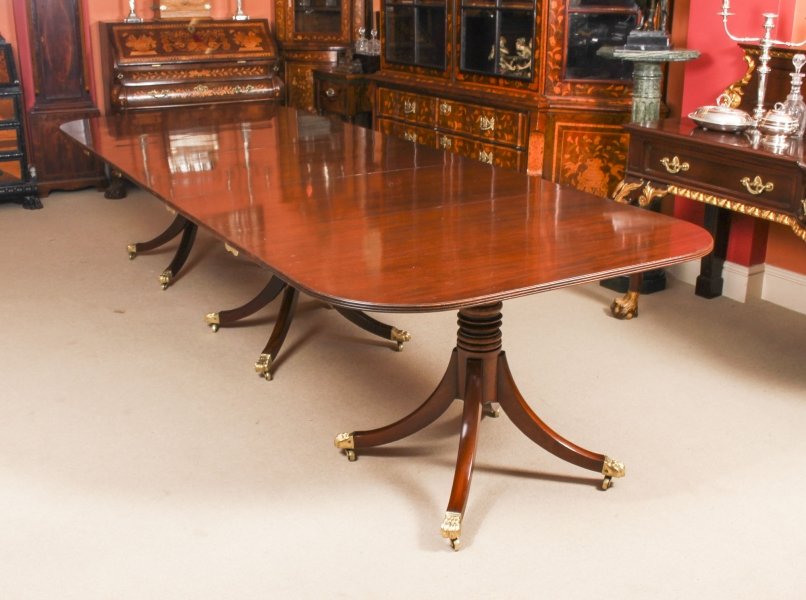 (Antique George III flame mahogany triple pillar dining table, circa 1820)
Extending dining tables – so more guests can sit comfortably
Tables that extend are adaptable, and this quality has ensured the continued survival of the dropleaf for at least four centuries. A dropleaf table has flaps which, when extended, rest on supports swinging out from the table's underframe. However, this design had its failings when a large number of guests needed to be accommodated. It was only with the introduction of leaves that more guests could sit comfortably.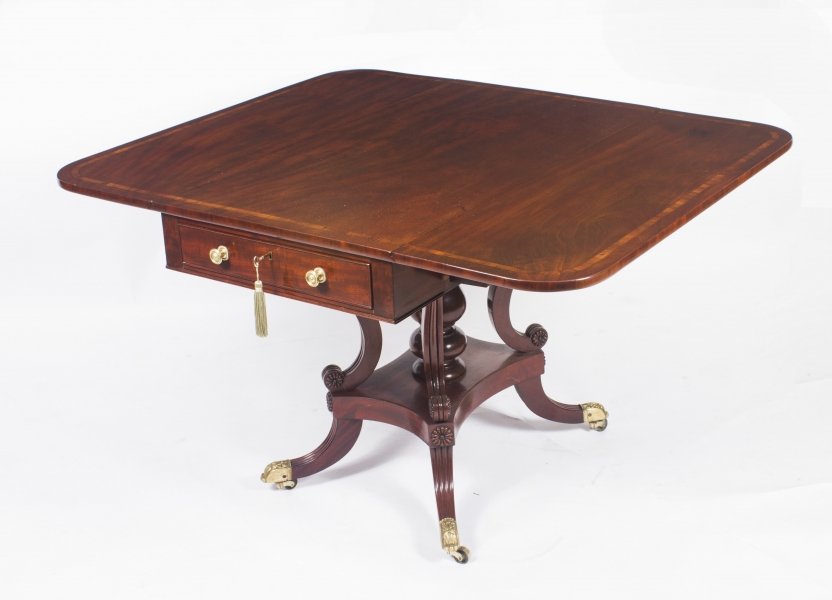 (Antique Pembroke drop-leaf dining table raised on a quadripartite base, Regency period)
Expanding round dining tables
During the 19th century, the cabinet maker Robert Jupe of New Bond Street revolutionised the design of circular and oval tables in the reign of William IV (1830-1837). He granted a patent – Jupe's patent – for the design of a segmented extending dining table. The mechanism consisted of having the segments of the top pulled out on their brass-channelled runners and further segments could be placed between them, doubling the circumference of the table.
You can find many high quality Jupe dining tables at Regent Antiques.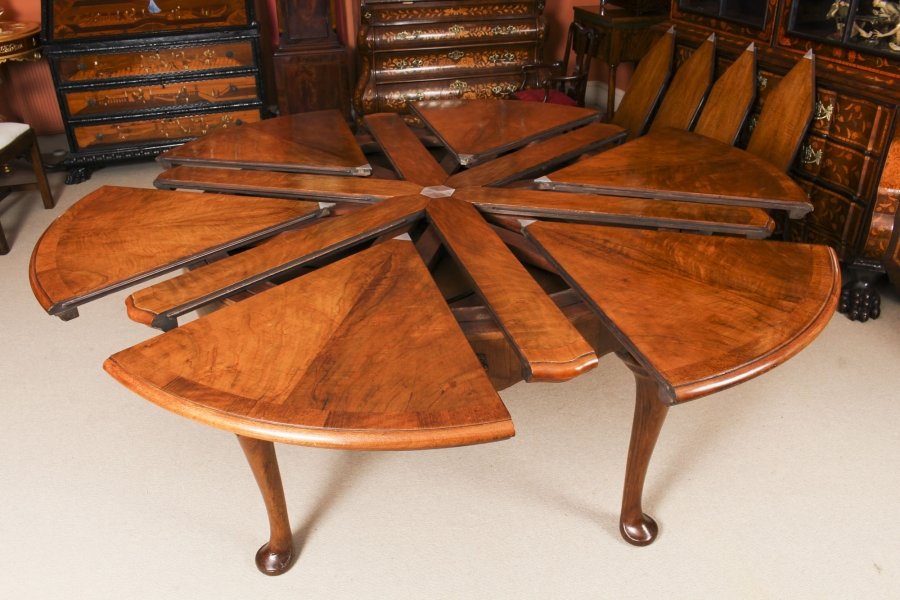 (Antique walnut Jupe action dining table by Gillows)
Rectangular dining tables with multiple leaves 
The Victorians emphasised grand dining habits and having a capacious table suitable for family meals was key for them. Hence, the majority of dining tables could be made bigger with the addition of leaves. Some late 19th-century rectangular tables had as many as ten extra leaves to allow expansion from six or eight seats to twenty or thirty. 
Indeed, at Regent Antiques, many of our antique dining tables are available with extending panels that can transform them from quite small to very large as required. Matching antique dining chair sets can be supplied for most designs as well.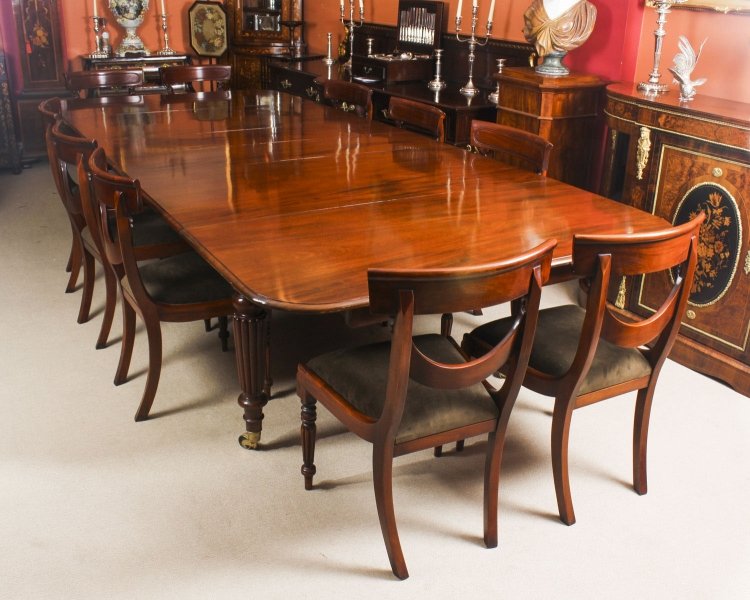 Some key facts for you to know when buying antique extending dining tables
The leaves should always be of the same timber as the rest of the table and the mechanism should be original. If leaves are missing, this will reduce the value of the table. 
Leaves that have not been used regularly will usually be of a different colour from the rest of table, which will have been exposed to the light for longer periods and will have been cleaned more frequently. Because of the expanse of wood on display, the quality and patina will all affect the value. 
Here at Regent Antiques we pride ourselves on offering carefully-curated antique dining tables and chairs of the highest standard of construction and finish.  
Not extending tables – loo tables
Not all antique dining tables were of the extending variety. Another popular form, one which we do also offer at Regent Antiques, was the round loo table. It was originally conceived for the card game of lanterloo, but it was later used just as often as a dining table. The top of the loo table was supported on a sturdy central pillar and was often the vehicle for decoration with flamboyant inlays or marquetry on the surface, and carved pillars.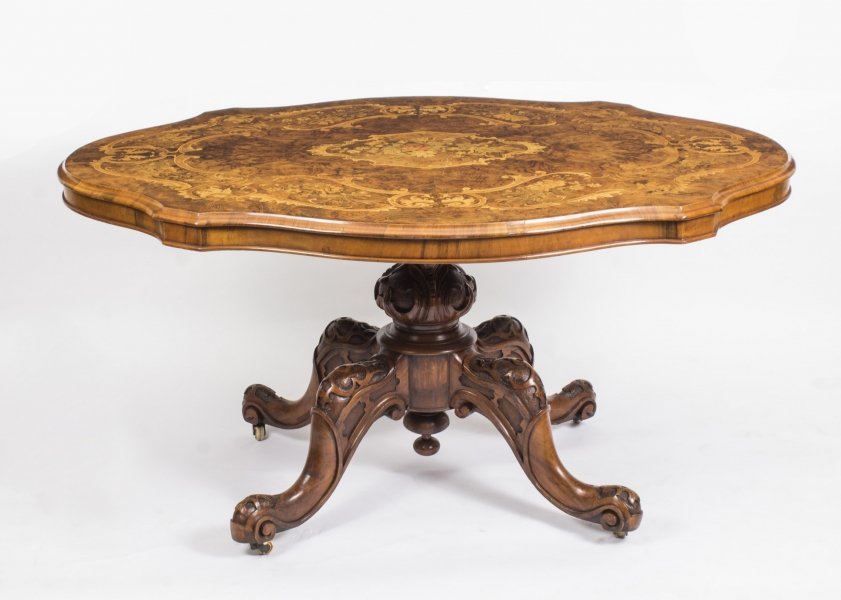 (Antique Victorian loo table in burr walnut and marquetry, circa 1860)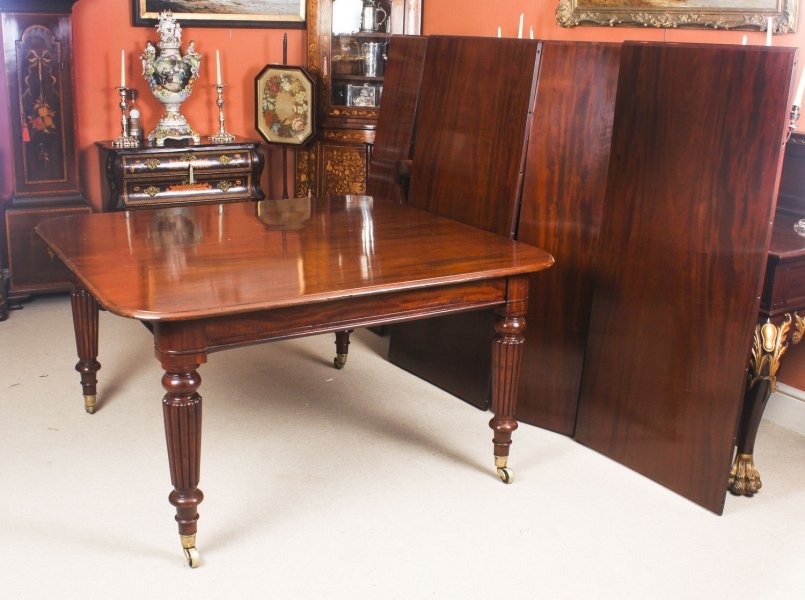 (Antique Victorian flame mahogany extending dining table c.1840)
Material and decorations
Antique dining tables were made of varied timbers. Mahogany, walnut or oak were most usual throughout most of the 19th century for large extending tables. Carved burr woods, maple or birch were favoured for the more ostentatious pillar tables, the tops of which might be covered with floral marquetry or intricate Gothic and Renaissance patterns in various coloured woods.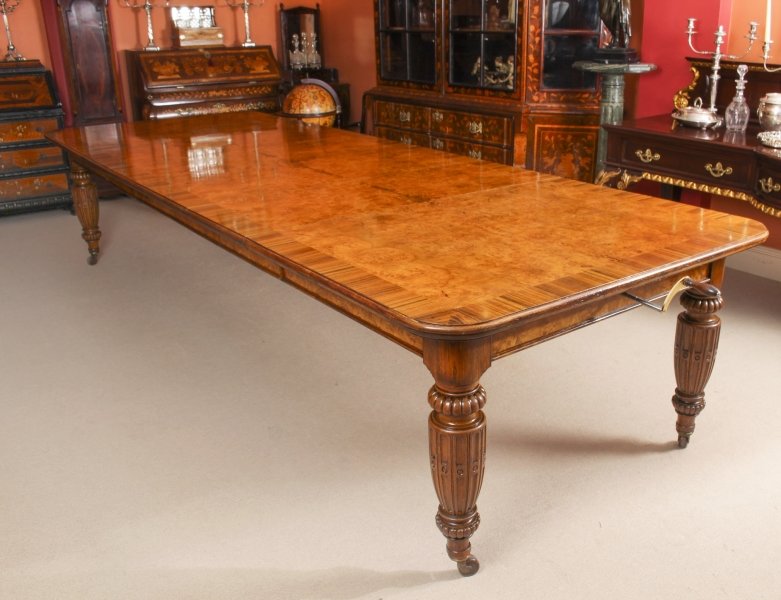 (Antique Victorian pollard oak extending dining table
At Regent Antiques you can find oak dining tables, mahogany dining tables, and others made with exotic and desirable timbers such as burr walnut and birdseye maple. Many of these fine antique dining tables have exquisite marquetry and other inlaid decorations to make the table not only functional but also a thing of great beauty to be admired by those who are lucky enough to see them. We tend to only offer antique dining tables from well-known makers or those which, despite not necessarily carrying a maker's mark, are clearly the work of master craftsmen.