Beautiful and Functional Antique Bedside Tables from Regent Antiques

At Regent Antiques, we offer a lovely selection of the finest quality antique bedside tables, many of which have been specially selected to be available as a pair.
With the possible exception of the bed itself, probably the most used item of furniture in many people's bedroom is the bedside table. If you don't already have one, or if you fancy a change, you have come to the right place. 
Antique French Bedside Tables
At Regent Antiques, we offer a wide selection of the best antique French bedside tables. 
Indeed, bedside tables, known as 'night tables,' were first made in France during the second quarter of the 18th century. They were usually veneered in kingwood, tulipwood, and amaranth. Often decorated with floral marquetry, sometimes end cut across the grain. They were distinguished by their waved gallery tops, pierced carrying handles to the sides, and cabriole legs, often with richly decorated ormolu mounts. Extensively copied in Russia, Germany, and northern Italy, they either supported two open tiers with marble tops or, on the most sophisticated examples, had lower tambour-fronted tiers, sometimes with simulated book spines.
Although the shaped rectangular form prevailed, Rococo bedside tables of both kidney shape and oval form are also much recorded, and these were inspirational to Swedish and Russian cabinet-makers.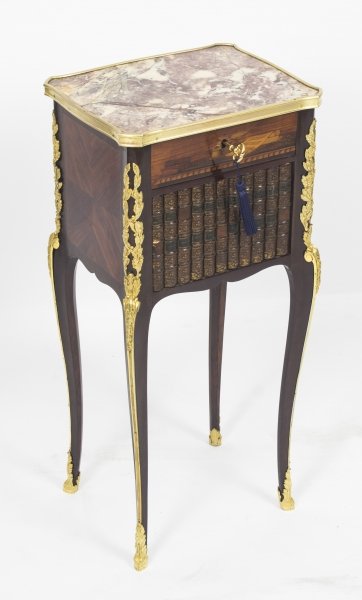 (A beautiful antique museum quality French Napoleon III bedside table, circa 1860 in date)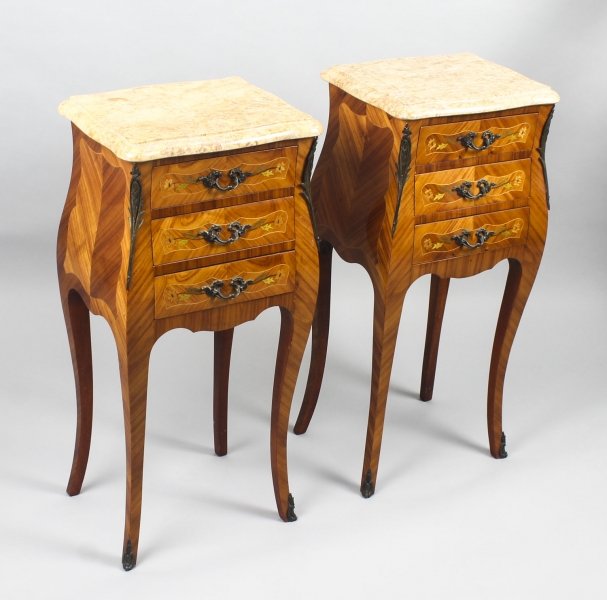 (A stunning pair of Antique French kingwood marquetry bombe' bedside tables)
English Antique Bedside Commodes
The French fashion for bedside tables was adopted in Britain and the British commode emerged by 1760. 
From 1770 in particular, English night tables were made increasingly light in both form and colour. As a result, bow-fronted commodes, often with slender, turned, tapering legs, veneered in exotic timbers and inlaid with Neo-Classical marquetry emerged.
(A stunning antique Victorian bowfront satinwood bedside cabinet)
The Bedside Pot-Cupboard
The early 19th Century saw a revival of the design of classical antiquity, which was reflected in the design of pot-cupboards standing on plinths rather than on legs. Regency-style pot-cupboards in England saw a return of the simple, clean lines and richly-figured veneers of early Neo-Classicism. 
At Regent Antiques, you will find some of the most exquisite examples of antique bedside cabinets with cupboards. This, for instance, is a fabulous antique satinwood side cabinet with marquetry and parquetry decoration by Waring and Gillow, circa 1880 in date. It has a decorative raised open back fitted with a shelf above a useful central drawer with a pull out cupboard below.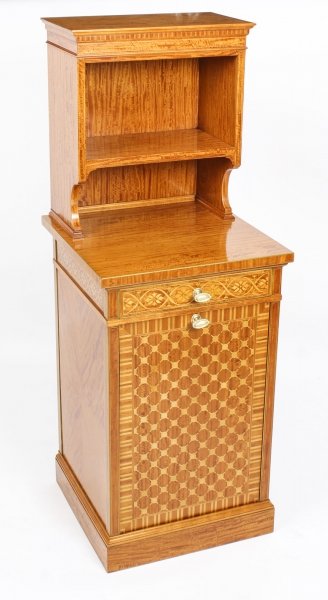 Antique Bedside Tables with Chest-of-Drawers
During the 19th-century, bedside commodes become more utilitarian. Metamorphic chests-of-drawers were first recorded between 1830 and 1840. You may find it interesting to know that numerous commode sections or commodes have been converted later into drawers or chests-of-drawers. This should be reasonably obvious when inspecting the item and does not dramatically affect the value.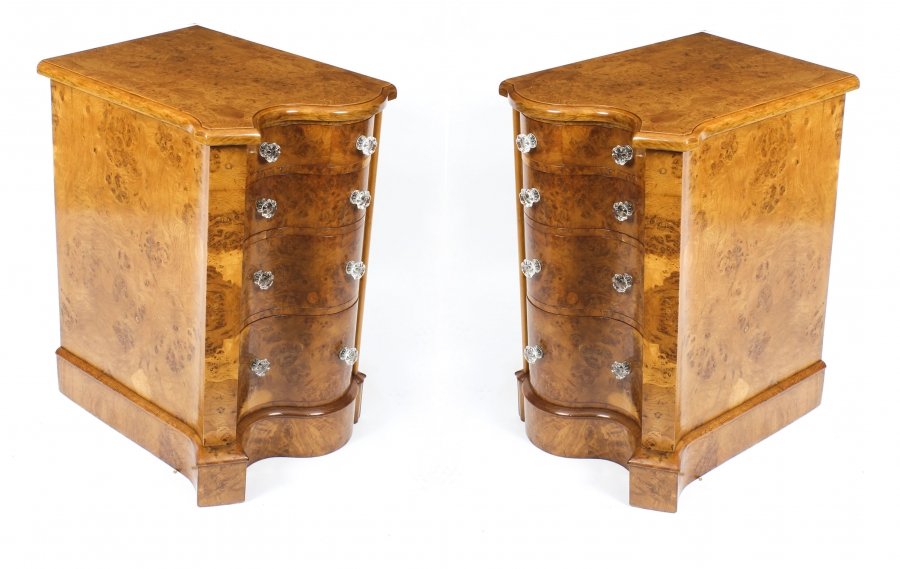 (A stunning antique pair of English Victorian pollard oak bedside chest cabinets)
A stunning example of Italian antique bedside chests
Discussing antique bedside chests, we would like to draw attention to a fantastic example that is currently available from Regent Antiques. 
This is a stunning pair of Antique Lombardy-Venetian burr walnut and ormolu mounted bedside chests, circa 1780 in date. They are crafted from the most beautiful burr walnut with decorative gilded ormolu mounts. They each have four drawers, the alluring burr walnut is offset by the elegant ormolu handles and mounts, and they stand on elegant swept legs that terminate in hoof feet.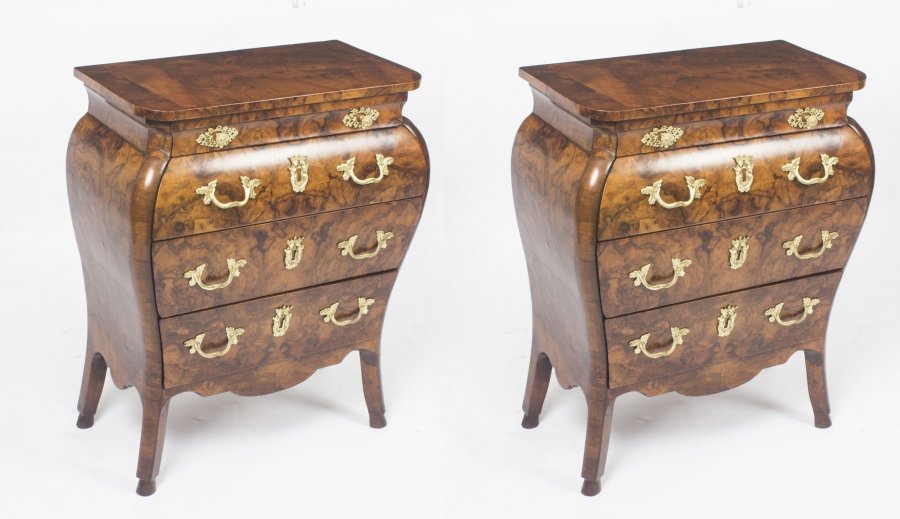 This superb piece of craftsmanship could serve any purpose, perfect as a pair of bedside chests or as a small pair of commodes in the drawing room. A truly gorgeous pair, they deserve pride of place in any furniture collection.
More exceptional treasures available at Regent Antiques
At Regent Antiques, we supply all these and many more styles of bedside tables from the various periods. Please take a look at our current stock of bedside tables regularly, also bearing in mind that we also stock many more items of antique bedroom furniture. 
And, if you are looking for equipping your home with other types of antique tables, such as antique console tables and antique coffee tables, you may be pleased to know that our expert buyers always make an effort to make an exceptional choice to meet the highest of standards.