Vintage Walnut Cigar Humidor by Dunhill London 20th Century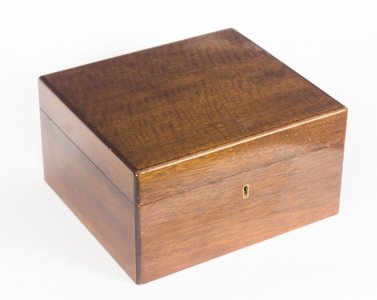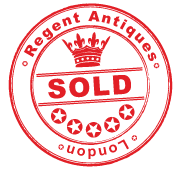 For weekly notifications of new arrivals in your categories of interest please click HERE.
A Dunhill mahogany cased cigar humidor, together with two small Manuel Lopez Habana cigars late 20th Century.

The humidor has a Spanish cedar-lined interior which helps to keep the aroma and is equipped with Dunhill's humidification system. The lock is fitted by I.W.S. locksmiths.

The humidor has a very stylish & timeless design and would make any cigar connoisseur happy.

Condition:
In excellent condition, please see photos for confirmation of condition.
Dimensions in cm:
Height 13 x Width 24 x Depth 21
Dimensions in inches:
Height 5 inches x Width 9 inches x Depth 8 inches
Humidor
is any kind of box or room with constant humidity that is used to store cigars, cigarettes, orpipe tobacco. For private use, small wooden or acrylic glass humidor boxes for a few dozen cigars are used, while cigar shops may have walk-in humidors.

Humidors can be used to store other goods for which a certain level of humidity is desirable; the Colorado Rockies Major League Baseball team stores game balls in a large humidor at their home stadium, Coors Field, to counteract the effects of Denver's high altitude and generally low humidity. Humidors of all sizes use hygrometers to keep track of the humidity levels.
Classification of humidors
Walk-in humidor - most common in cigar bars or stores. One room is built as or converted to a humidor where all the cigars are stored.
Cabinet humidor - usually placed on the floor as a piece of furniture. Typically holds 1000-5000 cigars.
Table humidor - often quite heavy, though portable in theory, it's usually kept in one location. Capacity ranges from three hundred to a few thousand cigars. It usually comes with a polished wood exterior, marble, leather or combination of exotic elements, and glass top.
Personal humidor - semi-regular cigar smokers will sometimes keep a small humidor in their homes for personal storage, special events, or aesthetic characteristics of the humidor itself . Usually contains 20-75 cigars. This may also be known as a "Desktop Humidor".
Travel humidor - portable and made for carrying cigars enough for the outing or event, usually 2 to 10 cigars.
Alfred Dunhill, Ltd. -

is a British luxury goods brand, specialising in ready-to-wear, custom and bespoke menswear, leather goods, and accessories. The company is based in London, where it also owns and operates a leather workshop. The company is currently owned by Richemont.
The business was developed by Alfred Dunhill after he inherited his father's saddlery business on London's Euston Road at the age of 21 in 1893. Alfred Dunhill, responding to the growing demand for automobiles at this time, developed a line of accessories called "Dunhill's Motorities". This first collection included car horns and lamps, leather overcoats, goggles, picnic sets and timepieces, which provided the company with a strapline of "Everything But The Motor".
Within a few years, the business moved towards the luxury market with the opening of the two Dunhill's Motorities stores in Mayfair. By this time, Dunhill's had become known not only for motoring accessories but also for motoring attire. The Dunhill's Motorities catalogue featured over 1,300 items that were available.
The launch of the Dunhill pipe was a logical step from Motorities; in 1904 Alfred had patented a 'Windshield Pipe' to help a driver combat the effects of wind and weather in his open-top car. Alfred's first tobacconist and pipe shop opened in 1907 on Duke Street, London.
After the First World War Dunhill expanded nationally opening an office in New York in 1921 on Fifth Avenue and 42nd Street, followed by the first continental European store opened in 1924 at 15 Rue de le Paix in central Paris.
In the 1920's, though Alfred retired from the business, it carried on within the family, in the position of Managing Director and President was his brother Alfred-Henry and then his daughter Mary and finally his grandson Richard.
Angelica Kauffman, RA (1741 - 1807)
was a Swiss-born Austrian Neoclassical painter who had a successful career in London and Rome. Though born as "Kauffmann", Kauffman is the preferred spelling of her name in English; it is the form she herself used most in signing her correspondence, documents and paintings.
While Kauffman produced many types of art, she identified herself primarily as a history painter, an unusual designation for a woman artist in the 18th century. History painting, was considered the most elite and lucrative category in academic painting during this time period. Under the direction of Sir Joshua Reynolds, the Royal Academy made a strong effort to promote history painting to a native audience who were more interested in commissioning and buying portraits and landscapes.
Despite the popularity that Kauffman enjoyed in British society and her success as an artist, she was disappointed by the relative apathy that the British had towards history painting. Ultimately she left Britain for the continent, where history painting was better established, held in higher esteem and patronized.
The works of Angelica Kauffman have retained their reputation. By 1911, rooms decorated with her work were still to be seen in various quarters. At Hampton Court was a portrait of the duchess of Brunswick; in the National Portrait Gallery, a self-portrait. There were other pictures by her at Paris, at Dresden, in the Hermitage at St Petersburg, in the Alte Pinakothek atMunich, in Kadriorg Palace, Tallinn (Estonia).
Satinwood
is a hard and durable wood with a satinlike sheen, much used in cabinetmaking, especially in marquetry. It comes from two tropical trees of the family Rutaceae (rue family). East Indian or Ceylon satinwood is the yellowish or dark-brown heartwood of Chloroxylon swietenia.
The lustrous, fine-grained, usually figured wood is used for furniture, cabinetwork, veneers, and backs of brushes. West Indian satinwood, sometimes called yellow wood, is considered superior. It is the golden yellow, lustrous, even-grained wood found in the Florida Keys and the West Indies.
It has long been valued for furniture. It is also used for musical instruments, veneers, and other purposes. Satinwood is classified in the division Magnoliophyta, class Magnoliopsida, order Sapindales, family Rutaceae.
Our reference: 09020