Antique Art Deco Birdseye Maple Dining Table C1930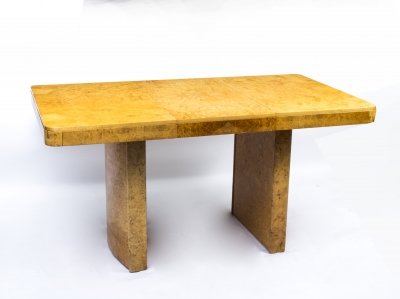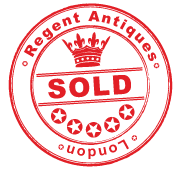 For weekly notifications of new arrivals in your categories of interest please click HERE.
This is a wonderful example of an Art Deco antique dining table dating from 1930. Crafted in birdseye maple the table has rounded corners and is set on twin pedestal legs.
This Art Deco antique dining table can be extended by the insertion of a third piece meaning it can be adapted to suit any occasion.
Condition
As you can see from the photographs, this antique Art Deco dining table is in excellent condition.
More About Art Deco
The Art Deco style first emerged in France between 1910 and 1914 featuring very bright colours and frequently floral motifs. It went on to flourish throughout the 1920's, 30's and 40's ending with the second world war. It was characterised by the growth in industrialisation and technology in this interwar period.
Influencing the design of a wide range of objects and artefacts including buildings, furniture, cars, trains and ocean liners, jewellery and fashion, it was an eclectic style combining modernist styles with rich materials and fine craftsmanship. The underpinning theme of the style was the desire to be modern. From the beginning it was influenced by the geometric designs (drawn from Cubism), bright colours and the use of expensive rare materials coupled with the very best craftsmanship.
During the great depression of the 1930s, it became more subdued, and with the arrival of new materials such as stainless steel, chrome plating and bakelite, an early form of plastic, it evolved to feature more curved forms and smooth polished surfaces. Streamline was a variety of Art Deco that emerged in the 1930s and reflected the modern aerodynamic principles that were being developed for aviation and ballistics. The new bullet shapes were applied to a whole range of objects including cars, ships and trains and also those not intended to move such as gas pumps, fridges and even buildings and this shape came to denote the epitome of modernity which was at the very centre of the Art Deco aesthetic.
This antique Art Deco dining table shows off the smooth curves and highly polished surfaces typical of the 1930s style of Art Deco. In particular, you can see it in the twin pedestal legs, which are curved in typical style.
Birdseye Maple
Bird' eye is type of wood figure that has a distinctive pattern, resembling a tiny swirling eye that disrupts the smooth line of the grain. Found within several kinds of wood, it is most usually found within hard maple. How the phenomenon comes about is unknown and there has been no useful explanation of the combination of factors produces the birdseye figure. It is hard to tell whether a tree will have the figure by looking at it. There are a few clues in the bark, but on the whole the only way to tell is by felling the tree. This all makes birdseye maple rare and therefore expensive.
Items made with birdseye maple tend to be more costly, not just because of the rarity of the wood, but also because it is hard to work and easy to damage in working. The more 'eyes' there are in the wood the weaker the wood tends to be meaning the craftsperson needs to use great care and skill. This limits the amount of projects that it is feasible to use the wood for, limiting it to very fine furniture and other items such as musical instruments.
More Information?
If you'd like any further information about this Art Deco antique dining table, please feel free to email or call us. We would also be delighted to arrange a viewing in our North London warehouse where you can see this item and our other antique dining tables and other Art Deco pieces. When emailing or calling please quote our reference 07626c so we know which antique dining table you are referring to.
Shipping, Delivery and Returns
We can ship your antique dining table to any destination worldwide and will carefully pack it to make sure it arrives safely. However, please do request a shipping quotation before ordering this Art Deco dining table, as we need to ensure that we have understood all your requirements.
In accordance with the Distance Selling Regulations, we offer a 14-day money back guarantee if you are not satisfied with this antique dining table. Please note that you will be responsible for the return shipping fees unless what we have provided you is materially different from what we stated we would provide on your original order. The antique dining table must be returned in its original packing and condition.
Also note that you are fully responsible for any custom duties or local taxes that are incurred when shipping outside the European Union.
Dimensions in cm:
Height 77 x Width 153 x Depth 84 - table open
Height 77 x Width 107 x Depth 84 - table closed
Dimensions in inches:
Height 2 feet, 6 inches x Width 5 feet, 0 inches x Depth 2 feet, 9 inches - table open
Height 2 feet, 6 inches x Width 3 feet, 6 inches x Depth 2 feet, 9 inches - table closed
Angelica Kauffman, RA (1741 - 1807)
was a Swiss-born Austrian Neoclassical painter who had a successful career in London and Rome. Though born as "Kauffmann", Kauffman is the preferred spelling of her name in English; it is the form she herself used most in signing her correspondence, documents and paintings.
While Kauffman produced many types of art, she identified herself primarily as a history painter, an unusual designation for a woman artist in the 18th century. History painting, was considered the most elite and lucrative category in academic painting during this time period. Under the direction of Sir Joshua Reynolds, the Royal Academy made a strong effort to promote history painting to a native audience who were more interested in commissioning and buying portraits and landscapes.
Despite the popularity that Kauffman enjoyed in British society and her success as an artist, she was disappointed by the relative apathy that the British had towards history painting. Ultimately she left Britain for the continent, where history painting was better established, held in higher esteem and patronized.
The works of Angelica Kauffman have retained their reputation. By 1911, rooms decorated with her work were still to be seen in various quarters. At Hampton Court was a portrait of the duchess of Brunswick; in the National Portrait Gallery, a self-portrait. There were other pictures by her at Paris, at Dresden, in the Hermitage at St Petersburg, in the Alte Pinakothek atMunich, in Kadriorg Palace, Tallinn (Estonia).
Satinwood
is a hard and durable wood with a satinlike sheen, much used in cabinetmaking, especially in marquetry. It comes from two tropical trees of the family Rutaceae (rue family). East Indian or Ceylon satinwood is the yellowish or dark-brown heartwood of Chloroxylon swietenia.
The lustrous, fine-grained, usually figured wood is used for furniture, cabinetwork, veneers, and backs of brushes. West Indian satinwood, sometimes called yellow wood, is considered superior. It is the golden yellow, lustrous, even-grained wood found in the Florida Keys and the West Indies.
It has long been valued for furniture. It is also used for musical instruments, veneers, and other purposes. Satinwood is classified in the division Magnoliophyta, class Magnoliopsida, order Sapindales, family Rutaceae.
Our reference: 07626c