Why Antique Desks Are Your Best Work Companion

At Regent Antiques we've assembled a wide collection of desirable antique desks to suit the needs of almost everyone. Today, we look at several fine examples.
There is nothing more important to a productive working environment than having the right desk – functional, comfortable and of great design. Unfortunately, many office desks fail to meet those criteria. Yet it doesn't have to be that way, as our collection of antique desks clearly shows.
A gorgeous Victorian mahogany marquetry desk
Today, we would like to show you this lovely antique late Victorian mahogany kidney shaped kneehole desk, circa 1880 in date.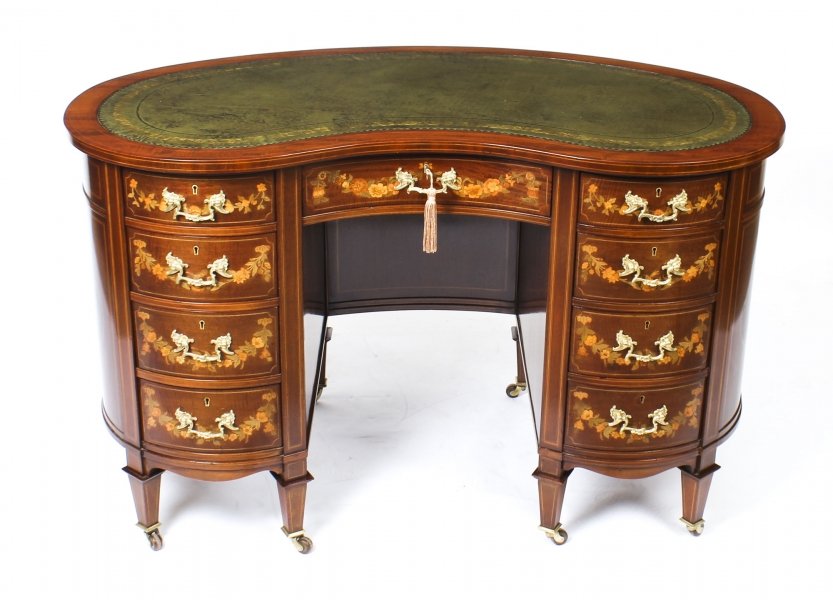 The desk is free standing and made from mahogany. It features gorgeous floral marquetry decoration with satinwood line inlay and banding. Marquetry is decorative artistry where pieces of material such as wood, mother of pearl, pewter, brass, silver, or shell of different colours are inserted into surface wood veneer to form intricate patterns such as scrolls or flowers.
The top of the desk is inset with a beautiful gold-tooled green leather writing surface. The handles, brass castors, and locks are all original and add elegance to this beautiful desk.
This desk features an arrangement of nine drawers for convenient storage, has a beautifully-inlaid modesty panel on the rear and is raised on short square tapering legs terminating in brass caps and porcelain castors. This stunning desk is sure to become the centrepiece of your furniture collection and will receive the maximum amount of attention wherever it is placed.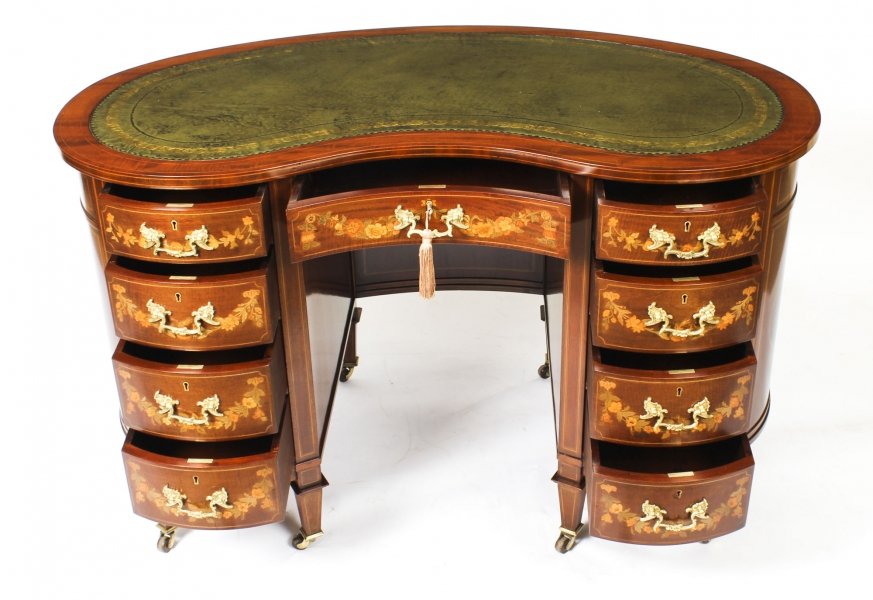 Looking at the rare – a stunning antique ormolu bureau plat desk
Next, we are proud to present to you this fine and rare antique ormolu bureau plat desk. It is a mounted French kingwood bureau plat after Charles Cressent, dating from around 1860. It bears the label of Bedle & Cie and features wonderful highly decorative ormolu mounts.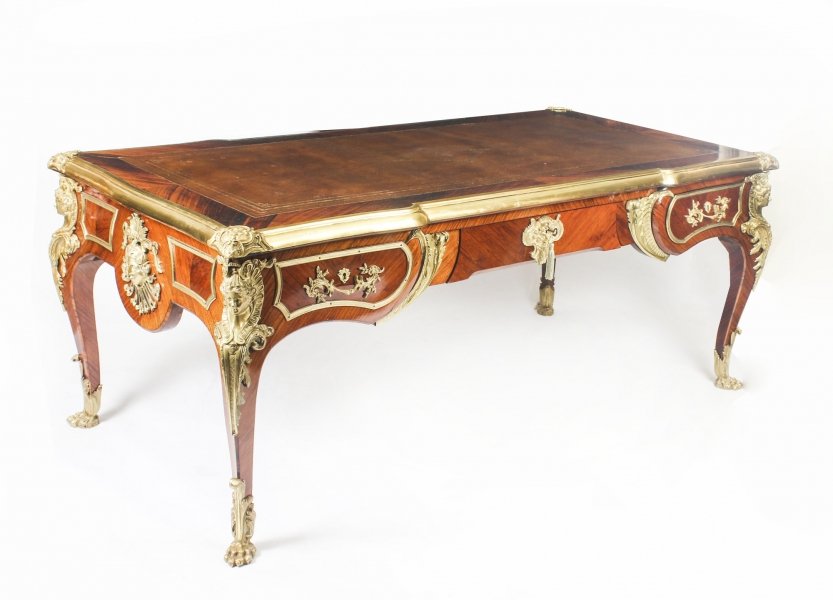 The shaped rectangular top of this delightful antique ormolu bureau plat desk has a decorative ormolu border and is inset with a superb gilt-tooled tan leather writing surface. It has one long central and two short shaped frieze drawers on one side and false drawers on the other. All the drawers have working locks and keys.
The desk is raised on beautiful slender cabriole legs headed by stunning scrolled foliate and shell-cast Venus mask espagnolettes, terminating in ormolu lion's paw sabots.
Each side of this antique ormolu bureau plat desk is mounted with an acanthus, scroll and lambrequin adorned ormolu Diana Mask and, as an added bonus, it is finished on all sides so that it can stand freely in the centre of a room.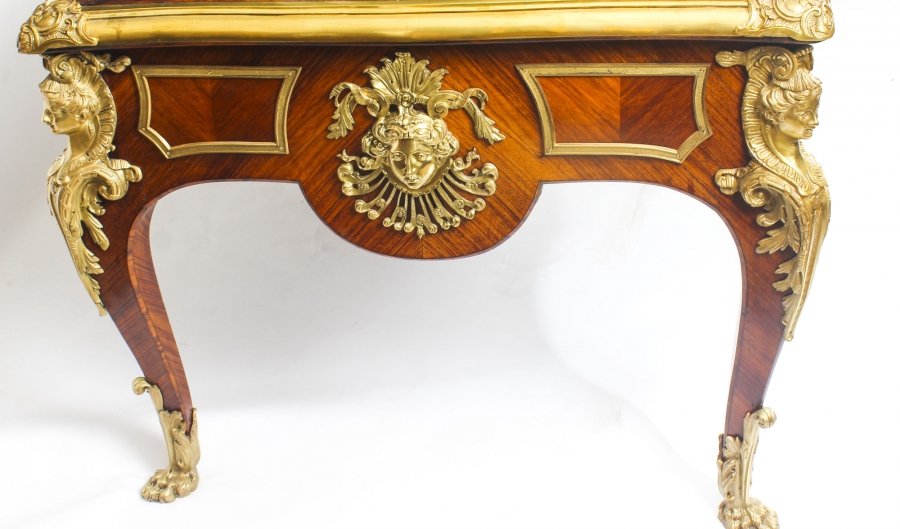 This piece follows the celebrated Charles Cressent model, one of which forms part of the renowned collection at the John Paul Getty Museum in Los Angeles. Charles Cressent (1685–1768) was a French furniture-maker, sculptor and founder of the régence style. He was a pupil of the renowned André Charles Boulle and is widely viewed as one of the best decorative artists of the 18th century.
This antique ormolu bureau plat desk is a truly exquisite and historic piece which will display beautifully in any interior and surely become the focus of your guests admiring attention.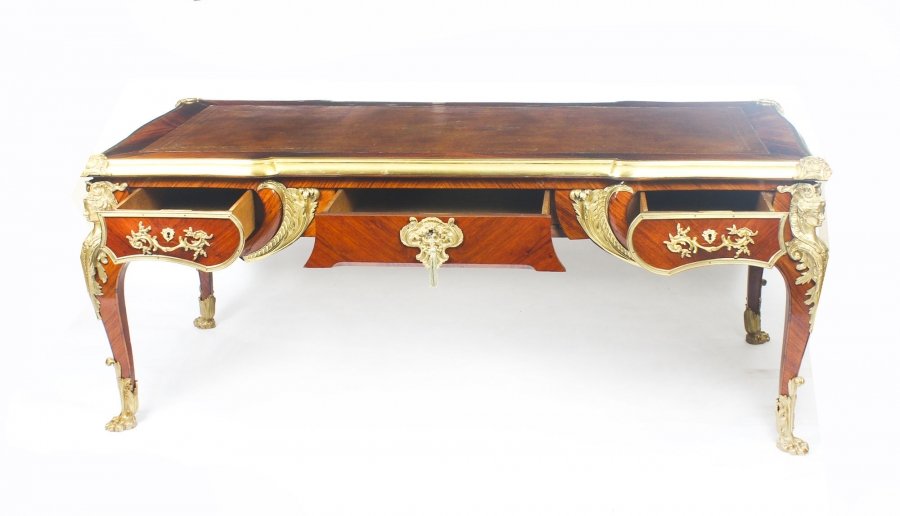 This magnificent Chippendale partners desk screams superior quality
As for our third offering, we feel enormously privileged to present this magnificent flame mahogany lion's head Chippendale partners desk. It is an exact replica of the desk supplied by Thomas Chippendale to Sir Rowland Winn in 1767 for his residence, Nostell Priory in Yorkshire. In our view, it demonstrates the highest standards of the cabinet maker's craft, representing all the finest from the 18th century – perfect proportions, fine cabinet making, and carving of the highest quality.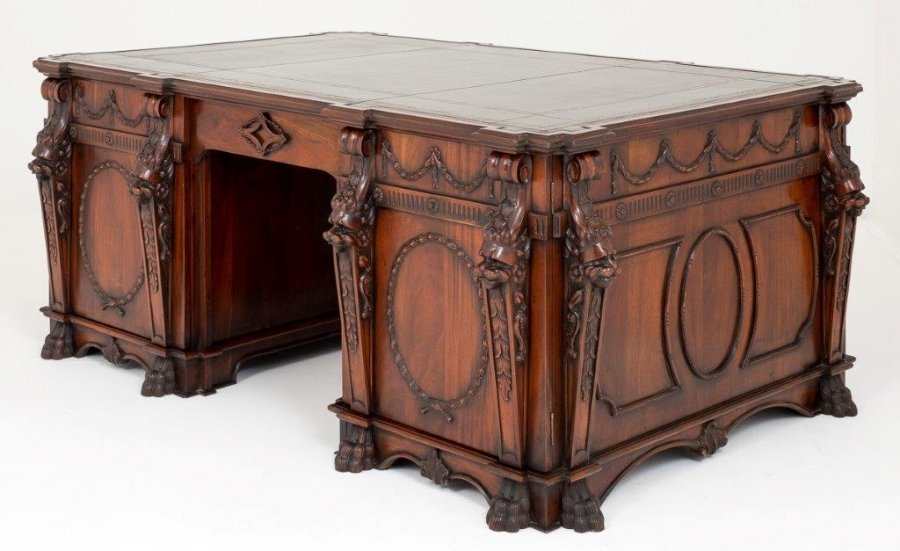 The desk has been beautifully crafted from flame mahogany and is finished on all sides and as such can be set free standing in the centre of a room. The desk features beautifully carved lion's heads, with acanthus and laurel details, and it stands on elegant lion's paw feet. Carved from solid mahogany, the craftsmanship is of the highest order, surely the work of a master carver.
This Chippendale partners desk is identical on both sides, with the cupboard doors on one side each opening to reveal a bank of four graduated drawers, all lined in solid mahogany with brass drop handles, and a central frieze drawer. The doors on the other side open to reveal a drawer above four vertical file dividers and a central frieze drawer. To cap it off, the top is lined in the finest olive green gilt-tooled hide.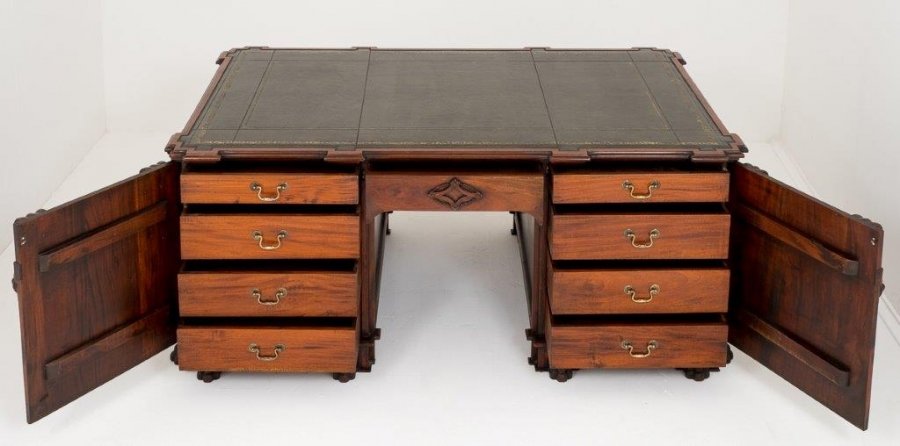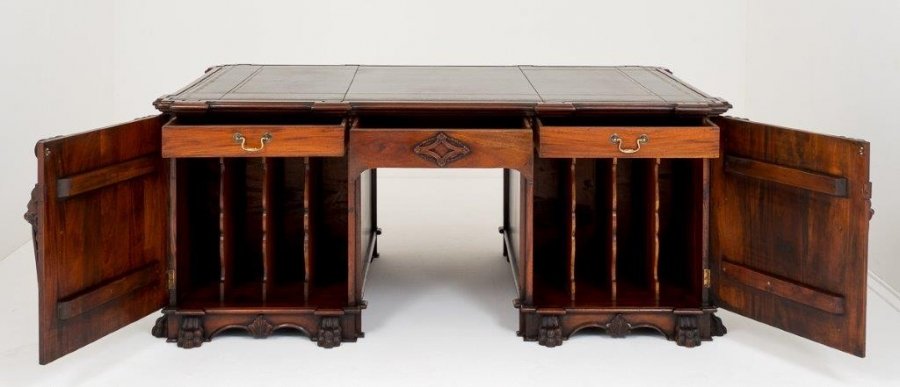 We cannot overstate the significance of this piece. It represents the very pinnacle of the cabinet maker's craft. It may interest you to know that Christie's sold a similar replica Thomas Chippendale desk by London furniture makers Arthur Brett for £221,000 in March 2017. This stunning Chippendale partners desk will bring style and beauty to your home like no other piece and is certain to become the shining centrepiece of your furniture collection.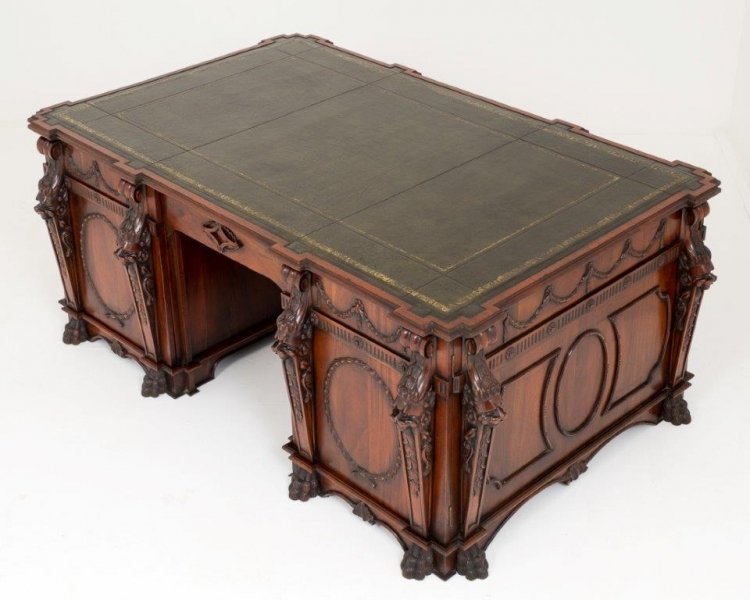 Ladies look no further – an exquisite writing table just for you
To conclude today's review of exquisite antique desks, we have a special piece which is sure to please any woman. Believed by our experts to date from around 1860, this antique Bonheur Du Jour is an imposing and functional item of furniture that is so typical of the Victorian era.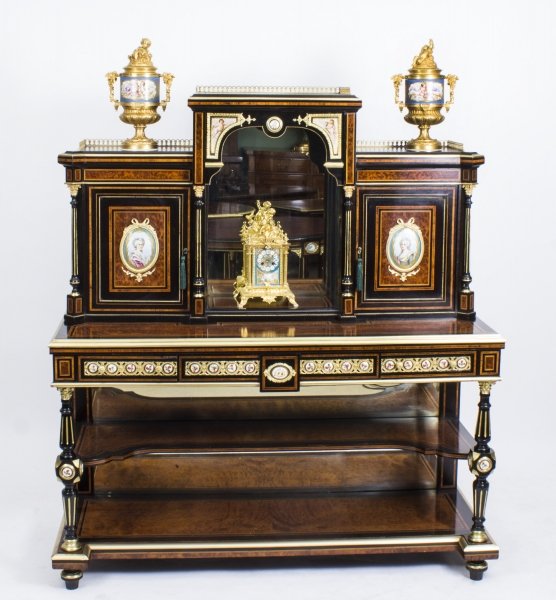 To the top of the piece are decoratively pierced brass galleries. The Bonheur du jour is made from amboyna and thuya wood – both very rare and expensive timbers. The piece is decorated throughout with Sevres porcelain plaques which have been hand-painted and depict Madam Dubarry and Madam De Montesson along with floral sprays and cherubs. There are also a number of very fine ormolu mounts. Please also note the use of kingwood crossbanding. This is surely an exceptional example of quality and design.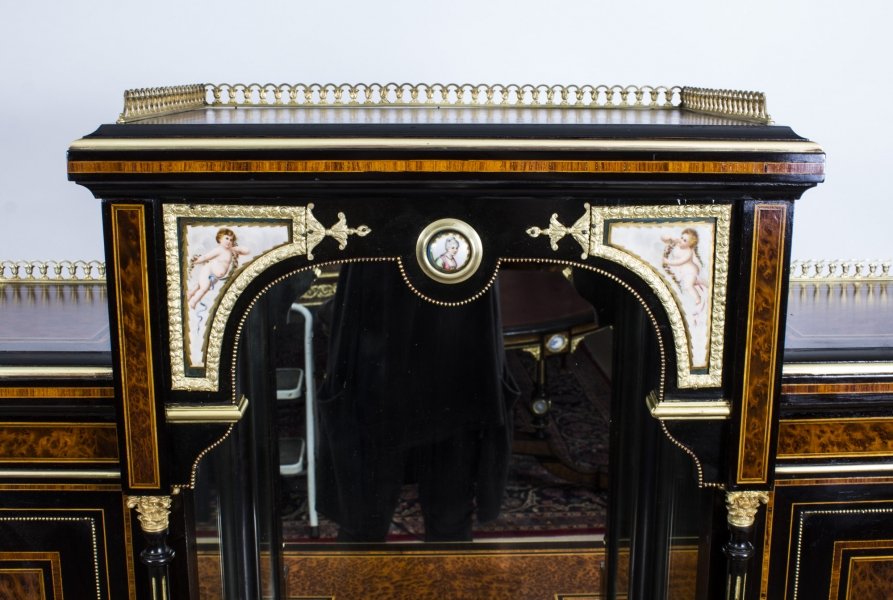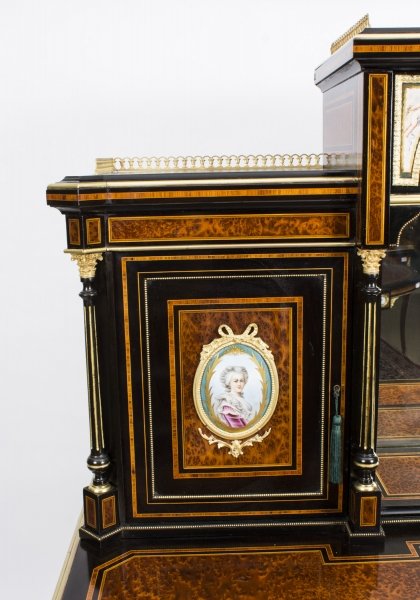 This ladies writing desk has a large central drawer which has a slide for writing. This is still fitted with the original inset gold tooled navy blue leather writing surface. There are two further drawers situated over a mirror backed two-shelf under tier. It is all raised on strong yet elegant turned feet.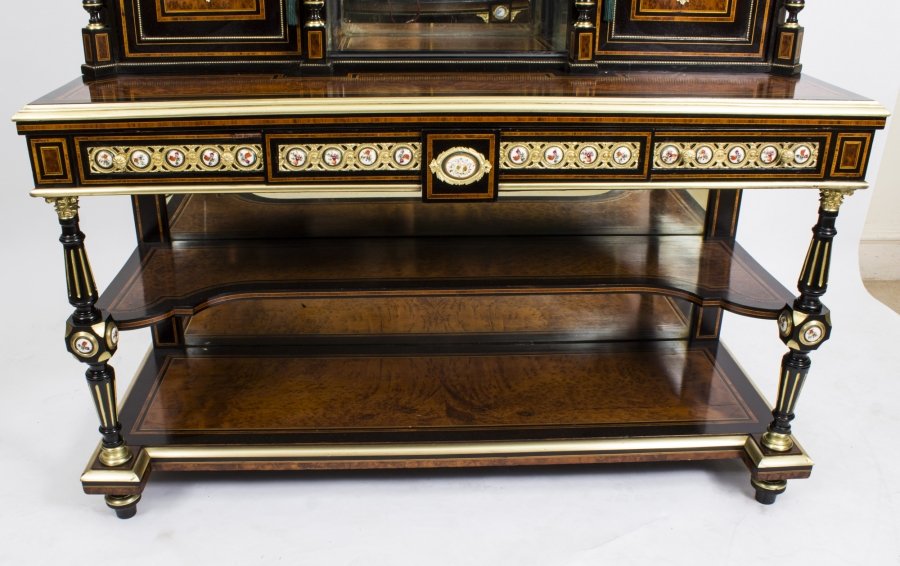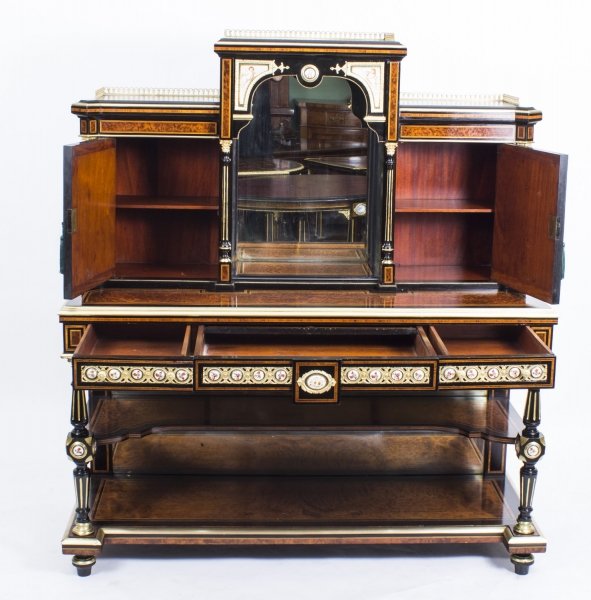 Find the antique desk of your dreams
At Regent Antiques, we do have a wider range of antique desks plus several vintage examples as well.
We know that not everyone will be able to visit our showrooms, which are located in North London, UK, in order to buy the desk of their dreams – but we do encourage you to do so if you can. There you will be able to inspect all of our stock of antique desks and writing tables at your leisure with the added bonus of being able to actually sit at the desk and try it out. Our experts will be on hand to answer your questions and provide additional information if required.
If you are not a UK resident, never fear. Worldwide packing and expert shipping are available, so if you see something you like just contact us for a shipping quote to your part of the world. UK Mainland shipping is free of charge. Please take a close look at the photo gallery included with every product listing to satisfy yourself that the desk you are interested in is exactly what you are looking for. Also, please take note of the dimensions that are supplied with all products in both centimetres and inches.