Antique Sideboards and Credenzas: So Much To Offer

At Regent Antiques, we have an excellent choice of antique sideboards and credenzas. So if it is this piece of furniture that you seek – you've come to the right place.
We hold a large stock of antique sideboards and credenzas which are always sought after and in high demand. Many of these items are from well-known manufacturers in furniture making history, whilst others are either unique or, at the very least, not so commonplace.
An absolutely breathtaking Victorian credenza
Take a look, for example, at this antique Victorian ebonised, ormolu mounted, and red tortoiseshell Boulle marquetry serpentine credenza, circa 1870.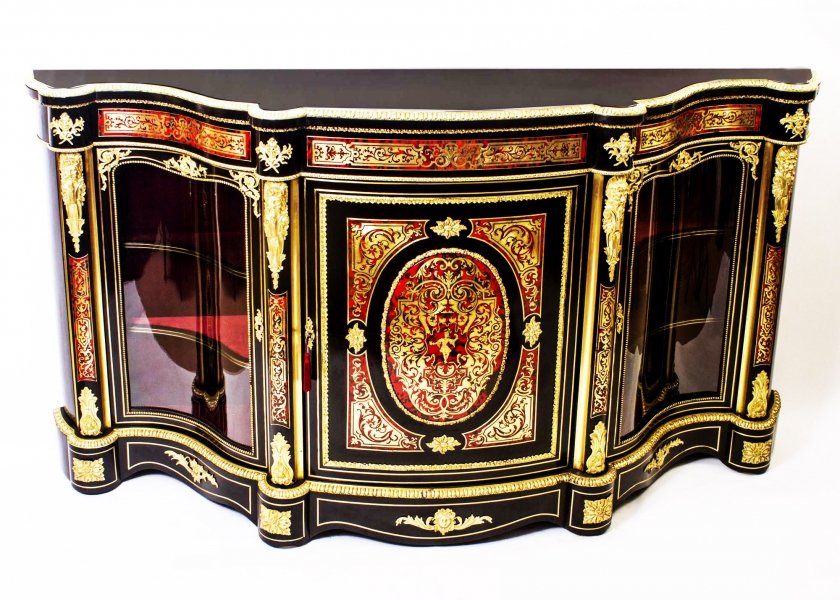 It is beautifully inlaid in cut brass on tortoiseshell with a jester in the centre of the panel in the central door. In addition, there is scrolling acanthus foliage with flowers and honeysuckle. It is further adorned with a plethora of fabulous ormolu mounts.
The central cupboard door, with the raised oval panel, encloses a red velvet lined interior with a shelf and is flanked by two serpentine glass doors with shelves.
The credenza is raised on a plinth base and has its original working locks and keys.
It is virtually identical to one that can be seen in the Award Winning Television Drama Downton Abbey, which is filmed at Highclere Castle in Hampshire and is the home of the Earl and Countess of Carnarvon.
This is an absolutely breathtaking piece which is certain to make it a talking point in your home.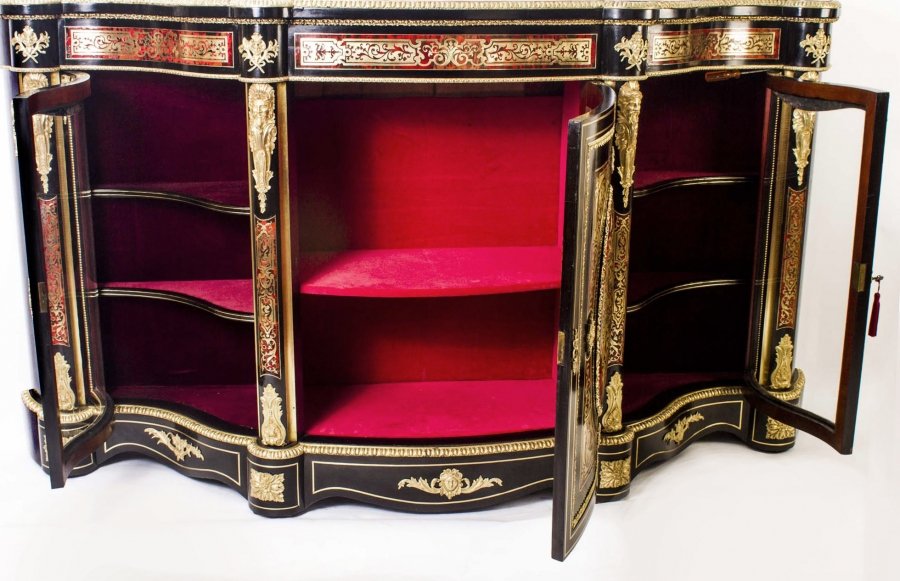 A magnificent sideboard made of the best plum pudding mahogany
Another absolutely stunning example of superior quality furniture is this exceptional antique French plum pudding mahogany and ormolu mounted marble topped bowfront sideboard, circa 1880 in date, in fabulous Empire style with room for all your plates, china, glassware and cutlery.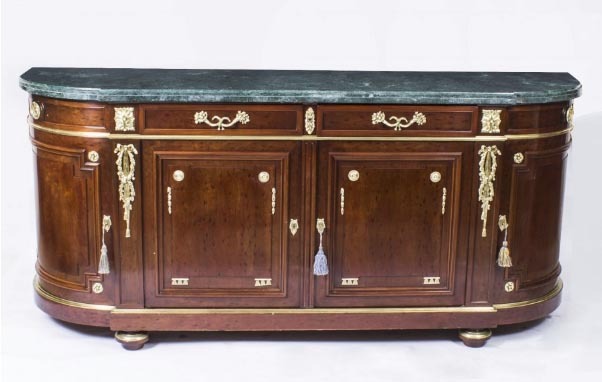 It bears the stamp on the reverse of the renowned Paris retailer and cabinet maker: Mon Deville, J. Maurert Succ, 28bis Avenue de L'Opera et Rue Gaillon, 6, Paris.
It has four useful and capacious drawers in the frieze, above four panelled cupboard doors and it is surmounted with a superb and substantial shaped green "Verde Antico" bowfront marble top with a stunning shaped edge.
The four moulded cupboard doors open to reveal capacious cupboards, each with a central shelf, and these shelves are adjustable. The sideboard stands on a plinth base that is raised on ormolu mounted bun feet.
This magnificent sideboard has been crafted from the very best quality plum-pudding mahogany and is smothered in fabulous high-quality ormolu handles and mounts reminiscent of the Empire style with lozenge surrounds, acanthus, laurels, ribbons and rosettes. It also comes complete with working locks and the original keys.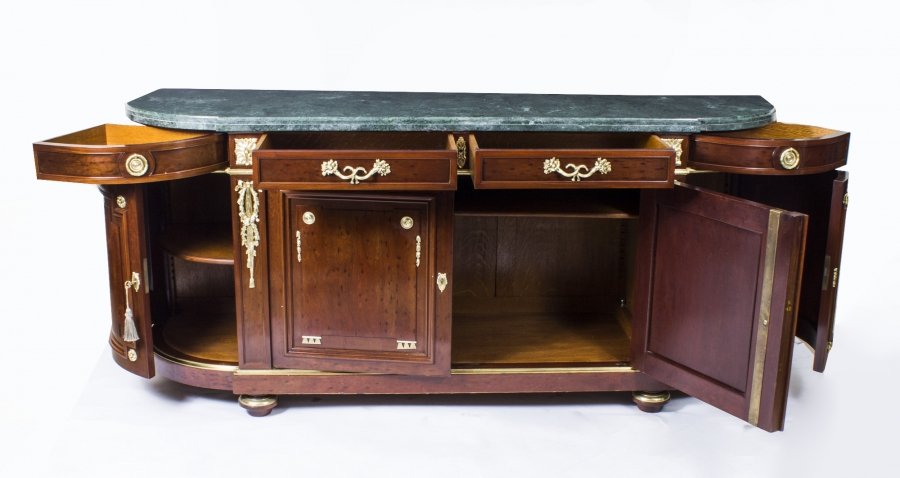 When Sevres porcelain meets burr walnut and ebony
Next, we would like to show you this superb antique Victorian burr walnut and ebonised Sevres porcelain and ormolu mounted line inlaid breakfront credenza, circa 1860 in date.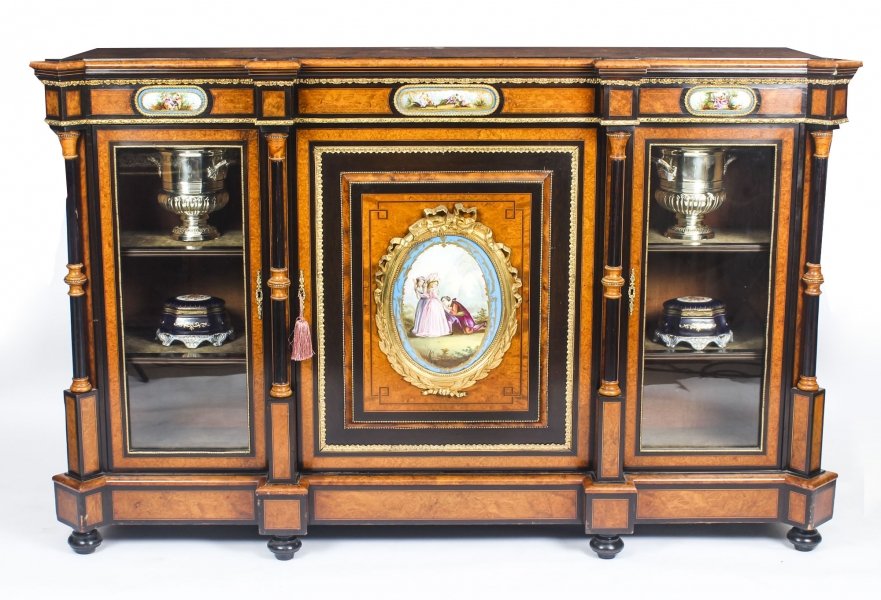 It has a striking central panelled door which is adorned with beautiful ormolu mounted and a hand-painted Sevres porcelain plaque depicting a courting couple with a chaperone, flanked by an elegant glazed door on either side. There are three similar Sevres porcelain plaques in the frieze, and it is further decorated with four Corinthian columns and exquisite ormolu mounts.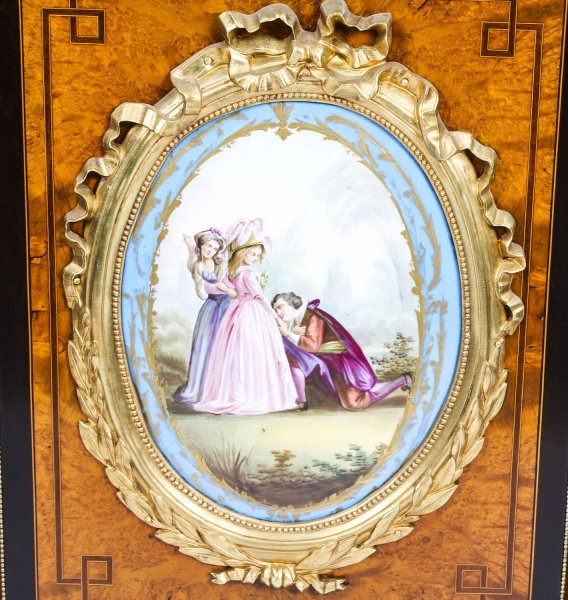 The glazed side doors open to reveal two shelves in each section, ideal for displaying your collectables. The central door opens to reveal a central shelf and plenty of storage space for drinks, glasses, crockery, etc. The interior is lined in its original violet velvet. It is raised on ebonised bun feet and is complete with working locks and keys.
Similar to the previous two items, this is another equally stunning piece which is sure to attract a lot of attention.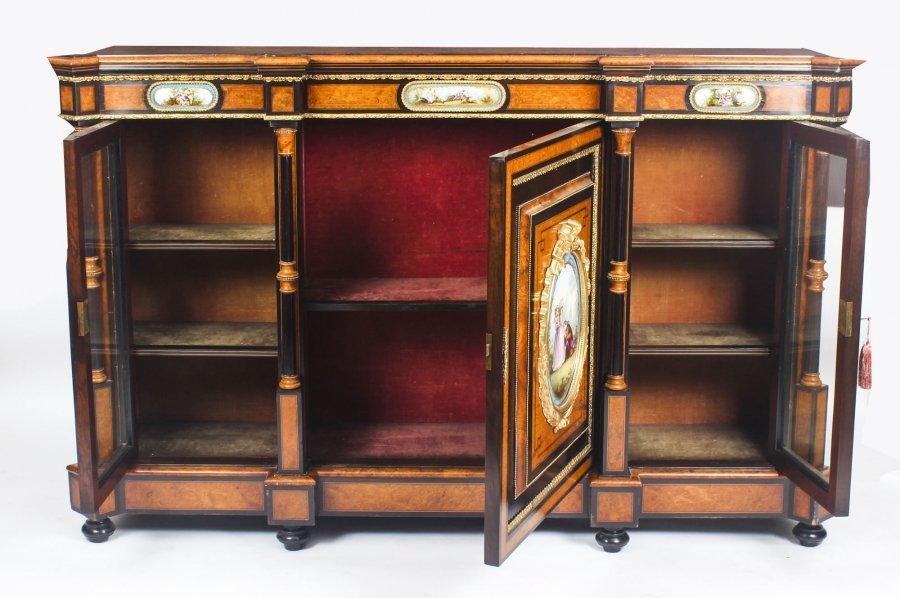 The eternal charm of Pietra Dura
Now we turn our attention to a truly superb antique French Napoleon III ormolu and pietra dura mounted ebonised credenza, circa 1840 in date.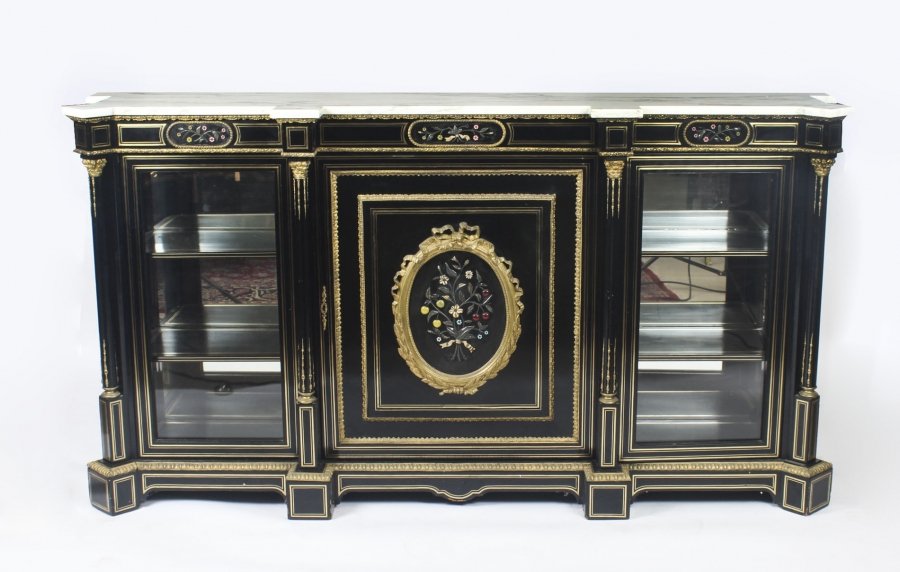 This credenza has a panelled door in the centre which has intricate hand-cut pietra dura floral decoration set within a fabulous gilt bronze mount, and there are three more pietra dura panels along the frieze, one above each door.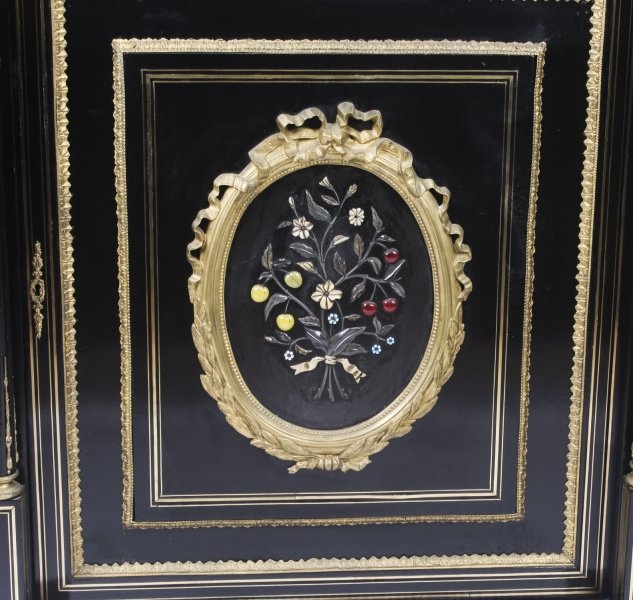 The central door opens to reveal a grey lacquered interior with two shelves. It has a glazed door at either end, and each opens to a cupboard with a mirrored back and two ebonised shelves with brass inlaid decoration.  
It has four imposing Corinthian columns with gilded ormolu capitelli and is surmounted with a beautiful white "Marmo di Carrara" marble top, that adds the finishing touch to this elegant piece.
Oozing sophistication and charm, this credenza is the absolute epitome of Victorian high society. Its attention to detail and lavish decoration are certain to draw the eye wherever you choose to place it in your home.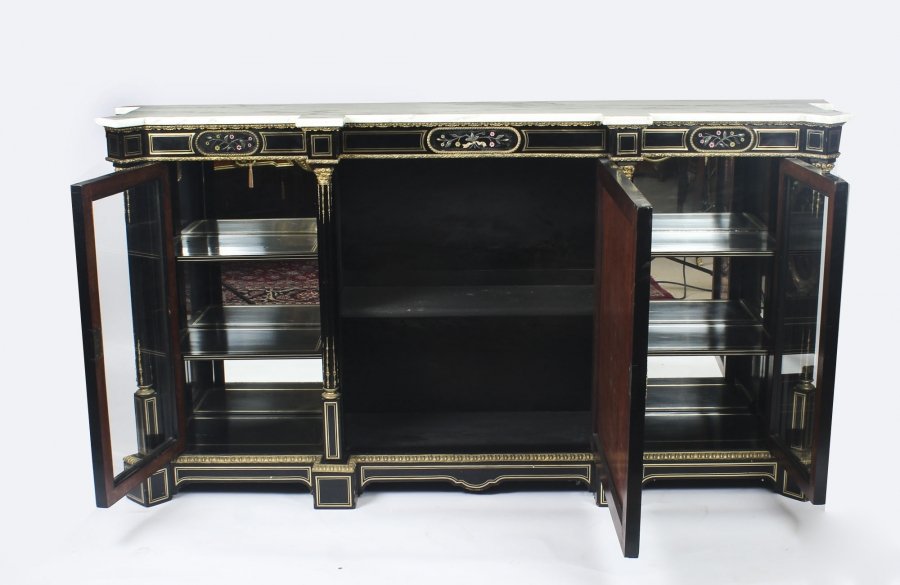 The splendour of marquetry
Our final item selected from the antique sideboards and credenzas available here Regent Antiques is this superb antique Victorian high-quality burr walnut and marquetry, ormolu mounted credenza, circa 1860.
This piece highlights the unique and truly exceptional pattern of the burr walnut extremely well.
This rectangular credenza has three elegant panelled doors with marquetry flowers in an urn and a plethora of fabulous gilded bronze mounts.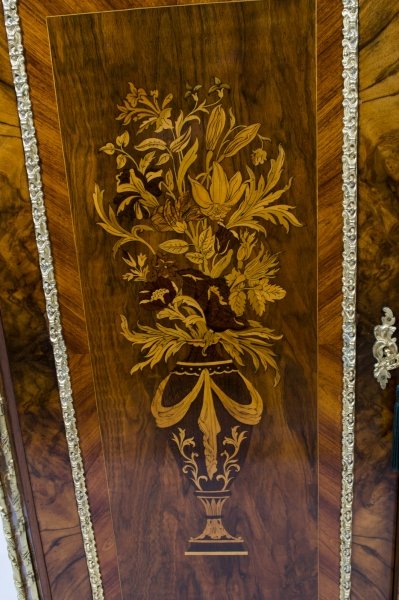 The interior has been beautifully lined in a decorative royal purple velvet.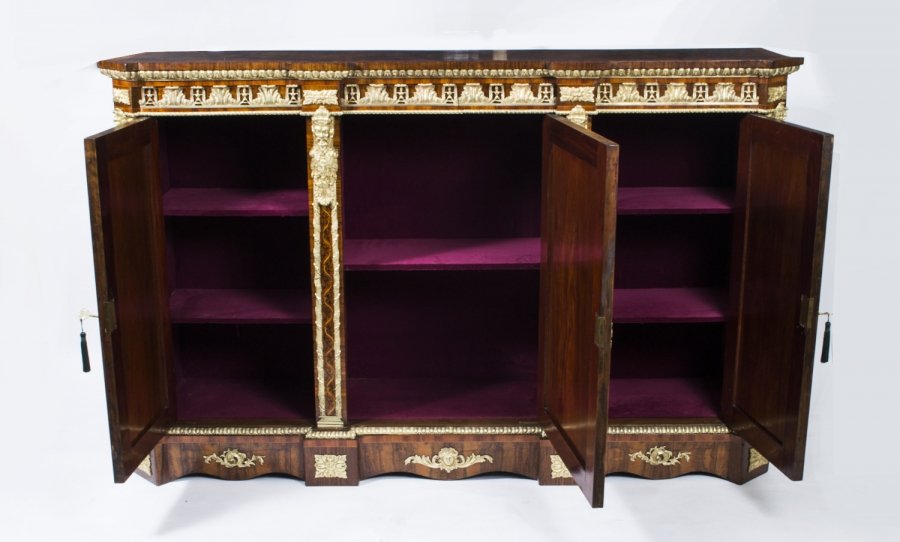 The frieze is decorated with tongue and dart ormolu mounts above an acanthus border, and the pilasters are headed with superb ormolu mounts. The attention to detail and lavish decoration are certain to draw the eye wherever you choose to place it in your home.
Antique sideboards and credenzas are always available here at Regent Antiques
If you are looking for a particular style or design of antique sideboard or credenza then you are well-advised to check this category of our website regularly. We are certain that you will be able to find the antique sideboard or credenza of your choice here at Regent Antiques.
A personal visit to our North London showroom will also be beneficial if you want to examine our stock close up. If you cannot visit the showroom and you have questions about any of our antique dining room furniture pieces, or indeed any other items, then you are welcome to contact us by telephone or email.
Finally, please don't forget to sign up for our free new item notification service which ensures that we will send you weekly notifications of any fresh arrivals that appear in your categories of interest. After all, you don't want to miss finding that special piece of antique sideboard or credenza that you've been looking for!