Featured Review – In Praise of Antique Bookcases

In this article, we look at the eternal elegance of antique bookcases and show you a few fine examples that we are very proud to offer at Regent Antiques.
With e-books and digital documents on the rise, you would have thought that the sturdy antique bookcase would have somehow disappeared. Far from it however, as antique bookcases are still treasured and sought after, and they come in many shapes and sizes. From simple and functional through to opulent and grandiose, they are often so beautiful that the actual books become an afterthought.
When filled with books, bookcases are things of great elegance, lighting up a room and giving hours of pleasure to those who like to browse – even if they don't actually read the books that they are browsing. Indeed, the humble antique bookcase will be around for a good while to come.
At Regent Antiques, our extensive range of antique bookcases is large and varied with options to suit almost any setting, including your home and office, as well as hotels or other commercial settings.
Antique bookcases of grand and imposing design
A superb example is this early Victorian top quality four door breakfront bookcase, masterfully crafted in rich burr walnut, circa 1850.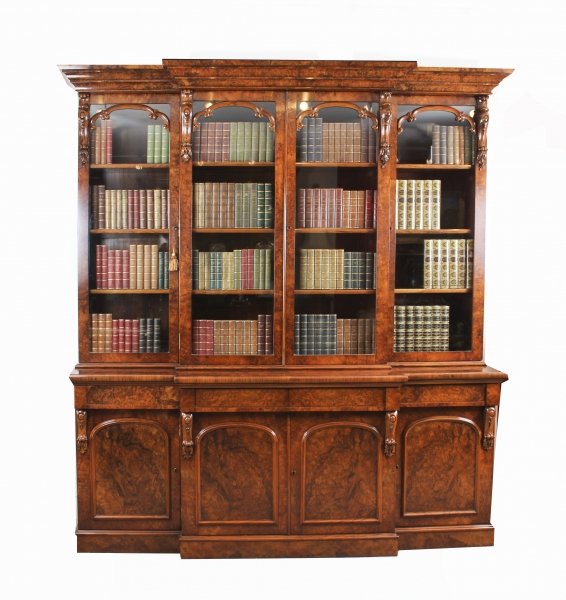 This magnificent bookcase features a flared breakfront cornice over four glazed doors with decorative scrolling bars in the upper section. It has twelve original shelves, and they can all be adjusted according to the height of your books. The lower section has four useful drawers over four panel doors all of which open to reveal spacious cupboards with shelves.
The glazing and the shelves are all original, and the drawer linings and the bookcase back are all made from solid mahogany. The bookcase is raised on a plinth base and is complete with working locks and keys.
There is no mistaking its superb quality and grand design, which are certain to make it a talking point in your home as it stands proud in whichever room you choose to display it.
Another spectacular item is this large and exceptionally high quality antique French Napoleon III Empire flame mahogany bookcase with fabulous ormolu mounts, circa 1870 in date.
The bookcase rises from a shaped plinth base, and the four lower lockable panelled doors house a shelved interior. The top section is divided into four open divisions with adjustable shelves and it is surmounted with a decorative cornice. It also features high-quality ormolu mounts including torches, cupids, acanthus leaves, rosettes, laurels and palmette mounts as well as other Napoleonic symbols.
The flame mahogany is of superb quality with wonderful figuring, truly making this a museum quality piece.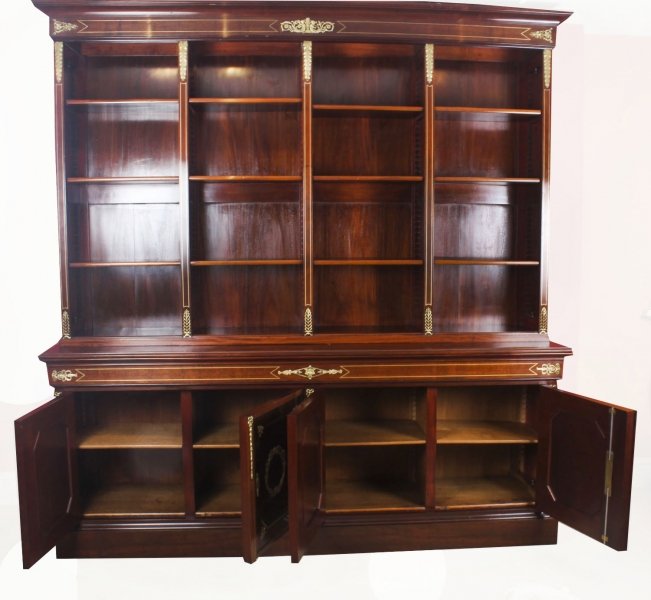 Antique bureau bookcases that make a statement
Our third item is an absolutely unique piece. It is an important antique Italian bureau bookcase, made in Venice circa 1750.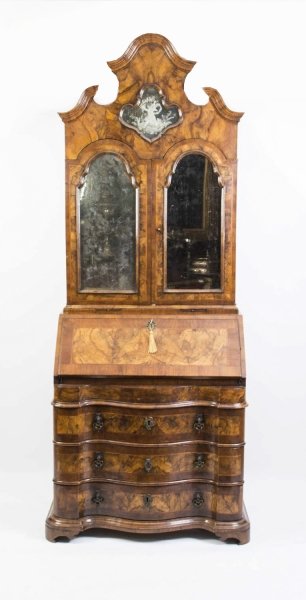 This bookcase has been made from the finest burr walnut with walnut crossbanding and boxwood inlaid lines.
The top has two mirrored doors with a small cherub-engraved mirror above them. The door opens to reveal two shelves and two small drawers. The base has a useful storage space with three capacious drawers. The top section interiors have been lined in a golden satin.
The bureau fall can be lowered for use as a desk and the interior has two small drawers and two small cupboards which provide ample space for storing pens and papers.
It has its original handles as well as working locks and keys. This is an absolutely magnificent and rare bookcase which will make a statement in any room.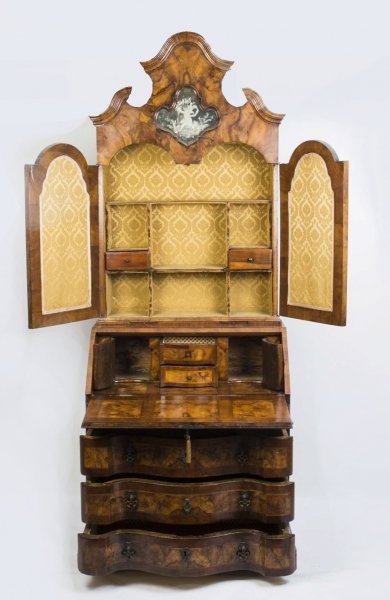 Next, we have a very fine antique Queen Anne bureau bookcase or more specifically a double-dome bureau bookcase in burr walnut, dated by our experts to have been made around 1720.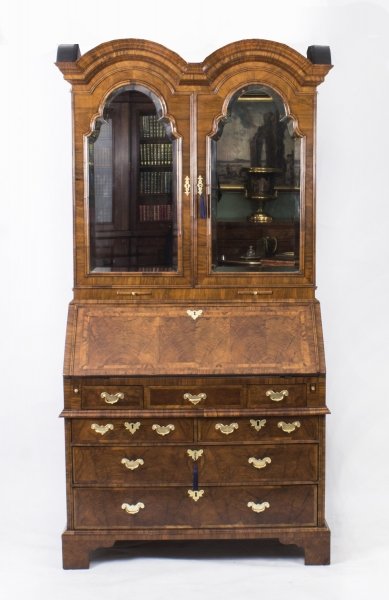 Although Queen Anne actually reigned from 1702 until her death in 1714, furniture made after that period is often described as Queen Anne if it is made in the style which became known by that name – and this is one such a piece.
The top section of this antique bureau is surmounted by a lovely double dome and has the additional feature of a further dome situated on each of the side returns.
Beneath each of these attractive and impressive domes there are doors which are fitted with bevelled mirror plates, probably not of the period, that open in order to give access to a spacious interior fitted with adjustable shelves.
There is another nice touch: below each of the doors there is a useful candle slide. The lower section also has an attractive fall. Inside the fall there is a gold-tooled leather writing surface in green which has been inset. When opened, the fall reveals its inset leather writing surface. There is also a hidden well together with a bank of drawers with concave fronts and a number of useful pigeon holes.
Situated below the fall there are two short drawers which are located to either side of a dummy drawer. Below these, there are two half-width drawers and these are situated above a further two long drawers, all of which are banded with a herringbone inlay. As you might expect, this Queen Anne bureau bookcase offers a wealth of storage in the form of drawers, pigeon holes, and shelves.
Down below, this large double dome bureau bookcase is mounted on later, very substantial, bracket style feet.
All of the drawers in this antique bureau are oak-lined and feature hand-cut dovetails. The piece is fitted with brass handles and decorative escutcheons which are typical of the period. This antique bureau bookcase is supplied with working locks and keys.
It is a timeless piece that will add a touch of splendour to any special room in your home.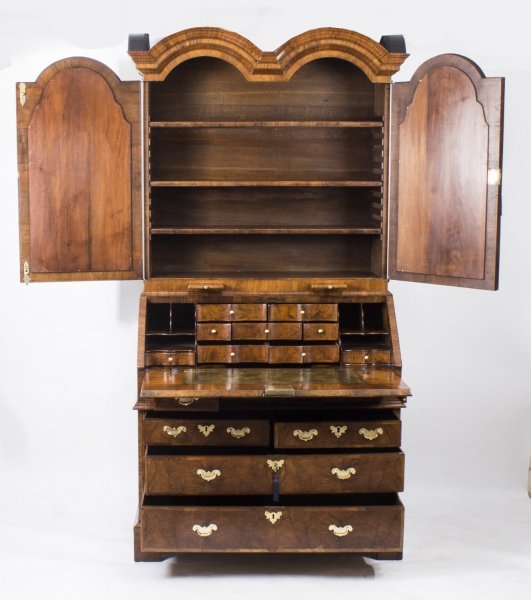 Fine quality antique chiffoniers and revolving bookcases
Different in style and design – but of the same great quality of the above items – is this beautiful antique William IV rosewood chiffonier, circa 1835 in date.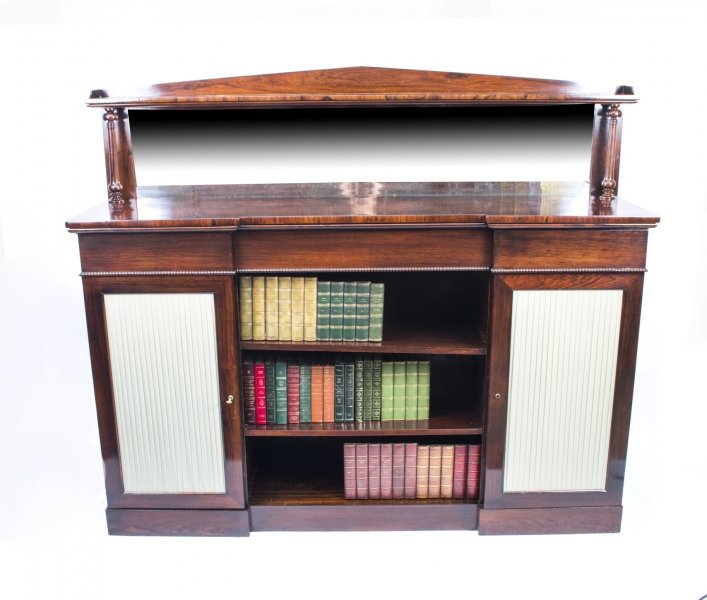 It has a central open bookcase with adjustable shelves and plenty of space for displaying your favourite books. There are a pair of panelled doors, one on either end, each with a beautiful pleated silk inset panel, and they open to reveal spacious cupboards, each with a central shelf.
The elegant back has the original inset mirror with a shelf above, and the frieze has three useful capacious drawers. The chiffonier is complete with original working locks and keys.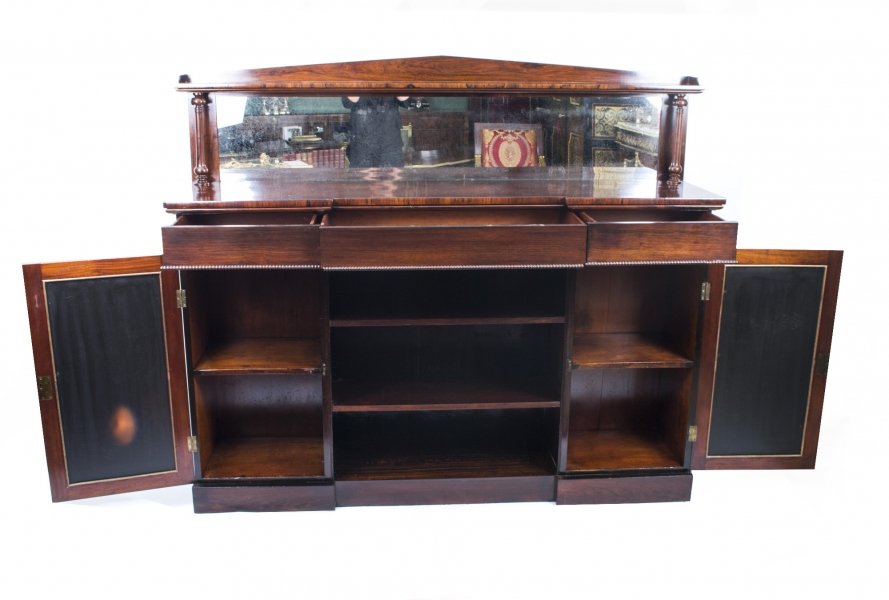 Finally, to end today's review of antique bookcases, we have chosen an exquisite antique revolving bookcase by the renowned Victorian retailer and manufacturer Maple & Co., circa 1900.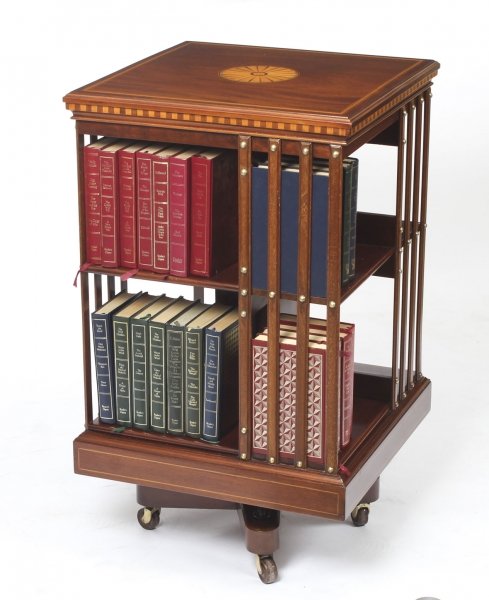 Popular with the Victorians and later in Edwardian times, the revolving bookcase is a godsend for anyone with limited room for shelves or traditional bookcases and cabinets.
This fine example is made of mahogany and revolves on a solid cast iron base. It has inlaid boxwood lines to the top and bottom, and the top has an elaborate shell inlay to the centre as well as crossbanding and inlaid hatching around it.
This best quality Edwardian revolving bookcases had cast iron bases, as this meant that they would be sturdy and not tip when full of books, whereas the lesser versions had simple wooden bases. The quality and attention to detail throughout are second to none.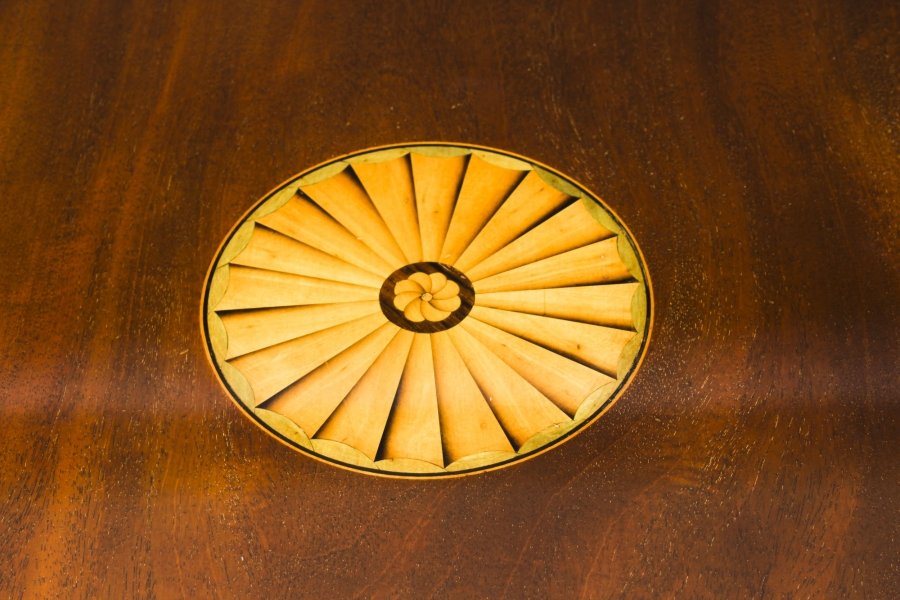 Have we made the case for an antique bookcase?
Whatever your taste in furniture and whatever your special requirements, there can be few people today who would not benefit from an antique bookcase in their home – even with the rise of technology and most things becoming digitised.
So there is a strong case for you to look at our entire range of antique bookcases. The choice is truly impressive. As ever, we are standing by to answer your questions and our shipping team are ready to carefully pack and ship any bookcase to your neck of the woods.
Please contact us for any other information you may require – or better yet – please visit our North London showroom where you can see all of the above-listed items plus the rest of our large inventory of fine antique bookcases and other antique treasures.