Truly Exceptional Antique English Silver at Regent Antiques

Antique English silver is very popular here at Regent Antiques and we are always on the lookout for new pieces to offer to our customers worldwide.
We are currently offering a wide choice of pieces for all lovers and collectors of antique silver, including everything from cutlery, dishes, tea and coffee sets, through to more varied antique sterling silver items, such as silver cigarette holders.
We've had a nice selection of new arrivals with numerous examples of decorative and collectable antique English silver for you to enjoy, so today we are especially pleased to be able to show you some fine examples from our vast collection.
Antique English Silver – Beautiful Craftsmanship and a Timeless Investment
Whether you would like to acquire a silver piece for its value as a collectable item or simply as a useful and decorative piece of fine silver, you will not be disappointed.
Buying antique silver allows you to invest in something which is both beautiful and has real intrinsic value. Antique English silver can give you a reliable investment as well as a desirable and special piece.
One very fine example is this lovely antique English George III sterling silver lidded tankard by John Swift.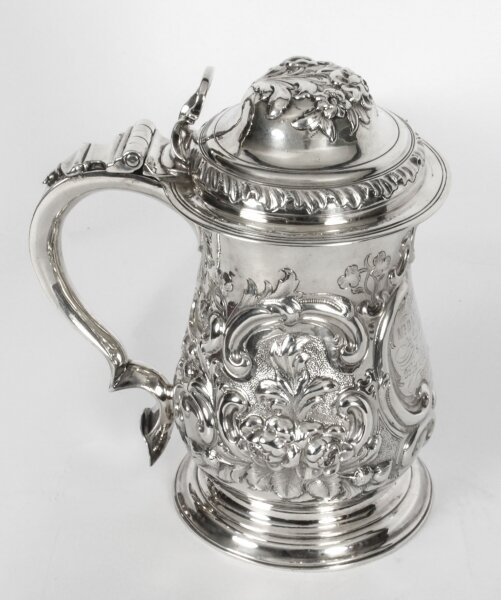 This highly collectable antique silver tankard features wonderful embossed floral decorations throughout with a central cartouche bearing a later inscription to Mr Dan Ferguson for his upright conduct.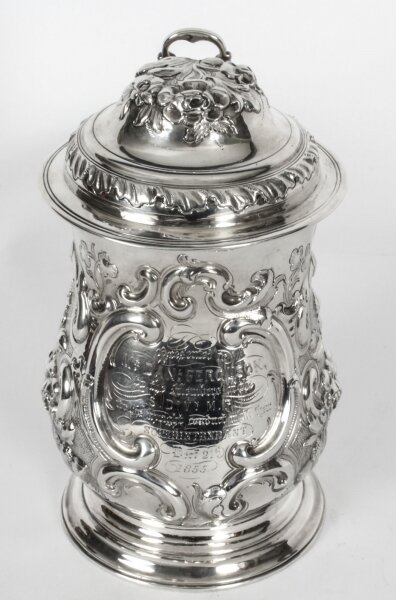 The underside of the tankard bears the full set of hallmarks – lion passant for sterling silver, the leopard head for London, the date letter 'h' for 1763 and the maker's mark 'JS' for John Swift.
This decorative and functional English sterling silver tankard is sure to be a wonderful addition to any silverware collection.
Next, we would like to present to you this stunning antique silver-plated Victorian centrepiece by the renowned silversmiths Elkington & Co, dating from circa 1860.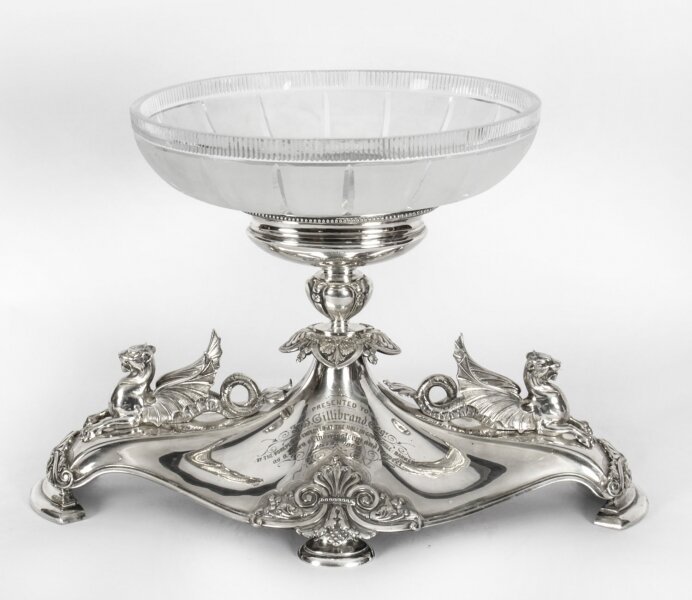 There is no mistaking the unique quality and design of this fabulous centrepiece which features an unusual base with seated dragons and a central pedestal supporting a cut and frosted crystal bowl.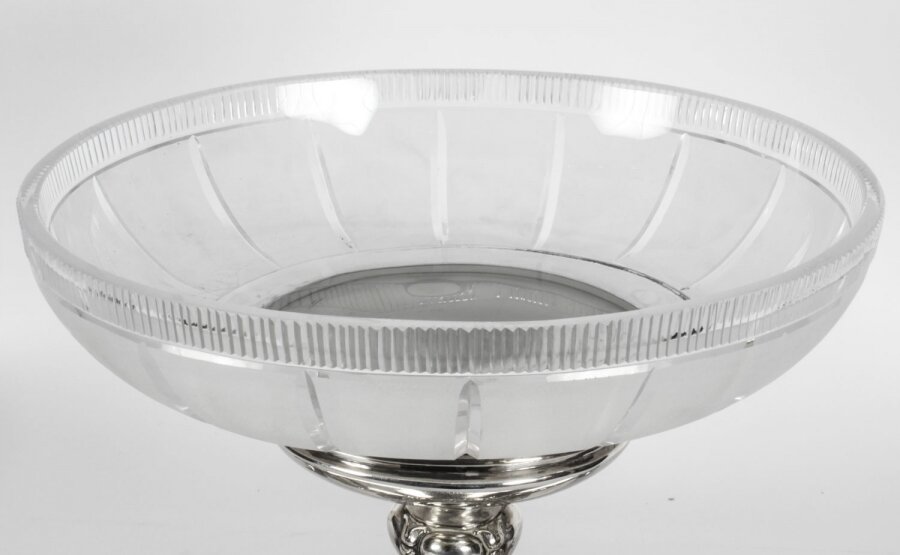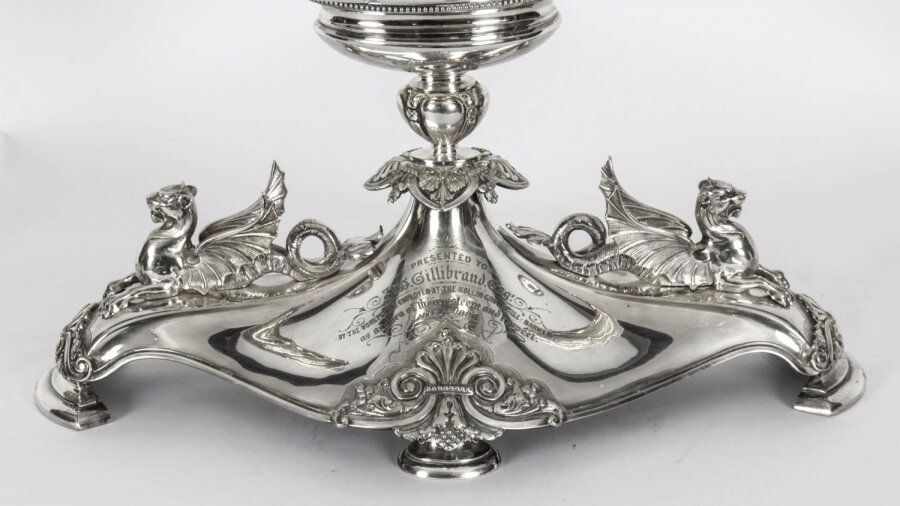 This marvellous centrepiece is standing on tripartite feet and it is beautifully engraved with a central dedication to J. W. Gillibrand ESQ.
A lot of intricate detailing has gone into the creation of this extremely well designed and attractive piece that can only grow in value.
Another remarkable example is this gorgeous antique Edwardian silver punch bowl, bearing the makers mark of the renowned silversmiths Goldsmiths & Silversmiths Company and hallmarks for London, 1901.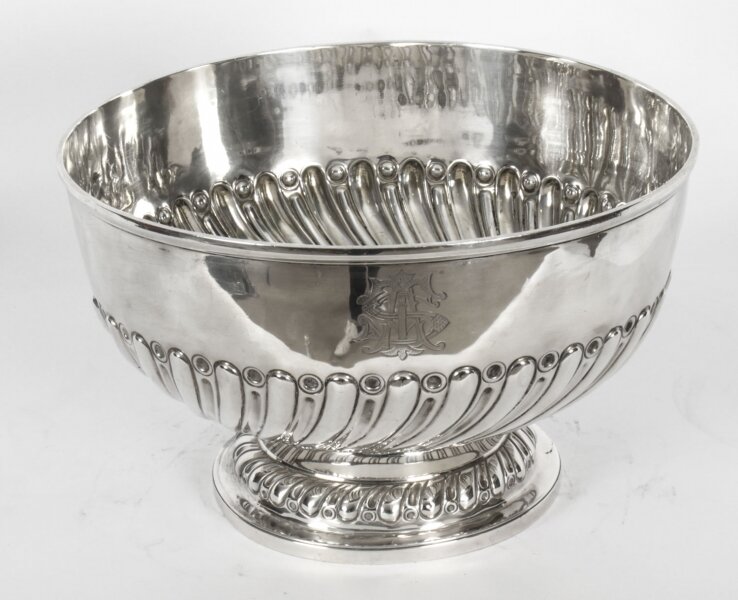 This exquisite punch bowl is also ideal as a champagne cooler and it has beautiful and incredibly detailed embossed half fluted decoration and a hemispherical body raised on a pedestal foot.
This is truly a special item which is sure to add a touch of class to any dining experience.
To finish off in style, we present to you this magnificent antique English Victorian oval silver-plated twin handled tray by the renowned silversmith Mappin & Webb, dating from circa 1880.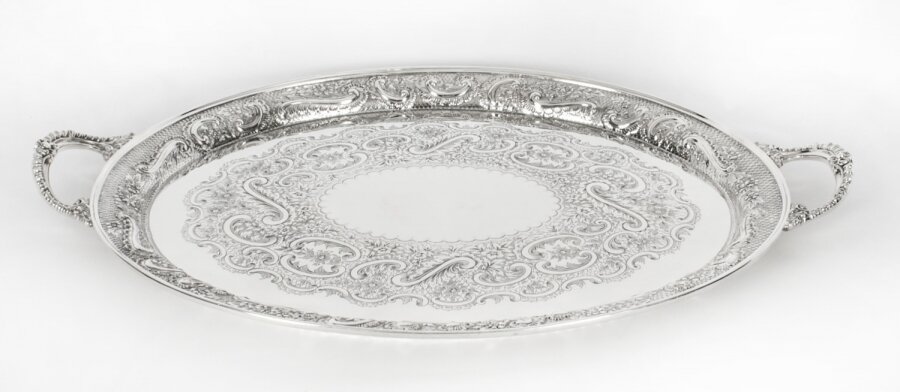 This splendid tray features beautifully engraved and embossed foliate and floral decoration with an elegant central cartouche.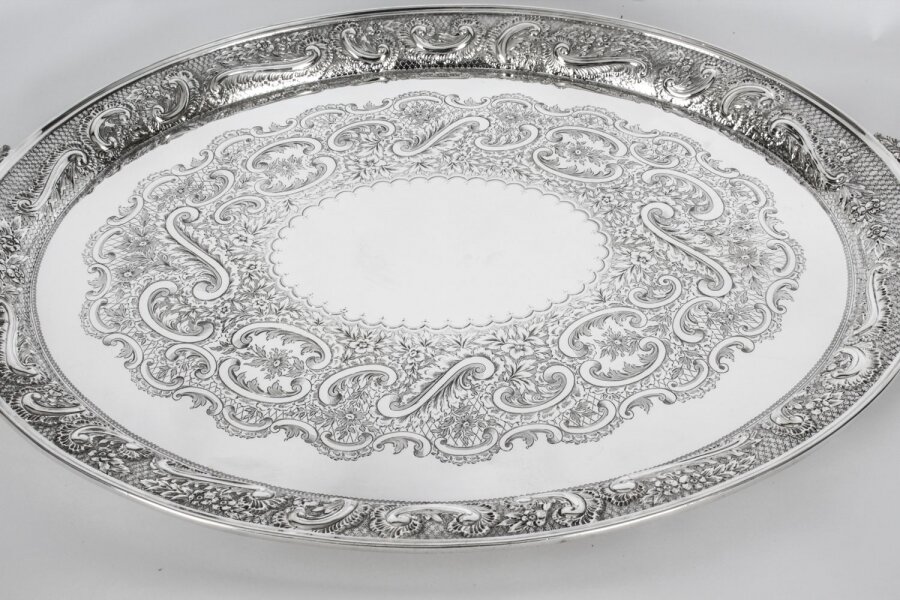 The border and twin handles are embellished with high relief floral decoration.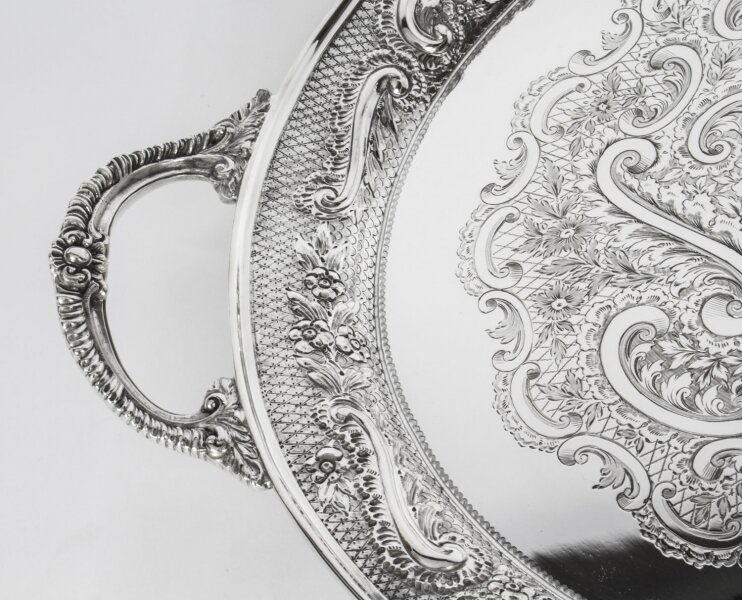 This wonderful tray is one of the finest examples of its type you could hope to acquire.
If you are looking for extraordinary antique silver items to add to your collection, you can always be sure to find something beautiful and rare at Regent Antiques.
Silverware also makes a lovely gift, so you might want to browse our range of antique sterling silver and silver plated items to find that perfect present.
Our inventory changes regularly so be sure to sign up for our free new arrivals notifications service which ensures that we will send to you weekly notifications of any fresh items that appear in your categories of interest.