Explore Our Range of Fabulous Antique Dining Table and Chairs Sets

If you are looking for extraordinary antique dining table and chairs sets, you have come to the right place.
As one of the UK's premier furniture dealers, we always aim to have an excellent and varied range of beautiful antique dining table and chairs sets for you to choose from. We have an impressive collection and we are sure you will find something that will add a touch of old-fashioned glamour to your home or other special space.
Today we would like to take you through some great examples of antique dining table and chairs sets that we currently have in stock. 
A Closer Look at Superb Antique Dining Table and Chairs Sets
To start off, we are pleased to present to you this fantastic antique dining set comprising an antique Victorian dining table and a set of twelve Queen Anne Revival dining chairs.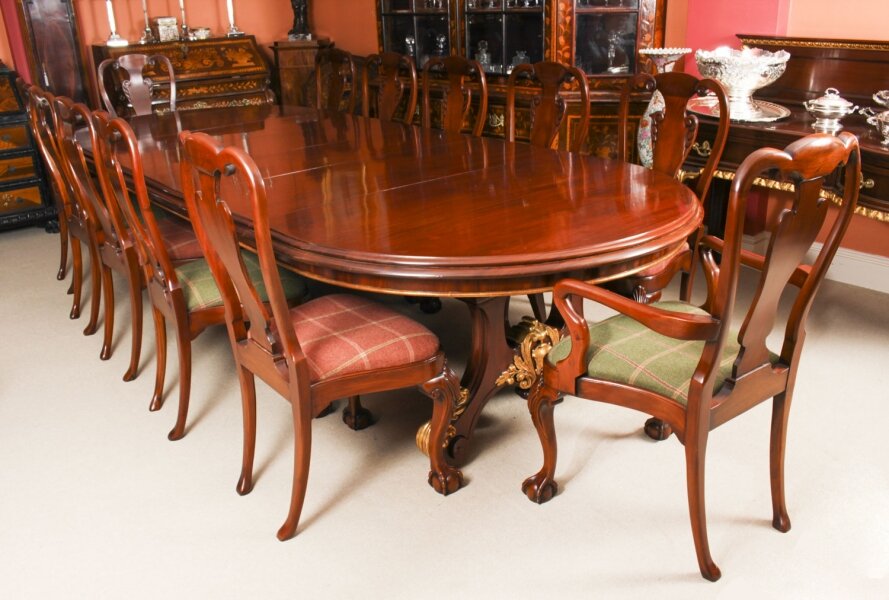 Made from beautiful solid mahogany, this gilded twin pedestal dining table bears the mark of the renowned cabinet makers and retailers Wylie & Lochhead, and dates from circa 1850.
This antique Victorian oval dining table is both beautiful to look at and versatile in day to day use. This is because it is an extending dining table – it is supplied with four leaves which can be added or removed as required to suit the occasion by a special winding mechanism.
It is raised on a pair of beautifully carved and gilded pedestal bases with downswept legs terminating in scroll feet and the original brass and porcelain recessed castors.
The lovely and comfortable set of twelve vintage Queen Anne Revival dining chairs enhances the table beautifully. The set comprises ten side chairs and a pair of armchairs. They have been masterfully crafted in beautiful solid mahogany and the finish and attention to detail on display are truly breathtaking.
They feature drop-in seats upholstered alternately in red and green tartan, with attractive cabriole front legs terminating in ball and claw feet, sabre rear legs and superb shell carved decoration to the knees.
This is a very impressive antique dining table and chairs set which will add splendour to any room and become a treasured addition to your furniture collection.
Another striking example is this superb antique dining set comprising a 14ft antique Regency Revival metamorphic dining table and a stunning set of twelve Regency period dining chairs.
Crafted in beautiful flame mahogany and featuring superb satinwood crossbanded decoration, this exceptional dining table dates from the late 19th Century.
Capable of seating fourteen people in regal comfort, it is an extraordinary metamorphic piece of furniture.
Being a metamorphic table means that it can be split and used in other ways. It can be used as one large 14ft table but can also be split into two other ways forming either two tables of the same size or one table with the central base and the other with twin bases.
The table is raised on three "gun barrel" quadruple splay leg bases, all fitted with elegant lion's paw castors.
The amazing craftsmanship that has gone into this elegant table is immediately obvious, with the table surface having a stunning crossbanded satinwood border with sycamore stringing. This enhances the lovely warm tones and grain of the flame mahogany ensuring they are shown off to perfection.
The superb set of twelve antique William IV dining chairs is attributed to Gillows of Lancaster and dates from circa 1820. It comprises two open armchairs and ten single chairs, each with leaf carved top rail and cross section above upholstered drop-in seats and raised on fluted tapering legs. The seats have been reupholstered in a beautiful golden damask.
It is rare to find such a large, fabulous and comfortable set of chairs which complement the dining table perfectly.
Next, we are delighted to show you this beautiful and elegant antique dining set comprising a Regency dining table and a set of ten Regency dining chairs, all dating from circa 1820.
The table is of rectangular form with rounded corners and reeded edge, and it is raised on twin "gun barrel" turned columns on quadruple swept sabre leg bases which are fitted with brass lion's paw toes and castors.
This exquisite large dining table has three leaves which can be added or removed to vary the length of the table. This gives the table wonderful flexibility enabling it to be adjusted to suit the occasion.
Comfortable and stylish seating is ensured with the matching set of ten antique English mahogany Regency period dining chairs which are supplied as part of this dining table and chairs set.
This wonderful set comprises eight side chairs and two armchairs. The bar backs with shaped and pierced splats have beautiful hand carved decoration. The drop-in seats are upholstered in a sumptuous fuchsia red velvet and they are raised on elegant sabre front legs.
If you want a large antique dining table and chairs set to enhance your dining experience at home or if you are looking for a stylish boardroom or meeting table then this could be the right set for you.
Here we have given you just a little glimpse into our collection, but you may also want to check out our extensive selection of antique dining tables and antique dining chairs and find the set which best suits your style.
Finally, if you have not done it yet, please consider signing up for weekly notifications of new arrivals in your categories of interest.