Style Your Home With Superb Bespoke Leather Furniture

If you are looking for high-quality furniture made from the best materials, then bespoke leather furniture could be the right choice for you.
Finding a perfect piece of furniture can sometimes be very challenging. However, if you consider bespoke furniture, you can get exactly what you want.
Our bespoke leather furniture range allows you to order a piece dyed in a colour of your choice. Our craftsmen use only the very best materials, including the finest leather and sturdy timber frames.
In today's blog post we would like to present to you several stunning pieces from our vast collection.
Bespoke Leather Furniture from Regent Antiques
To start off, we are delighted to be able to offer you this magnificent bespoke leather 'Chesterfield' sofa, made in a lovely colour that we call Old English Hazel.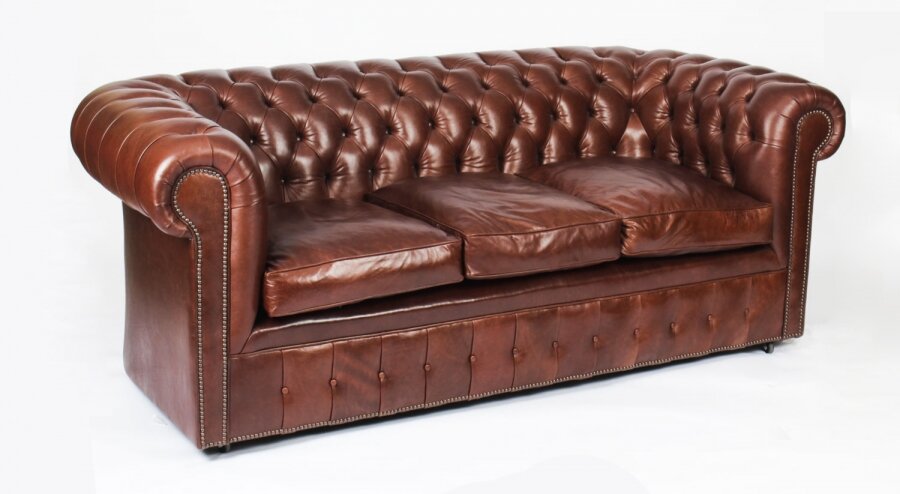 It features sumptuous button back aniline-finished leather which is tanned to ensure a pleasing distressed or 'aged' finish from new. During the tanning process extra fat liquors are applied giving the leather a slightly waxy feel. These leathers are designed to allow the natural marking variations of the leather to show through to the finish coat.
To see a full range of our bespoke leather sofas, please visit our website.
Next, we present to you this fabulous bespoke pair of leather 'Carlton Armchairs' in a striking gamay red colour, handmade in England with materials of the finest quality.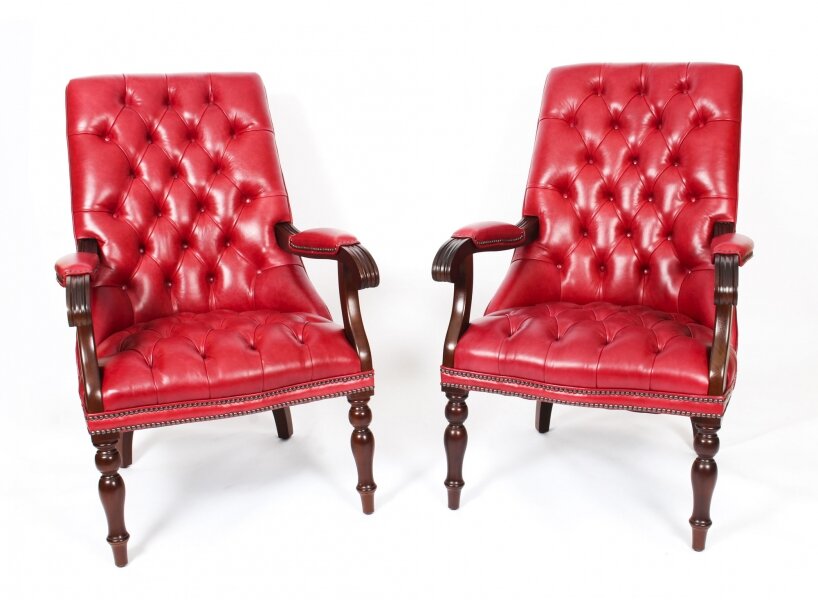 These armchairs feature pull-up leathers which do not have a consistent colour density across the whole hide and are designed to change colour and sheen when pulled or stretched. They are not as colour fast as pigmented hides and are designed to allow furniture to age and relax through use and over time. Evidence of marks and scarring will be seen through the surface finish.
Each hide will be unique, as will be the furniture on which it is used. The studding is achieved with close individual nails or studs – not by using strips – and each nail is individually hammered in by hand.
These lovely armchairs are certain to add a touch of classic charm to your home or office.
Another remarkable item is this bespoke 'Amsterdam Armchair' in a beautiful tan colour.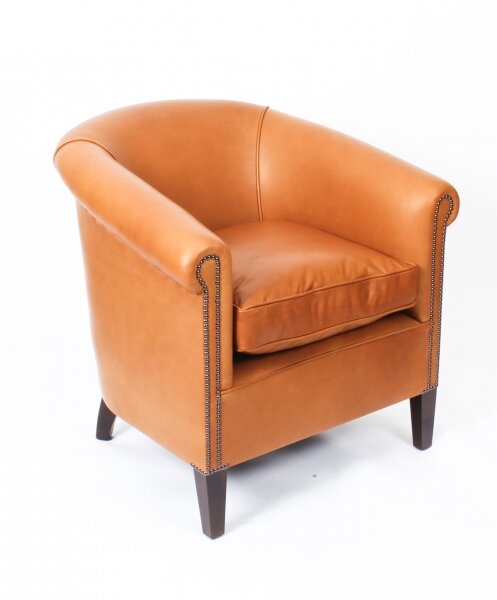 Just like our other bespoke leather items, this armchair is also handmade in England by our master craftsmen who still use traditional materials and techniques.
The seat has individual double cone hand springing, whereby each spring is hand-sewn to the beechwood frame. The filling used for this chair is canvas, fibre and felt.
Handmade English furniture of this quality can last for generations if well-cared for, and just bear in mind that hand-dyed leather can fade in direct sunlight.
You may also want to check out the bespoke leather armchairs category on our website and choose the one which best suits your style.
Please note that all these bespoke leather items can be made in other colours upon request and we welcome wholesale enquiries and bespoke requests.
If you have any questions regarding bespoke leather furniture we offer or any other enquiries, feel free to get in touch with our in-house consultants either by sending an email to info@regentantiques.com or calling at +44 20 8809 9605.
Finally, if you do not want to miss any new items you might be interested in, please remember to sign up for our free new arrivals notification service which ensures that we will send to you weekly notifications of any fresh items that appear in your categories of interest.