Stunning Table Centrepieces: The Centre of Attention in Your Dining Room

We are proud to offer a carefully-selected range of quality centrepieces designed to make an attractive focal point in your dining room.
Antique and more contemporary centrepiece items are both attractive and collectable. At Regent Antiques, we aim to keep a varied and interesting selection available for our customers, many of whom are established collectors with very discerning tastes.
Glass is often combined with other materials such as silver, silver plate, and bronze when making these lovely decorative items for your dining table or sideboard and this gives them an added level of attraction.
Extremely beautiful silver plated Victorian centrepieces
To start, we would like to show you this exquisite antique Victorian silver plated centrepiece cruet set of the highest quality, bearing a Victorian registration mark which dates it to 6 April 1858.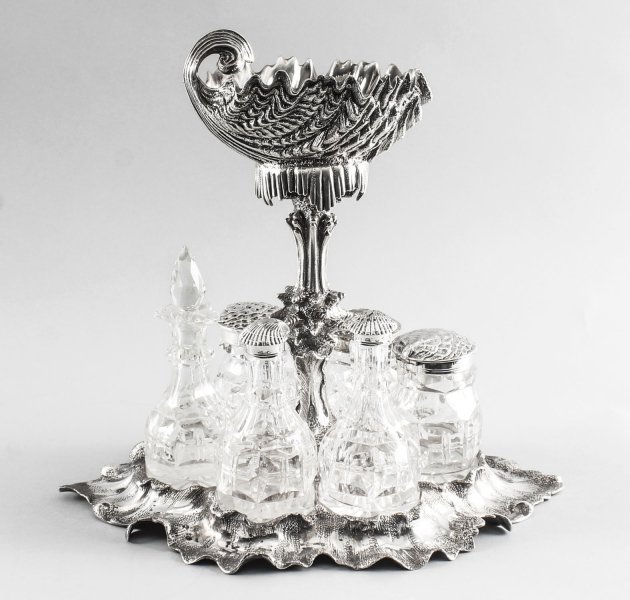 There is no mistaking the unique quality and spectacular design of this gorgeous centrepiece cruet which features a shell-shaped dish for sweets, fruit etc, above a six cut glass bottle cruet set.
The silver plate mounted cut glass bottles appear to stand in a silver sea with shells and rocks.
This unusual piece is highly collectable and is sure to get noticed wherever it is displayed.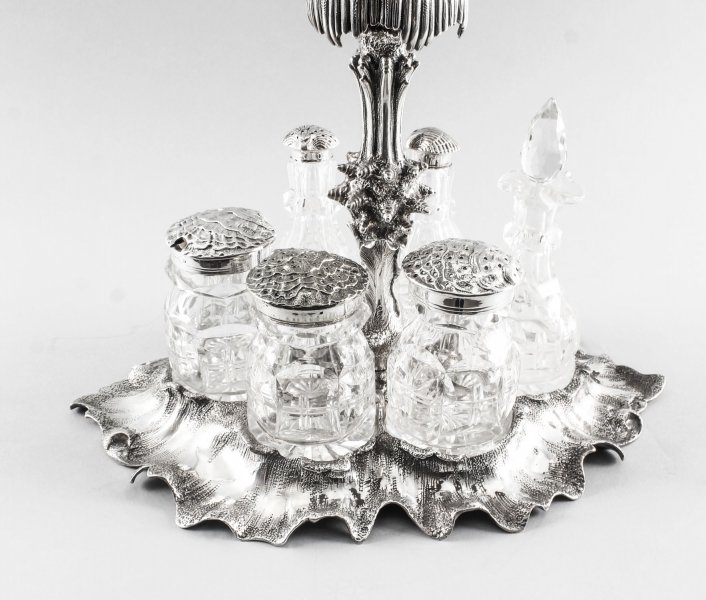 Next, this is a stunning and thoroughly extravagant antique silver plate and oval cut glass centrepiece bearing the impressed mark of the silversmith Richardson, Cornwall Works, Sheffield, and circa 1880.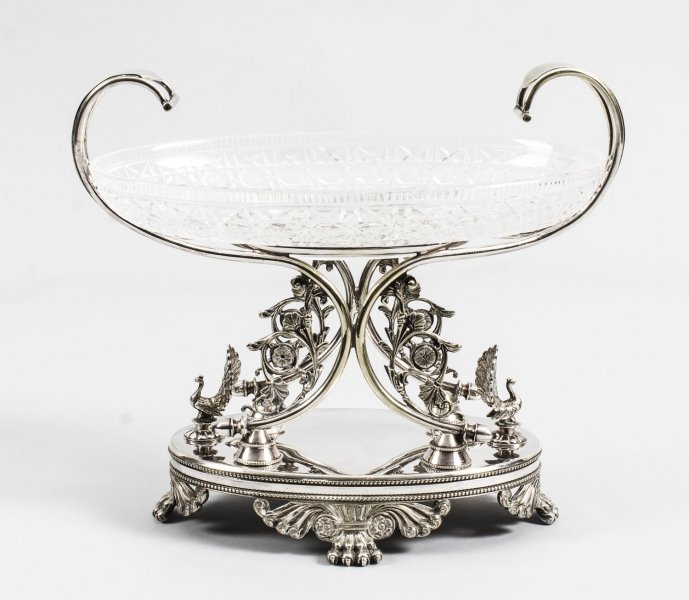 The central cut glass dish is ideal for fruit and sweets, and the piece is cast with floral decoration and peacocks and raised on lion's paw feet. The glass dish is detachable.
The craftsmanship is second to none and this exceptional piece is sure to add an elegant touch to your dining table.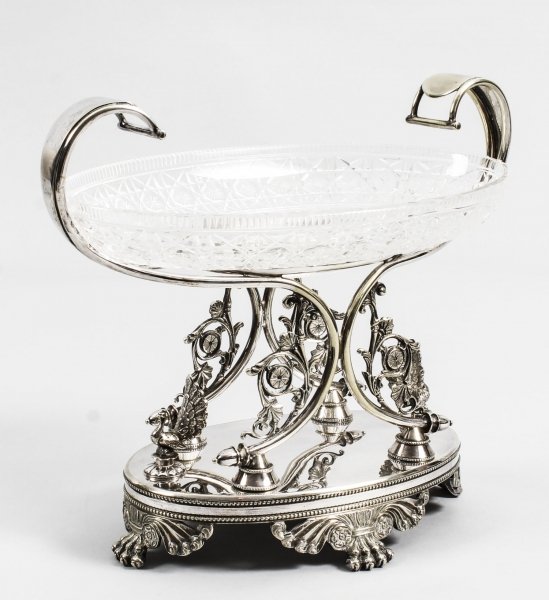 The splendour of cranberry glass
Another excellent example of a beautiful antique centrepiece is this magnificent German WMF Art Nouveau silver plated and cranberry glass centrepiece, circa 1890 in date.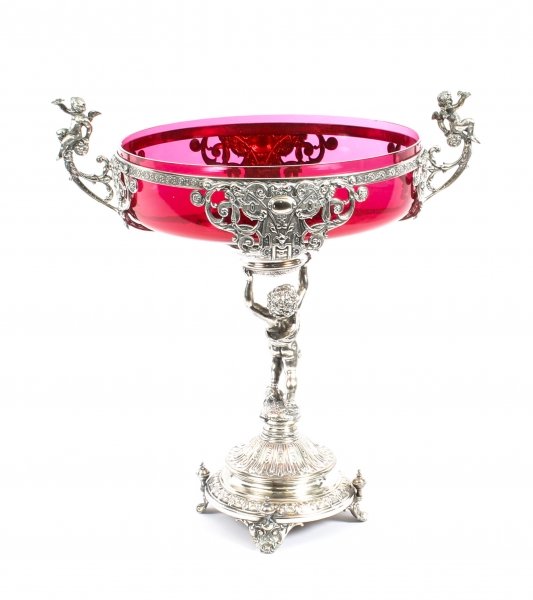 This stunning centrepiece features two beautiful silver plated winged cherubs – one on each side of the large round cranberry glass bowl.
The bowl also has two graceful silver plated plaques, each one being finely chased with classical Art Nouveau foliage decoration and a vacant oval cartouche against a textured background.
The central pedestal features a chased silver plated cherub with his hands holding the bowl and posing with one foot on a finely chased snail.
The centrepiece stands on an elegant domed stepped round base which is chased with foliage decoration and is raised on four exquisite foliate feet.
The piece is fully hallmarked WMF on each foot.
This is truly a special item that can be used and admired at the centre of a dining table. The quality and craftsmanship here are undeniable.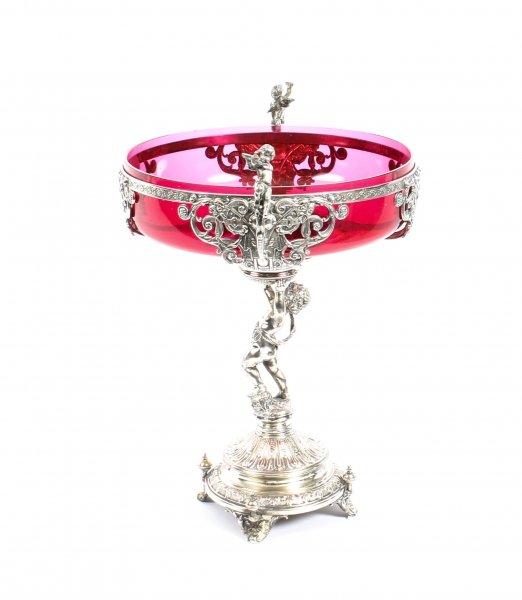 Adding a touch of elegance to your dining table with a superb candelabra centrepiece
Our fourth choice for today's review is this exquisite silver plated Victorian candelabra centrepiece, circa 1890.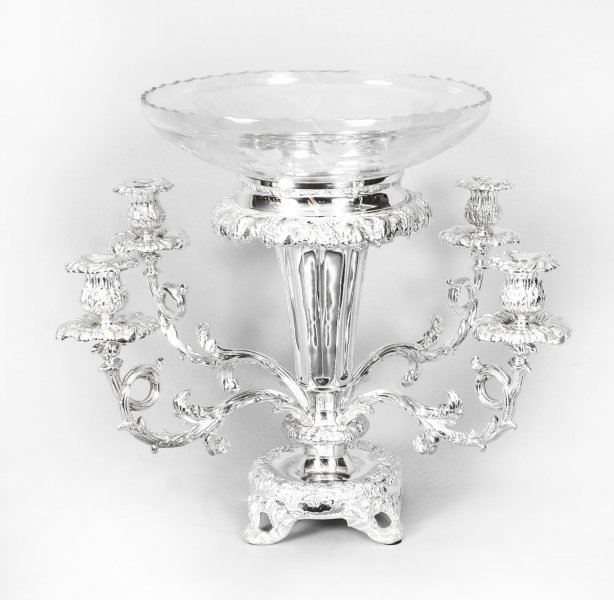 It stands on four charming feet with a centre stem supporting an engraved glass dish with a four branch candelabra rising from the base of the stem. A lot of intricate detailing has gone into the creation of this beautiful item.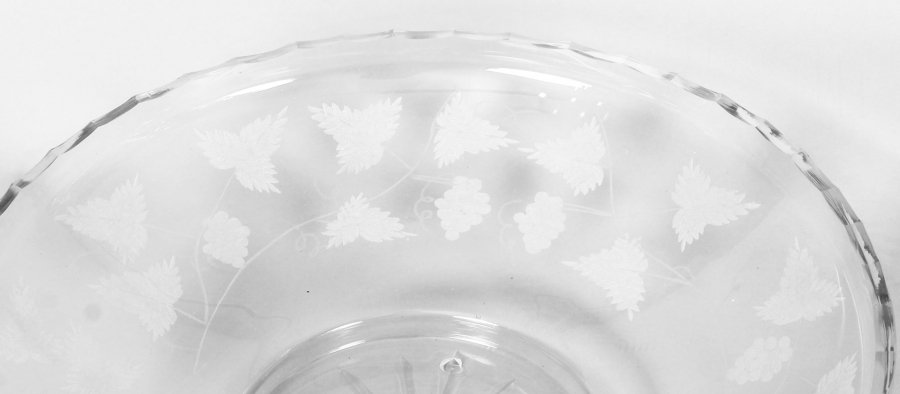 Two more glorious centrepieces to enhance any dining room
Finally, we end with two contemporary items, both of which are something special. This is a truly stunning silver plated centrepiece in the shape of a boat riding the waves preceded by a swan, dating from the last quarter of the 20th century.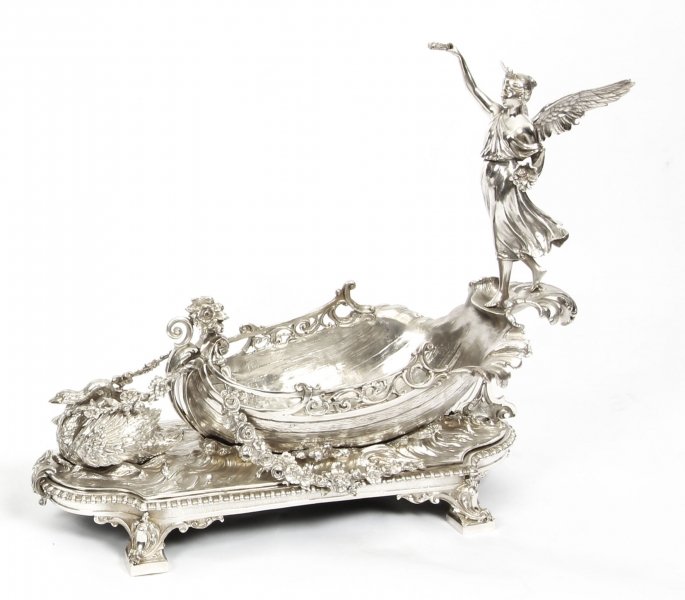 This stunning item is ideal for displaying fruit or could also be used as a jardiniere.
This magnificent silver-plated centrepiece features finely detailed decoration of a beautiful boat, garlands of flowers, waves, a swan, and the winged and crowned beautiful lady standing at the back of the boat.
The centrepiece stands on four solid feet, the craftsmanship is second to none and this beautiful centrepiece is sure to add an elegant touch to your home.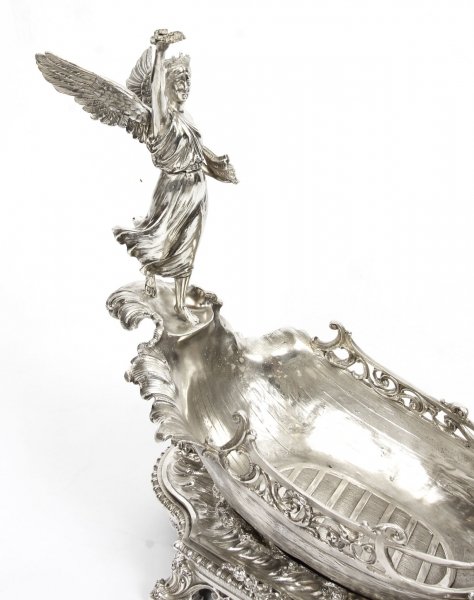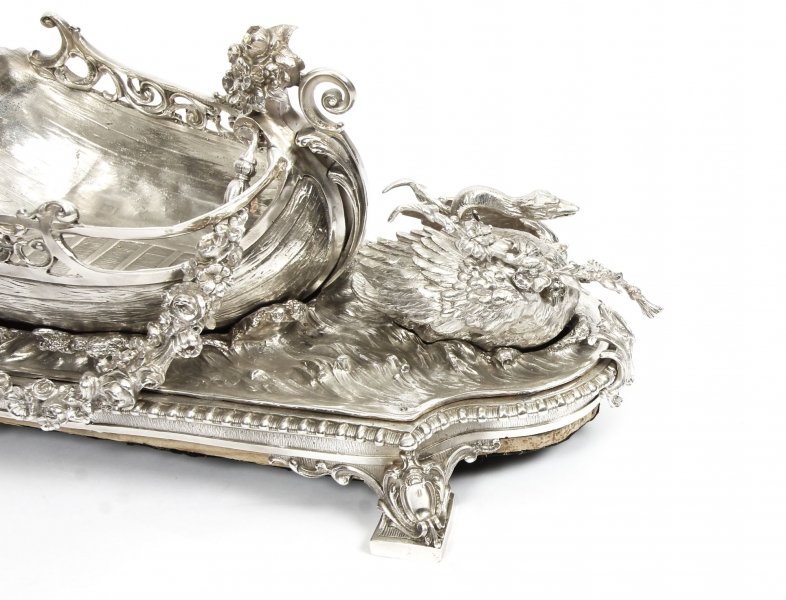 Similarly, this is a beautiful silvered bronze centrepiece dating from the latter part of the 20th century which has been made in the classic English style and is ideal for displaying fruit.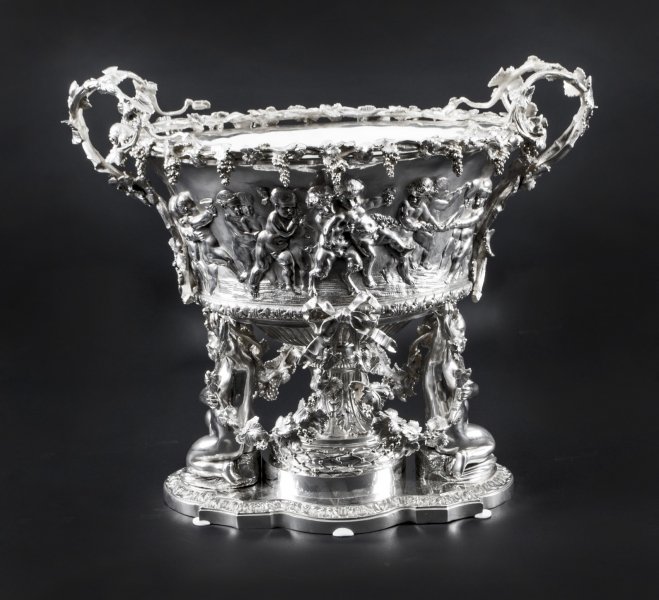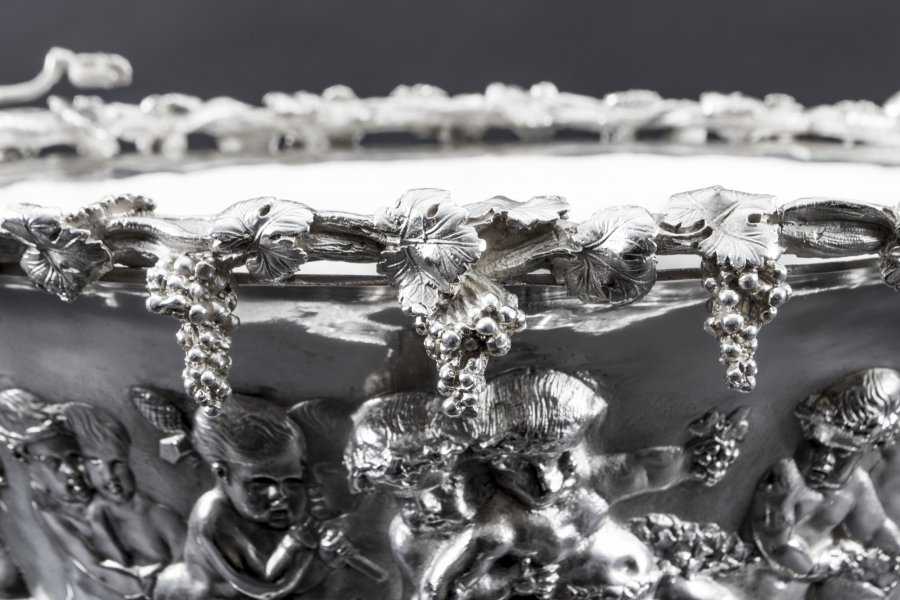 The underpinning bronze for this silvered bronze centrepiece was cast using the traditional 'lost wax' method and then silver plated to highlight the wonderful bacchanalian festival scenes featuring cherubs, vine leaves, bunches of grapes and garlands of flowers.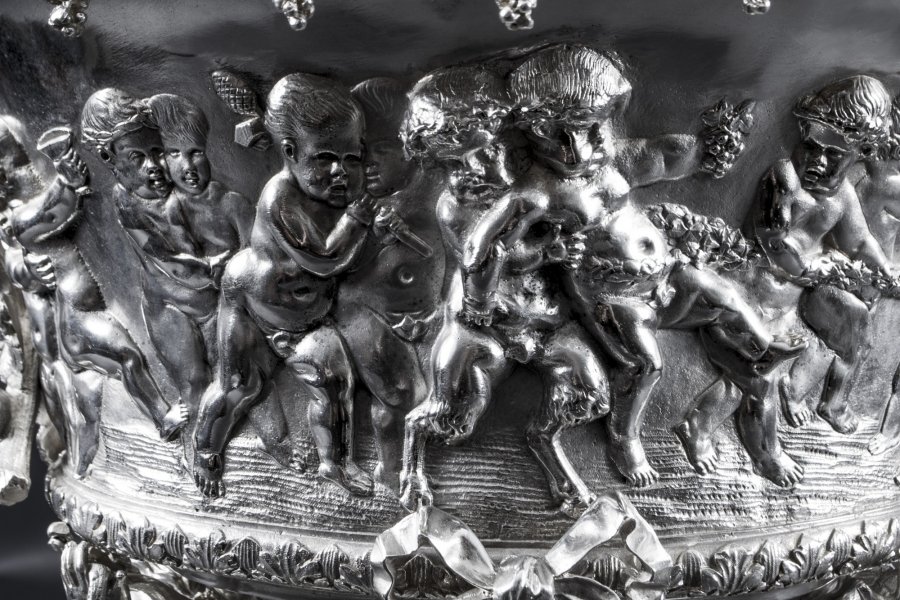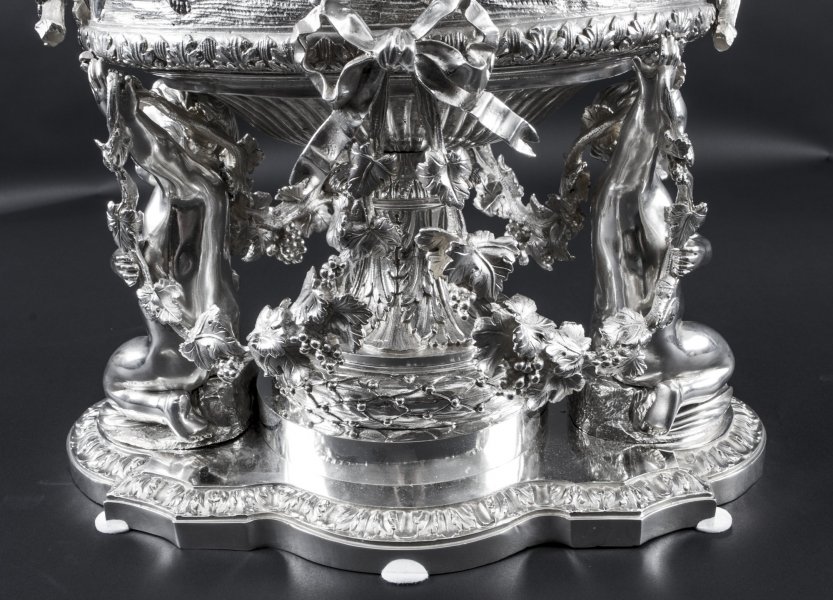 Find the right centrepiece for your dining table at Regent Antique
We hope you have found today's review of centrepieces interesting and inspirational. Indeed, we do have many more centrepieces which can sparkle further your imagination to style your dining table.
Whether you are looking for a centrepiece with or without glass – antique or from the late 20th Century – our North London showrooms are the place to come and browse. If you are unable to do that, we keep our website up to date, adding new items every week along with hundreds of high-quality images so that you can get as close as possible to the real thing without a long journey.
The north London showrooms are open every weekday from 10 am to 5 pm and we open every second Saturday as well. Please check our site for our latest opening hours including our latest Saturday opening arrangements. Our showrooms are easy to find and are close to rail and public transport links. You will always find many examples of beautiful antique and contemporary centrepieces.