Which of These Antique Mirrors is the Fairest One of All?

It's not often that we feature antique mirrors but today we are going to do just that. Here we reveal some of our most splendid acquisitions.
Fine antique mirrors are always in demand and our buyers are always looking for prime examples to offer to our customers. Here we are proud to be able to provide our clients with some very fine examples.
You might find it interesting to know that the earliest manufactured mirrors were pieces of polished stone such as obsidian, a naturally occurring volcanic glass. In classical antiquity, mirrors were made of solid metal (bronze, later silver) and were too expensive for widespread use by common people. They were also prone to corrosion. Due to the low reflectivity of polished metal, these mirrors also provided a darker reflection than modern ones, making them unsuitable for indoor use with the artificial lighting of the time.
The technique of making mirrors out of plate glass was invented by 16th-century Venetian glassmakers on the island of Murano, who covered the back of the glass with mercury, obtaining a near-perfect and undistorted reflection. For over a hundred years, Venetian mirrors installed in richly decorated frames served as luxury decorations for palaces throughout Europe, but the secret of the mercury process eventually arrived in London and Paris during the 17th century due to industrial espionage. French workshops succeeded in large scale industrialisation of the process, eventually making mirrors affordable to the masses.
Stunning French mirrors to adorn your home
At Regent Antiques, we have just acquired this spectacular antique French Louis Revival giltwood overmantle mirror, circa 1860.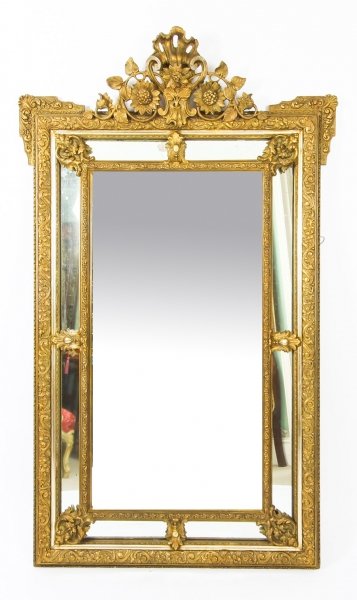 The bevelled rectangular mirror plate is framed with marginal side plates. It has a profusely-carved giltwood frame decorated with acanthus leaves and features a beautiful floral, foliate and rocaille cresting with outset corners. This beautiful mirror is sure to enhance the look of any room.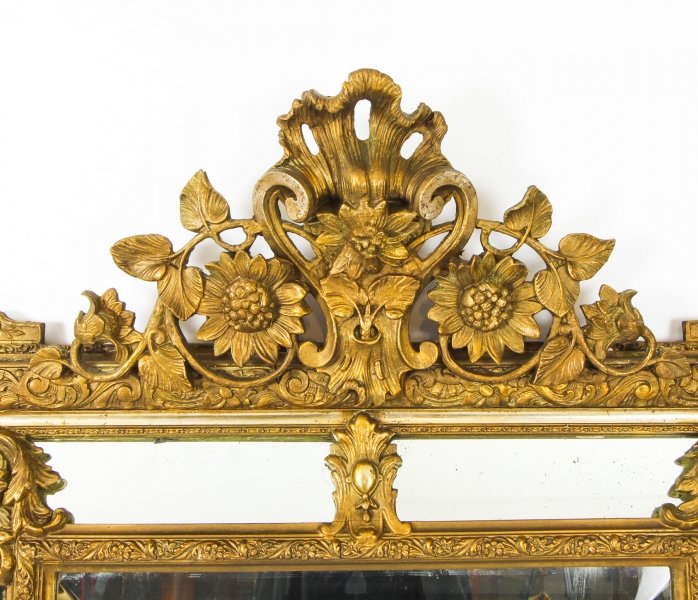 Next, we are proud to offer for sale this beautiful antique French-painted and parcel gilt trumeau mirror, late 19th century in date.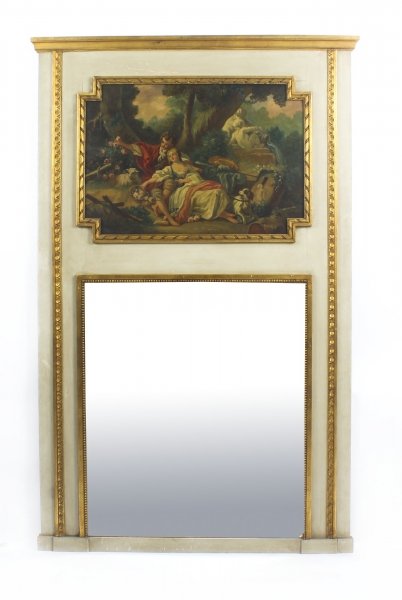 Trumeau mirrors are wall mirrors set in a decorative frame that often feature a painted or carved panel under or above the mirror. They were originally intended to hang on a wall between windows, providing a decorative element and bringing more light to the room.
Most antique trumeau mirrors are highly ornate and often gilded. Their larger size can easily support the design of a room just fine on its own as well as over a piece of furniture.
This magnificent mirror features a central shaped panel with a carved zigzag frame and a beautiful oil painting depicting an Italianate scene of a courting couple at a fountain. Below this is another gilded egg and dart frame with the mirror plate. An elegant pair of gadrooned scalloped pilasters flank the mirror and painting.
Indeed, it is certain to make a charming addition to that one special room in your home.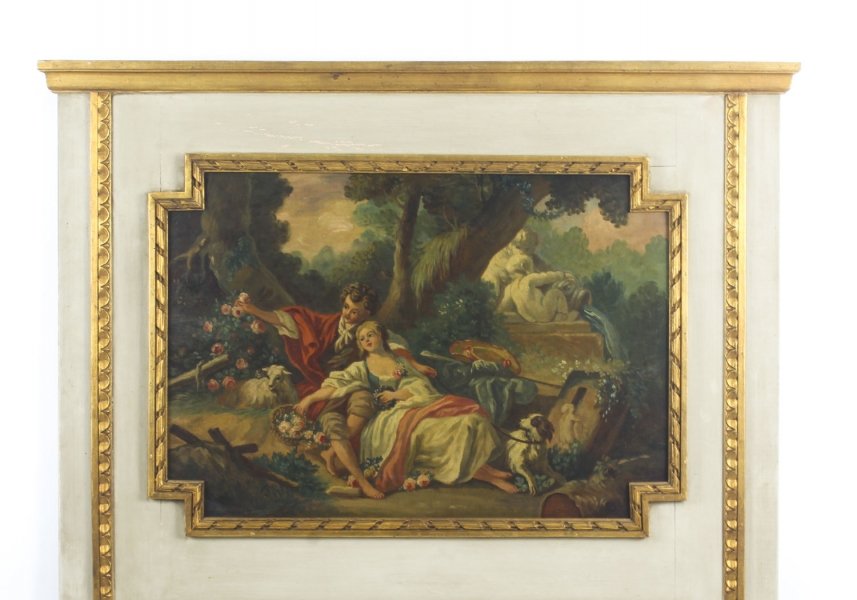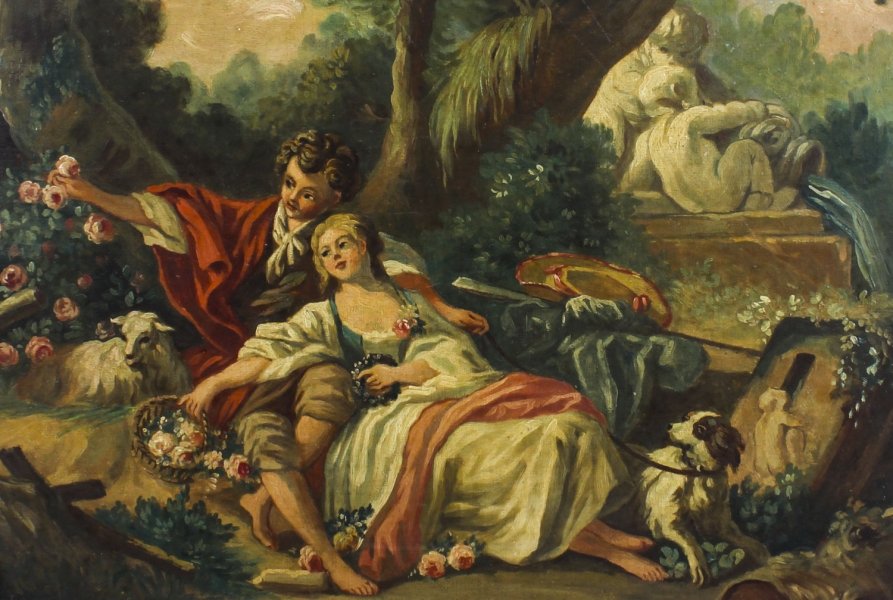 Next, we would like to show you a very rare and important antique Russian Empire Revival mahogany, brass-strung, and ormolu-mounted cheval mirror, dating from the second half of the 19th Century.
A regal Russian mirror to treasure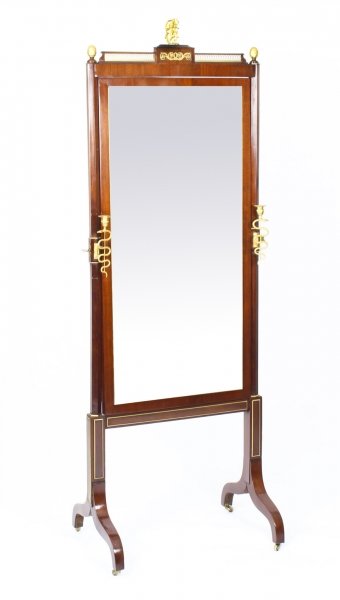 The mirror plate and frame are rectangular in shape and the top is surmounted with exquisite ormolu huntsmen, flanked by stylish acorn finials.
The mirror is raised on superb curved splayed legs that terminate in brass castors. The mirror supports feature magnificent and adjustable ormolu serpent-shaped candle sconces. The bottom of the mirror frame bears a label: 'ON Villa' as well as 'H.V.v.W.G.v.R. Privateigentum' for (Herzogin Vera von Württemberg Großfürstin von Russland).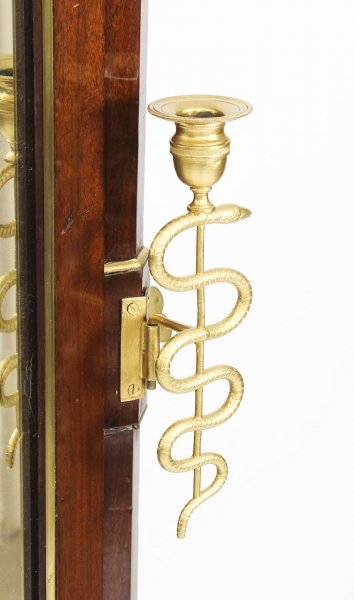 Not only is this delightful mirror of exceptional quality and rare beauty but its provenance makes it a unique piece. In fact, it belonged to the Grand Duchess Olga Nikolaevna of Russia (1822-1892), later Queen Olga of Wurttemberg, who received it as a gift from her father Tsar Nicolas I (1796-1855) on the occasion of her marriage to Crown Prince Karl Friedrich Alexander of Wurttemberg (1823-1891) in 1846.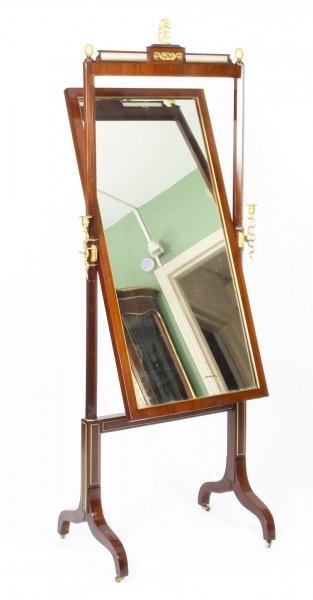 A most charming Florentine frame
If you love Italian antiques, the next mirror could be the one for you. It is a superbly carved and highly decorative large Florentine carved giltwood mirror, circa 1780 in date.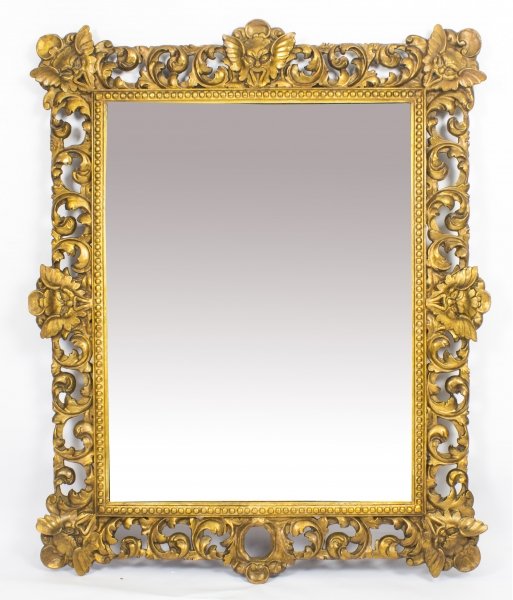 Florentine frames made in Florence are a centuries-old tradition maintained by several artisan guilds. Florentine items produced from the mid-19th century onward, typically reflect a contemporary interpretation of Renaissance art and furnishings. They have an ornate appearance, and are typically gold gilded, or have gold paint applied to resemble gilding.
This mirror consists of a superbly carved giltwood frame with a beaded border and scrolling acanthus leaf decoration interspersed with grotesque winged male masques.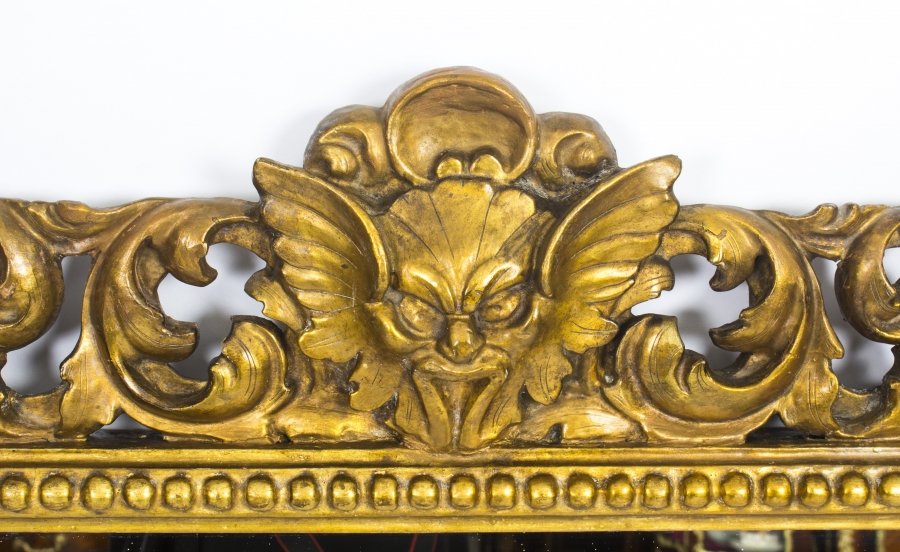 A dressing table mirror you will love
We end today's article with a very popular type of mirror – the dressing table mirror.
This is an absolutely stunning Neo-Classical Roman carved giltwood console table with mirror, early 20th century in date.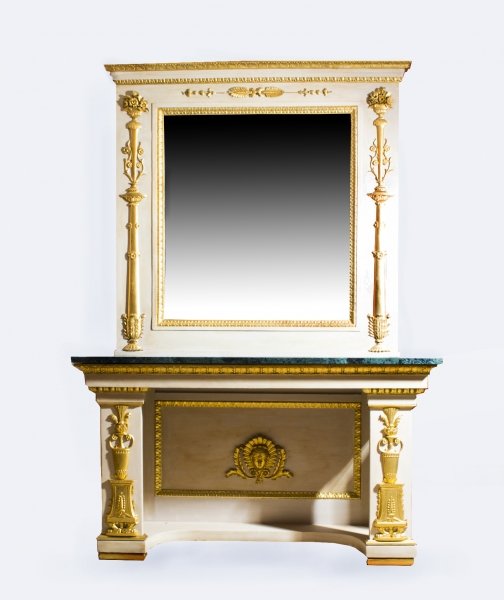 The mirror features an egg and dart cornice with gilt foliate details, pedestal urns, and bouquets of flowers on either side.
The console has a rectangular green "Verde Antico"  marble top which is supported by a pair of columns and a back plate decorated with a detailed carved gilt mask, a palmette, trumpets and foliage.
There is no mistaking the superb quality and suave design of this piece, which is certain to transform a special place in your home.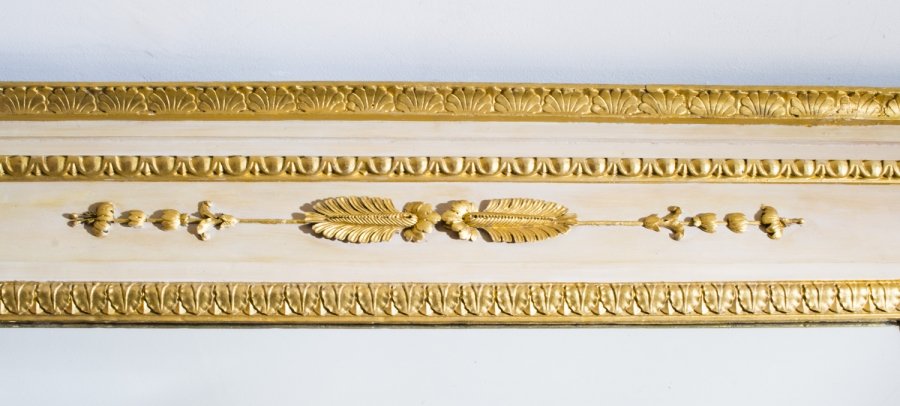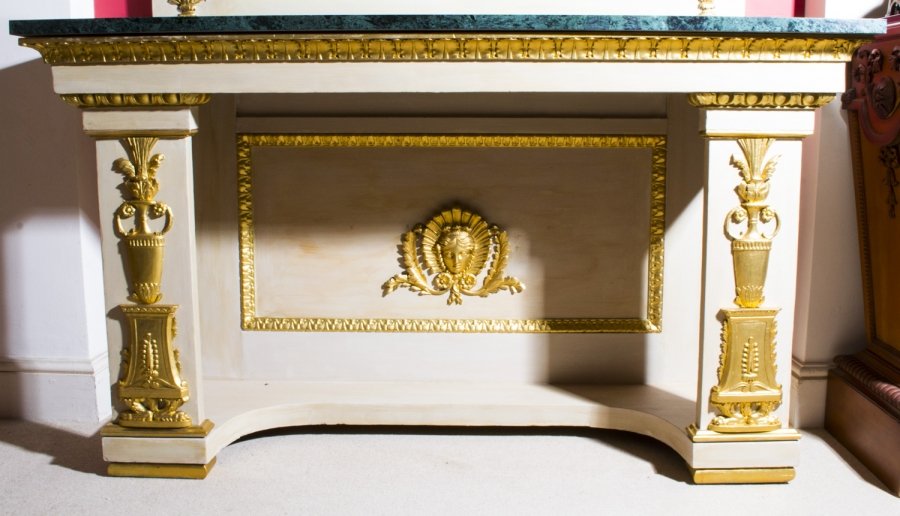 Visit our beautiful showrooms and take a look for yourself
If you see an antique mirror that you would like to purchase, please rest assured that we will pack it carefully and ship to almost any destination worldwide. Please request a shipping quotation first though, unless you are in Mainland UK where we are able to ship to free of charge.
Our North London showrooms are open every weekday from 10 am to 5 pm and we open on every second Saturday as well – please check our website for our latest opening hours including our latest Saturday opening arrangements. Our showrooms are easy to find and are close to rail and public transport links. You will always find many examples of beautiful antique mirrors and if you are travelling to see a particular item please call first to make sure that it is still available to view.