Stunning Antique Dining Tables at Regent Antiques

At Regent Antiques, we are pleased to be able to offer a wide variety of antique dining tables for you to choose from.
In today's blog post, we would like to take you through some of the best examples from our stock. 
Lovely Antique Dining Tables from the Victorian Era
As one of the UK's premier furniture dealers, we take pride in offering the finest pieces from the Victorian era. Dining tables are foremost among them.
A perfect example is this truly spectacular English antique Victorian pollard oak extending dining table, dating from the 19th century.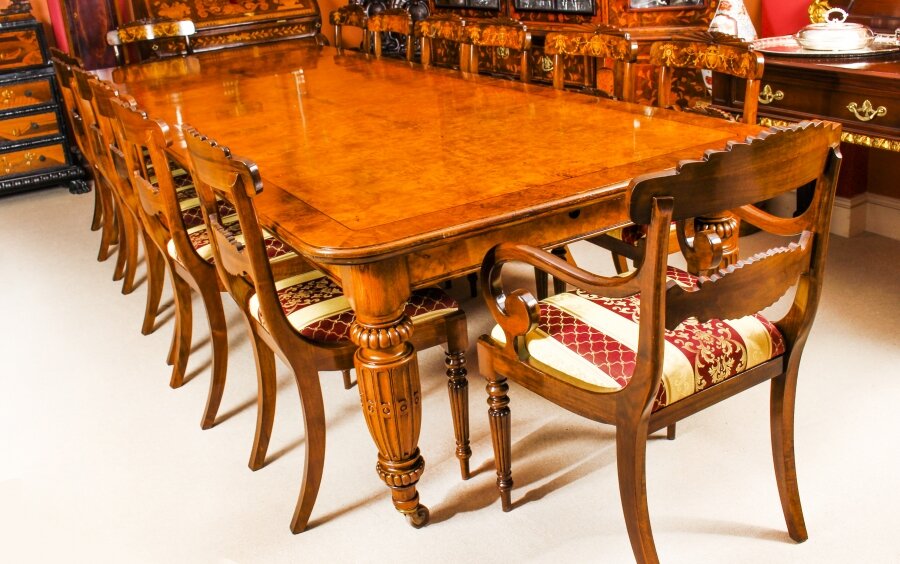 Antique Victorian Pollard Oak Extending Dining Table
This amazing dining table has four leaves which can be added or removed as required to suit the occasion and can comfortably seat twelve people. It has been hand-crafted from solid oak with a beautiful grain. The top has been veneered in pollard oak, which is seen in the intricate burr, with crossbanded decoration in walnut.
This extraordinary antique table will stand out in your dining or conference room and will certainly become a treasured addition to your furniture collection.
If this piece doesn't suit your needs, you can browse through a wide range of exquisite antique Victorian dining tables on our website.
Gorgeous Antique Regency Dining Tables
Regency furniture follows the earlier neoclassical Georgian style which had taken its inspiration from the ancients, but during the Regency Period it became the fashion to make exact copies of ancient Egyptian, Greek and Roman furniture. Key features of the furniture of the period include using brass inlays, sabre legs, cable twist, metal grilles and ormolu.
Regency dining tables were first produced during the reign of George IV (1811 to 1820), although the style has continued to be reproduced, making a huge impact on designers.
A remarkable example of Regency period dining tables is this elegant flame mahogany twin pillar dining table, dating from circa 1820.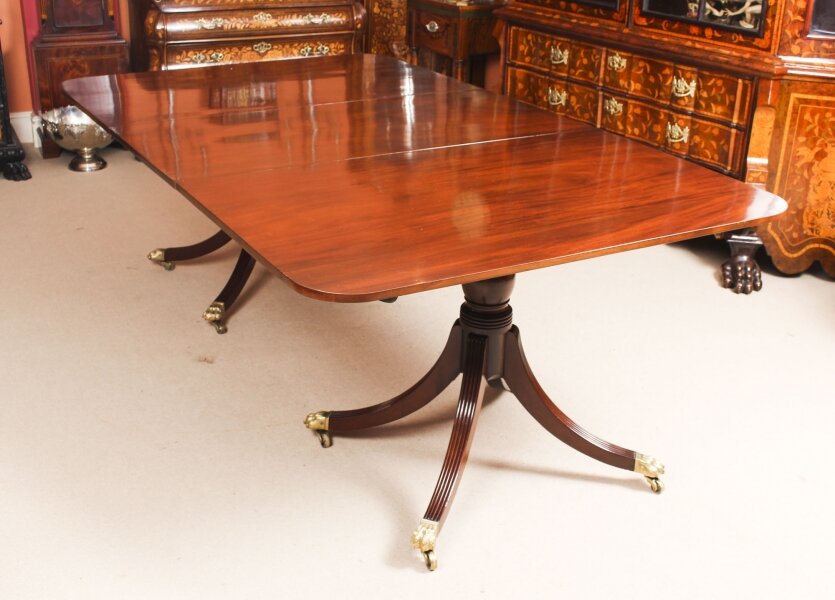 Antique Flame Mahogany Twin Pillar Regency Dining Table
This superb dining table can comfortably seat eight people. It has one leaf which can be removed when the extra table space is not needed.
It stands on twin "gun barrel" turned columns on quadruple swept sabre leg bases which are fitted with brass lion's paw toes and castors. 
The fine craftsmanship of this handsome dining table will make a profound impression on your guests and will receive the maximum amount of attention wherever it is placed.
Beautiful Antique William IV Dining Tables
William IV furniture maintained a similar style to Regency furniture with copies being made using the earlier Regency designs, but they were executed in a coarser and heavier way, resulting in a clumsier appearance than their Regency counterparts. 
Dining tables from this period were mostly made of mahogany with heavy brass fittings and lion's paw feet on table legs. These magnificent pieces represent classic English dining furniture.
We would next like to present to you an extraordinary flame mahogany dining table typical of the William IV period. This beautiful 19th century antique dining table has a telescopic pull-out mechanism and can seat twelve.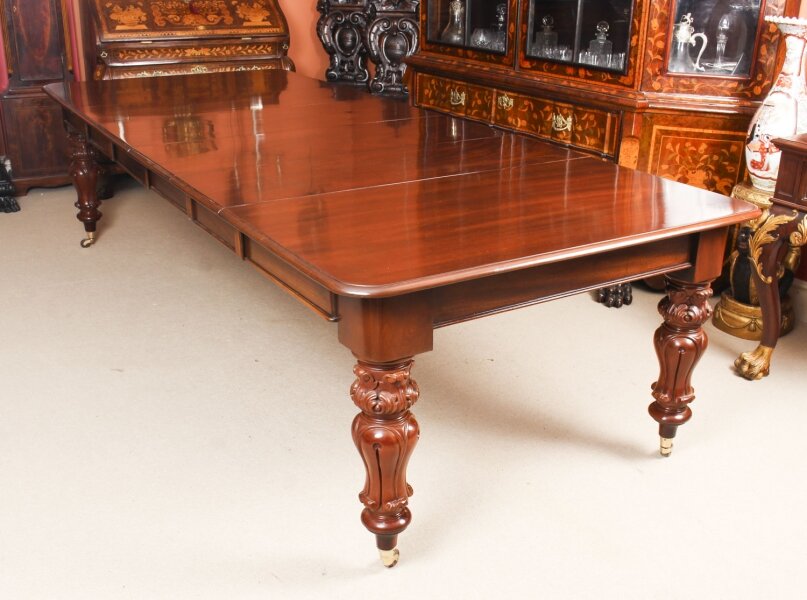 Antique William IV Mahogany Extending Dining Table
This table has four original extension leaves which can be separately added or removed as required, providing a rather flexible length table for any occasion. It stands on four stunning acanthus carved bulbous legs that terminate in their original brass and porcelain castors.
It is a very impressive table which is sure to add a touch of classic charm to your dining room.
Dive into many more antique William IV dining tables to find the one which best suits your style.
If you are looking for a dining table that suits your own particular requirements, be sure to check out our range of bespoke dining tables made by skilled craftsmen using traditional materials and methods.
In addition to antique dining tables, we offer a wide range of antique dining chairs and antique dining sets, all of the highest quality, comfort and attractiveness.
If you have not done it yet, please consider signing up for weekly notifications of new arrivals and you will be amongst the first to know when a new item that you are interested in comes into stock.