Dive Into the Beautiful World of Bespoke Leather Furniture

Although supplying exceptional antique items has always been a specialty of ours, we also offer our clients a vast range of stunning bespoke leather furniture.
Here at Regent Antiques, you will find a wide variety of English leather chairs, English leather sofas, and other contemporary furniture, handmade using traditional methods and materials of the highest quality.
Why Bespoke Leather Furniture Should Be Your Choice
If you want something a little different for your home and it just isn't possible to find that perfect piece you are looking for, then bespoke leather furniture could be right for you.
Perhaps you need something a bit larger than usual, or a piece with a specific design or material. You can have it exactly how you want it – bespoke furniture allows you to turn your ideas into reality.
Our craftsmen here at Regent Antiques can carry out bespoke finishes to your own design and use fabrics of your choice for upholstery if required. Just let them have an idea of what you need together with any art work or designs that you might have and they will provide you with an estimate of the cost and time required to carry out the work.
There are plenty of ways to make your home unique and even more charming with bespoke furniture.
A Great Range of Bespoke Leather Armchairs
Today, we would like to take an opportunity to show you some fabulous examples of bespoke leather armchairs that we offer.
Leather armchairs never fail to add class and comfort to any room. A perfect example is this truly magnificent pair of leather wingback armchairs.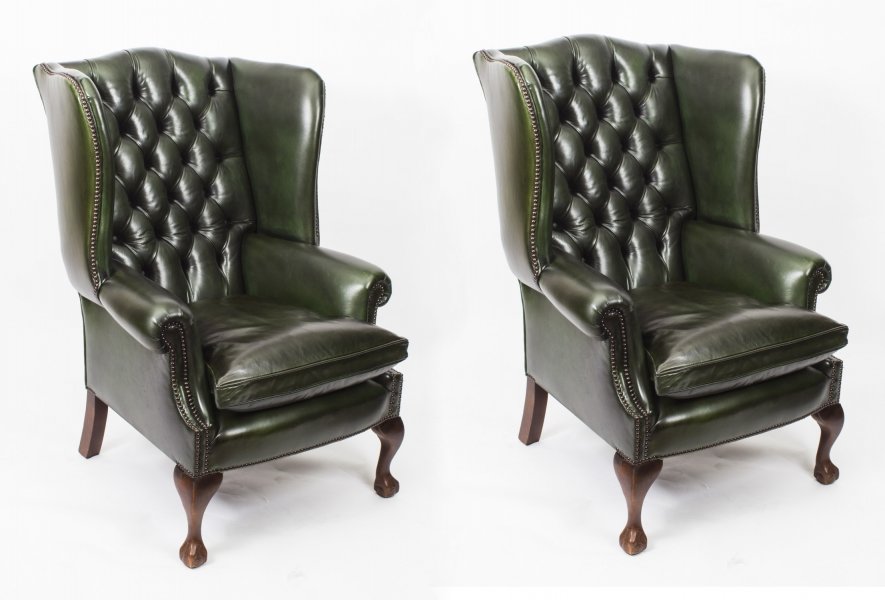 Bespoke Pair Leather Chippendale Wingback Armchairs
This lovely pair of armchairs in a beautiful antique alga green colour features Chippendale style ball and claw legs and sumptuous leather upholstery. The chairs are upholstered in top quality Scottish cow hide which has been hand-dyed and antiqued. Since they are hand-dyed, we can finish the leather to any colour requested.
The show wood on the chair is solid mahogany and the frames are made from solid beech.
These high quality pieces are available to purchase and would make a stylish addition to any home.
If you're looking for a comfortable desk chair, then this splendid new leather Gainsborough chair could be just right for you.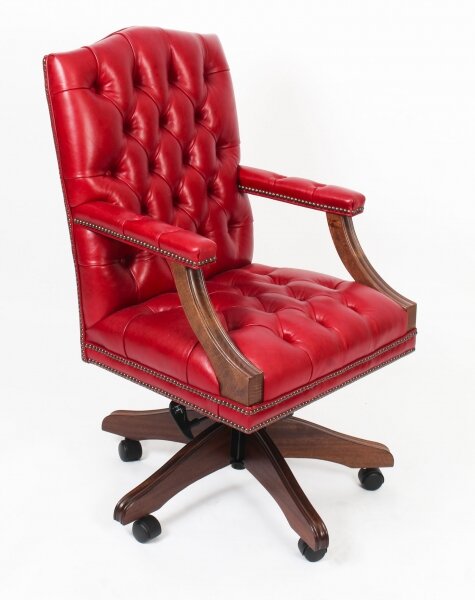 Bespoke English Handmade Gainsborough Leather Desk Chair Gamay
This lovely chair is in a beautiful gamay colour, handmade in England with materials of the finest quality. It has a swivel/ tilt mechanism which allows you to easily adjust the height according to your comfort.
Handmade English furniture of this quality can last for generations if well-cared for, and just bear in mind that hand-dyed leather can fade in direct sunlight.
Check out our full range of bespoke leather armchairs and you may find just the one that you are looking for.
Comfortable Bespoke Leather Sofas
There are few items of furniture that compare with the leather sofa for style and comfort.
At Regent Antiques, we are pleased to offer you carefully-selected antique and bespoke leather sofas. Take for example this beautiful Chesterfield sofa.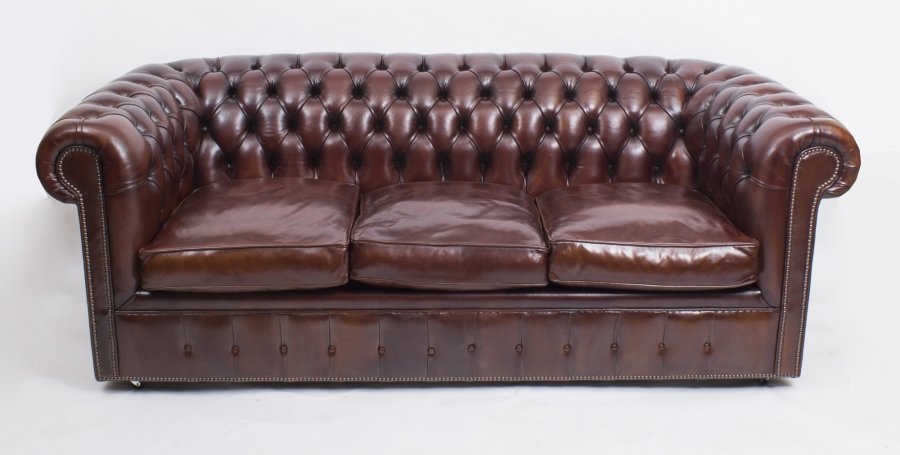 Bespoke English Leather Chesterfield Sofa Bed
It features sumptuous button back leather that is upholstered in Scottish cow hide of best quality.
This lovely piece is hand-dyed in a wonderful browny burnt amber colour. The beautiful antique patina is achieved by the special walnut-based stains that we use in the process. The hand-dyed russet hide bears all the hallmarks of natural leather including scars, stretch marks, grain and texture variation.
What's best about this amazing sofa is that it can be easily turned into a double bed as it is fitted with a pull out mattress, providing sleeping space for guests.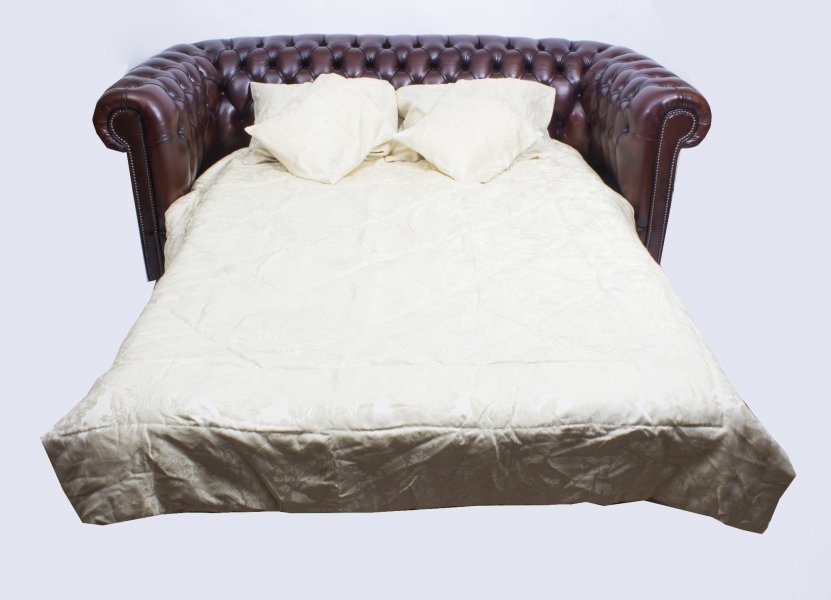 Bespoke English Leather Chesterfield Sofa Bed
If bespoke leather furniture from our current stock doesn't suit your needs, we will be happy to help create exactly what you want. 
Whether you need professional advice from our craftsmen or you would like to check bespoke pieces from our collection, feel free to call us at +44 20 8809 9605 or send us an email at info@regentantiques.com.