Magnificent Antique Partners Desks at Regent Antiques

If you are looking for antique desks that can be placed anywhere in a room and not necessarily against a wall, then antique partners desks could be just right for you as they are finished on both sides. 
Fitted with drawers on both sides, these unique desks enable two people to work at the same desk facing each other. This beautiful flame mahogany example is typical of a Victorian period example.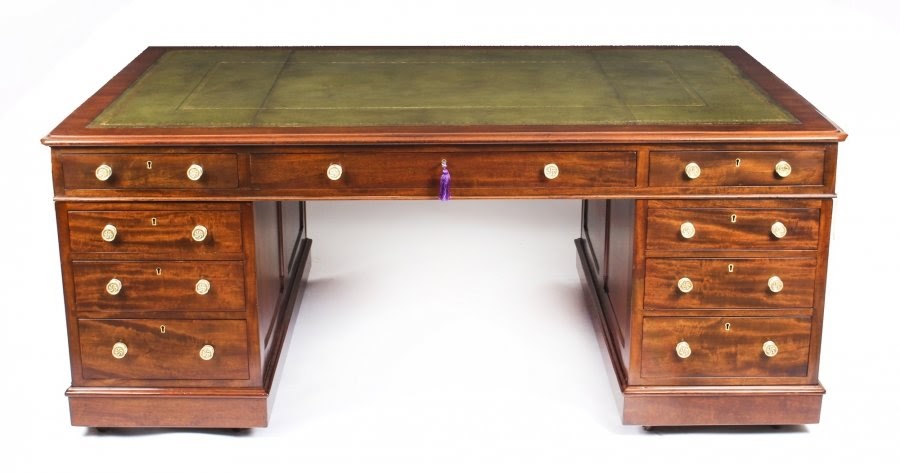 Made by the renowned Victorian era cabinet maker and retailer Edwards & Roberts of London, circa 1850 in date, the rectangular top is inset with a superb gold-tooled green leather writing surface. 
Being a partners desk, this splendid piece is fitted with three useful frieze drawers and three further graduated drawers in each pedestal on one side, plus three frieze drawers with a cupboard in each pedestal on the other.  All are fitted with the original beautiful brass handles. The utilitarian design is characterised by its squat, rather heavy form.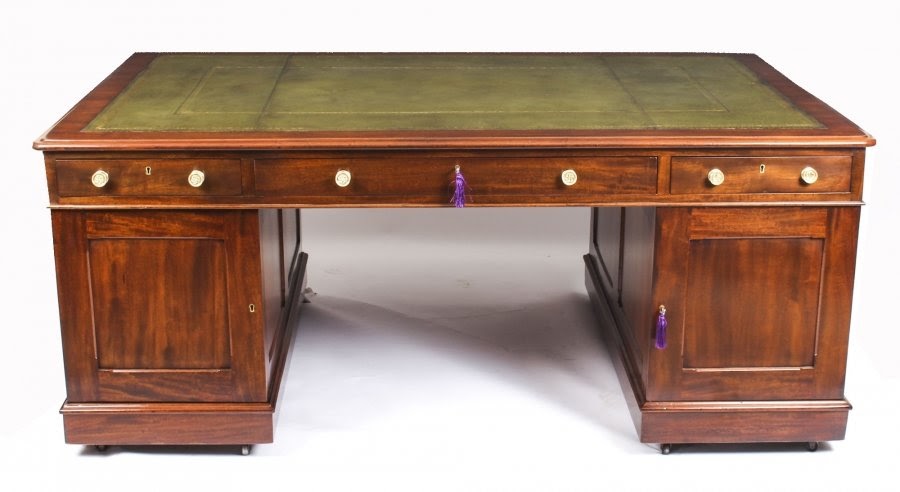 The desk is raised on plinth bases and is complete with the original brass locks and keys. It bears the stamp of Edwards & Roberts.
Antique partners desks that are comfortable to sit at 
The introduction of antique partners desks – a predominantly British form – reflected the demand for large, freestanding desks which were more comfortable to sit at than the typical kneehole desk. We can appreciate this by looking at this beautiful antique George IV mahogany partners desk, circa 1840 in date.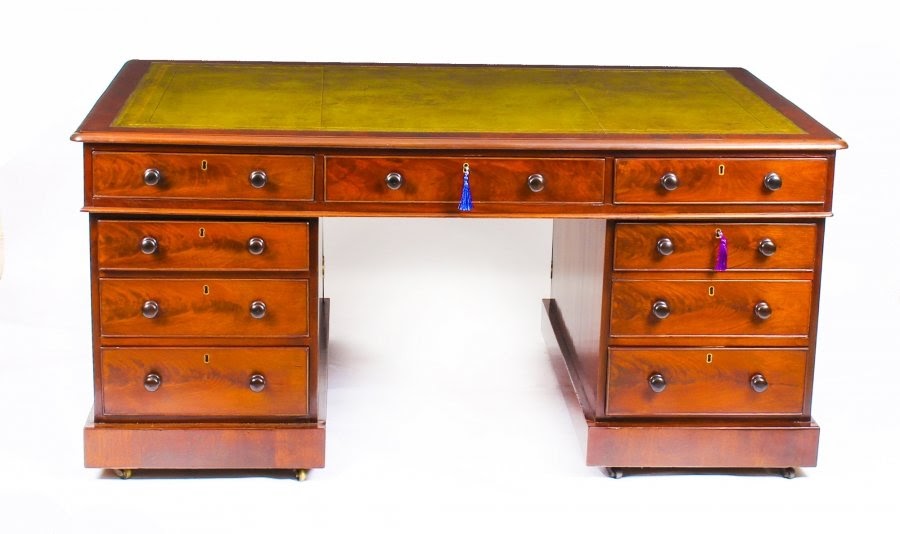 The desk is fitted with three useful frieze drawers and three further graduated drawers in each pedestal on one side, plus three frieze drawers with a cupboard in each pedestal on the other. The drawers are fitted with working locks and keys.
The attractive rounded rectangular top features an elegant green and gold-tooled inset leather writing surface which not only looks great but is also a joy to write on.
Such flame mahogany examples are particularly desirable for this type of furniture. It was the world-famous 18th-century furniture designer, Thomas Sheraton, who once characterised mahogany as "best suited to furniture where strength is demanded as well as a wood that works up easily, has a beautiful figure and polishes so well that it is an ornament to any room in which it may be placed." Matching his words to his work, Sheraton designed a great deal of mahogany furniture. The qualities that impressed Sheraton are particularly evident in the distinctive pattern of wood called "flame mahogany." The flame figure in the wood is revealed by slicing through the face of the branch at the point where it joins another element of the tree.
Another remarkable example is this special Victorian flame mahogany pedestal partners desk, circa 1850 in date.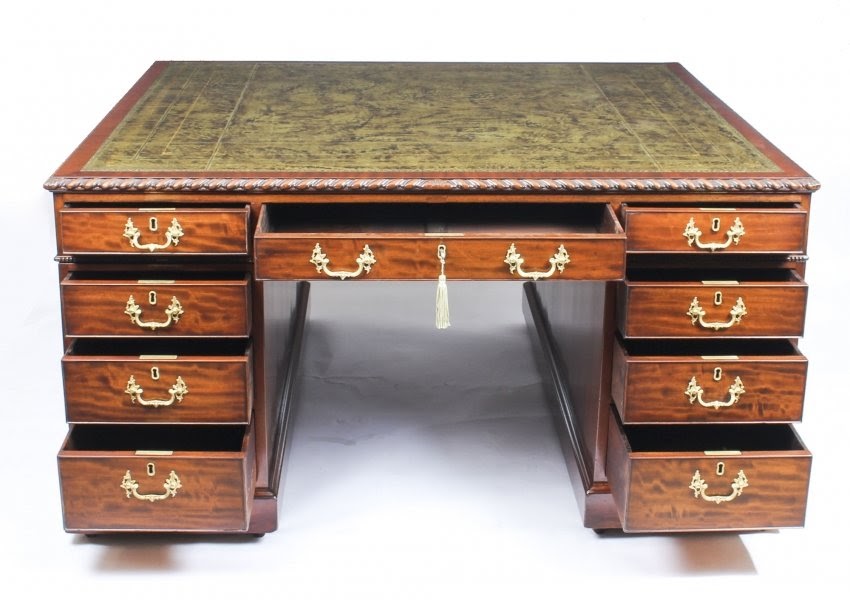 The rectangular top features a decorative gadrooned edge and is inset with a green gold-tooled leather writing surface. This stunning desk is the same on each side. Each side is fitted with three frieze drawers and six further drawers in the pedestals, all fitted with the original beautiful brass handles.
Each pedestal is mounted with decorative carved rosettes, and the desk is raised on plinth bases. It comes with the original brass locks and keys.
Interestingly, this large Victorian partners desk was gifted by the Coombe Bank estate of the late Sir Robert Ludwig Mond (1867-1938). The 'Company' is Brunner-Mond, the company founded by his father, the German-born industrialist Ludwig Mond (1839-1909), of which Sir Robert became a Director. It was later merged with Imperial Chemicals Industries (ICI). Sir Robert, a chemist and archaeologist, had a passionate interest in Egyptian archaeology, organising and personally financing various expeditions. He bequeathed his extensive collection of Egyptian and Classical antiquities to a large number of museums across Britain including the British Museum and numerous other museums including the Ashmolean, Liverpool, Sheffield, Royal Museum of Ontario and Institute of Jamaica. 
A fine antique desk needs a fine desk chair
At Regent Antiques, we are well aware that no one will get the best from a desk if they cannot sit comfortably to work at it, often for long stretches at a time. It would be quite a shame to find an exceptional desk and then spoil the experience with a chair that isn't really up to the job. That is why we always try to offer a great range of antique desk chairs and contemporary desk chairs – including our ever-popular bespoke leather armchairs.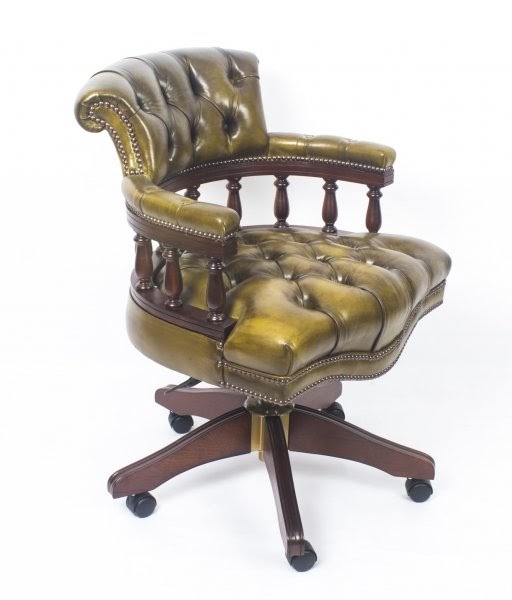 You may also want to take a look at our antique leather sofas and chairs as they provide plenty of ideas for creating the perfect environment to compliment your special antique desk.