Splendid and Highly Collectable Antique English Silver

We specialise in antique English silver and silver plate items from many different periods of English history.
From candlesticks to tea sets and biscuit boxes, our outstanding range of fine antique English silver offers something special for everyone.
Timeless and beautiful, antique silver pieces never go out of fashion. Collecting antique sterling silver allows you to build a superb collection of valuable objects which are also a solid investment.
A Great Range of Antique English Silver Items from Well-known Makers
We feature products from leading and highly sought after makers, such as Paul Storr, William Hutton, and many others.
A perfect example is this antique George III sterling silver teapot by Paul Storr, one of the world's most celebrated silversmiths.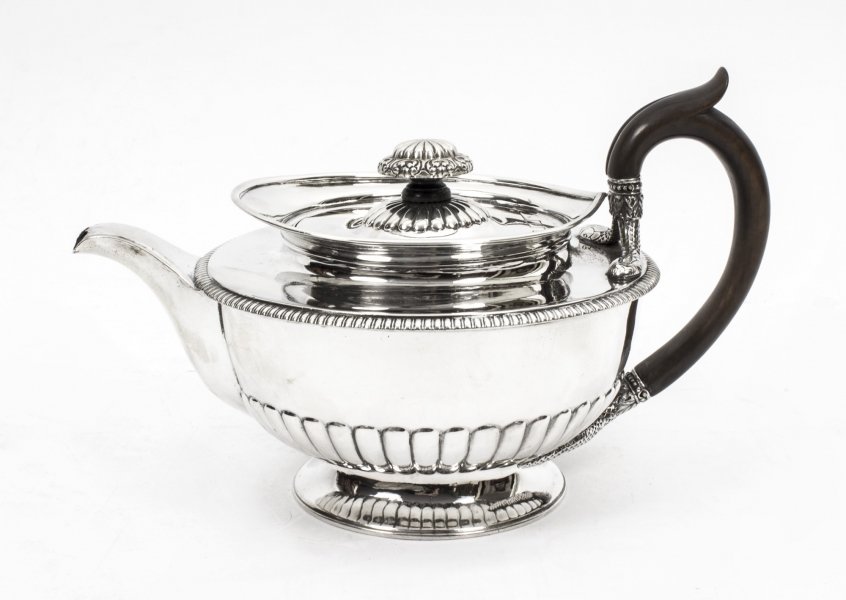 The elegant body of the pot features a gadroon rim and embossed fluting, and is graced with a flush hinged dome cover.
This charming antique silver teapot has a swan-neck spout and carved wood handle, beautifully crafted in the shape of a serpent – a signifier of Storr's best work – with dual fish motifs near the upper socket and fish tails adjoining the lower socket. A circular flared foot completes this exquisite antique Paul Storr piece.
This highly desirable antique silver teapot has the maker's mark of Paul Storr ('PS') and hallmarks for London, 1809.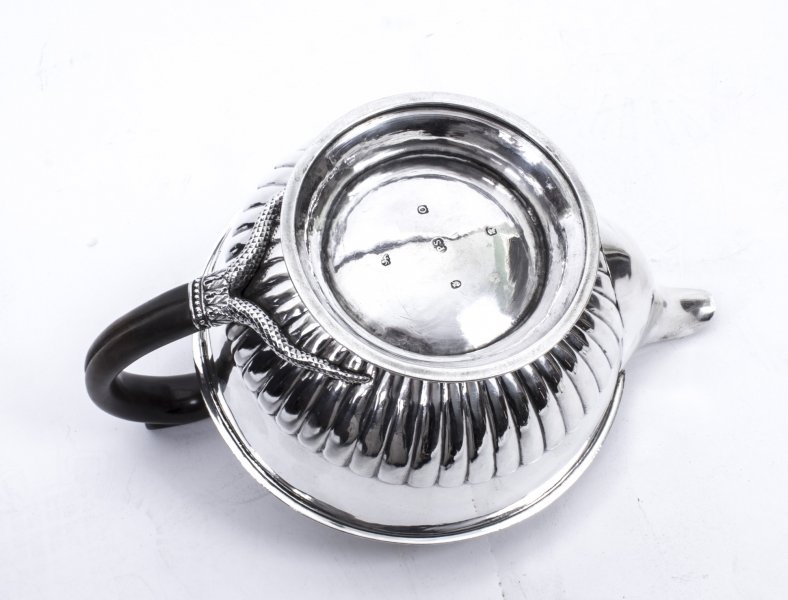 This antique sterling silver teapot is an excellent example of the artistry of Paul Storr and will have great appeal to collectors.
Next, we would like to present to you this truly wonderful antique English George III sterling silver lidded tankard.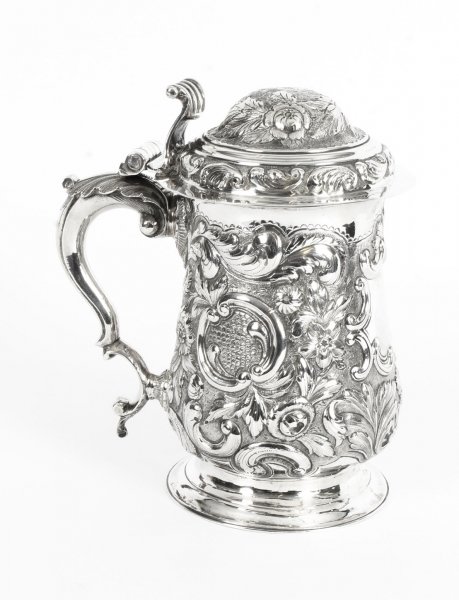 This impressive tankard features wonderful embossed floral decorations throughout with a beautiful central blank cartouche ready to be engraved.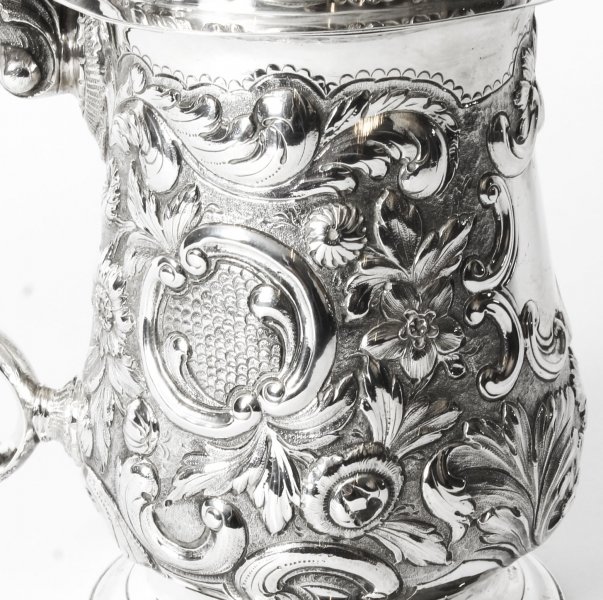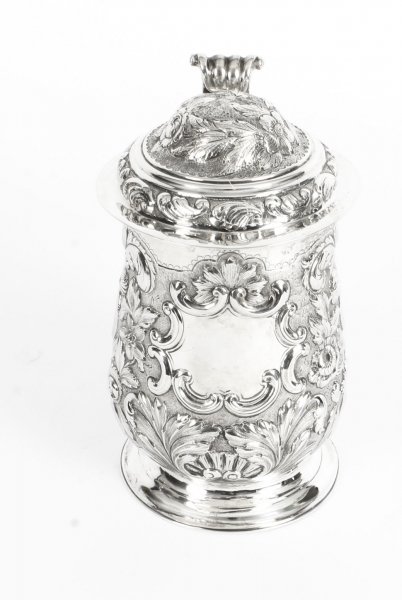 The underside of the tankard bears the full hallmarks – lion passant for sterling silver, the leopard head for London, the letter 't' for 1774 and the maker's mark 'J.K' for the renowned silversmith John King.
There is no mistaking its unique quality and design, which is sure to make it a treasured piece by any discerning collector.
At Regent Antiques, you can also choose from a wide range of beautiful antique silver plate items.
Take for example this stunning and rare set of four antique English Victorian silver plated candlesticks bearing the figural makers' mark of James Dixon & Sons.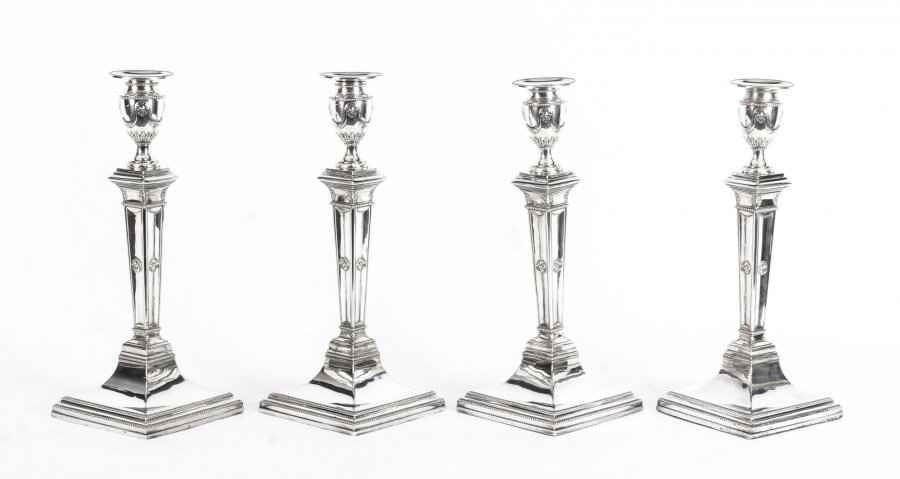 Each of these magnificent candlesticks features an exquisite capital in the form of an antique urn with lovely beaded decoration and elegant garlands, floral and foliate motifs.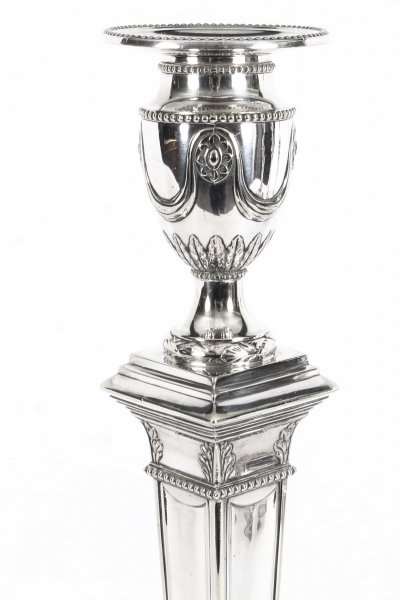 The knopped square stepped stems surmount attractive tapering and subtle concave columns, which are accented with distinctive applied floral symbols to the centre.
The sturdy square stepped bases replicate the subtle concave shape of the columns and are further embellished with beautiful beaded decorations to the edges.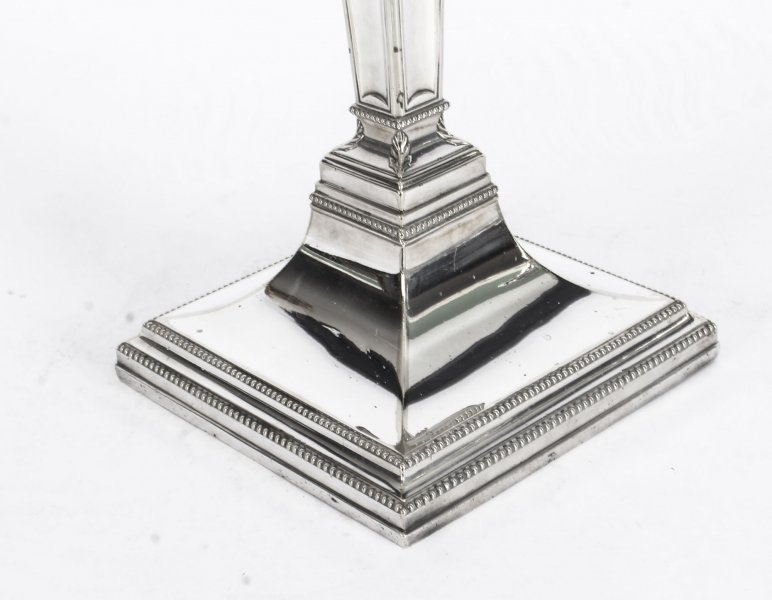 Each candlestick bears the silver plated marks, the figural makers' mark of a trumpet for James Dixon and Sons, as well as the registration number '624'.
If you want to add a touch of classic elegance to your dining experience, then these high quality and very tasteful antique candlesticks are the perfect choice.
To finish off, we are pleased to offer for sale this gorgeous piece of Victorian silver dating from around 1860.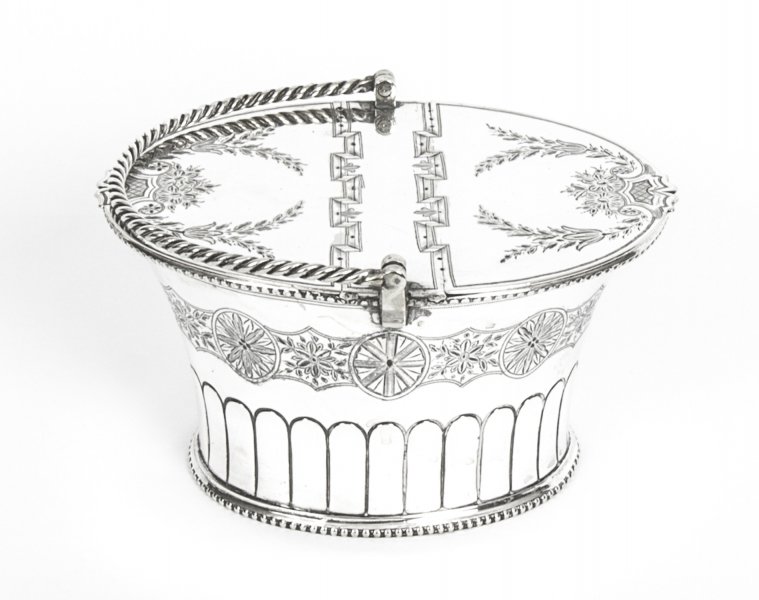 This antique silver sweet basket is engraved with garlands of flowers and has beaded edges and a swing handle.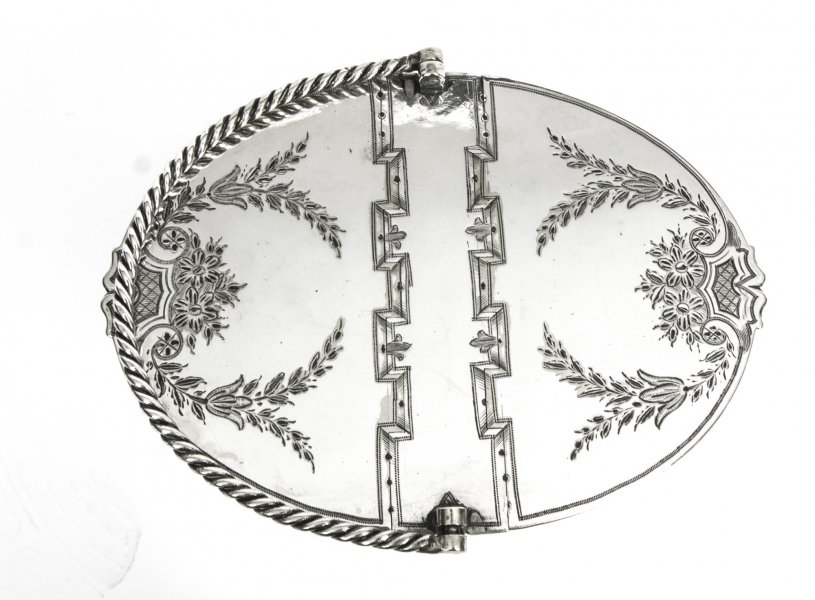 Made from silver plate and bearing the makers' marks of the renowned Victorian silversmith Hamilton & Laidlaw on the underside, this antique silver sweet basket is a lovely oval shape and as well as having engraved flowers decoration also features an eight spoked wheel motif.
With twin lids opening onto two separate compartments and a beaded swing handle, this lovely oval antique silver sweet basket has a refinement and elegance that will grace any dining table.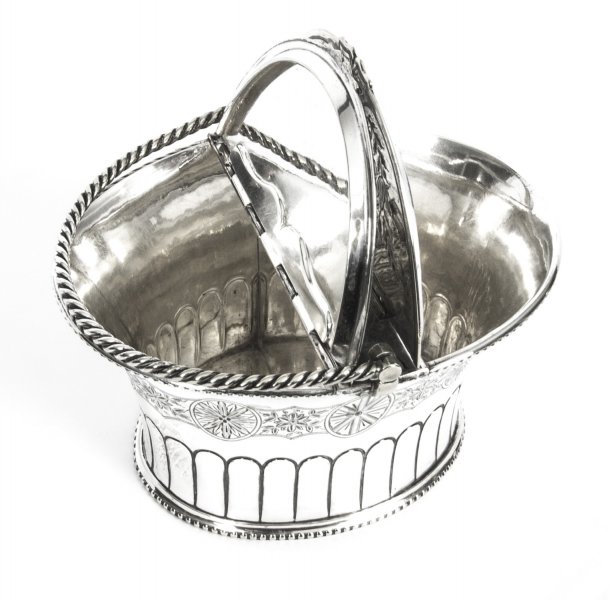 You can always be sure to find something rare and wonderful at Regent Antiques. Browse through many more antique English silver items on our website to find the one which best suits your style.
Our inventory changes regularly so be sure to sign up for our free new arrivals notifications service which ensures that we will send to you weekly notifications of any fresh items that appear in your categories of interest.