Marvellous Antique Dining Tables from Regent Antiques

At Regent Antiques, we always have a good stock of the finest antique dining tables for you to choose from.
As one of the UK's premier furniture dealers, we always aim to offer superb dining tables in a wide range of sizes, styles and periods.
Each period of history tends to have its own style of furniture associated with it. Our showroom usually has examples of Victorian dining tables, Regency dining tables, William IV dining tables and many more. 
We've picked a few antique dining tables from our collection to give you just a little glimpse into what you can expect to find here at Regent Antiques.
Antique Dining Tables Available for Sale
We start off with this fabulous antique Victorian mahogany dining table, dating from around 1870.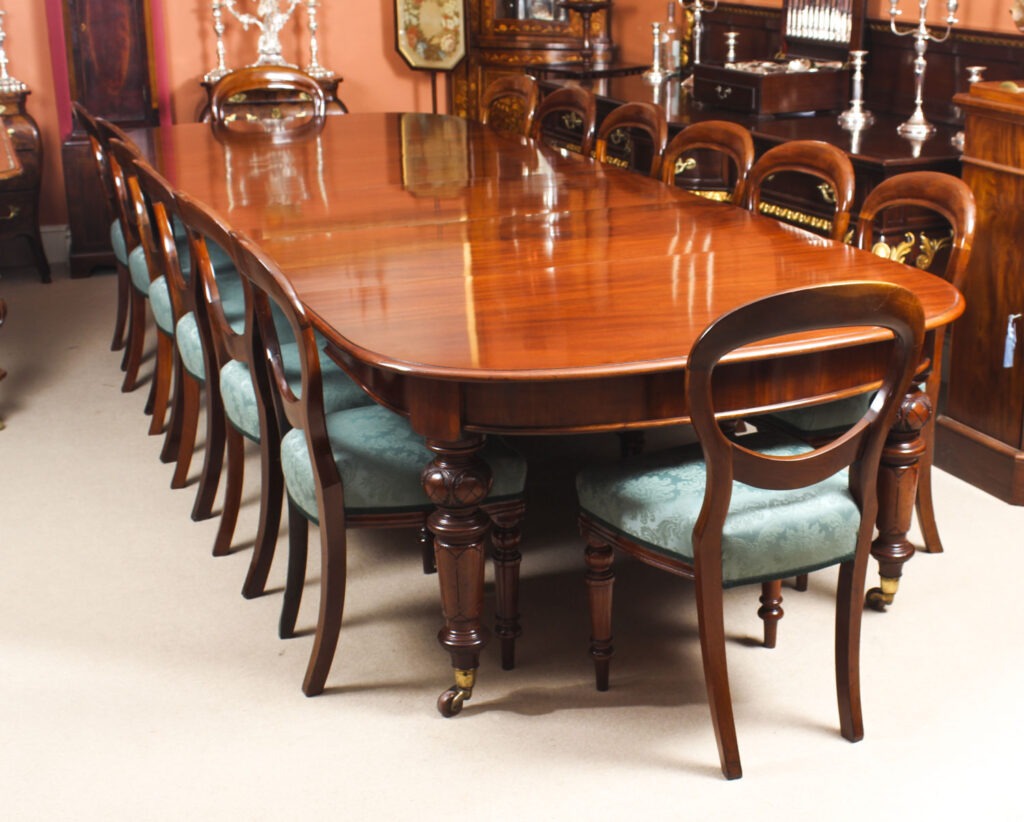 This gorgeous Victorian mahogany dining table has D-ends and could equally well be used as a conference table. At full length it measures approximately 356cm (12 feet) and can comfortably seat up to fourteen people.
This table is extremely versatile and flexible – it has four original extension leaves which can be added or removed as needed with minimal effort.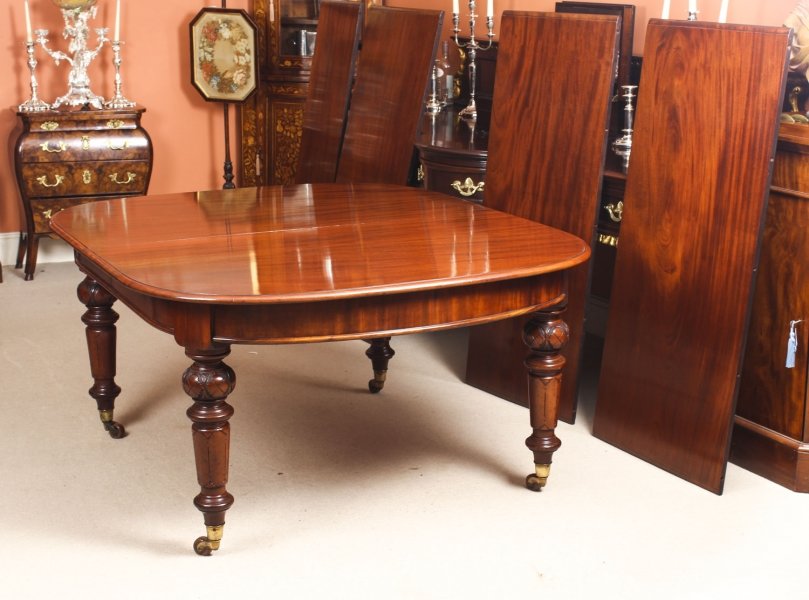 Furthermore, it stands on four wonderfully elegant carved and turned legs that each end in stylish brass and porcelain castors, which means it can easily be positioned in any part of a room or moved between rooms with relative ease.
This is an impressive table which is sure to add a touch of old-fashioned glamour to your home.
If you want a piece of furniture that is both functional and looks amazing, then this extraordinary antique Elizabethan Revival dining table could be just what you're looking for.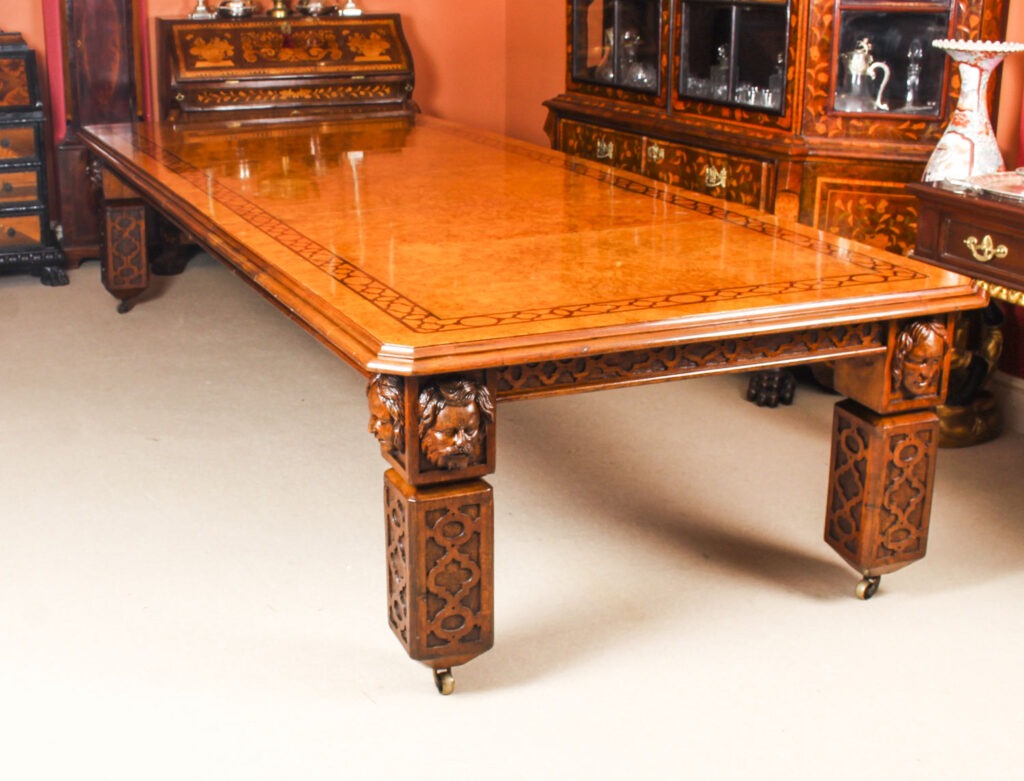 There is no mistaking the style and sophisticated design of this exquisite and rare antique English Elizabethan Revival pollard oak extending dining table.
This fantastic table has four leaf extensions, which can be easily added or removed as required by means of a special winding mechanism.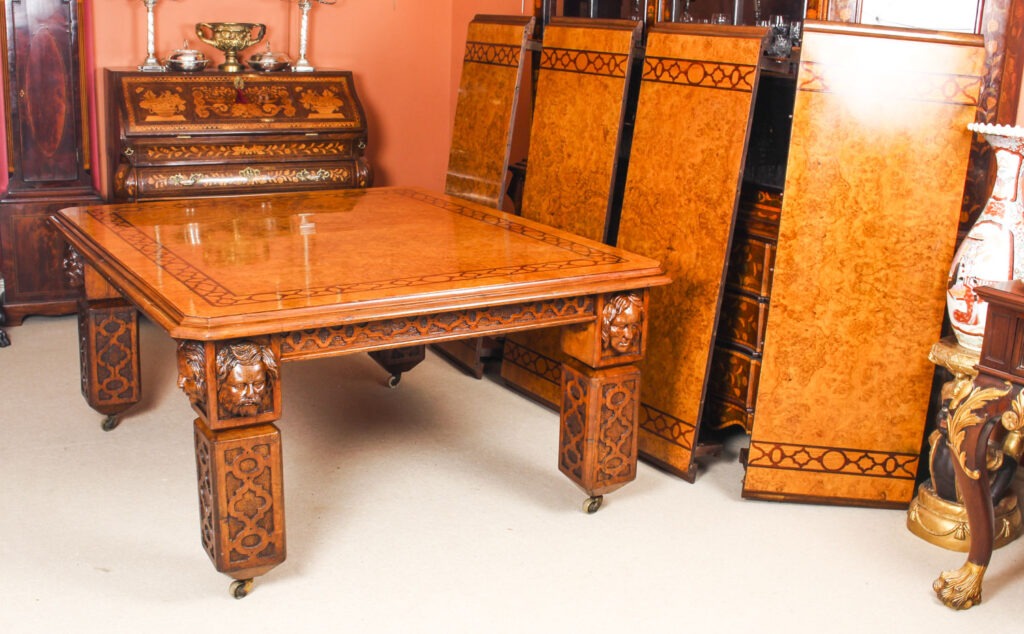 It has been hand-crafted from solid oak and has a striking rectangular pollard oak top with inlaid marquetry decoration, which is seen in the intricate burr on the table top.
This magnificent dining table is raised on massive hand-carved square section legs with blind fret moulding, headed by carved masks, and terminating in brass castors.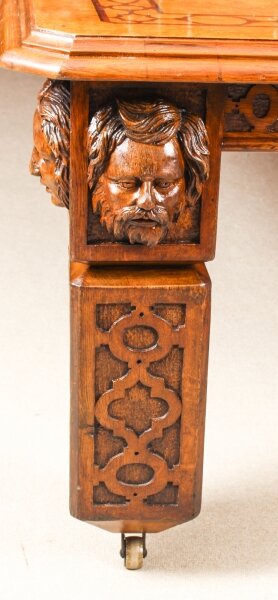 An example of superb quality and very grand design, this dining table will definitely stand out in any room and make a profound impression on your guests.
Next, we would like to present to you this Pembroke antique dining table, unmistakable in sophistication and style.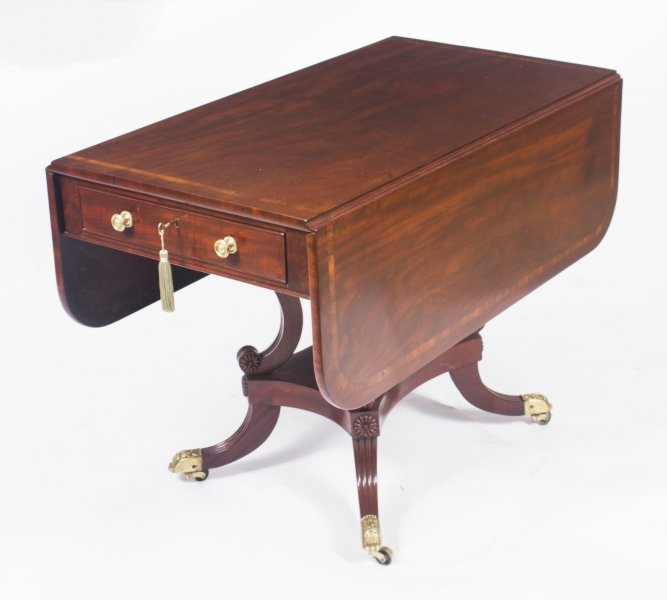 This stunning antique dining table dates from the Regency period and is attributed to Gillows.
It has been hand-crafted from solid mahogany which was the wood of choice for fine furniture makers due to its durability and also its beautiful grain which provides a lovely colour and patina.
Above an end frieze drawer, the table has twin rounded flaps creating a rectangular top. The table top is crossbanded around the edge which provides stylish and subtle decoration.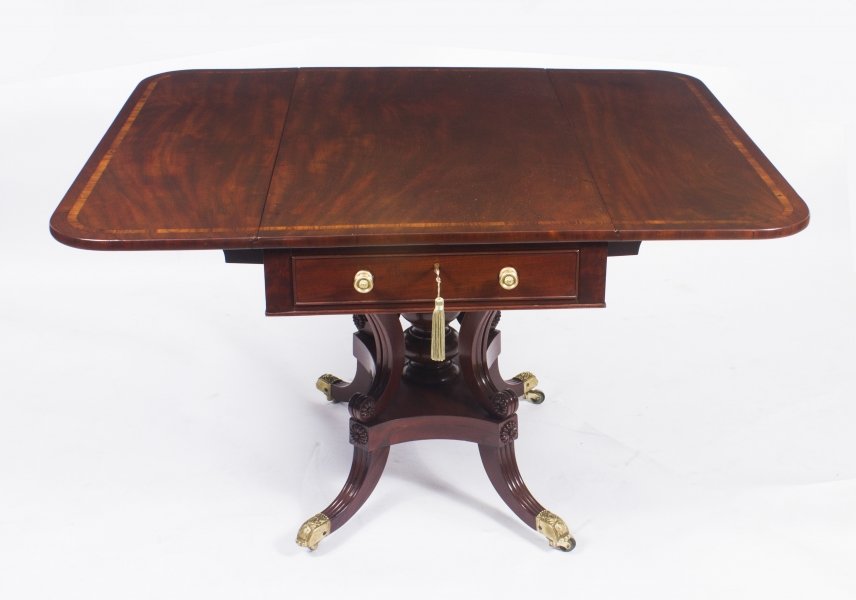 This antique dining table is raised on four fluted uprights on a quadripartite base which features ornate brass caps and castors.
Distinguished and sophisticated, this lovely table will make a real statement wherever it is placed.
You can also browse through our antique dining tables category on the website and find the table that best suits your style.
However, if you prefer contemporary tables then we have something for you too. Be sure to check out our collection of bespoke marquetry dining tables available in a variety of sizes.
Finally, if you do not want to miss any new items you might be interested in, please remember to sign up for our free new arrivals notification service which ensures that we will send to you weekly notifications of any fresh items that appear in your categories of interest.