Discover the Amazing Craftsmanship of Bespoke Marquetry Furniture

Regent Antiques offers for sale some of the finest examples of bespoke marquetry furniture made to the highest of standards.
Marquetry is the process of inlaying carefully cut out designs from top quality wood into the surface of a table or other item of furniture. It is still practiced to this day and is done using techniques that are in many cases generations old. Although some power tools are used these days, most of the work is still done by hand.
The intricate designs applied to our bespoke marquetry furniture feature a variety of shapes and symbols that have been meticulously cut out and inlaid into the surface of the furniture item which is to be decorated. Once that is complete, the entire surface is French polished to accentuate the fine marquetry work and lovely grain of the wood.
There are few constraints with bespoke marquetry furniture that is made to order from Regent Antiques as our third-generation craftsmen in Italy can execute the uniquest of decorations.
In today's blog post, we would like to show you some fine examples from our vast collection.
Outstanding Bespoke Marquetry Furniture from Regent Antiques
Large marquetry dining tables are the centrepiece of our bespoke marquetry furniture range. A perfect example is this extraordinary handmade bespoke marquetry dining table, capable of seating up to 12 people comfortably.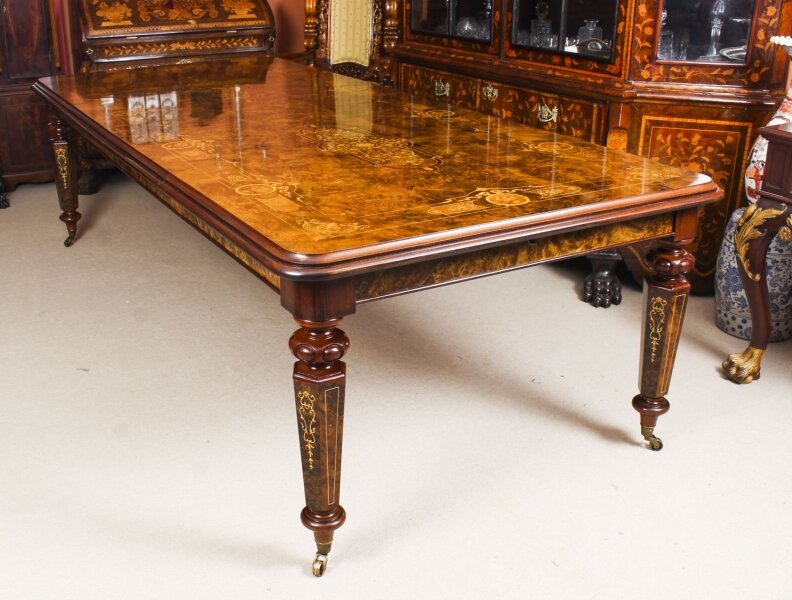 This is a large and substantial burr walnut bespoke dining table complete with the finest inlaid marquetry decoration. The marquetry decorations of birds, garlands and vases are hand cut from different veneers of various colours. To highlight the marquetry as well as the natural grain of the burr walnut, this table has been French polished by hand.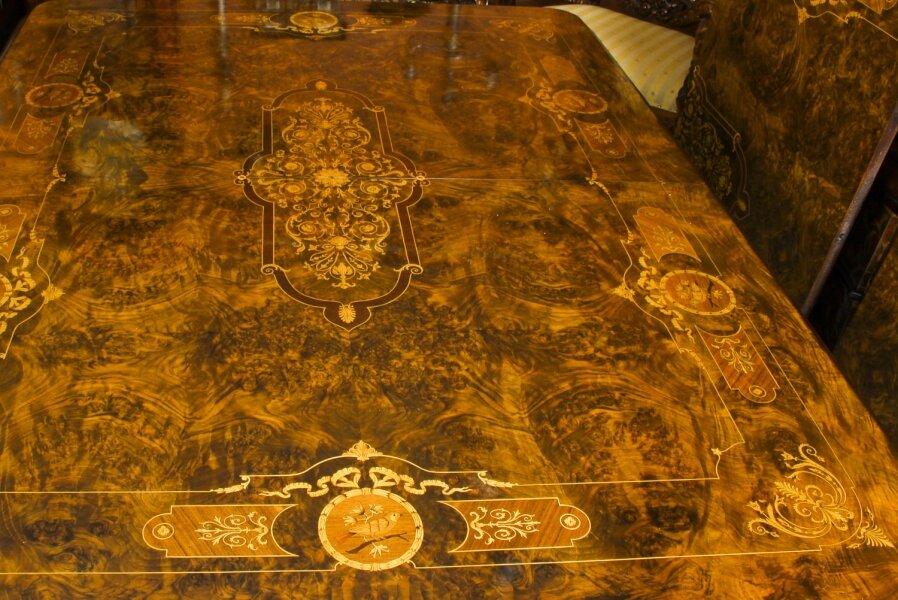 This table is supplied with two additional leaves. These leaves can be added or removed as required in order to alter the overall length of the table, as the occasion demands. This is accomplished with a special winding mechanism that is easy to operate and makes reconfiguring the table quick and easy.
For stability, the substantial table top stands on four sturdy yet very elegantly carved and attractively inlaid legs which are terminated with brass castors for ease of movement around the room.
Please note that we also offer you the opportunity to order a table just like this one which can be personalised with the same standard of marquetry designs to your own personal specification.
We also offer for sale sets of bespoke marquetry dining chairs which complement this table beautifully. Take for example this set of 12 bespoke handmade Regency style marquetry dining chairs in burr walnut with distinctive royal burgundy and gold upholstery.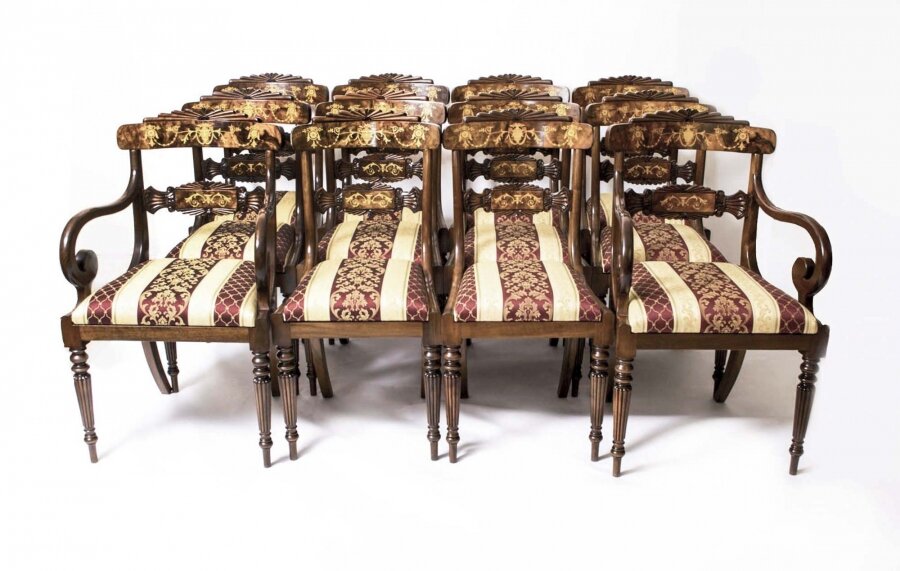 The design of these chairs is typical of Regency style furniture, a style which was prevalent in England during the regency (1811-1820) of George, Prince of Wales who later became George IV.
These Regency style marquetry dining chairs have very elegantly carved frames and feature drop in seats which are covered in a durable yet delicate royal burgundy and gold material. If you remove the upholstered cushions you will reveal the weaved cane seats which is an optional seating arrangement for cooler and more comfortable dining in the warmer summer months.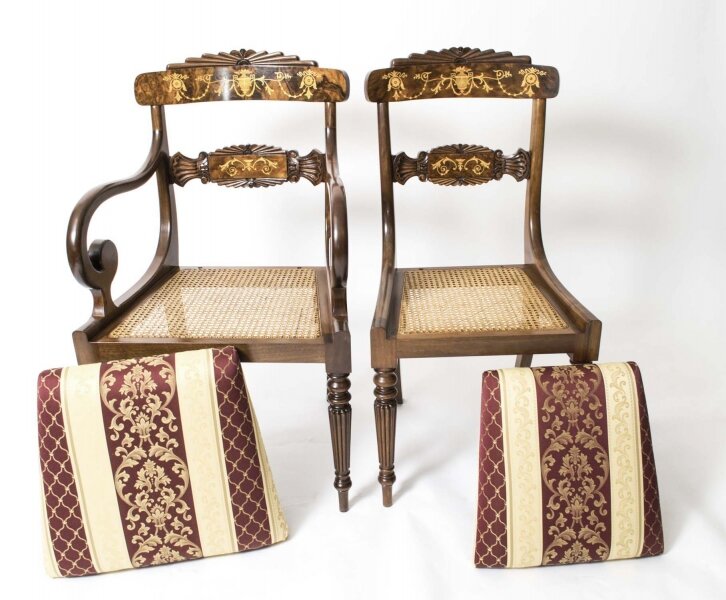 This set comprises two armchairs specifically made for the head of table and ten side chairs to place either side of a grand dining or conference table.
The timeless design of these Regency style dining chairs and armchairs, made from top quality burr walnut with marquetry decoration, makes them ideal for even the most sophisticated setting at home or in a commercial space.
Another stunning example of bespoke marquetry furniture is this superb and unusually large bespoke handmade breakfront sideboard in Victorian style with room for all your plates, china, glassware and cutlery.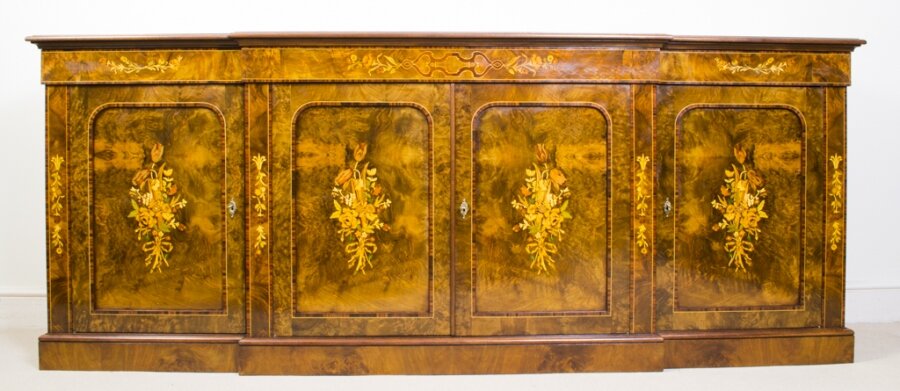 It features four doors and three capacious drawers. The interior has been beautifully lined with fabric, it has been hand-crafted from fabulous burr walnut and features exquisite hand-cut floral marquetry decoration.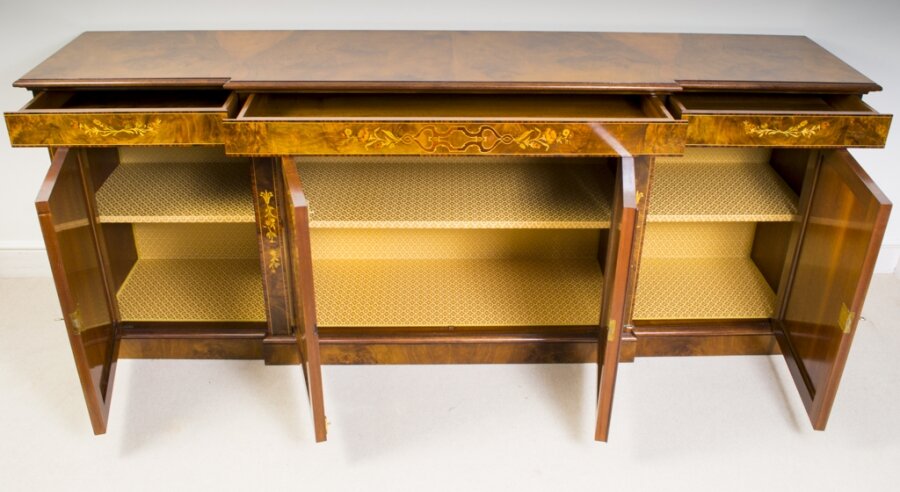 The sideboard has been French polished by hand and is ready to add a touch of class to a special place in your home.
Take a few moments to watch 'The Magic of Marquetry' video below and find out just how much love and devotion goes into making every single piece of bespoke marquetry furniture to leave our workshops.