Superb Pedestals, Jardinieres, and Vases

It is Spring again. What better way to show off your plants and flowers in all their glory?
Here at Regent Antiques, we offer a fine range of antique pedestals, jardinieres, and vases which will make your greenery stand out.
Today, we have selected four very different pieces for you to look at, and we are particularly proud of the quality of each of these.
We start with this stunning pair of mahogany and giltwood pedestals in the Adam style.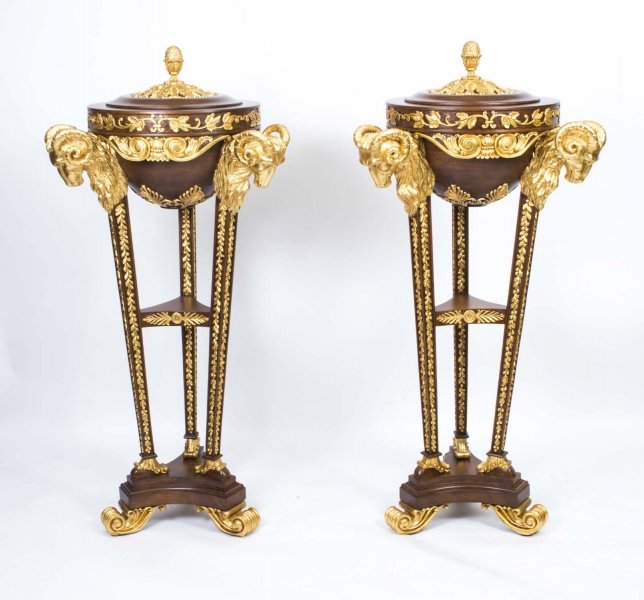 The Adam style is an 18th-century neoclassical style of interior design and architecture, as practiced by three Scottish brothers, of whom Robert Adam (1728–1792) and James Adam (1732–1794) were the most widely known.
The Adam style moved away from the firm mathematical proportions formerly found in Georgian rooms and introduced curved walls and domes, decorated with intricate plasterwork and prominently mixed color schemes. This style is identified with Classical Roman decorative motifs, such as framed medallions, vases, urns and tripods, arabesque vine scrolls, and dancing nymphs, pilasters, and painted ornaments such as swags and ribbons.
Our stunning pedestals feature exquisite carved rams heads and acorn finial lids with carved giltwood mounts throughout.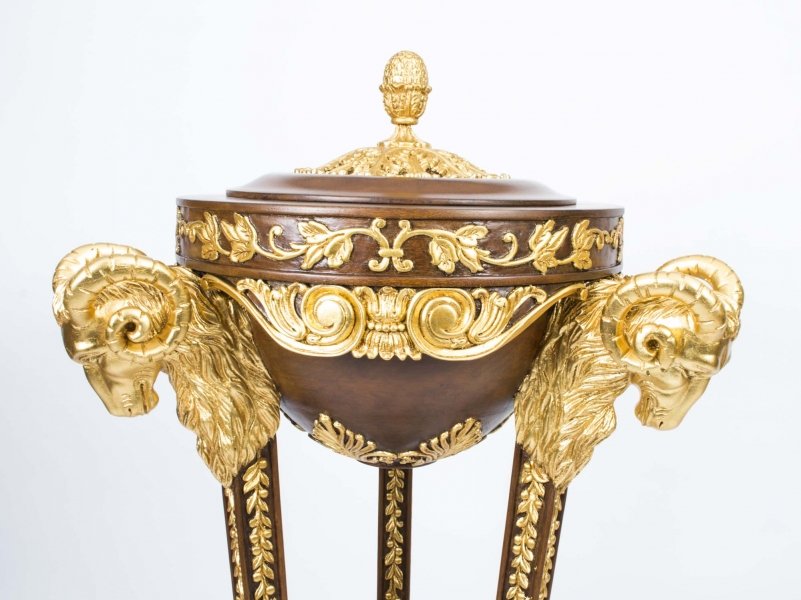 They would be perfect as a stand-alone feature as jardinieres or the lids could be reserved for displaying porcelain vases. They are sure to become the centerpiece of your antique furniture collection.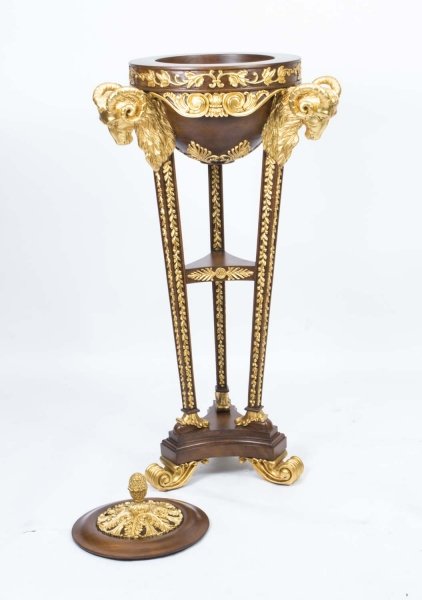 Next is this superb antique French burr walnut, marquetry and ormolu mounted jardiniere, circa 1870 in date.
Jardinieres became well-liked in the 19th Century as people started to display exotic plants. As  industrialisation grew, so did the inclination to bring nature indoors.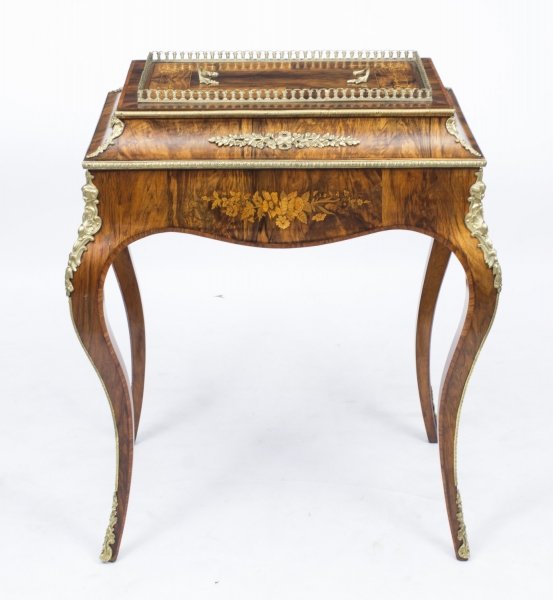 This stunning French jardiniere is beautifully decorated with marquetry decoration and gilded ormolu mounts and is raised on elegant cabriole legs. The rectangular lidded top lifts off to reveal a metal liner for your plants.
Overall the craftsmanship and finish are second to none, and it will certainly make your plants shine.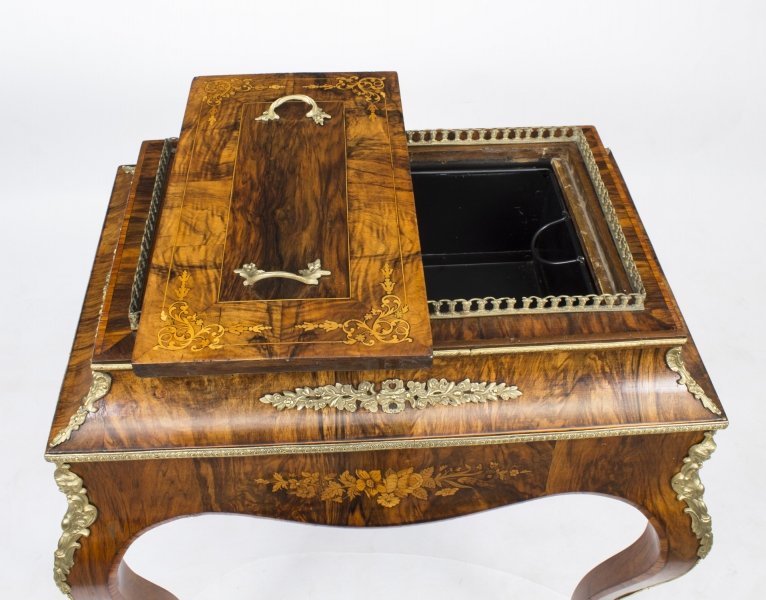 We move to this magnificent and exceptionally rare antique French ormolu mounted burr walnut and kingwood jardiniere, circa 1870 in date.
The jardiniere is of hexagonal shape with inward-curving sides, is exquisitely decorated with rich gilded ormolu mounts and stands on six elegant scrolling ormolu legs.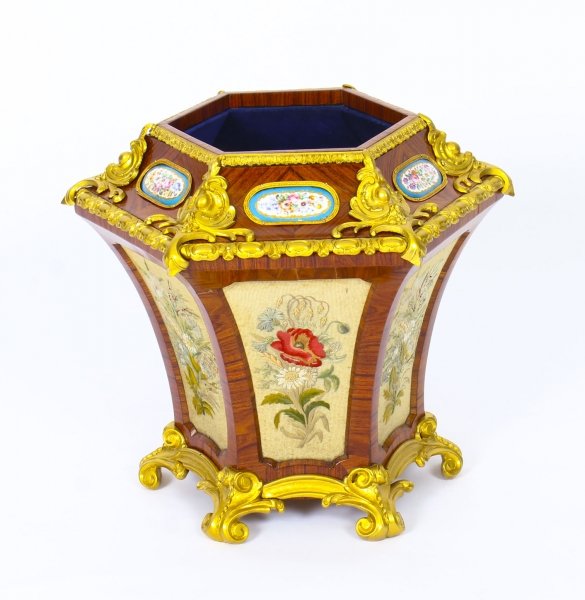 The top shoulders of the jardiniere have six oval hand-painted Sevres porcelain plaques which depict a variety of flowers and leaves – including pink roses, violets, and daisies.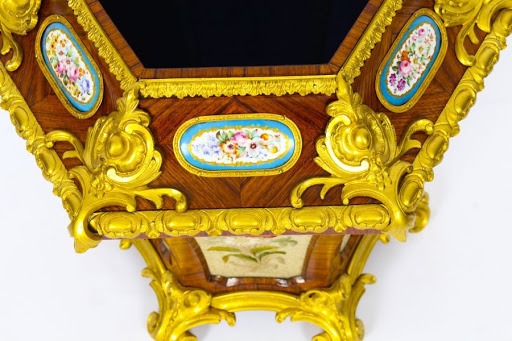 Each side of the hexagonal body has a superb petit point needlework panel depicting flowers and leaves. The craftsmanship of such needlework is extremely finely detailed and even the nuances of the foliage show in all their glory.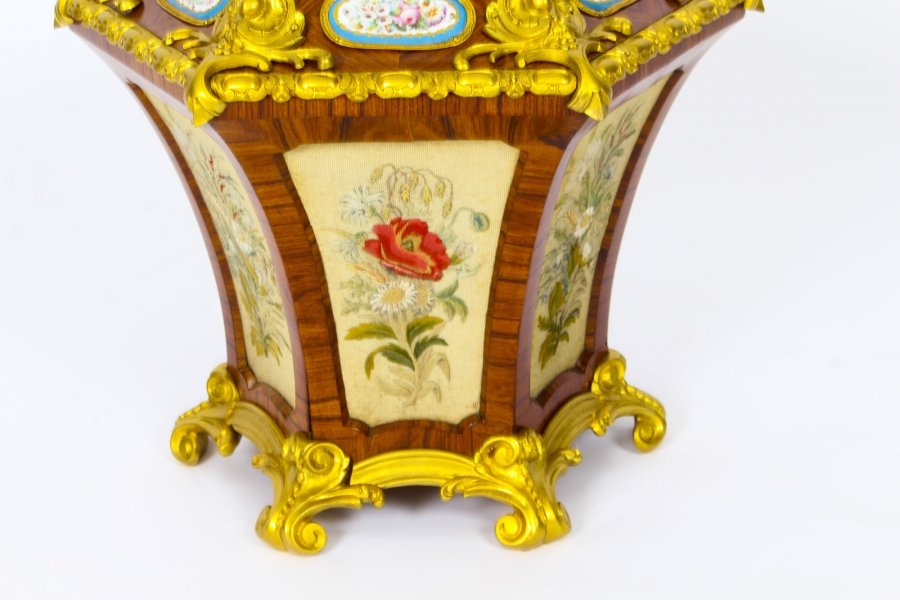 Not only is this delightful piece of exceptional quality and rare beauty but its provenance makes it a unique piece. In fact, it belonged to the Grand Duchess Olga Nikolaevna of Russia (1822-1892), later Queen Olga of Wurttemberg, who received it as a gift from her father Tsar Nicolas I (1796-1855) on the occasion of her marriage to Crown Prince Karl Friedrich Alexander of Wurttemberg (1823-1891) in 1846.
Finally, this is a fine and rare antique pair of French Sevres porcelain vases bearing the Sevres painted mark for 1765.
These decorative twin handle vases are superbly decorated with high-quality hand painted panels of romantic domestic scenes of children playing with a kitten and a puppy with bouquets of flowers on the back. They feature gilt ribbons, foliage, and floral ornamentation in relief on a stunning blue celeste ground.
Be certain that your flowers will make a difference in this stunning pair of vases.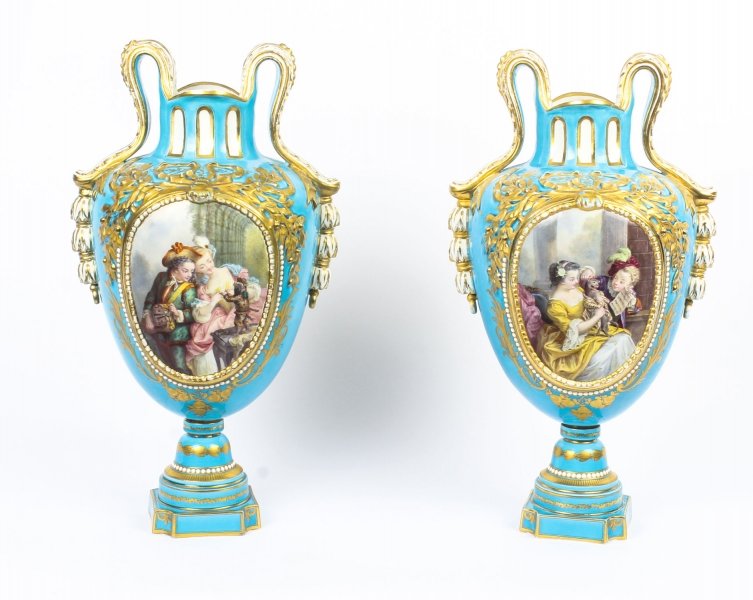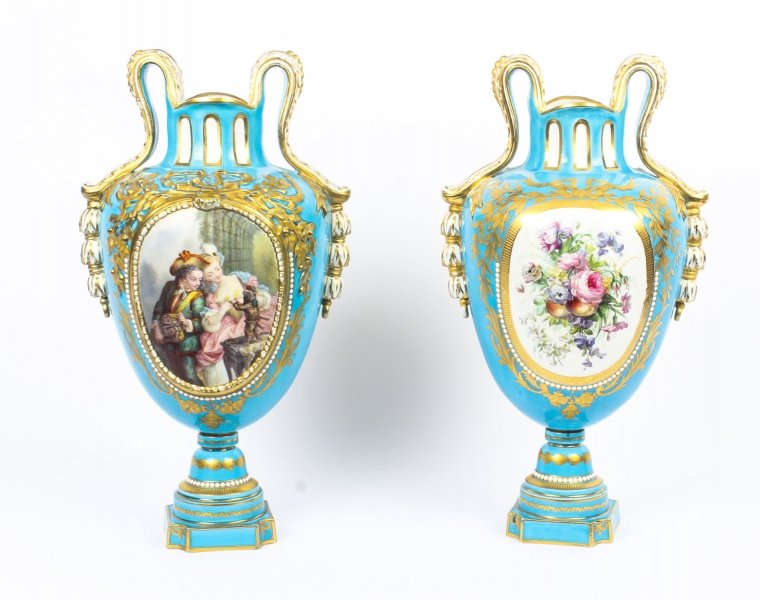 Visit our website, or better still our massive North London showroom, to see many more examples of fine antique pedestals, plant stands, and vases.
Regent Antiques will professionally pack and ship any of our pieces worldwide, so please request a quote for your destination. Our experts are always on hand to offer advice and help, just call +44 2088099605 or email us at info@regentantiques.com.