Extraordinary Antique Dining Tables from Regent Antiques

We are delighted to offer for sale a wide choice of carefully selected antique dining tables which stand out for their distinctive style and elegance.
Our extensive collection of antique dining tables is impressive and encompasses tables in a wide range of sizes, styles and periods to meet many different requirements and types of use, from the family dining room, restaurants, through to large antique conference tables destined for use in the company boardroom or conference room.
We supply oak dining tables, mahogany dining tables and others made with exotic and very desirable timbers such as burr walnut and birdseye maple. Many of these fine antique dining tables have exquisite marquetry and other inlaid decorations to make the table not only functional but also a thing of great beauty to be admired by those who are lucky enough to see it.
Today we would like to show you some of the most remarkable examples from our vast selection.
Fabulous Antique Dining Tables Available for Sale
To start off, we are pleased to present to you this extraordinary antique Regency Revival metamorphic dining table.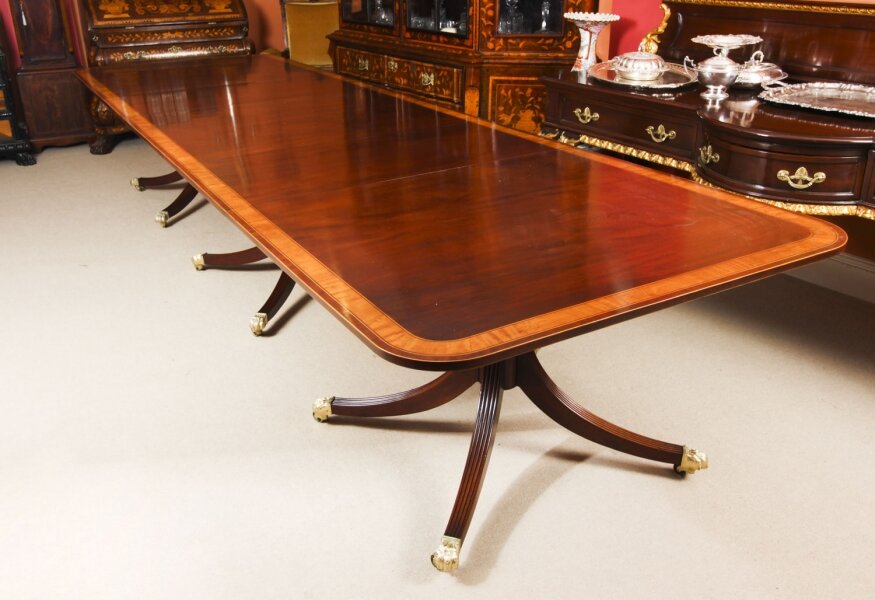 Crafted in beautiful flame mahogany and featuring superb satinwood crossbanded decoration, this impressive dining table is dating from the 19th Century.
Capable of seating fourteen people in great comfort, it is an extraordinary metamorphic piece of furniture.
Being a metamorphic table means that it can be split and used in other ways. It can be used as one large 14ft table but can also be split into two other ways forming either two tables of the same size or one table with the central base and the other with twin bases.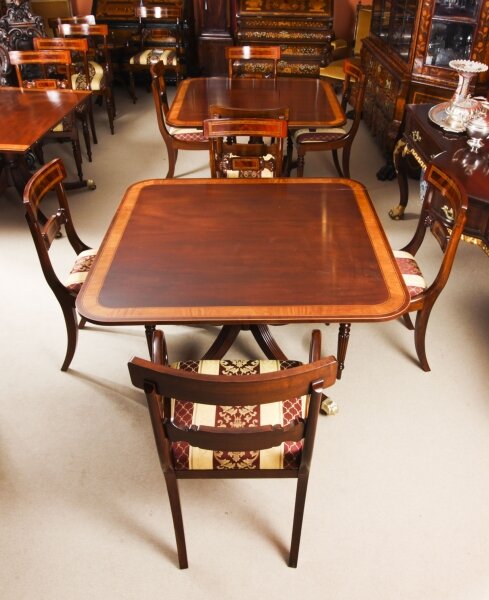 The table is raised on three "gun barrel" quadruple splay leg bases, all fitted with elegant lion's paw castors.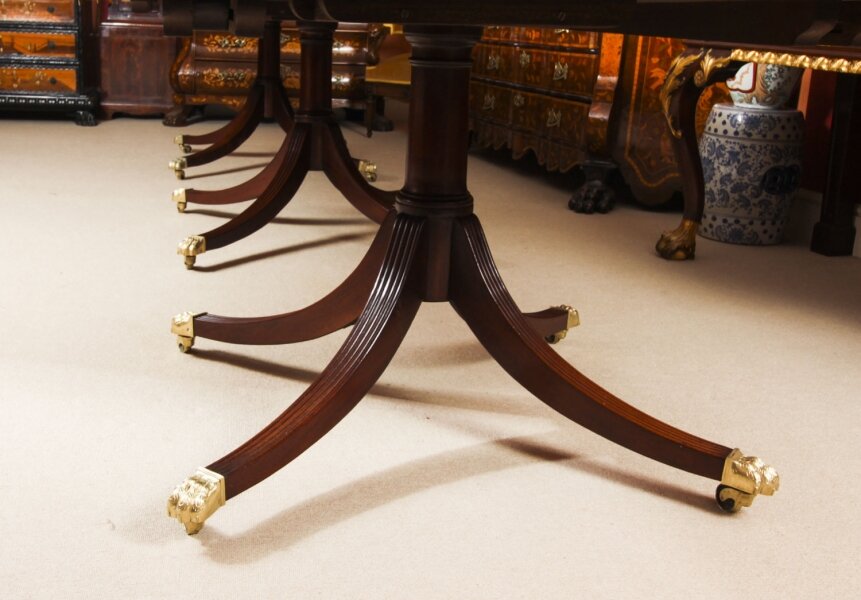 The amazing craftsmanship that has gone into this elegant table is immediately obvious, with the table surface having a stunning crossbanded satinwood border with sycamore stringing. This enhances the lovely warm tones and grain of the flame mahogany ensuring they are shown off to perfection.
Transform the fine dining experience in your home with this exquisite and extremely versatile piece that is certain to impress all your guests.
Our next featured item is this superb antique Victorian oval dining table made from top quality solid mahogany and dating from around 1860.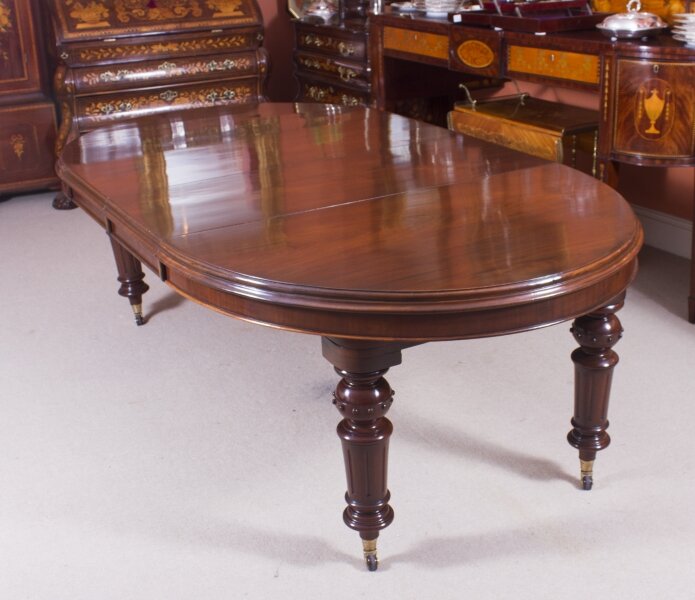 This antique Victorian dining table is both beautiful to look at and versatile in day to day use. This is because it is an extending dining table which can be increased in length to suit the requirements of the occasion. It is supplied with its two original extension leaves. When the leaves are fitted the table can comfortably seat eight people. Fitting the extension leaves is made easy by the presence of a special winding mechanism.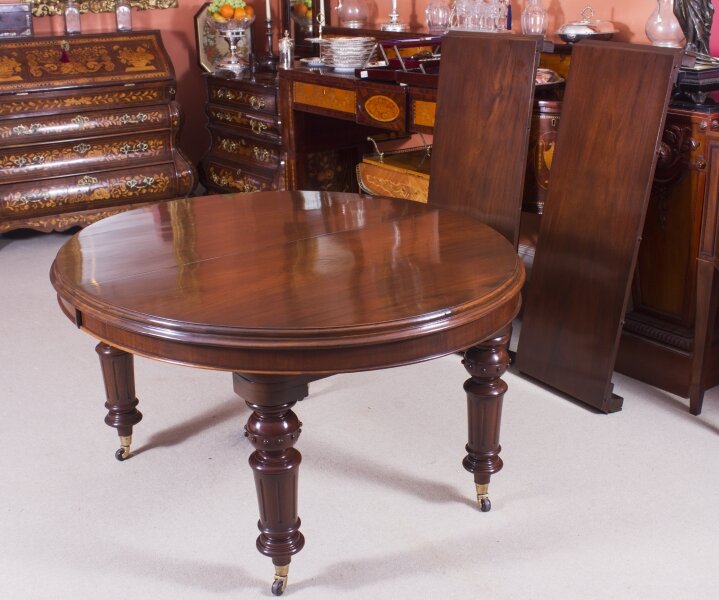 This lovely antique dining table is hand-crafted from top quality solid mahogany which has a beautiful grain and colour. The table stands on beautiful yet sturdy turned and fluted legs that terminate in brass and porcelain castors, making it easy to move around when required.
Last but not least, we would like to present to you this elegant antique Regency period dining table.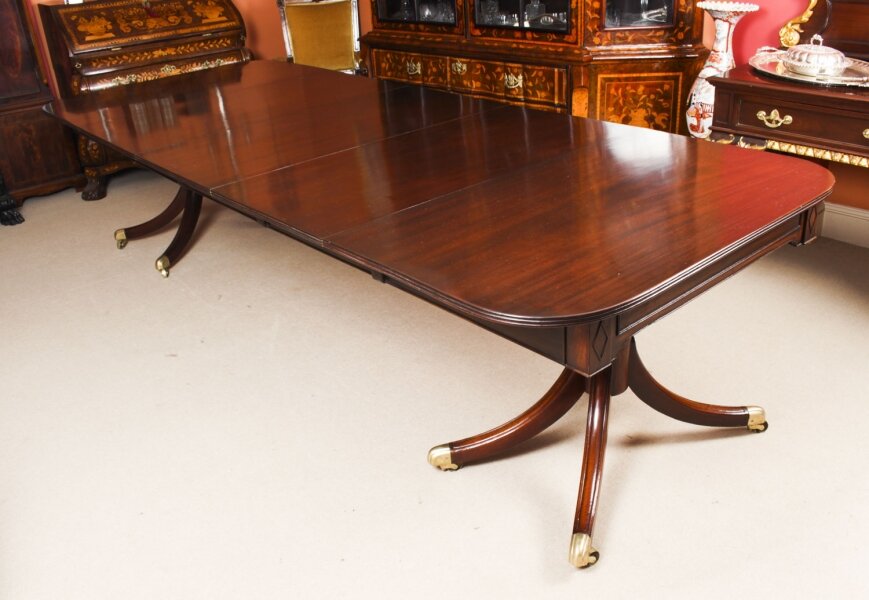 The table is of rectangular form with rounded corners and reeded edge, and can comfortably seat twelve people.
One of the features that this lovely table has to offer is the possibility to adjust its size with three extension leaves in order to accommodate the number of dinner guests or meeting attendees that are expected. When no longer required, these extension leaves can be removed and stored away leaving a much more compact version of the table in order to reduce the amount of space taken up.
It is raised on twin "gun barrel" turned columns on quadruple swept sabre leg bases which are fitted with brass lion's paw toes and castors.
It is a marvelous and flexible table that will effortlessly grace any part of your home.
You want your guests to be comfortable when sitting at your antique dining table or antique boardroom table. When it comes to sitting comfortably then we are able to help with that as well. It is quite unusual these days to find antique tables offered together with their original matching chairs. These do occur from time to time and we often have original matching antique dining sets in our inventory but in most other cases we can supply matching, or complementary antique dining chairs either as a set with the table or separately.

In addition to our extensive range of antique dining tables and dining chairs we also hold stock of a very carefully-curated range of contemporary dining tables and chairs, including many which are still made by traditional craftsmen using traditional methods and materials and in a variety of styles taken from well known periods. These tables often feature inlaid marquetry decoration which can be personalised to your individual requirements for an additional cost – contact us for a no obligation quote.