A Closer Look at Marvellous Antique Desks

At Regent Antiques, we offer our clients antique desks and writing tables in a wide variety of shapes and styles – all available for purchase from our website or London showrooms. 
There are many things to consider when choosing a desk such as the size and shape of the room where it is to be placed and how much storage space you need.
Whatever your preference, we aim to provide you with high quality antique desks that are not only attractive but functional and comfortable as well.
A Wide Range of Beautiful Antique Desks To Choose From
We are delighted to be able to offer for sale this superb antique French Empire Directoire desk, dating from circa 1860.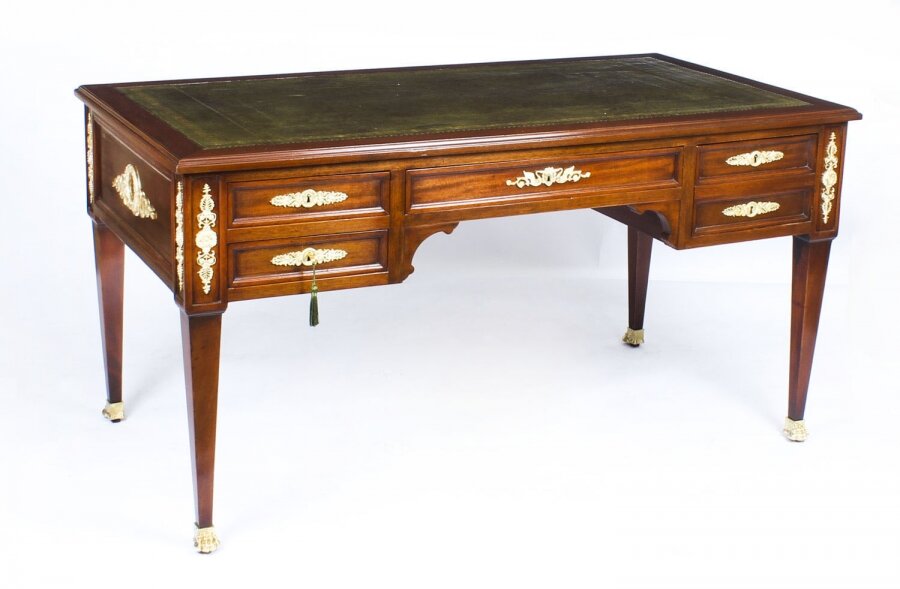 Crafted from the finest mahogany, this antique desk has a rectangular top with a green gold-tooled inset leather writing surface and a very decorative gilt-bronze border.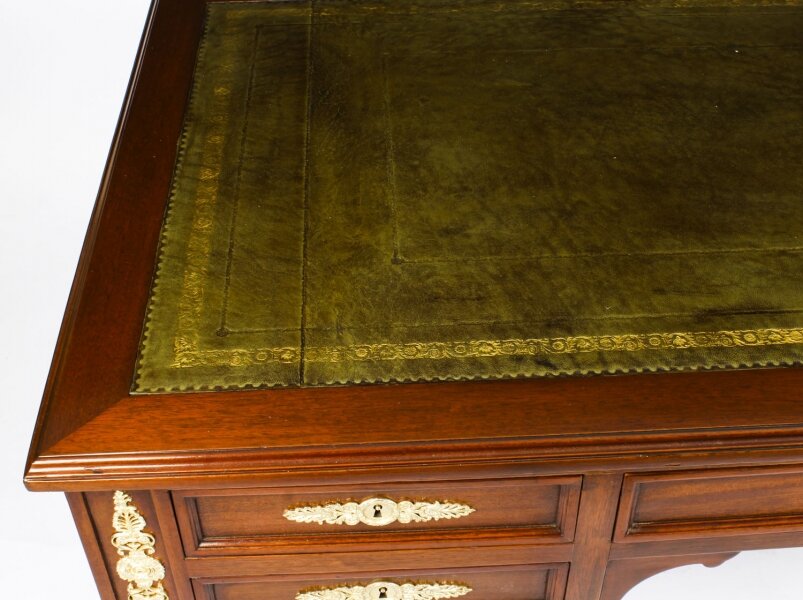 The frieze has a central drawer flanked by pairs of side drawers with shaped corner brackets to the 'knee-hole. The desk features finely cast ormolu mounts in the classic Empire style including anthemion, palmette mounts, swan escutcheons and laurel wreaths.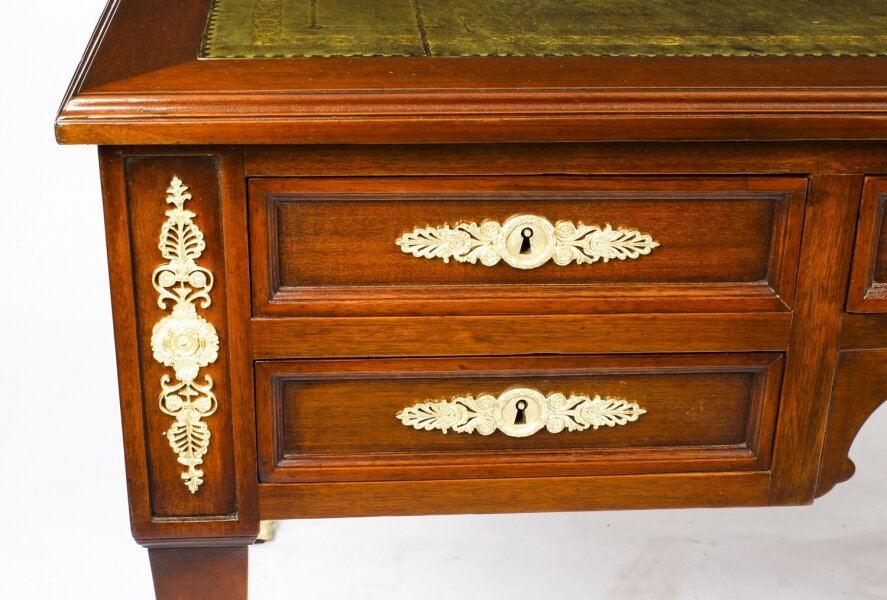 This lovely desk is raised on four elegant square section tapering legs standing on gilded lion's paw sabots. An added advantage is that it is finished all around so it can stand freely in the centre of a room and is sure to get lots of attention wherever it is placed.
Please note that we also have a range of stunning antique desk chairs as well as bespoke leather armchairs that would complement this desk perfectly.
Next, we would like to present to you this fabulous mahogany, satinwood and marquetry antique Carlton House desk by the renowned London retailer and cabinet maker Druce & Co, dating from around 1880.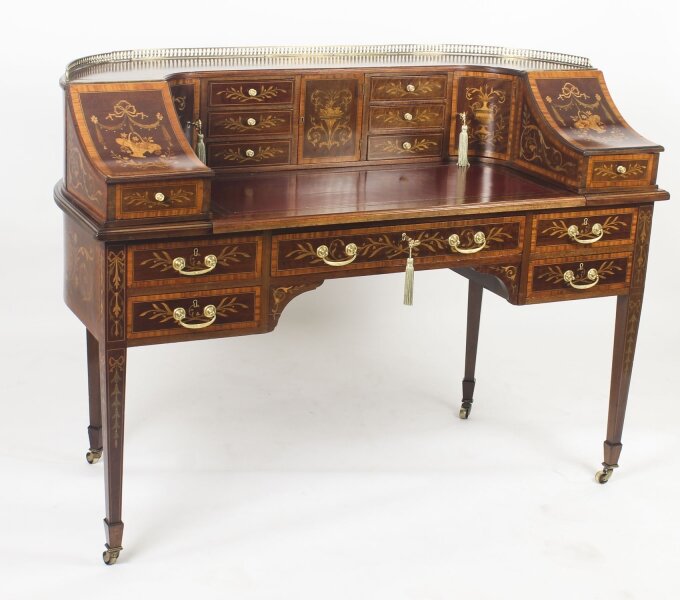 The top of this antique Carlton House writing table is surmounted with a decorative brass gallery and inlaid with stunning marquetry of baskets of flowers, swags and swirls, a musical trophy, and scrolling foliage. The decoration extends right around to the back of the piece, which features classical urns and a prominent scallop shell.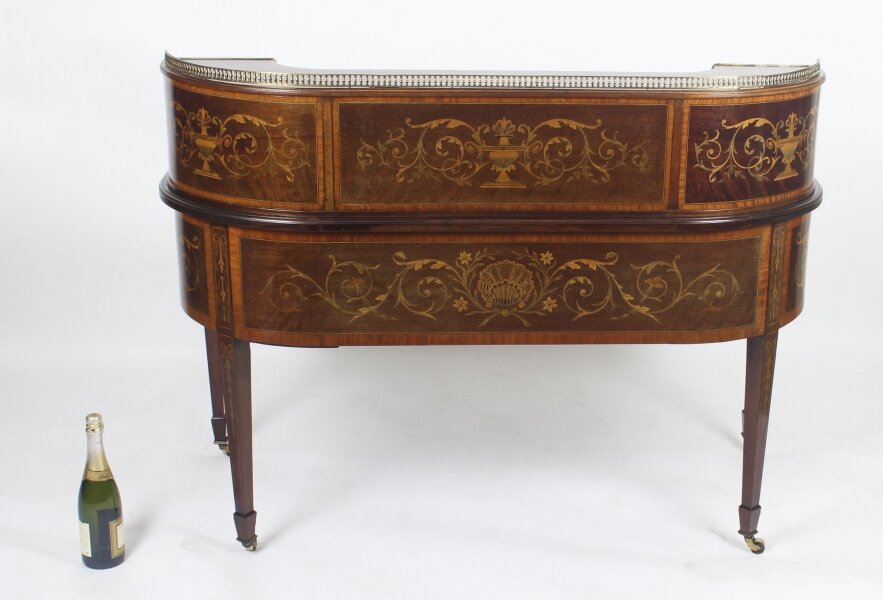 Matching functionality with elegance, this antique Carlton House desk has plenty of storage compartments to accommodate all of your stationery. In addition to the eight smaller drawers and five cupboards on top of the desk, there are five larger drawers below. To complete the piece, the top has been expertly relined with a fine quality gilt-tooled oxblood leather inset sliding writing surface which not only looks good but is also a joy to write on. The central drawer bears the embossed brass trade label of Druce & Co.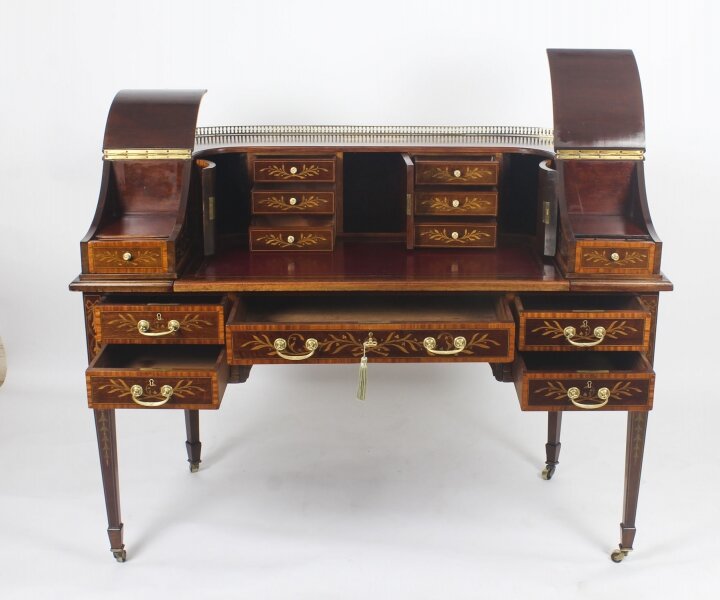 This antique Carlton House desk stands on four elegant tapering legs that terminate in their original brass castors. Its authenticity is unimpeachable; all the locks, handles, keys and castors are present and original. Better still, the desk is finished all around, so it can be displayed in pride anywhere in your home.
Another striking item is this French antique bureau plat with ormolu mounts which features fine quality floral marquetry.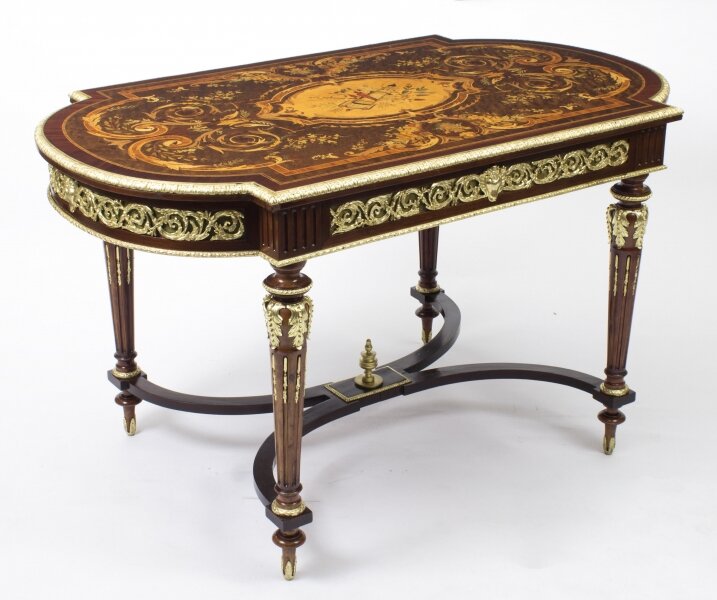 This beautiful piece of furniture has been made with artistic marquetry requiring the highest level of craftsmanship. The surface of the table top of this antique ormolu mounted bureau plat features very intricate floral marquetry decoration. Using a number of different and exotic veneers which include kingwood, satinwood, burr walnut, and purpleheart, the level of detail present here can only be described as extraordinary.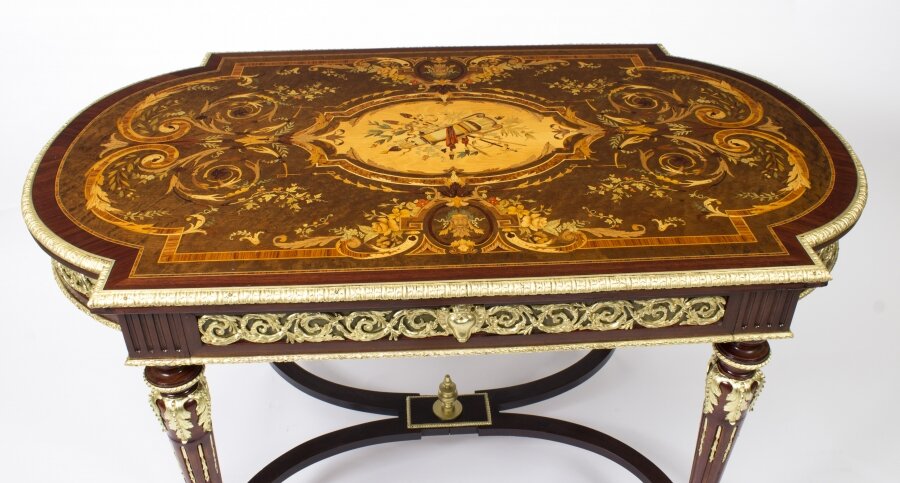 The central panel is worthy of particular attention, it being inlaid with a representation of an urn on a flower filled satinwood background together with a decorative border of foliage which has been rendered in mahogany and burr walnut.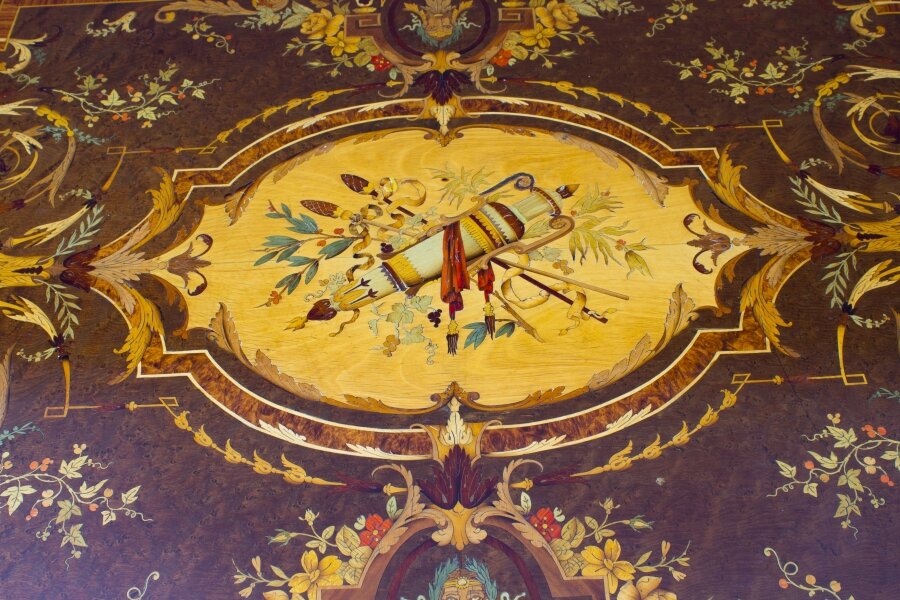 As you can see from the images provided, the imposing table top is completed with a highly decorative ormolu border which adds an extra level of elegance to this antique bureau plat in addition to providing protection for the edges of this fine piece.
One of the most striking features of this beautifully crafted antique ormolu mounted bureau plat is the ormolu mounted and turned reeded tapering legs which are joined by X-stretchers. These have a striking central gilded turned finial.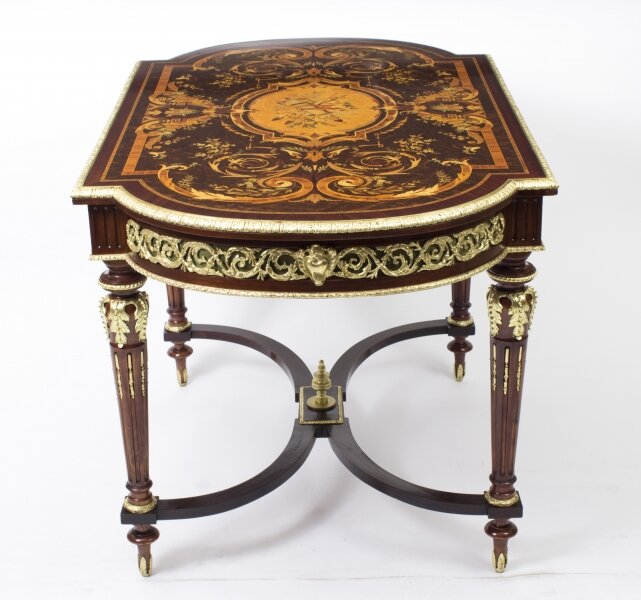 This impressive writing desk is sure to add a touch of classic charm to your home and become the centrepiece of your furniture collection.
Please make sure to also browse through our antique desks and writing tables category on the website and find the table that best suits your style.

You may also want to take a look at our antique leather sofas and chairs as they provide plenty of ideas for creating the perfect environment to compliment your special antique desk.