Antique Dining Tables from Regent Antiques

Finding & Buying Antique Dining Tables – A Buyers Guide
There are a huge variety of antique dining tables available on the market today encompassing a wide range of periods, sizes, styles and prices.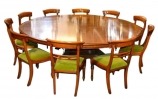 Dining tables are of course where meals are eaten and have always been a focal point for family gatherings and socialising.  Way back in the Middle Ages large numbers of people would eat in dining halls sat at long tables supported by trestles but over time this changed and smaller numbers of people and family groups would eat at smaller tables in dining rooms.
An essential feature of any home.
The dining table became a central and essential piece of furniture in middle and upper class homes from the sixteenth century onwards.  The table was generally rectangular and had integrated legs but a great variety of designs and shapes developed some of which were very ornate.  The classic period for antique dining tables stretches from the seventeenth century and the  time of Louis 14th through Regency and Victorian periods up to Art Deco and modernist pieces from the twentieth century.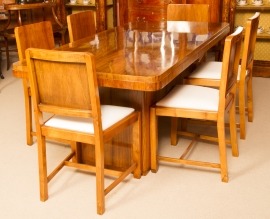 Pieces which are over a hundred years old are considered as antique dining tables, more recent furniture is considered vintage and is also very collectable.
Antique dining tables are comprised of the table top which is a flat surface (rectangular, circular or square) usually made of a solid wood like mahogany, oak or walnut, plus the legs (usually four) which may well be carved and/or shaped, and the feet which may have a distinctive style such as the ball and claw foot.  Some antique dining tables are supported by a pedestal rather than legs.  Many tables have leaves or extensions to allow the surface area to be increased to accommodate extra guests.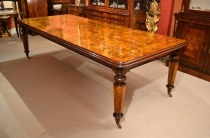 Popular styles of antique dining chairs include Victorian tables which are often mahogany with detailed leg carvings and ornate gothic designs; Regency dining tables have simple, cleaner lines and often metal paw feet with neo-classical and Egyptian influences;  Queen Anne tables which are generally walnut with detailed cabriole legs – these tables are a lighter and more graceful development of the previous William and Mary style.
Chippendale dining tables are mainly mahogany with detailed joint mouldings, carved edges and ball and claw feet.  Famous manufacturers to look out for include Eliphalet Chapin, an eighteenth century furniture maker from Connecticut;  Thomas Chippendale, who also worked in the eighteenth century and produced exquisite Rococo and neo-classical tables; A W N Pugin, a Victorian designer and a leading proponent of Medieval and Gothic styles;  Duncan Phyfe, a Scottish born furniture maker who was responsible for some of the finest nineteenth century tables produced at his factory in New York; and Florence Knoll, an American architect and designer who created wonderful minimalist modern pieces in the mid twentieth century.
When selecting an antique dining table, always measure the room first.
In choosing an antique dining table bear in mind the size, shape, style and décor of your room.  Some tables will be sold with matching chairs, for others you may need to source chairs separately or choose a table that goes with chairs you already own.  Antique dining chairs may well have suffered considerably more wear and tear than tables and it can be quite difficult to find full sets of chairs to match particularly old antique dining tables.
See them on show at our London Antiques Showroom – or browse online
Regent Antiques have a wide selection of antique dining tables available at our showrooms in London.  Check out our selection online and contact us by phone or email for further information – our experts will be very happy to provide help and guidance for what could be a very special and inspirational item for your home