Add These Stunning Antique Cutlery Sets to Your Next Dining Experience

Antique cutlery canteens make an excellent addition to any dining experience, offering elegance and sophistication. At Regent Antiques, we offer only the very best examples.
A full set of antique cutlery can be quite extensive. It might typically include knives, fish knives, forks, fish forks, various spoons, dessert forks and more. Depending on how many settings the canteen of cutlery is designed for, a canteen can contain many items of cutlery and completeness is sometimes an issue. Over time, some items become lost, damaged or just plain old worn out, but an antique canteen of cutlery that has been properly looked after can be much sought after and a complete set with no items missing can be a relatively rare find.
At Regent Antiques, we usually have such sets in our inventory. Today we will show you two very fine examples that we are pleased to offer.
A superb 149-piece sterling silver cutlery canteen
First, this is a wonderful 149-piece, 12-place setting vintage sterling silver cutlery canteen in the elegant Old English pattern. It is in the original mahogany and black velvet lined case with working locks and two keys.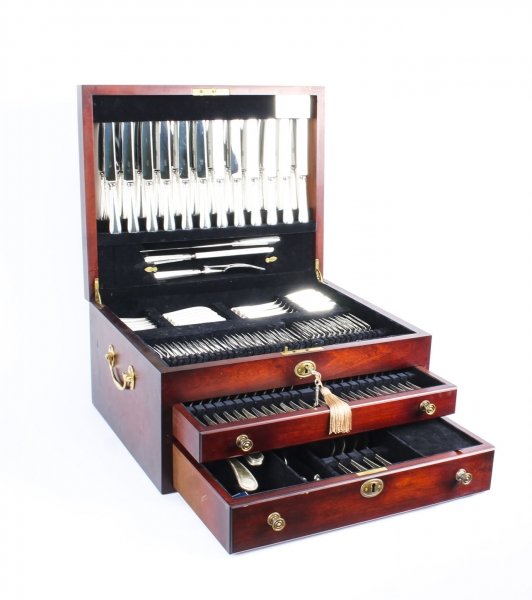 The silver bears the hallmarks for Sheffield 1992 and the maker's mark of the world-renowned silversmith Carrs.
The weighable silver is a staggering 7247 grams (233 troy ounces). This excludes the knives which have flawless stainless steel blades and loaded sterling silver handles.
This superb canteen of sterling silver cutlery is complete and comprises the following pieces: 12 mains forks, 12 mains knives, 12 starter forks, 12 starter knives, 12 soup spoons, 12 dessert spoons, 12 fish forks, 12 fish knives, 12 coffee spoons, 12 teaspoons, 12 cake forks, one large serving spoon, seven serving spoons, two sauce ladles, one soup ladle, one butter knife, one cheese knife, one cake slice, three-piece carving set, and two keys!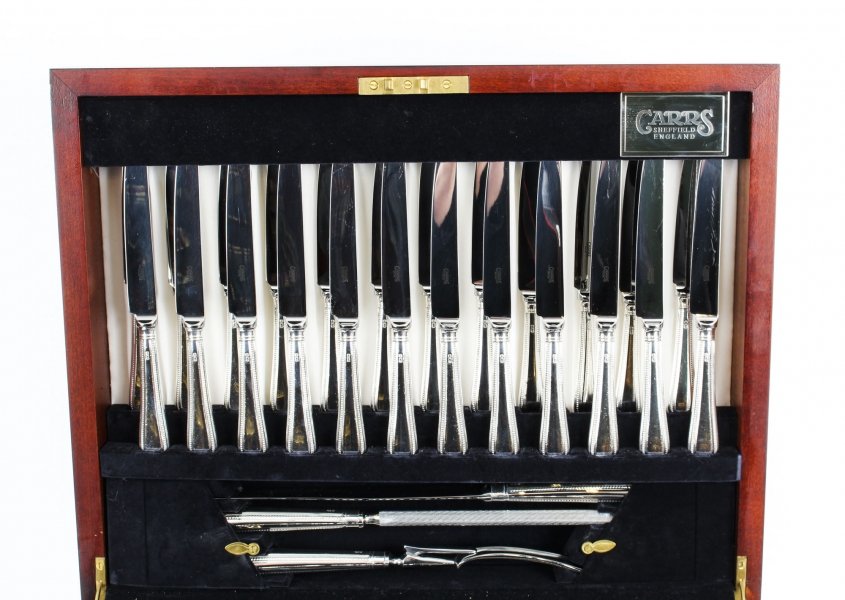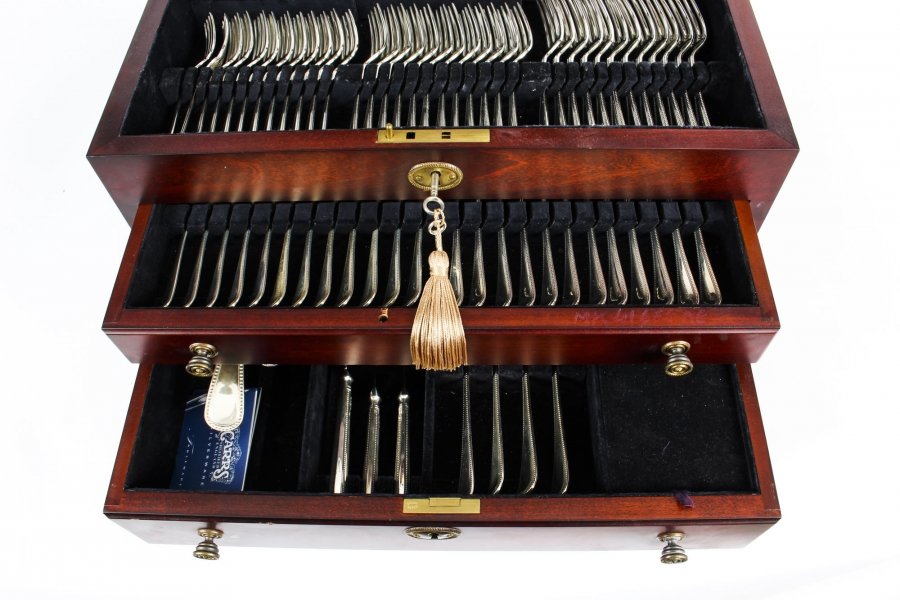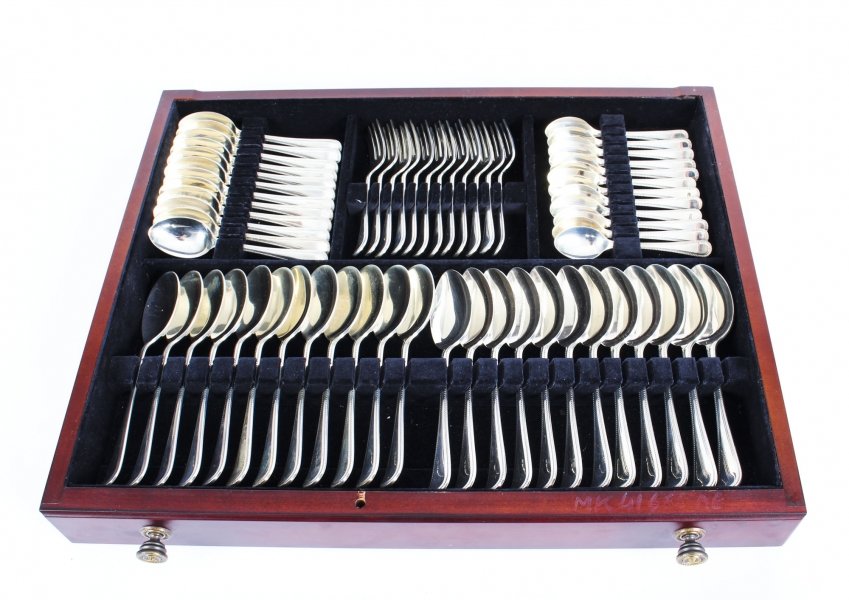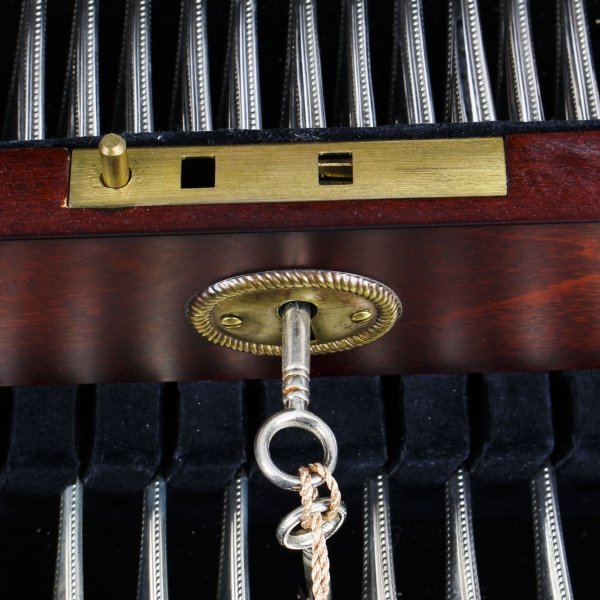 An excellent Roberts & Belk cutlery in the William & Mary pattern
Next, we would like to show you this comprehensive Roberts & Belk twelve place settings silver plated William & Mary pattern cutlery. It is still in the original wrappers in a mahogany canteen and dates 1981/ 82.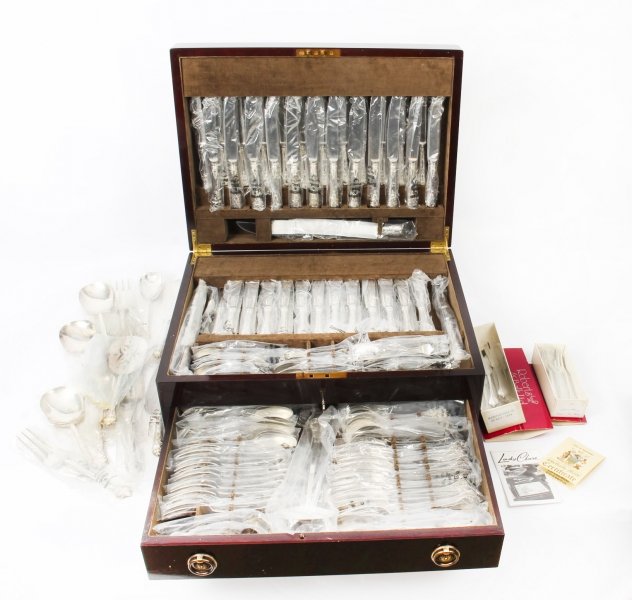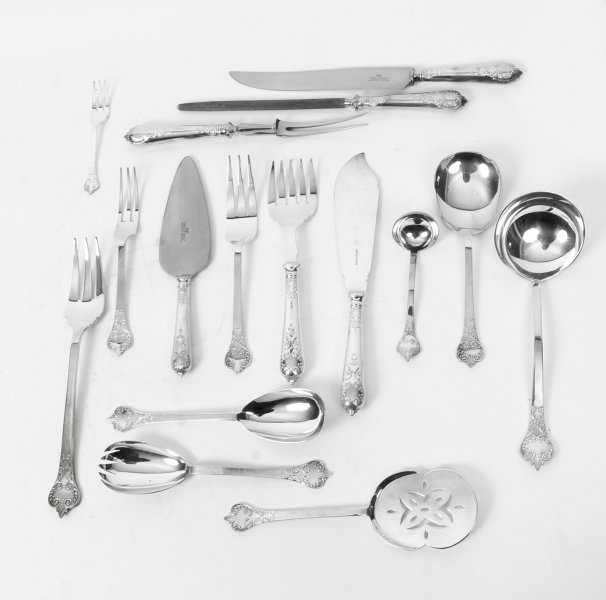 The set comprises 12 table forks, 12 table knives, 12 starter forks, 12 starter knives, 12 fish forks, 12 fish knives, 4 table serving spoons, 12 soup spoons, 12 dessert spoons, 12 teaspoons, 12 coffee spoons, 2 sauce ladles, and 3 x carving knife, fork and steel.
Additional items include one flat server, one pie /cake server, two salad servers, a pair of fish servers, a small serving fork, a large serving fork, four serving spoons, 12 Hors d' Oeuvre forks, and 12 Hors d' Oeuvre knives!
This set is complete and in excellent condition as it has never been used.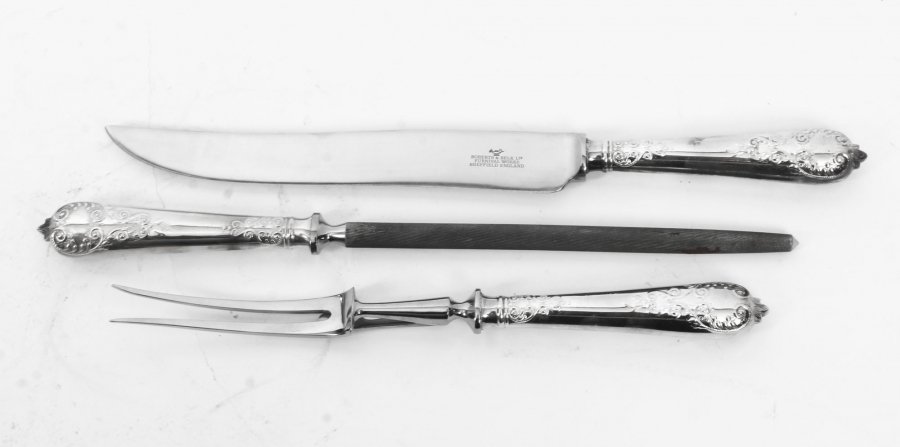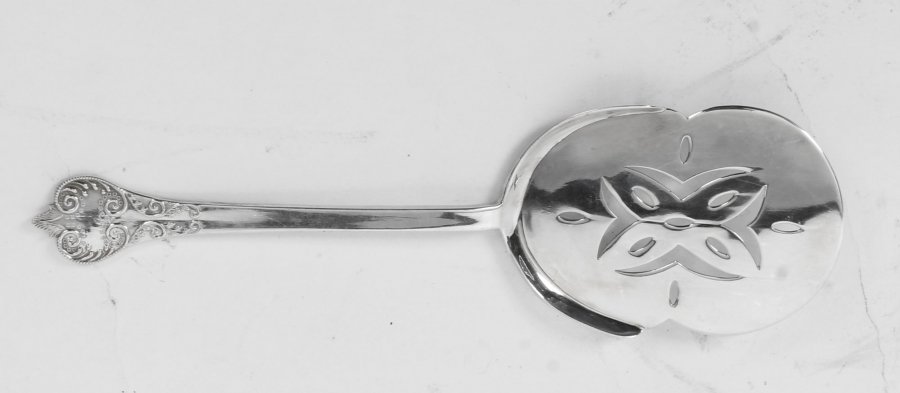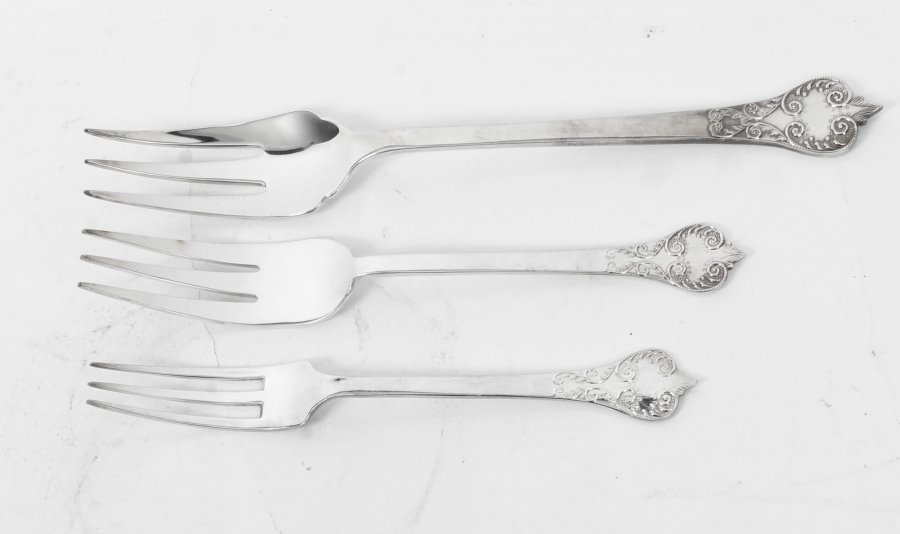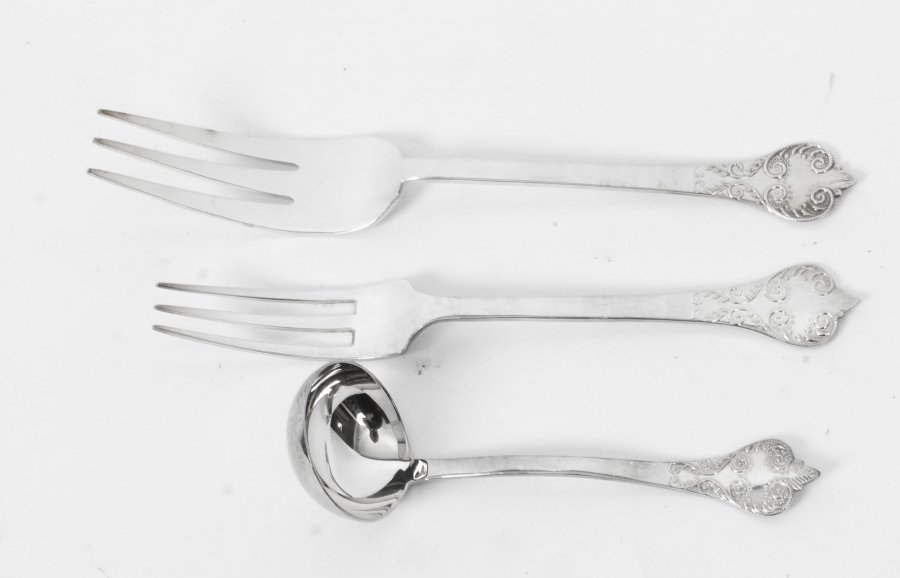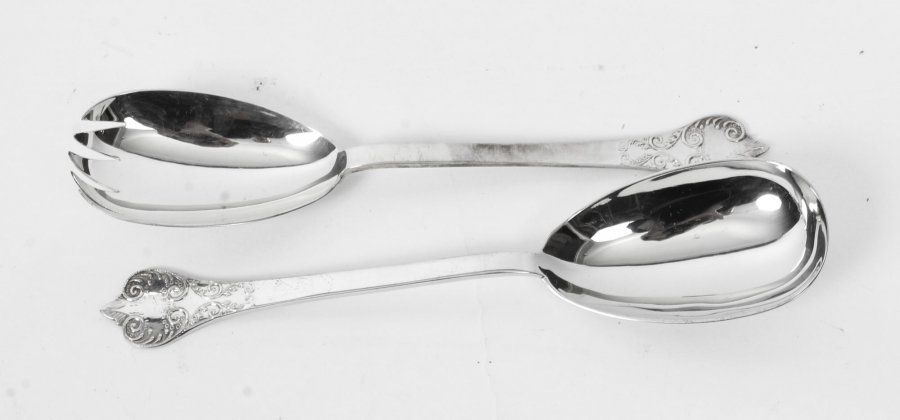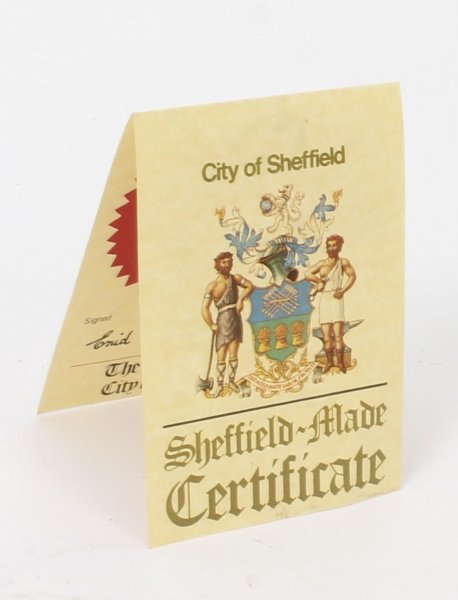 Check out the 'cutlery' category at Regent Antiques
At Regent Antiques, we offer many more excellent examples of antique cutlery canteens. So please check our cutlery category regularly to find the piece you are looking for. If you are looking for antique cutlery by a particular manufacturer, then please contact us and we will do our best to source it for you.