Magnificent Antique Coromandel Wood Boxes

Here at Regent Antiques, we are pleased to be able to offer a wide choice of carefully-selected antique coromandel wood boxes and caskets.
At Regent Antiques, we specialise in antique boxes and caskets of many different styles and functionality, including antique jewellery caskets, dressing cases, games compendiums, stationery boxes and many more. Among those we acquire and offer for sale are exceptional examples made with the highly sought after coromandel wood.
Coromandel wood is a valuable wood from India, Sri Lanka and South East Asia. It is of a hazel-brown colour, with black stripes (or the other way about), heavy and hard.
Coromandel wood has been logged to extinction over the last two to three hundred years and is no longer available for new work in any quantity. Furniture in coromandel is so expensive and so well looked after that even finding recycled stock is very unlikely.
A splendid Victorian coromandel wood jewellery casket
This is a beautiful antique English Victorian coromandel jewellery casket, circa 1880 in date.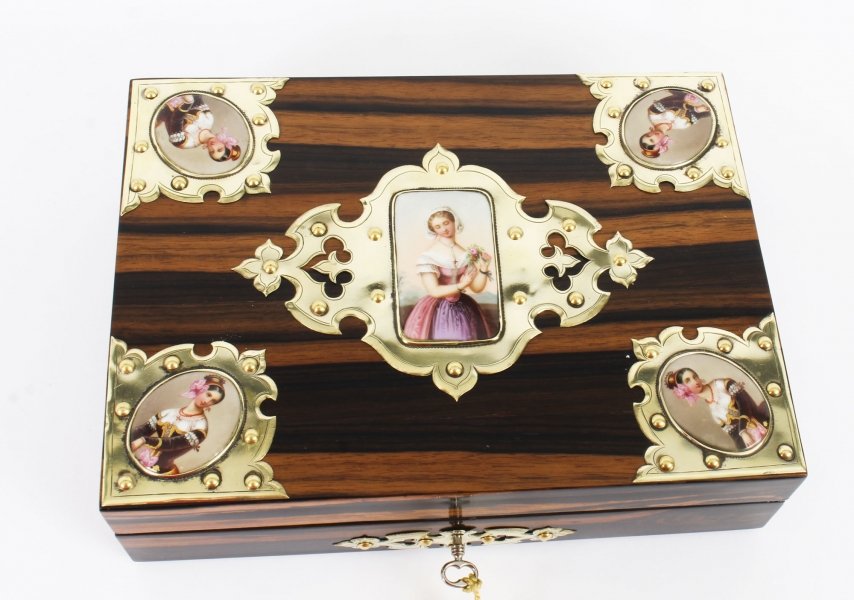 The casket lid features five decorative cut brass Neo-Gothic mounts containing KPM porcelain plaques depicting classical maidens and a striking cut brass escutcheon.
The hinged lid encloses a lush green velvet-lined interior and it is complete with working lock and key.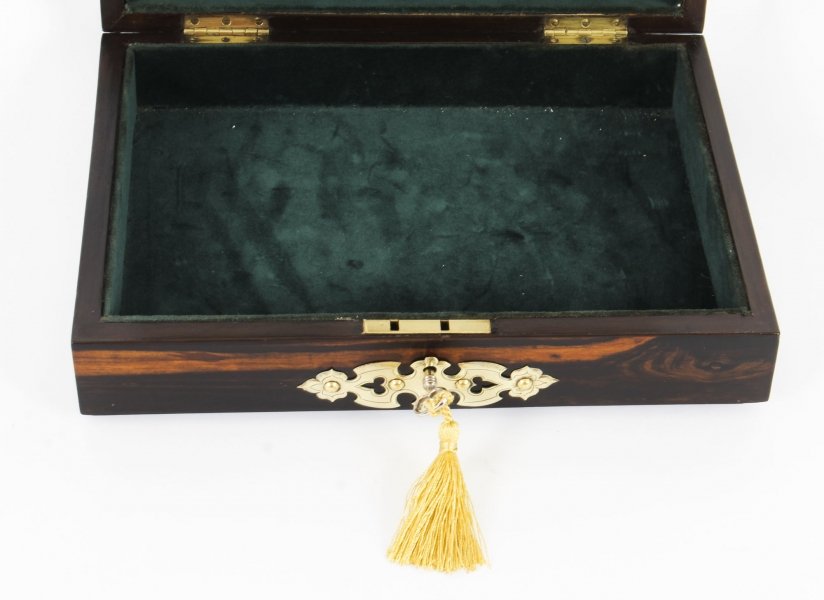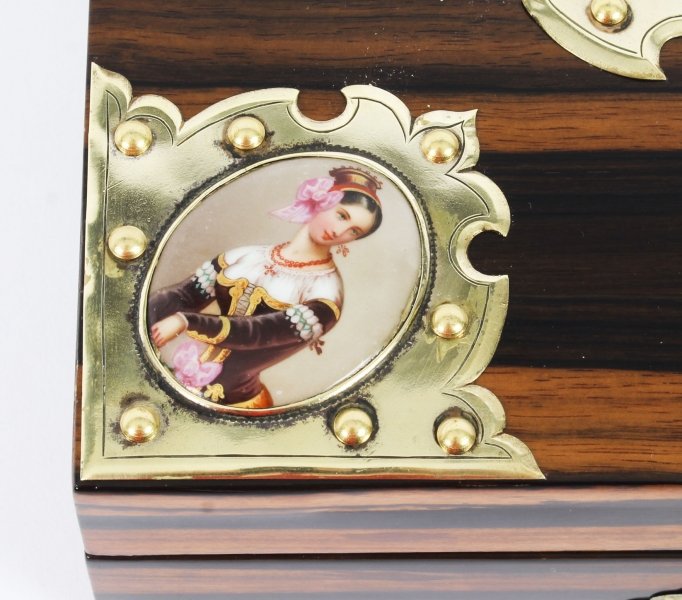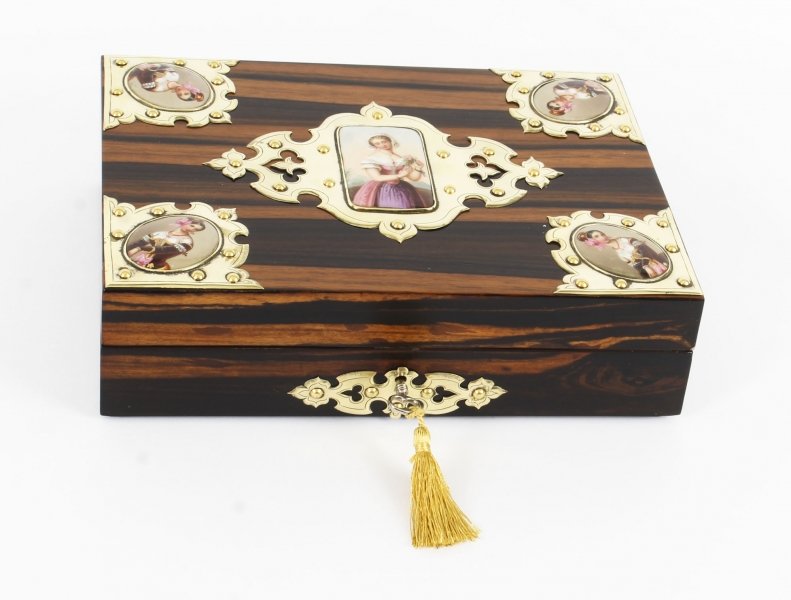 A magnificent coromandel games compendium
Another lovely example is this wonderful antique Victorian coromandel games compendium, circa 1860 in date.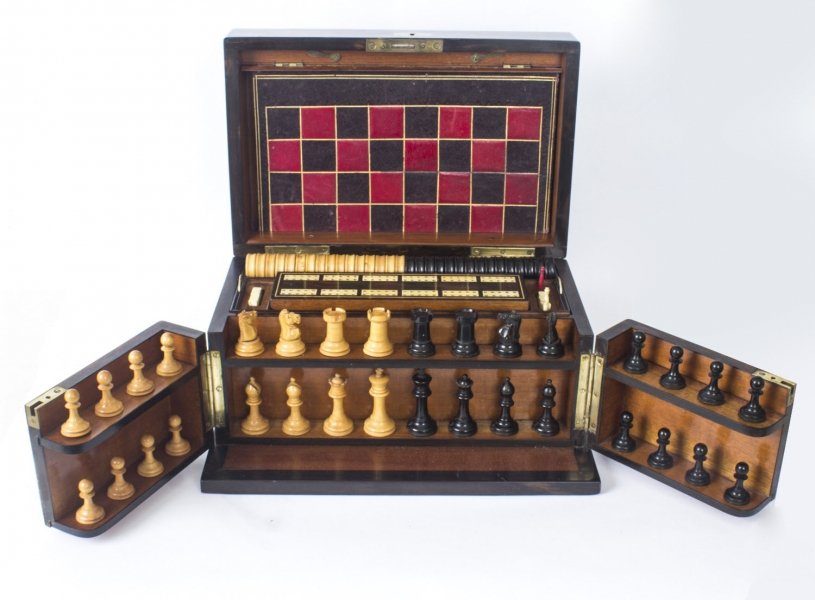 The hinged lid reveals fitted compartments, the interior with two lift-out trays fitted with boxwood and ebony draft pieces, a cribbage board, bone dominoes, playing cards, counters, a shaker, a painted metal horse with riders, a small gavel, and dice.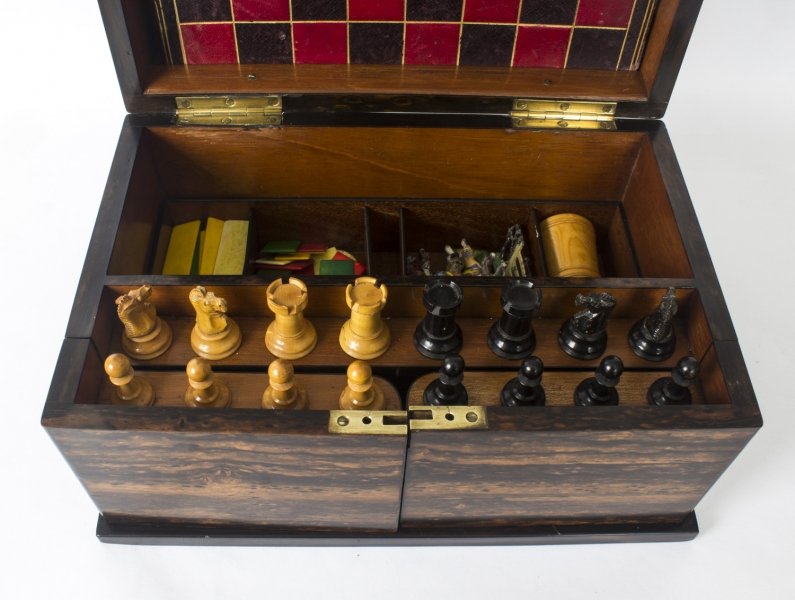 The twin-hinged front is fitted with an attractive boxwood and ebony chess set and with leather game boards inset into the underside of the lid.
It is not only a collectable set but a compendium which is guaranteed to provide a lot of fun.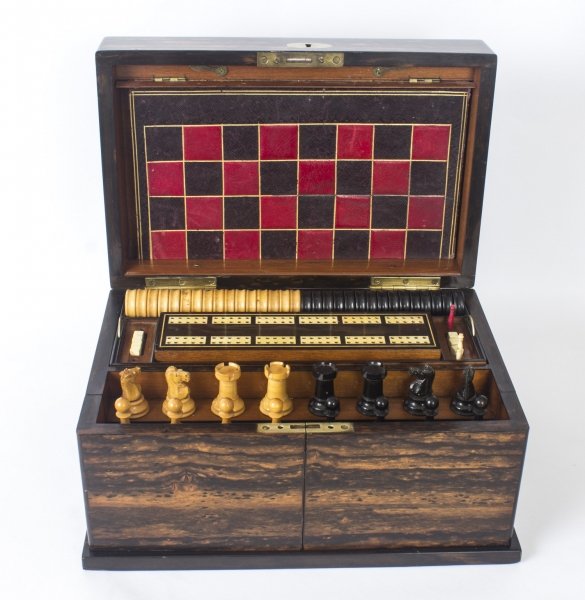 A unique Victorian scent bottle box in coromandel wood
Next, we would like to show you this stunning antique Victorian coromandel scent bottle box of domed form with elaborate decorative brass mounts with inset attractive pietra dura cabochons, circa 1860 in date.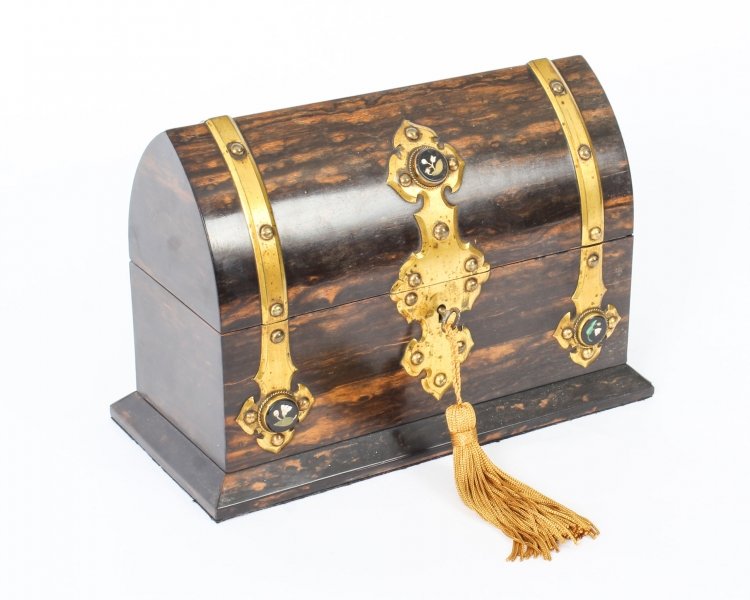 The domed lid reveals three cut glass bottles with stoppers.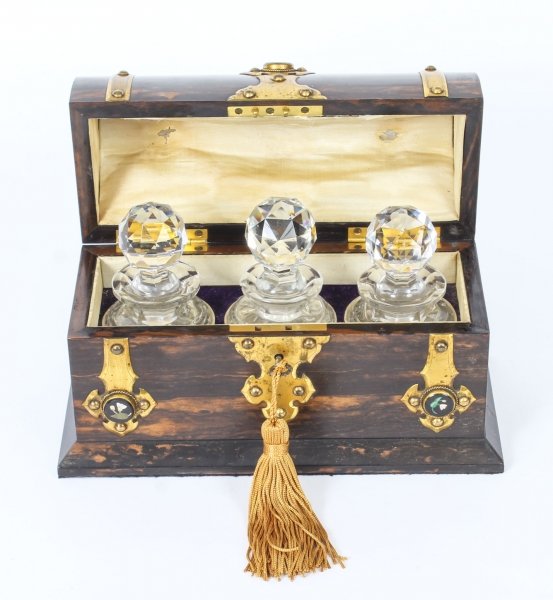 The box has a working lock with key.
Provenance: The Dr Lawrie Webster Collection of Boxes
This is a highly decorative piece which will make a statement once placed on any period desk.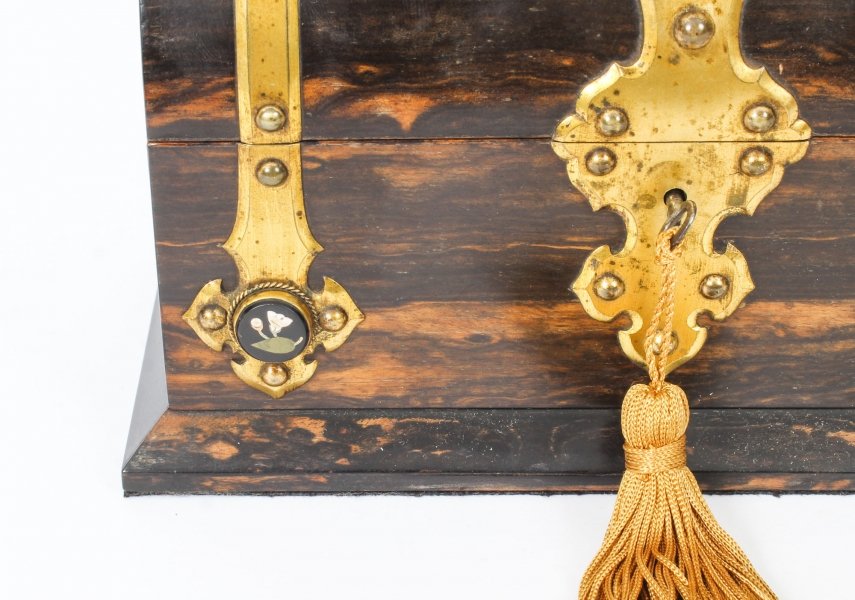 Last but not least….
Our final item for today's feature is this very elegant antique Victorian coromandel writing slope retailed by Whittington of Neath and made by the world famous London box makers Betjemann & Sons, circa 1870 in date.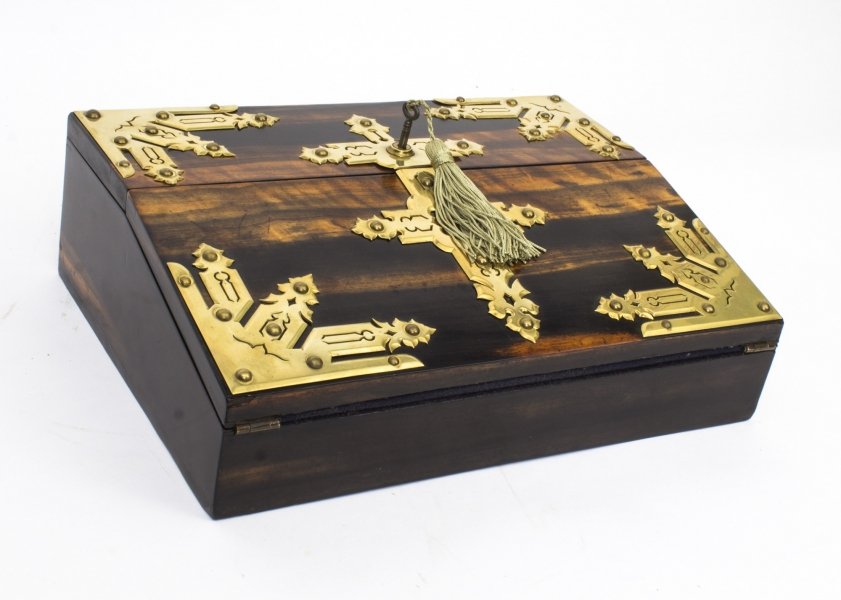 This wonderful antique writing slope is in beautiful coromandel wood with brass-studded cruciform centre and matching corners.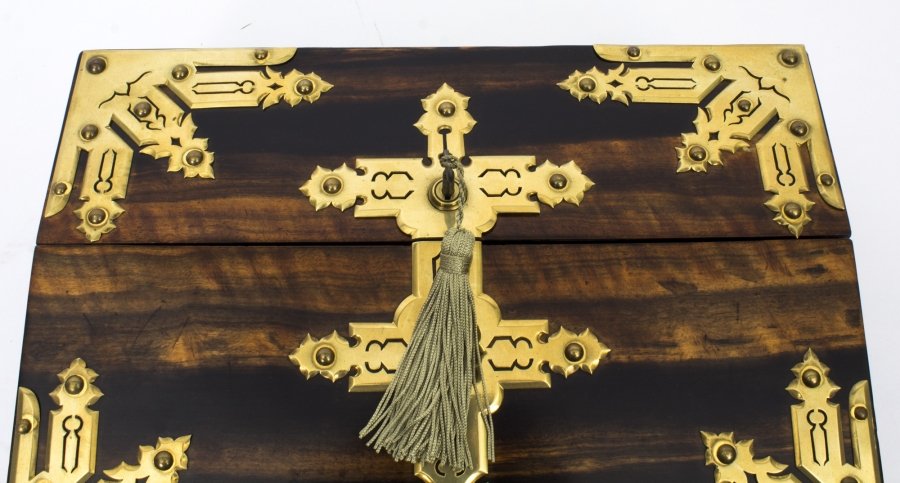 It has a purple velvet lined writing slope with a compartment for papers below.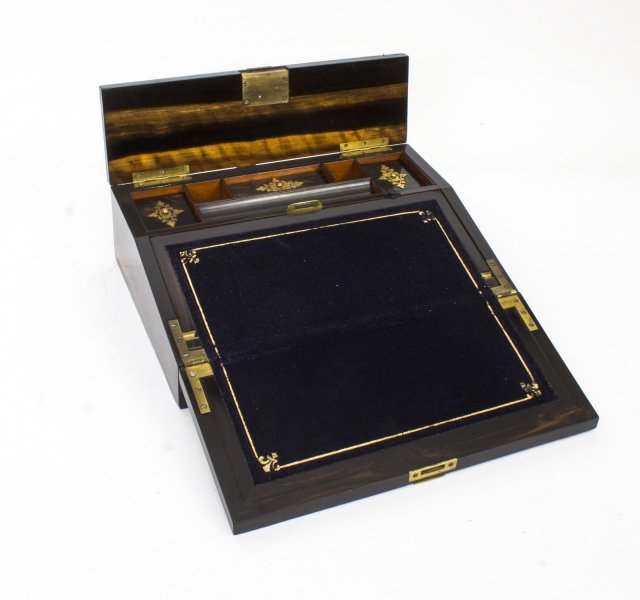 There is no mistaking its unique quality and design, which is sure to make it a treasured piece of any discerning collection.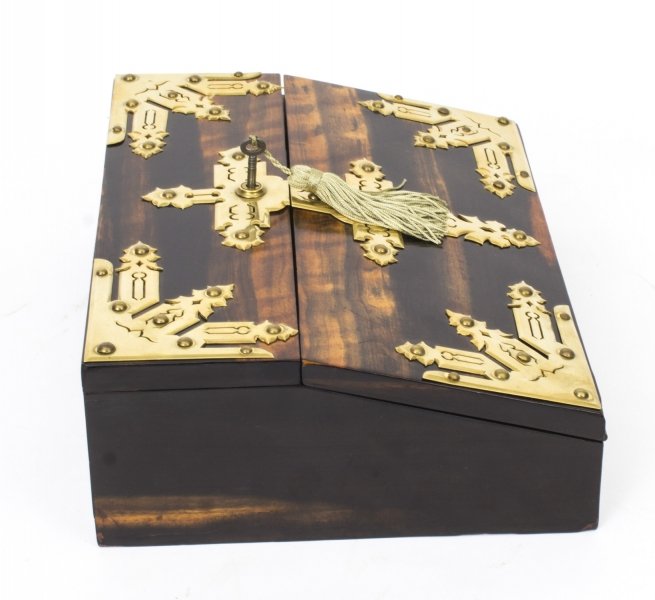 A wide choice of antique coromandel wood boxes available at Regent Antiques
Whether you are looking for an antique coromandel casket with lots of storage space or something not too large to place in the limited space of a desk, then you need to look no further than Regent Antiques and our extensive range of antique caskets. If you have a particular requirement then please contact us by telephone or email and let us know.