Magnificent Examples of Blue Celeste Antique French Sevres Porcelain

At Regent Antiques we love antique French Sevres porcelain, so we are very proud to be able to offer for sale these remarkable examples.
Today we would like to take you through some great examples of antique French "Blue Celeste" Sevres porcelain.
Sevres porcelain traces its roots in France to early craftsmen who had small manufacturing operations in such places as Lille, and most notably Chantilly. It is from Chantilly that a cadre of workers migrated to the Chateau de Vincennes near Paris to form a larger porcelain manufactory in 1738. French King Louis XV, perhaps inspired by his rumoured relationship with mistress Madame de Pompadour, took an intense interest in porcelain and moved the operation in 1756 to even larger quarters in the Paris suburb of Sevres. Sevres was conveniently near the home of Madame de Pompadour and the King's own Palace at Versailles.
From the outset, the king's clear aim was to produce Sevres Porcelain that surpassed the established Saxony works of Meissen and Dresden. Though the French lacked an ample supply of kaolin, a required ingredient for hard-paste porcelain (pate dure), their soft-paste porcelain (pate tendre) was fired at a lower temperature and was thus compatible with a wider variety of colours and glazes that in many cases were also richer and more vivid.
Rare Sevres Porcelain Vases from 1765
This fine and rare antique pair of French Sevres porcelain vases bear the Sevres painted mark for 1765.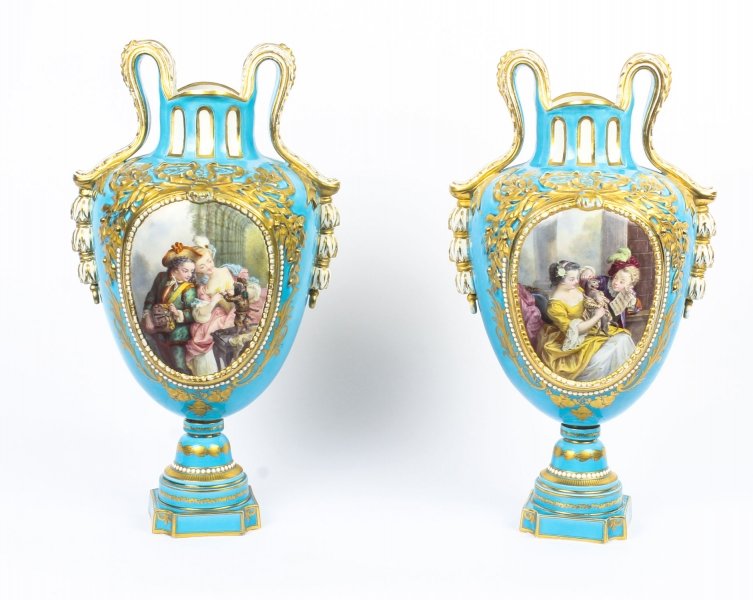 The decorative twin handle vases are superbly decorated with high-quality hand painted panels of romantic domestic scenes of children playing with a kitten and a puppy with bouquets of flowers on the back. With gilt ribbons and foliate and floral ornamentation in relief on a stunning "bleu celeste" ground.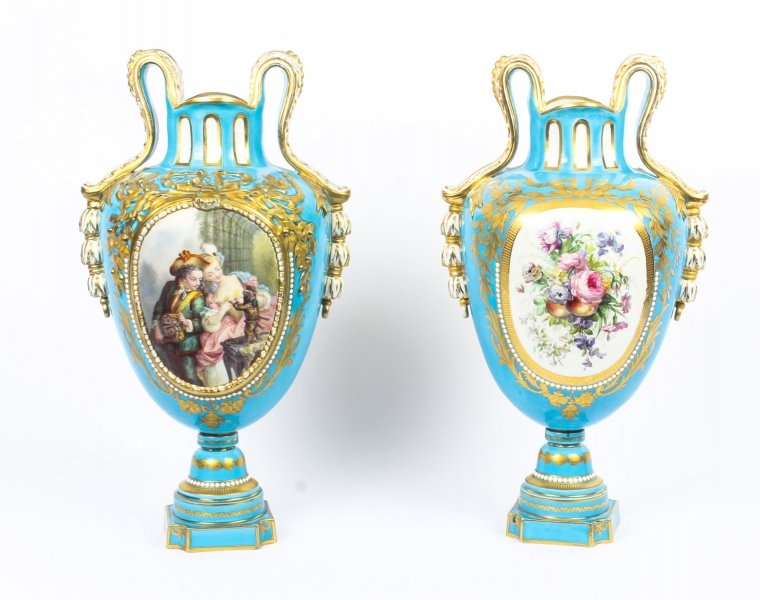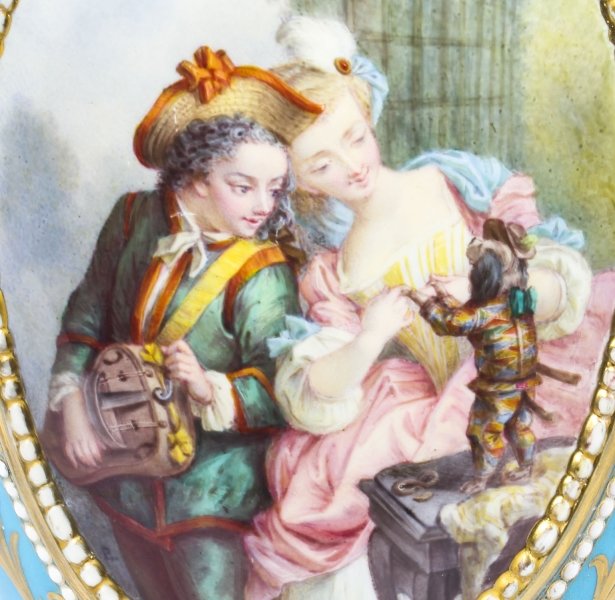 There is no mistaking the quality and unique design of this pair of vases which is sure to be a treasured addition to your home.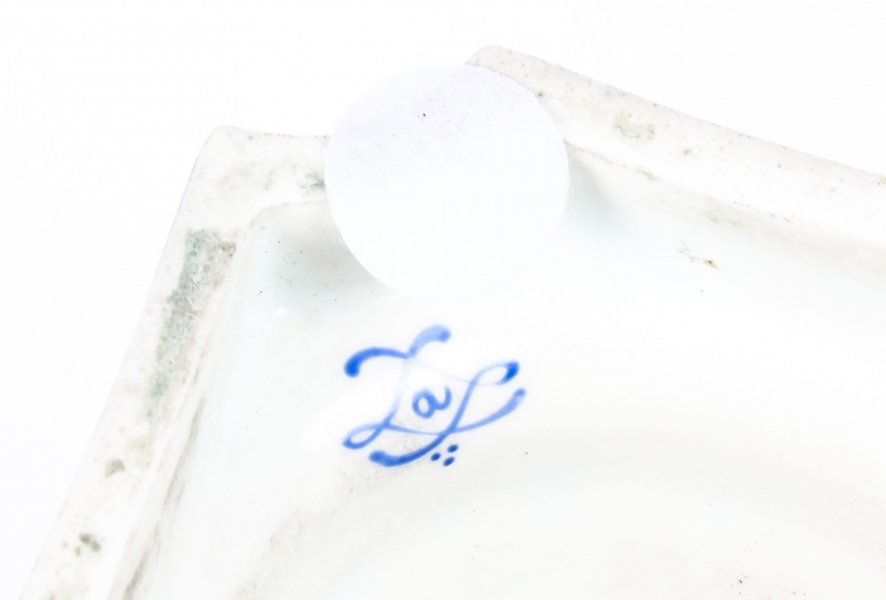 Light up your home with these wonderful candelabra
Secondly, this is a delightful antique pair of 19th century French Sevres porcelain mounted ormolu candelabra.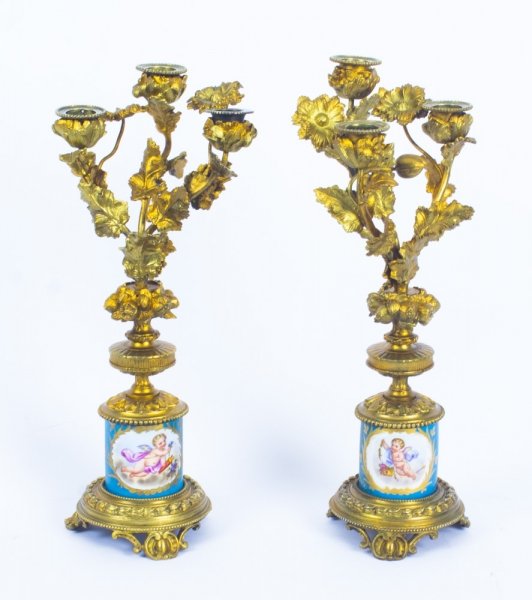 The cylinder-shaped Sevres porcelain columns feature hand-painted panels of summer flowers and cherubs on a bleu celeste ground with gilt highlights. They sit on round ormolu tripod bases with tulip beading waists, the sconces in the form of foliate and floral branches.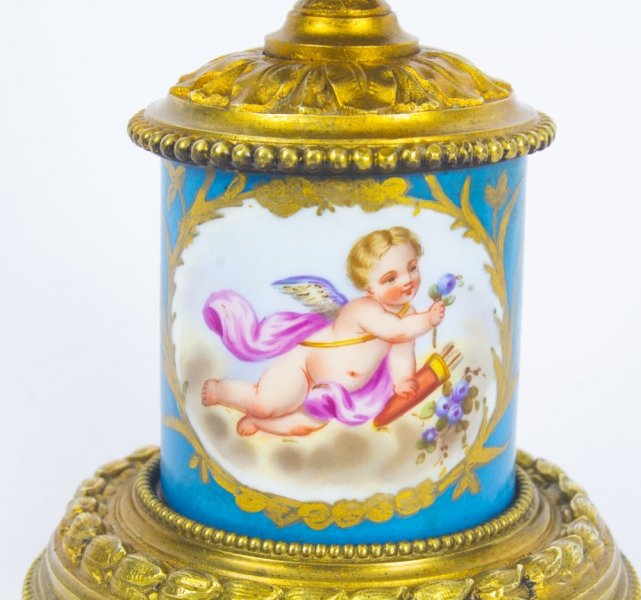 There is no mistaking their unique quality and design, which is sure to be cherished by any admirer of ornamental porcelain.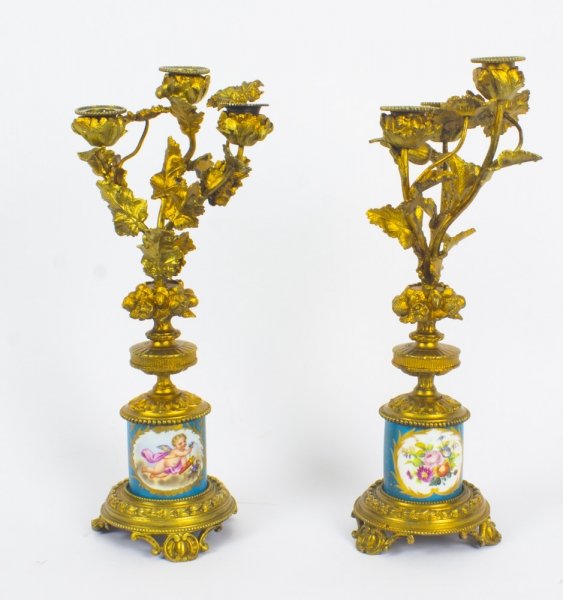 Staggering lidded urns from the late 19th century
Another extremely fine example is this stunning pair of French twin handle ormolu garniture lidded urns with Sevres hand painted porcelain, circa 1870 in date.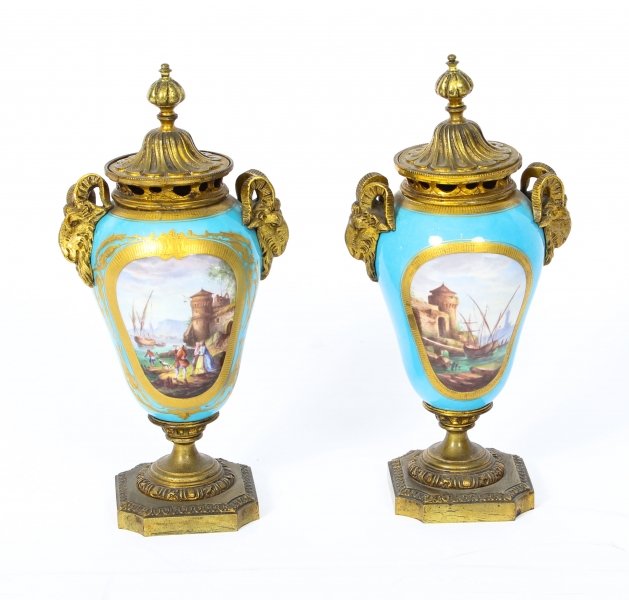 These stunning pieces feature decorative ormolu ram head handles and ormolu lids. The porcelain bodies are superbly painted with oval-shaped panels enclosing harbour scenes with figures and boats on a "bleu celeste" ground, and they are raised on gilt bronze square shaped plinth bases.
Add some timeless elegance to your home with these beautiful urns.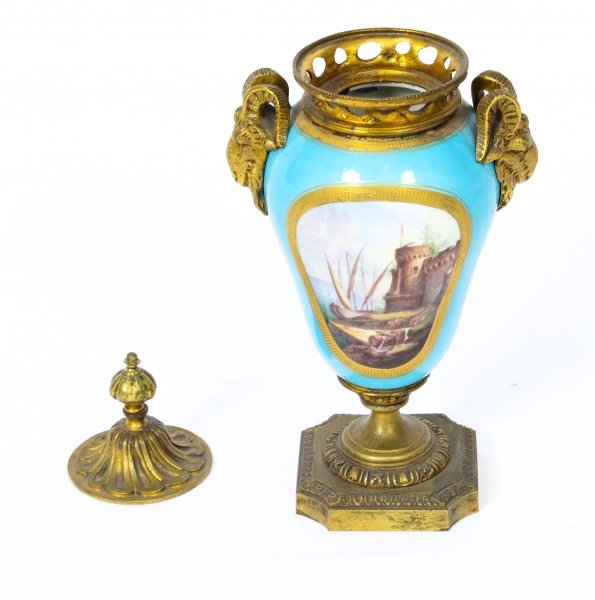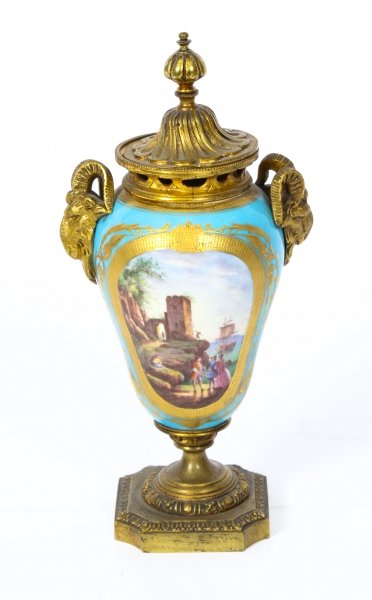 A few words to write about this extraordinary inkstand
Finally, we are delighted to show you this wonderful antique French ormolu inkstand, mounted with Bleu Celeste Sevres porcelain panels that have been beautifully gilded and painted with floral bouquets, circa 1870 in date.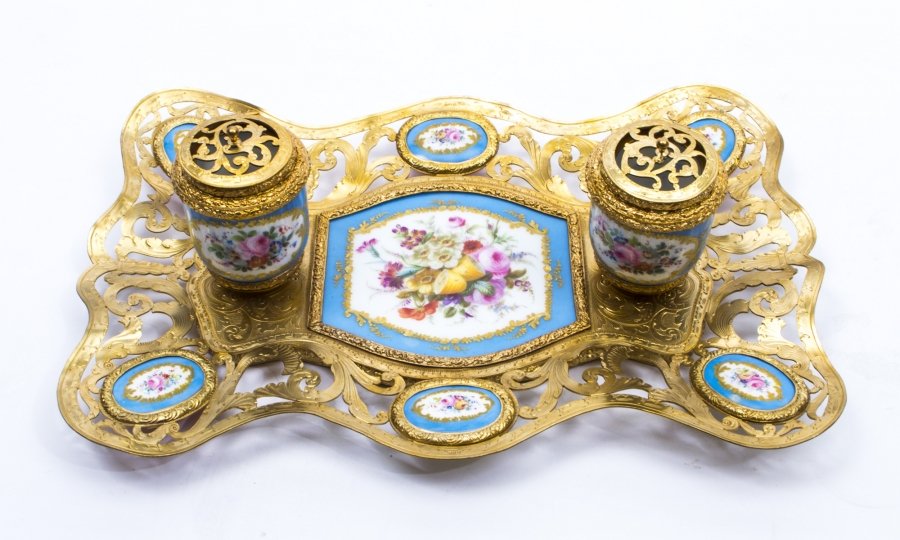 Of rectangular form with a pair of raised porcelain inkwells having ormolu covers, and centred with a large hand-painted porcelain panel within pierced scrollwork ormolu, with six further porcelain panels decorating the borders.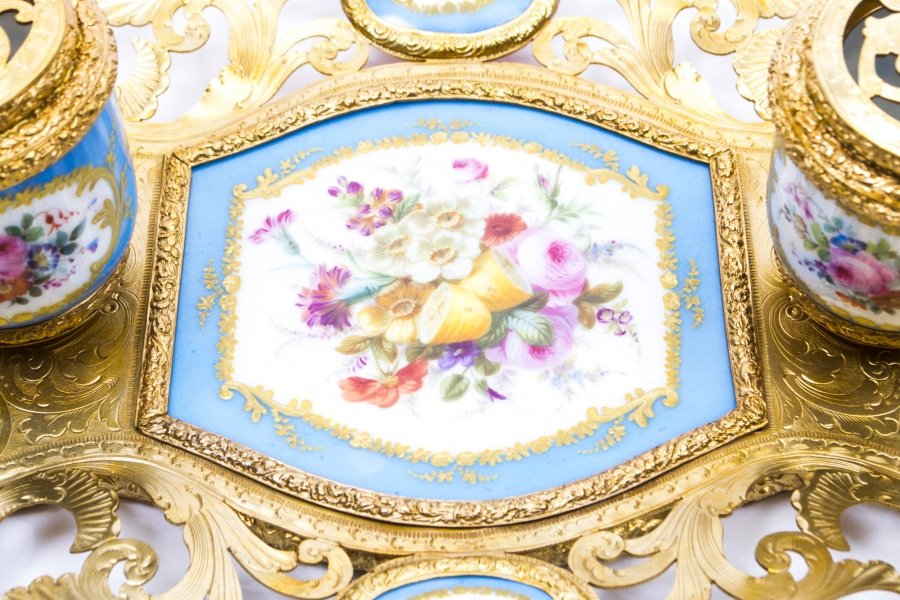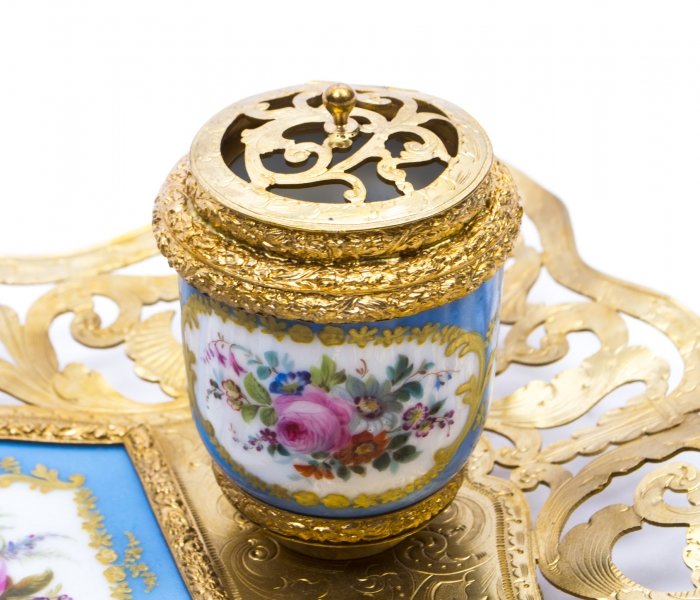 There is no mistaking its unique quality and design, which is sure to make it a treasured piece by any discerning collector.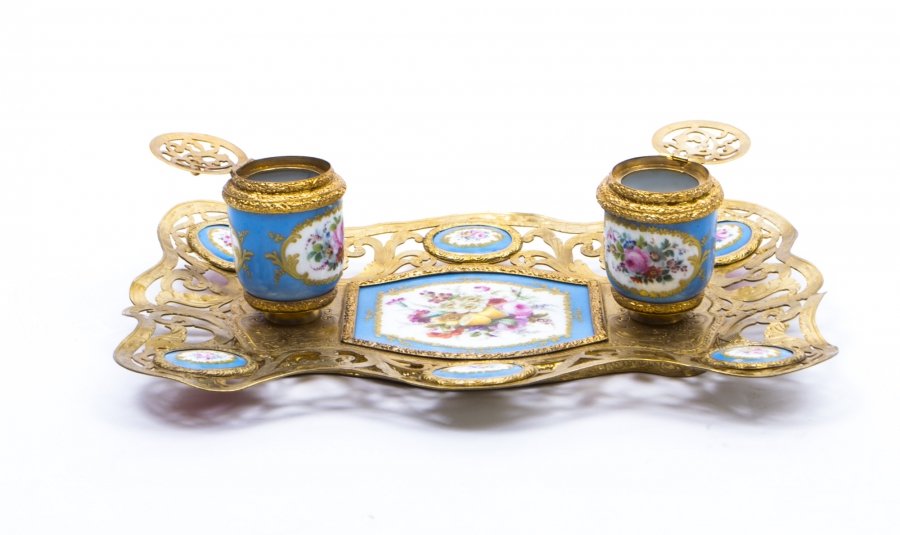 There is much more in store for you!
In this article, we have given you just a little glimpse into what we can provide you with when it comes to antique French Sevres porcelain. Indeed, at Regent Antiques, we offer a vast range of very fine antique decorative items, so please check our website for regular updates on this category and also other categories of interest.
Feel free to contact us at any time to discuss any particular piece with our team of experts.
Finally, if you have not done it yet, please consider signing up for weekly notifications of new arrivals in your categories of interest.