A Quick Dive Into the Beautiful World of Antique English Silver

Here at Regent Antiques, we are pleased to be able to offer a wide choice of carefully-selected antique English silver and silver plate items for you to choose from.
As specialists in antique silver, we have antique silverware in stock to meet almost every requirement. Our enormous collection of items includes everything from antique silver kitchen and dining sets through to more varied sterling silver items, including such things as silver caskets, table lamps, photo frames and many more.
Whether you're interested in acquiring an antique silver piece for its value as a collector's item or simply as a functional and decorative object, you will not be disappointed. Buying antique English silver can give you a reliable investment as well as a cherished piece for your collection.
Today we would like to take you through some great examples of antique English silver that we are proud to offer for sale.
A Look at Our Magnificent Antique English Silver
To start off, we are pleased to present to you this fabulous antique silver plated Victorian Neo-classical samovar, bearing the maker's mark of Pearce & Sons and dating from circa 1880.
It has beautiful embossed floral decoration on the baluster form body with a detachable cover and tea infuser.
It has a pair of fluted scroll handles, an ebonised shell shaped tap and is raised on an elegant square base on bun feet.
This samovar is of superb quality and will add an Imperial look to your surroundings.
Our second featured item is this elegant antique Art Deco sterling silver casket with the maker's marks of the renowned silversmiths Goldsmiths & Silversmiths Co. Ltd and hallmarks for London, 1921.
The shaped casket features reeded borders and engine turned decoration. The lift up lid is engraved on the underside J. B. C. from R. H. W May 27th 1923 and opens to reveal a fitted cedar wood interior with an adjustable divider.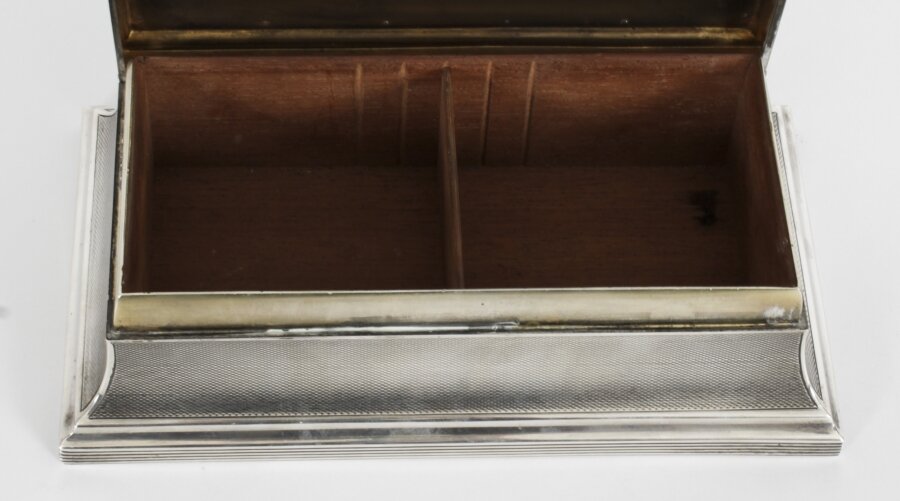 The quality and craftsmanship throughout are truly second to none, which is sure to make it a treasured piece by any discerning collector.
If you would like to give your drinks cabinet a bit of flair, this wonderful antique English Victorian sterling silver claret jug would be a great choice.
This magnificent claret jug is bearing the maker's mark of the renowned silversmith Edward Barnard & Sons and hallmarks for London, 1876. It has an impressive scroll handle and is embellished with the most wonderful engraved decoration.
It is a lovely and decorative piece which is sure to add some classic elegance and charm to your home.
Last but not least, we would like to show you this stunning antique Victorian silver-plated Doric column table lamp now converted to electricity, dating from the late 19th century.
This opulent antique table lamp features a Doric Capital above a striking taping fluted cylinder shaft.
It stands on a beautiful acanthus leaf base with a decorative cut of pyramid pedestal on scroll feet.
Add a touch of classic style to your home with this splendid antique silver plated table lamp.
Finally, if you are looking for gift ideas, you may want to browse our range of antique sterling silver and silver plated photo frames, boxes, wine coolers and other silver items to find a perfect present.
At Regent Antiques we take silver very seriously and usually have a large inventory of interesting and high quality items offered for sale and available to view in our North London showrooms where we have a highly knowledgeable team on hand to answer your questions and provide further information.
If you cannot visit the showroom and you have questions about any of our silver items or any of our other antique and collectable pieces then you are always welcome to give us a call at +44 20 8809 9605 or send an email to info@regentantiques.com.