Highly Decorative and Functional Antique Boxes

Antique boxes and caskets make a great decorative and useful addition to any room.
If you want to keep your precious things together in a safe and compact place, we are sure to have a perfect antique box or antique casket to suit your requirements.
We offer an excellent range of antique boxes in all shapes and sizes, including a selection of beautiful antique jewellery boxes, caskets, stationery boxes, pill boxes, games boxes and many more.
A Wide Range of Wonderful Antique Boxes To Choose From
Of all the types of boxes we have in stock at any given time, the most popular type is the jewellery box or casket. Used to keep the family jewels in one place, usually lockable, antique jewellery boxes varied in size and shape but were often small and light enough to accompany the lady to which they belonged on her travels.
A perfect example is this lovely antique Dutch marquetry inlaid jewellery casket, dating from circa 1870.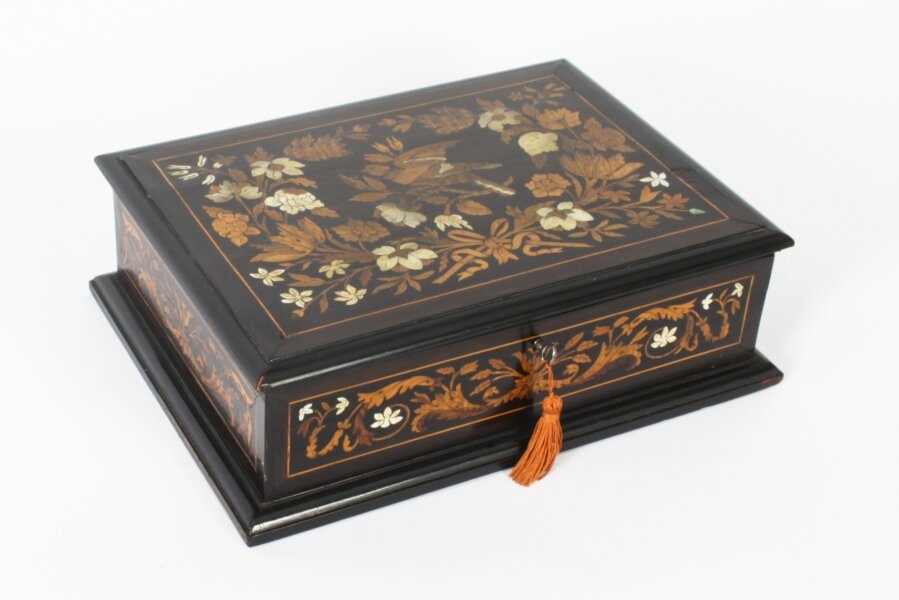 The rectangular ebonized casket has a hinged top and sides decorated with floral garlands, wreaths and a songbird.
This beautiful jewellery casket opens to reveal a light blue silk cushion lined interior and is complete with working lock and key.
It is a lovely piece which will make an unforgettable gift.
Another striking item is this beautiful antique silvered copper French jewellery casket, dating from circa 1880.
This fabulous casket is of very high quality and features superb engraved decoration set in panels of classical scenes. The hinged lid is decorated with a stunning engraved image entitled 'Mozart chez Madame de Pompadour'.
Engraved by the famous French engraver B.Wicker, this is an extraordinary casket that could house anything from trinkets to jewellery.
Whatever you choose to store in this lovely casket you are sure to do it in style.
Beside antique jewellery boxes, we also offer our clients antique stationary boxes of fine quality.
In days gone by, boxes were often used to protect and secure items which were precious and expensive. Paper and other writing implements and paraphernalia were certainly not the throwaway items. This led to the development of the stationery box or casket – a place where all of your paper, ink, pens and other items of stationery could be kept safe, often under lock and key.
One such example is this magnificent antique Victorian Gothic Revival gilt brass strapwork mounted coromandel stationery box, dating from circa 1870. 
This delightful antique writing slope has a hinged serpentine lid which opens to reveal a fitted interior with stepped divisions and its original navy blue silked lined interior. The box has exquisite cut card and engraved brass strapwork, hinges and lock.
This fantastic stationery box has various compartments for pens, pencils and letters. It has a vesta case on the right hand side with a brass plaque that is inscribed 'Matches', and a stamp holder on the left hand side which is inscribed 'Stamps'
It has a fully working lock and it comes with its original key that has been fitted with a decorative golden tassel.
This is a highly decorative piece which will instantly enhance any desktop.
Another remarkable item is this antique French ormolu and Sevres porcelain desktop correspondence casket, dating from circa 1870.
Of rectangular form, the front top and sides feature beautiful parcel gilt heightened and jewelled Sevres porcelain panels on bleu celeste ground. The large top panel depicts a period costumed mother and child in a beautiful garden with a gilt and red jewelled border, and the other panels have delightful floral motifs with gilt borders.
The top opens to reveal a sumptuous sky blue silk lined interior with various divisions.
The rear of the casket is of gilded ormolu with beautiful engraved floral decoration, and the casket is raised on stunning dragon's paw scroll feet.
Complete with original working lock and key, this rare casket is of superb quality and will make a statement once placed on any period desk.
If you would like to enhance your home or other special place with one of these wonderful antique boxes, we are always on hand to advise you. Just give us a call at +44 20 8809 9605 or send an email to info@regentantiques.com.
Please make sure to also browse through our antique boxes category on the website and find the box that best suits your style and needs. 
Finally, if you do not want to miss any new items you might be interested in, please remember to sign up for our free new arrivals notification service which ensures that we will send to you weekly notifications of any fresh items that appear in your categories of interest.