A Look at Some Beautiful Antique Hand-Painted Porcelain Plates

Our selection of antique porcelain includes exquisitely designed plates, and today we would like to go through some of the best examples.
When buying antique porcelain plates, condition is one of the most important factors that contribute to its desirability and value. Whilst a little wear and tear are acceptable on a piece of furniture that has survived many decades or even centuries, the same cannot always be said of antique porcelain plates. Limited wear and tear are fine, of course, but if the item is actually chipped or cracked then we appreciate that it will command a lower price. If we are aware that an item has been repaired, no matter how well, we will always point it out in our product descriptions so that you can decide with full knowledge of what you are buying.
Highly decorative antique porcelain cabinet plates
Today we would like to show you this absolutely fabulous and decorative antique pair of porcelain cabinet plates by Geyer & Körbitz, signed Garnier (Édouard GARNIER 1840-1903), circa 1890 in date.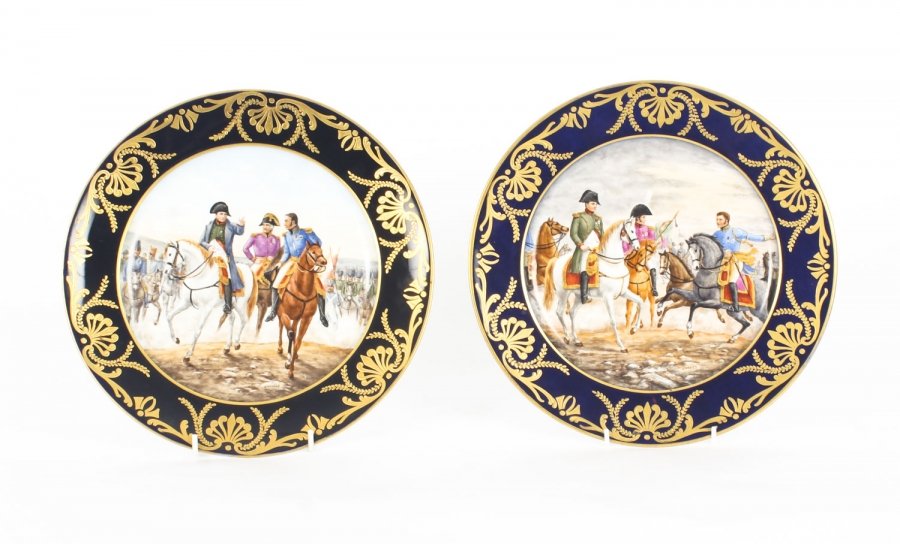 Both beautifully painted with Napoleon on horseback with his generals and army in the background, within cobalt rim and raised gilt anthemion decoration.
The plates are a good size and each bear the crossed arrows mark on the back. They are in excellent condition, with no chips, cracks or repairs.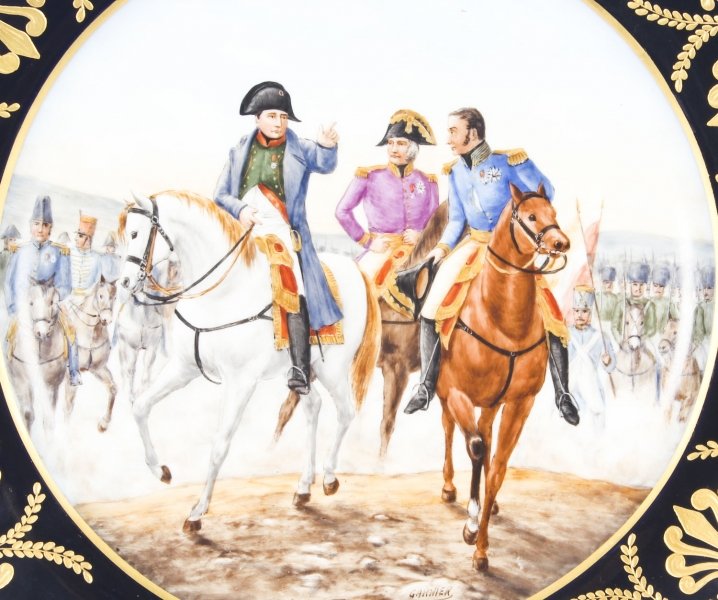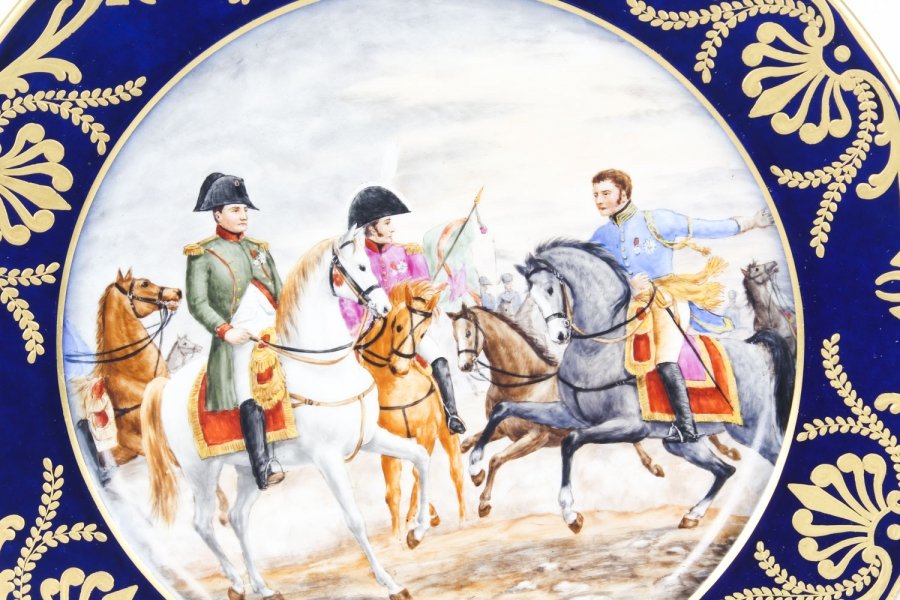 All the elegance of Sevres porcelain
Next, we are delighted to offer for sale this beautiful antique octagonal Sevres porcelain cabinet plate, circa 1880 in date.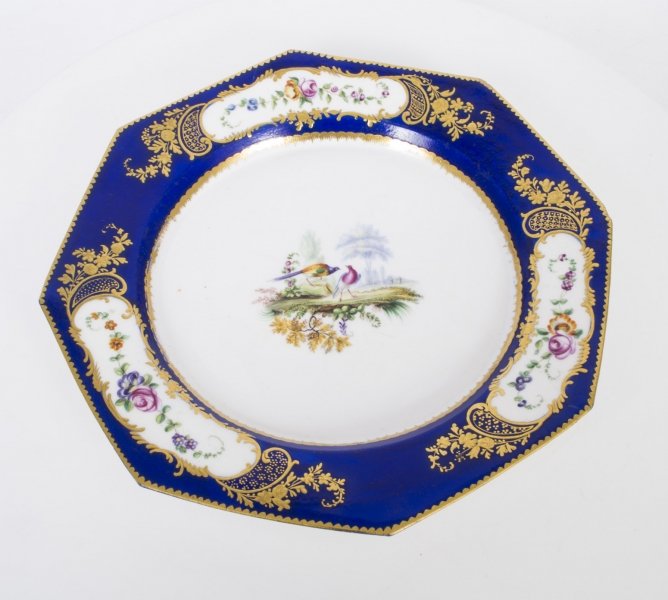 Sevres porcelain traces its roots in France to early craftsmen who had small manufacturing operations in such places as Lille, Rouen, St. Cloud, and most notably, Chantilly. It is from Chantilly that a cadre of workers migrated to the Chateau de Vincennes near Paris to form a larger porcelain manufactory in 1738.
French King Louis XV, perhaps inspired by his rumoured relationship with mistress Madame de Pompadour, took an intense interest in porcelain and moved the operation in 1756 to even larger quarters in the Paris suburb of Sevres. Sevres was also conveniently near the home of Madame de Pompadour and the King's own Palace at Versailles. From the outset, the king's clear aim was to produce Sevres porcelain that surpassed the established Saxon works of Meissen and Dresden.
The centre of this stunning plate is hand-painted with fanciful birds, the rim with three oval cartouches, each with summer flowers on a beautiful cobalt blue ground with gilt dentil rim, and raised gilded decoration.
It bears the interlaced mark for Sevres on the base. It is in absolutely excellent condition, with no chips, cracks, or repairs.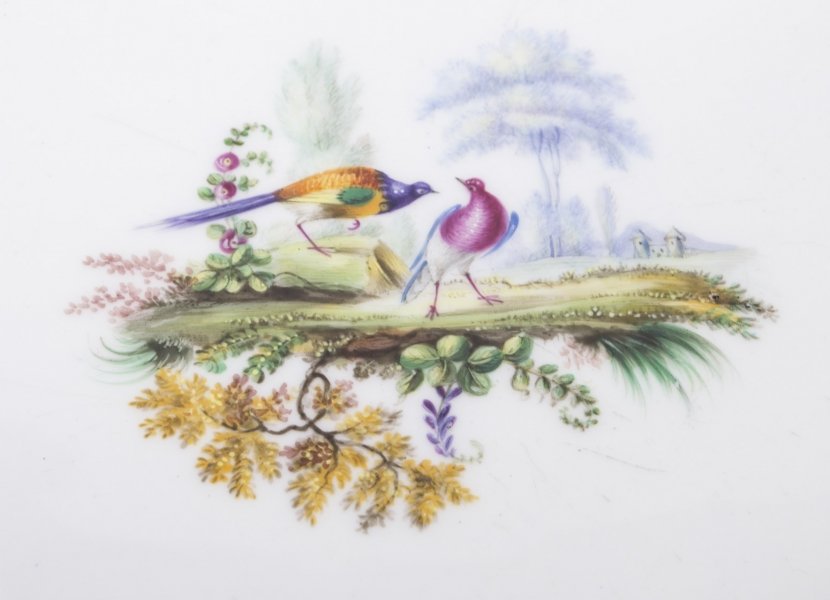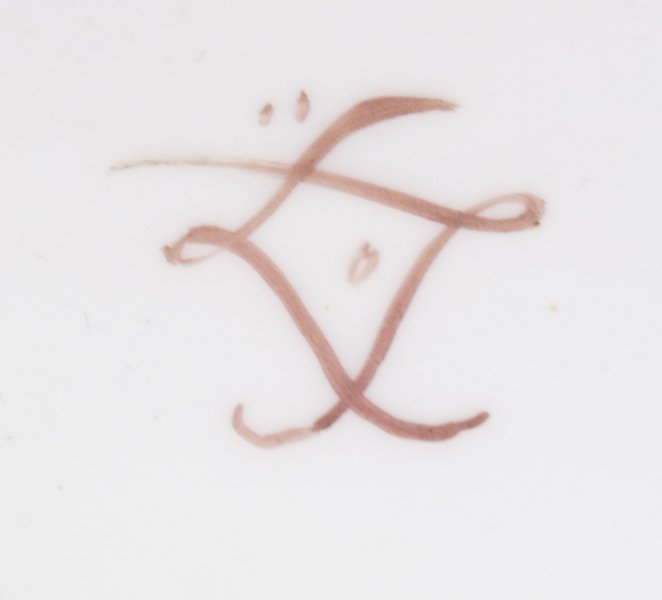 A splendid colour match – cobalt blue and gilded decoration
Next we have a stunning antique shaped circular Coalport Named View porcelain cabinet plate signed E. Ball and dated 1891.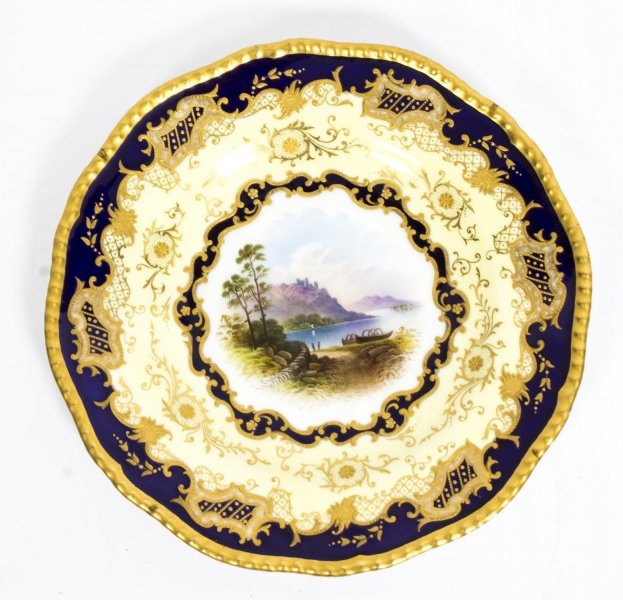 Coalport was established in 1795 by John Rose, who had been an apprentice at Caughley until 1785 when he started his small pottery at Jackfield on his own. In 1795, he moved to Coalport and built premises on the canal bank opposite Caughley, which he acquired in 1799.
By 1798 Rose was making bone china and until the late 1820s was largely engaged in supplying this in the white to London and provincial dealers and enamellers, although much decorated ware was sold.
After the death of John Rose in 1841, he was succeeded by his nephew William F. Rose and William Pugh, the latter becoming sole proprietor in 1862. Now housed at Stoke-on-Trent, the factory is still in production.
This magnificent plate features a central hand-painted scene of Lake Menteith and is set within a yellow and cobalt blue border heightened with raised gilt and a striking gilt gadrooned rim with raised gilded decoration. It has printed and painted marks to the base.
There is no mistaking the quality and unique design of this plate which is sure to become a treasured addition to your home.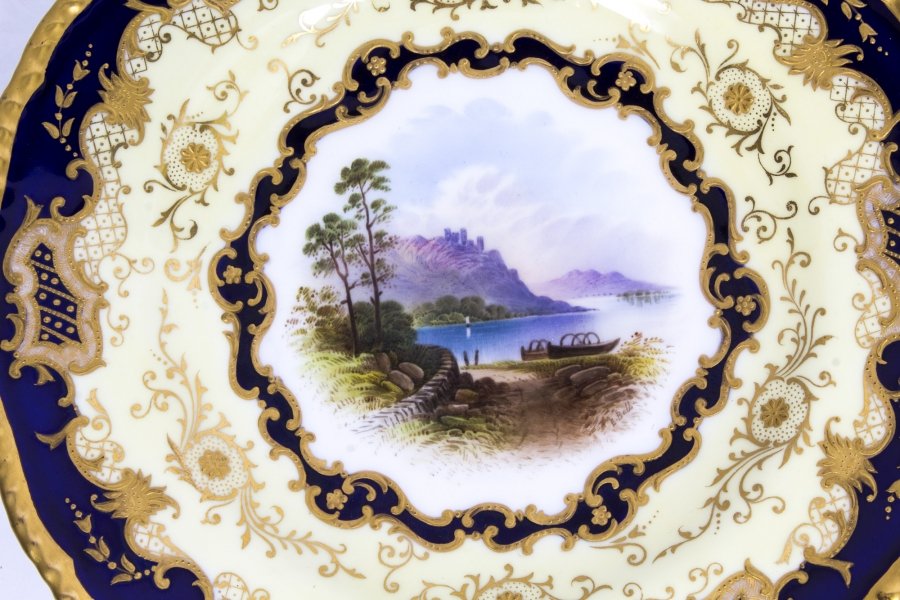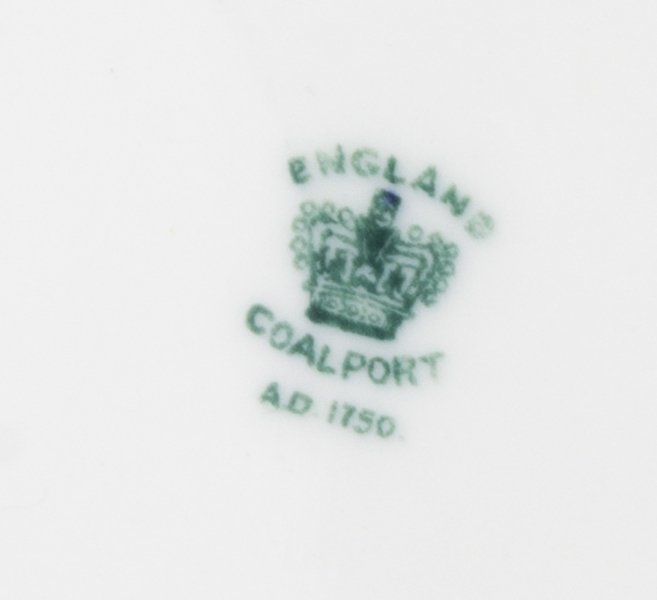 Antique porcelain plates featuring turkeys and a landscape
Our fourth offering is a wonderful antique Vienna porcelain cabinet plate, circa 1900 in date.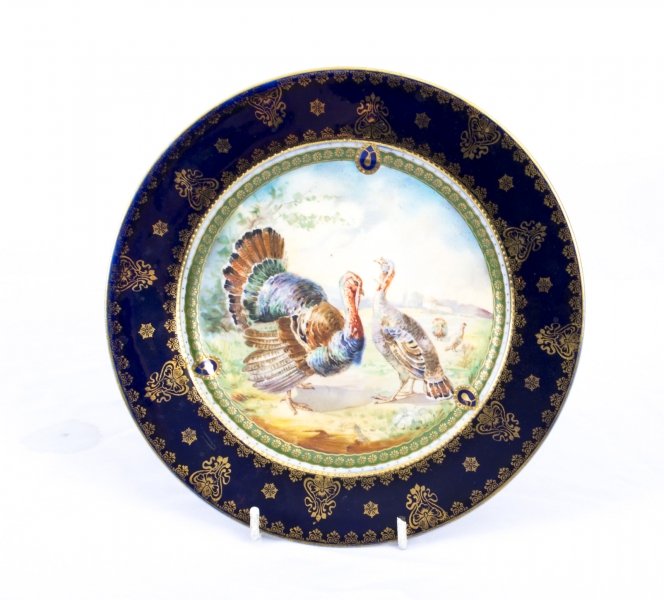 This is beautifully hand-painted plate with a pair of turkeys in a landscape, bearing the blue underglaze "beehive" mark.
There is no mistaking the unique quality and design, which is sure to make this plate a treasured piece for any discerning collector.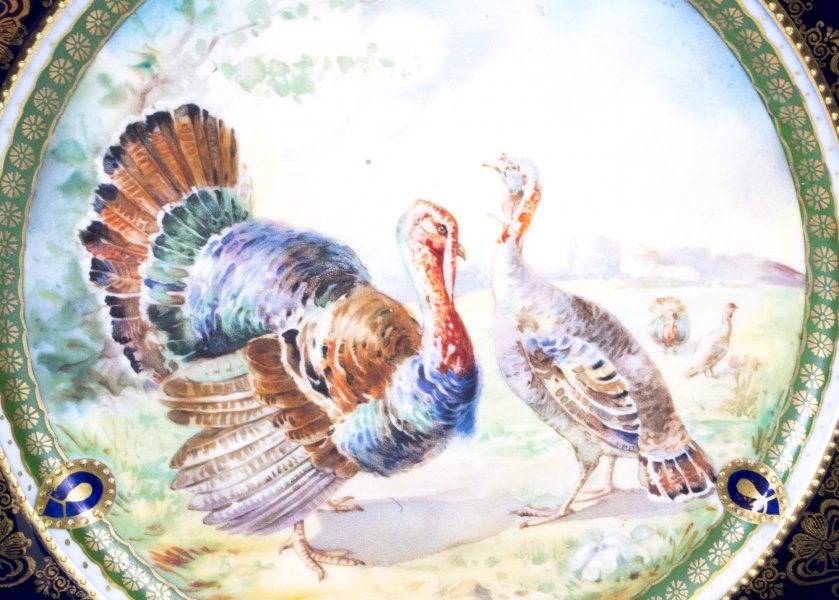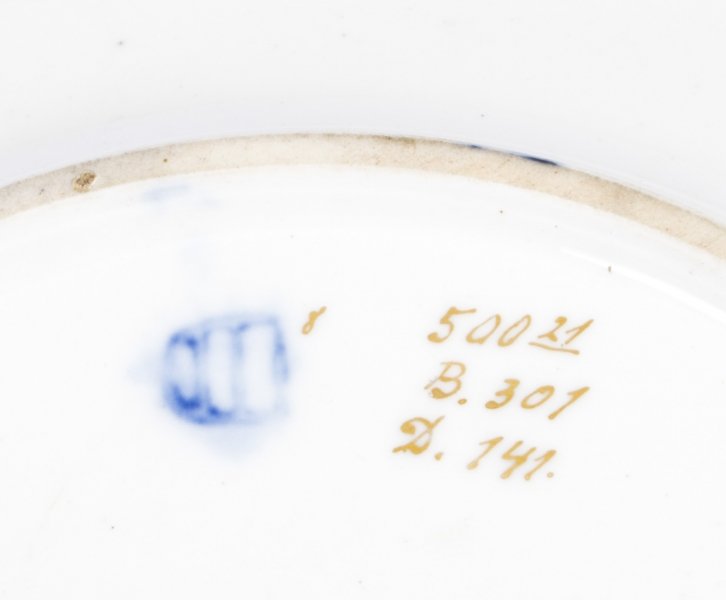 Finally, we end with another delightful example, again in absolutely remarkable condition, an antique Pirkenhammer porcelain plate, circa 1900 in date.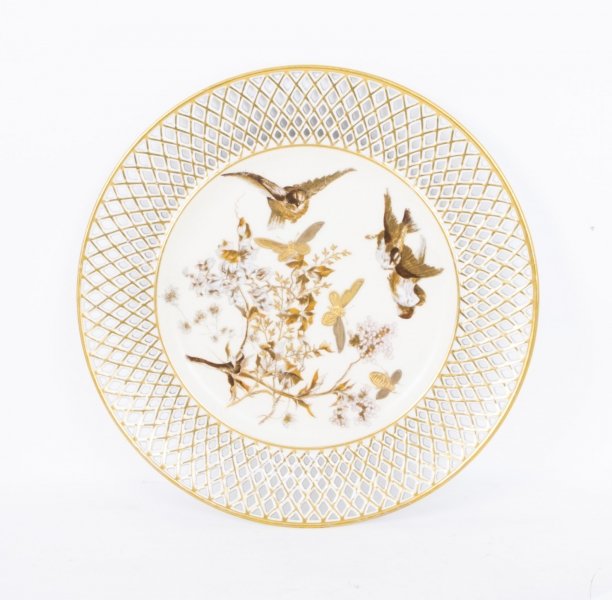 Over two hundred years ago, a porcelain factory was built in Karlovy Vary (Karlsbad), and the brand Pirkenhammer was born. The factory is located in a picturesque area within 10 minutes walk from the centre of the city.
By the 1820s, Pirkenhammer was considered the best in Bohemia, recognised by a gold medal at the Vienna World Fair in 1839. The awarding committee commented that it demonstrated "a good taste in shape, clear body, smooth glaze, and high quality of printing".
Since the use of gilding in ceramic manufacture was officially proven to be safe in 1835, Pirkenhammer acquired a worldwide reputation in the application of this technology.
This lovely plate is transfer printed and hand-painted in the centre with sparrows, butterflies, insects and a flowering bough within a pierced broad gilt rim.
The reverse of the plate has a printed mark in red and black numbered 2682.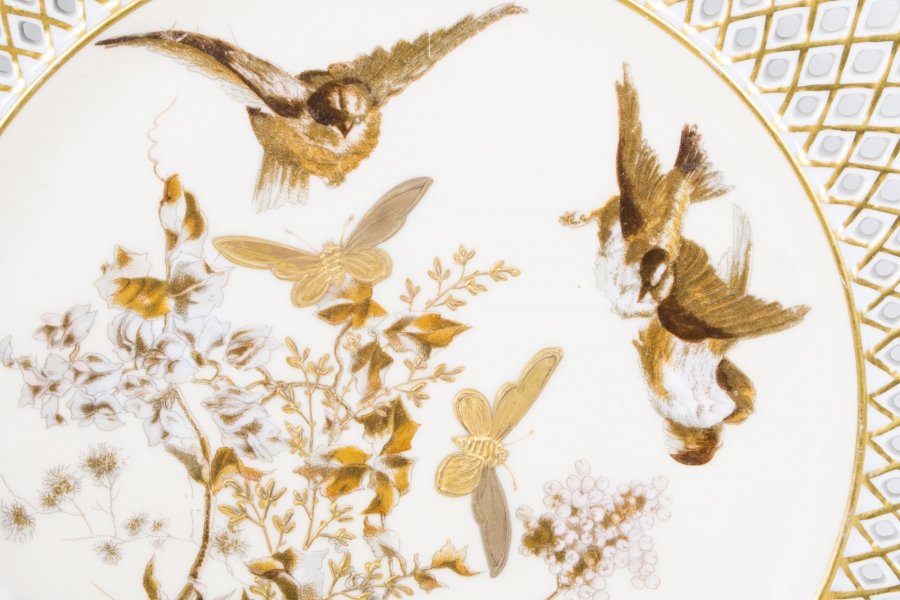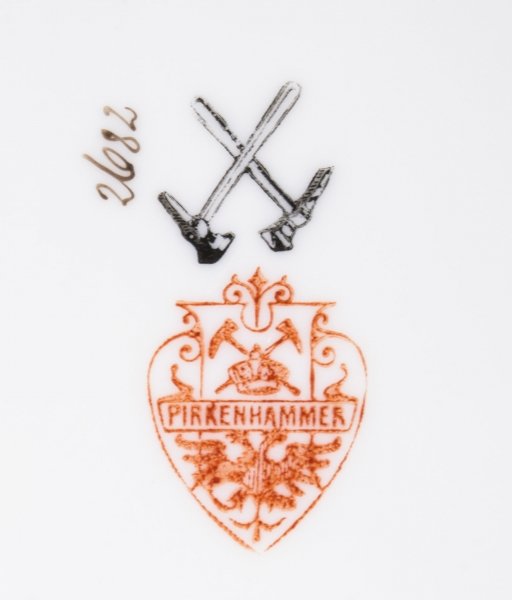 Find that unique and stunning antique porcelain plate
If you see an antique porcelain plate that you would like to consider, please be aware that our specialist team will pack it very carefully and ship it to almost any destination worldwide. Please however first obtain a shipping quotation before making a purchase. UK delivery is free of charge.
Our expert buyers are always on the lookout for unusual antique porcelain, including plates. A regular visit to our website and a quick glance at the new arrivals section will normally be enough to keep you up to date, but please note that we also offer a free of charge notification service which will alert you when new items arrive in your areas of interest.
We hope you will soon find an exceptional antique porcelain plate to adorn that extra special room in your home.