Antique French Gilt Bronze Rococo Mantel Clock Garniture Set 19th Century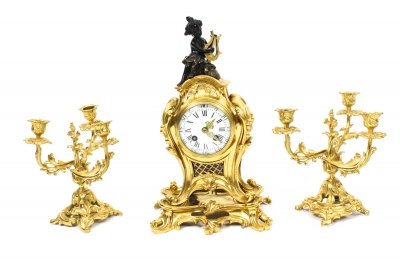 Click on image to zoom
For weekly notifications of new arrivals in your categories of interest please click HERE.
Our London showrooms
Open Mon to Fri 10am - 5pm
Open Sat 2nd March 10am - 4pm
This is a fantastic quality and impressive French gilt bronze Rococo Revival mantel clock garniture, circa 1890 in date.
The elaborately cast rococo case is ornately decorated with swirling acanthus and'C' scrolls. The bronze patinated top is crowned with a cherub playing a Lyre and sitting on a beautiful rococo base.
The white enamelled dial has Roman numerals and Arabic minute marks, the twin train movement with outside countwheel and striking on a bell is in perfect working order. The movement has the serial No. 1645 and the clockmakers mark Japy Freres on the backplate.
The fine pair of matching candelabra echo the swirling acanthus, 'C' scrolls, of the clock and feature three arms twin-scrolled arms and ornate stiff-leaf sconces
The French movement is of high quality and is in excellent clean and running condition having been fully overhauled by our clockmaker. It features its original pendulum, runs for 8 days and strikes the hours and half hours
Condition:
The clock is in excellent fully restored working condition, the movement having been expertly serviced and the case polished.
Dimensions in cm:
Height 38 x Width 23 x Depth 16 - Clock
Height 22 x Width 20 x Depth 19 - Candelabra
Dimensions in inches:
Height 1 foot, 3 inches x Width 9 inches x Depth 6 inches - Clock
Height 9 inches x Width 8 inches x Depth 7 inches - Candelabra
There are so many JAPY clocks still around because Frédéric Japy (1749-1812) was a pioneer in the industrialization of not only clocks, but of manufacturing in general. An imaginative inventor of all sorts of machines, he began his career as a watchmaker.

The son of Jacques Japy (1699-1781) and Marie Marguerite Fainot (1745-1797), Frédéric Japy was born on May 22, 1749 at Beaucourt , a small village at the end of the principality of Montbéliard . He was the second born of a large family of twelve children. One of the wealthiest families in Beaucourt , the father of Frédéric Japy, Jacques, was a major player in the village and, in 1760, he became the Protestant mayor Beaucourt.


Frédéric Japy began school in Beaucourt. From childhood, he was introduced to craft activities and learned to live in a structured and supportive business environment. His schoolmaster quickly noticed his great intelligence and encouraged his father to send him to Montbéliard to continue his education. Jacques Japy thus placed his son in French school or "gymnasium" where he received an excellent education

Frédéric Japy was apprenticed by Jacques Georges Frédéric Japy, his grandfather, in the profession of watchmaker in Montbeliard. At age 17, he returned to Beaucourt to spend two years working in the workshop of his father.


At that time, watch and clock parts were manufactured usually by hand by specialized workers in their homes in small communities.
The parts were then collected and mounted into a piece by an 'assembler'. Once the movement was assembled, it was then sent to a 'dresser' who would, in turn, mount it into a case - be it a small one or an elaborate brass plated mantle clock complete with mythological figures.

Frederic Japy purchased some of few clocks making machines in existence, brought them back to his native town of Beaucourt and proceeded to invent new ones in order to standardize the pieces and the quality of the production.


The workers were then regrouped into one location instead of being scattered throughout the countryside and each one was assigned to a specific work post with its own specific machine. Frederic Japy radically changed the way clocks were produced. The sequential production of parts in one location - a manufacturing plant - aided by machines meant that clock parts were made and assembled in about half the time that it had taken previously.

Japy's plant revolutionized manufacturing. Production schedules were now established by the plant owner and not by the local artisan. The number of steps and operations were reduced by half. All parts could be assembled into a finished product on-site instead of the previous sub-assemblies and the machines could be operated by a less-skilled worker.

Japy then imagined other applications (and invented the machines required to produce them) such as the mass production of hardware parts (screws, nails, bolts) and other products - rotating pumps (a model still in use today), locks, and he perfected the creation and baking of enamelware.

In clockmaking - Japy's enamel dials became the standard for the great majority of clock manufacturers for 150 years both in France and abroad. There are few French carriage clocks in existence that do not have Japy enamel dials on them.
the 1878 Grand Prize for clockmaking.


Japy's plants continued to produce clocks in many styles and at the higher priced levels. In 1806, he handed the direction of his businesses to his three sons - and it became Japy Frères (Japy Brothers) who, in turn, diversified the manufacturing to produce coffee grinders, typewriters, enamelware, kitchen utensils, office machines such as the first typewriters, refrigerator pumps, advertising signs and they invented more machines to transform copper and steel wires into elaborate hardware parts.
However, his sons' sons did not inherit the creative and inventive spirit of their fathers and grandfather and by the early 1900's, many of the businesses were sold off and the manufacturing was dismantled.


In the 1930's, Japy Frères decided to 'reinvent' themselves to appeal to a wider market and they produced several models with tin casings and in various geometrical styles. Unfortunately, they were competing with names such as Jaz and Blangy in that segment of the market and sales were rather limited. As with most French clockmakers, WWII basically decimated them.
Angelica Kauffman, RA (1741 - 1807)
was a Swiss-born Austrian Neoclassical painter who had a successful career in London and Rome. Though born as "Kauffmann", Kauffman is the preferred spelling of her name in English; it is the form she herself used most in signing her correspondence, documents and paintings.
While Kauffman produced many types of art, she identified herself primarily as a history painter, an unusual designation for a woman artist in the 18th century. History painting, was considered the most elite and lucrative category in academic painting during this time period. Under the direction of Sir Joshua Reynolds, the Royal Academy made a strong effort to promote history painting to a native audience who were more interested in commissioning and buying portraits and landscapes.
Despite the popularity that Kauffman enjoyed in British society and her success as an artist, she was disappointed by the relative apathy that the British had towards history painting. Ultimately she left Britain for the continent, where history painting was better established, held in higher esteem and patronized.
The works of Angelica Kauffman have retained their reputation. By 1911, rooms decorated with her work were still to be seen in various quarters. At Hampton Court was a portrait of the duchess of Brunswick; in the National Portrait Gallery, a self-portrait. There were other pictures by her at Paris, at Dresden, in the Hermitage at St Petersburg, in the Alte Pinakothek atMunich, in Kadriorg Palace, Tallinn (Estonia).
Satinwood
is a hard and durable wood with a satinlike sheen, much used in cabinetmaking, especially in marquetry. It comes from two tropical trees of the family Rutaceae (rue family). East Indian or Ceylon satinwood is the yellowish or dark-brown heartwood of Chloroxylon swietenia.
The lustrous, fine-grained, usually figured wood is used for furniture, cabinetwork, veneers, and backs of brushes. West Indian satinwood, sometimes called yellow wood, is considered superior. It is the golden yellow, lustrous, even-grained wood found in the Florida Keys and the West Indies.
It has long been valued for furniture. It is also used for musical instruments, veneers, and other purposes. Satinwood is classified in the division Magnoliophyta, class Magnoliopsida, order Sapindales, family Rutaceae.
Our reference: R0039
Please feel free to email or call us (+44 20 8809 9605) to arrange a viewing in our North London warehouse.
Shipping:
We ship worldwide and deliver to Mainland UK addresses free of charge.
A shipping cost to all other destinations must be requested prior to purchase.
To request a shipping quote for the items in your cart, please click HERE.
Delivery and return policy:
We require that someone be home on the agreed delivery day if applicable, otherwise a redelivery fee will apply.
In accordance with Distance Selling Regulations, we offer a 14-day money back guarantee if you are not satisfied with the item.
The item must be returned in its original packaging and condition.
Unless the item is not as described in a material way, the buyer is responsible for return shipping expenses.
Buyers are fully responsible for any customs duties or local taxes that may be incurred on items sent outside of the European Union.