Stunning Life Size Bronze Winston Churchill on a Garden Bench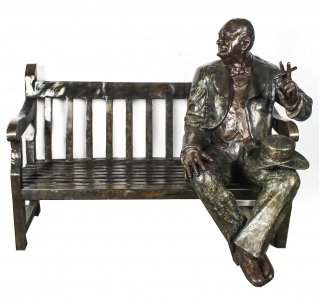 Click on image to zoom
For weekly notifications of new arrivals in your categories of interest please click HERE.
Our London showrooms
Open Mon to Fri 10am - 5pm
Open Sat 30th March 10am - 4pm
This life size bespoke bronze statue of Winston Churchill sitting on an outdoor bench is a truly remarkable piece of sculpture.
Britain's great hero is depicted sitting comfortably with a cigar held between the two first fingers of his left hand making his famous 'V' for Victory sign. With the hat he wore when painting his pictures outside casually resting on his knee, this bronze statue of Winston Churchill is the very epitome of Britishness. There is even enough room to sit beside him on the bench and sneak a casual selfie.
This arresting piece is sure to capture attention wherever it is placed, be that in your garden or some public space. The attention to detail and workmanship is breathtaking and it has a unique quality all of its own. Weighing in around a third of a ton this is a major work of art.
Winston Churchill is usually voted Britain's 'Greatest Briton' coming the top of most polls on the subject such as the one taken by the BBC in 2002. He was born in 1874 to an aristocratic family and having served time in the Royal Cavalry, he was elected as a Conservative MP in 1900. He defected to the Liberal Party and became First Lord of the Admiralty in the Liberal Government and received heavy criticism for the disaster at Gallipoli which he created. He resigned and went back to fighting himself.
In the interwar years he 'crossed the floor' and returned to the Conservative Party becoming Chancellor of the Exchequer in 1924. He lost his seat in 1929 and spent the next 11 years out of office writing and making speeches. He was alone in his opposition to Indian Independence but was proven correct in his strong warnings against the Appeasement of Nazi Germany when the second world war broke out in 1939.
When the Prime Minister Neville Chamberlain resigned in 1940, Churchill was voted in to succeed him as Prime Minister of an all-party coalition government.His firm leadership and rousing speeches did much to stimulate British morale during periods of great hardship. Whilst he lost office again in 1945 with the election of a Labour government who instituted a Welfare State, he was re-elected in 1951 but his age and health was against him and he often had to conduct government business from his bed. He resigned in 1955 and died ten years later. A complex and sometimes difficult man, he had bouts of depression which he called his 'black dog', he was a larger than life character who still attracts great devotion. This bronze statue of Winston Churchill will create a great statement wherever you choose to place it.
We have more striking bronze statues and other bronzes here.
Viewing This bronze statue of Winston Churchill In Person
We think it's advisable to look at articles personally. With this thought please try to travel to our North London warehouse to view this bronze statue of Winston Churchill, along with the large selection of other pieces we have in stock. If you aim to make a special trip to see this bronze statue of Winston Churchill, please contact us first to see that it is still available. Don't forget to make a note of the unique item reference number whenever you speak to us so we can discover which precise object you would like to have a discussion about.
Regent Antiques - Showroom Opening Hours
Our London display room is open Mon to Fri 10am – 5pm for you to view this bronze statue of Winston Churchill. We also open sometimes on Saturdays – but remember to call ahead of time before making a visit on a Saturday to make certain we will be available - or check our homepage.
Finding Out More
To learn more regarding this bronze statue of Winston Churchill and for you to get advice about any requests you might have, please do not hesitate to speak to our in house antiques consultants using the contact details above. When getting in touch with us please reference the item number, so we can easily find which object you are contemplating buying.
Our in-house advisors are always glad to contribute their practical knowledge with you, and not just about the article you are thinking of choosing such as this bronze statue of Winston Churchill. They are additionally delighted to explain matters of antiques and memorabilia generally and will try to reply to any broader questions you might possibly have. Choosing and looking after antiques and treasures is a significant area, and we are always available to assist you to get the most from your investment in valuable items such as this bronze statue of Winston Churchill.
Shipping, Delivery and Returns
This is a wonderful piece that calls for skilled packing and transport to make sure it gets to your destination securely. We can transport this bronze statue of Winston Churchill to almost any locale internationally and we will be happy to manage the packing for you, but kindly do call or email for the shipping price first, before selecting this bronze statue of Winston Churchill so we can be sure to arrange everything properly. Bear in mind that this bronze statue of Winston Churchill weighs a third of a ton so the transportation will need to be carefully organised.
If you are not delighted with the article, we offer a 14-day money back pledge in compliance with the Distance Selling Regulations. You will be liable for the return shipping costs for this bronze statue of Winston Churchill, unless we have wrongly detailed the piece in some crucial way and you do not receive the piece as described. It's important that you return the piece in its original packing and condition.
You are also liable for any customs duties or local taxes that fall due outside the European Union for the transport of this bronze statue of Winston Churchill.
Dimensions in cm:
Height 145 x Width 174 x Depth 111
Dimensions in inches:
Height 4 feet, 9 inches x Width 5 feet, 8 inches x Depth 3 feet, 8 inches
Angelica Kauffman, RA (1741 - 1807)
was a Swiss-born Austrian Neoclassical painter who had a successful career in London and Rome. Though born as "Kauffmann", Kauffman is the preferred spelling of her name in English; it is the form she herself used most in signing her correspondence, documents and paintings.
While Kauffman produced many types of art, she identified herself primarily as a history painter, an unusual designation for a woman artist in the 18th century. History painting, was considered the most elite and lucrative category in academic painting during this time period. Under the direction of Sir Joshua Reynolds, the Royal Academy made a strong effort to promote history painting to a native audience who were more interested in commissioning and buying portraits and landscapes.
Despite the popularity that Kauffman enjoyed in British society and her success as an artist, she was disappointed by the relative apathy that the British had towards history painting. Ultimately she left Britain for the continent, where history painting was better established, held in higher esteem and patronized.
The works of Angelica Kauffman have retained their reputation. By 1911, rooms decorated with her work were still to be seen in various quarters. At Hampton Court was a portrait of the duchess of Brunswick; in the National Portrait Gallery, a self-portrait. There were other pictures by her at Paris, at Dresden, in the Hermitage at St Petersburg, in the Alte Pinakothek atMunich, in Kadriorg Palace, Tallinn (Estonia).
Satinwood
is a hard and durable wood with a satinlike sheen, much used in cabinetmaking, especially in marquetry. It comes from two tropical trees of the family Rutaceae (rue family). East Indian or Ceylon satinwood is the yellowish or dark-brown heartwood of Chloroxylon swietenia.
The lustrous, fine-grained, usually figured wood is used for furniture, cabinetwork, veneers, and backs of brushes. West Indian satinwood, sometimes called yellow wood, is considered superior. It is the golden yellow, lustrous, even-grained wood found in the Florida Keys and the West Indies.
It has long been valued for furniture. It is also used for musical instruments, veneers, and other purposes. Satinwood is classified in the division Magnoliophyta, class Magnoliopsida, order Sapindales, family Rutaceae.
Our reference: 09259
Please feel free to email or call us (+44 20 8809 9605) to arrange a viewing in our North London warehouse.