Stunning Life Size Bronze Winston Churchill on a Garden Bench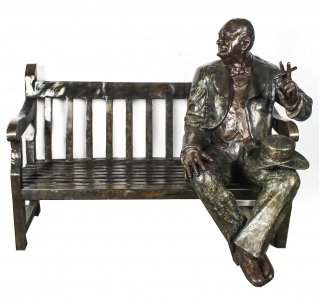 Click on image to zoom
For weekly notifications of new arrivals in your categories of interest please click HERE.
Our London showrooms
Open Mon to Fri 10am - 5pm
Open Sat 24th November 10am - 4pm
There is no mistaking the unique quality and style of this larger than life-size bespoke statue of Winston Churchill sitting casually on an outdoor bench smoking a cigar.

It will soon become the focal point of your garden or public space and is sure to receive the maximum amount of attention wherever it is placed.
The statue is made from solid bronze, incorporates a lot of intricate detailing, and weighs around a third of a ton.

This high-quality hot cast solid bronze was produced using the traditional "lost wax" process, otherwise known as the "cire perdue" method.

Condition:
In really excellent condition, please see photos for confirmation.
Dimensions in cm:
Height 145 x Width 174 x Depth 111
Dimensions in inches:
Height 4 feet, 9 inches x Width 5 feet, 8 inches x Depth 3 feet, 8 inches
Winston Churchill was born on 30 November 1874, in Blenheim Palace, Oxfordshire and was of rich, aristocratic ancestry. Although achieving poor grades at school, his early fascination with militarism saw him join the Royal Cavalry in 1895. As a soldier and part-time journalist, Churchill travelled widely, including trips to Cuba, Afghanistan, Egypt and South Africa.

Churchill was elected as Conservative MP for Oldham in 1900, before defecting to the Liberal Party in 1904 and spending the next decade climbing the ranks of the Liberal government. He was First Lord of the Admiralty (the civil/political head of the Royal Navy) by the time of the disastrous Gallipoli campaign, which he created. Heavily criticised for this error, he resigned from this position and travelled to the Western Front to fight himself.

The interwar years saw Churchill again 'cross the floor' from the Liberals, back to the Conservative Party. He served as Chancellor of the Exchequer from 1924, when he controversially opted for Britain to re-join the Gold Standard. Following the Tory electoral defeat in 1929, Churchill lost his seat and spent much of the next 11 years out of office, mainly writing and making speeches. Although he was alone in his firm opposition to Indian Independence, his warnings against the Appeasement of Nazi Germany were proven correct when the Second World War broke out in 1939.

Following Neville Chamberlain's resignation in 1940, Churchill was chosen to succeed him as Prime Minister of an all-party coalition government.

Churchill, who also adopted the self-created position of Minister for Defence, was active both in administrative and diplomatic functions in prosecuting the British war effort. Some of his most memorable speeches were given in this period, and are credited with stimulating British morale during periods of great hardship. However, Labour leader Clement Attlee's unexpected General Election victory in 1945 saw Churchill out of office and once again concentrating on public speaking. In his 1946 speech in the USA, the instinctive pro-American famously declared that "an iron curtain has descended across the Continent", and warned of the continued danger from a powerful Soviet Russia.

By his re-election in 1951, Churchill was, in the words of Roy Jenkins, "gloriously unfit for office". Ageing and increasingly unwell, he often conducted business from his bedside, and while his powerful personality and oratory ability endured, the Prime Minister's leadership was less decisive than during the war. His second term was most notable for the Conservative Party's acceptance of Labour's newly created Welfare State, and Churchill's effect on domestic policy was limited. His later attempts at decreasing the developing Cold War through personal diplomacy failed to produce significant results, and poor health forced him to resign in 1955, making way for his Foreign Secretary and Deputy Prime Minister, Anthony Eden.

Churchill died in 1965, and was honoured with a state funeral.

Lost Wax Method
sometimes called by the French name of cire perdue or the Latin, cera perduta is the process by which a bronze or brass high-quality from an artists sculpture.
In industrial uses, the modern process is called investment casting. An ancient practice, the process today varies from foundry to foundry, but the steps which are usually used in casting small bronze sculptures in a modern bronze foundry are generally quite standardised.
Angelica Kauffman, RA (1741 - 1807)
was a Swiss-born Austrian Neoclassical painter who had a successful career in London and Rome. Though born as "Kauffmann", Kauffman is the preferred spelling of her name in English; it is the form she herself used most in signing her correspondence, documents and paintings.
While Kauffman produced many types of art, she identified herself primarily as a history painter, an unusual designation for a woman artist in the 18th century. History painting, was considered the most elite and lucrative category in academic painting during this time period. Under the direction of Sir Joshua Reynolds, the Royal Academy made a strong effort to promote history painting to a native audience who were more interested in commissioning and buying portraits and landscapes.
Despite the popularity that Kauffman enjoyed in British society and her success as an artist, she was disappointed by the relative apathy that the British had towards history painting. Ultimately she left Britain for the continent, where history painting was better established, held in higher esteem and patronized.
The works of Angelica Kauffman have retained their reputation. By 1911, rooms decorated with her work were still to be seen in various quarters. At Hampton Court was a portrait of the duchess of Brunswick; in the National Portrait Gallery, a self-portrait. There were other pictures by her at Paris, at Dresden, in the Hermitage at St Petersburg, in the Alte Pinakothek atMunich, in Kadriorg Palace, Tallinn (Estonia).
Satinwood
is a hard and durable wood with a satinlike sheen, much used in cabinetmaking, especially in marquetry. It comes from two tropical trees of the family Rutaceae (rue family). East Indian or Ceylon satinwood is the yellowish or dark-brown heartwood of Chloroxylon swietenia.
The lustrous, fine-grained, usually figured wood is used for furniture, cabinetwork, veneers, and backs of brushes. West Indian satinwood, sometimes called yellow wood, is considered superior. It is the golden yellow, lustrous, even-grained wood found in the Florida Keys and the West Indies.
It has long been valued for furniture. It is also used for musical instruments, veneers, and other purposes. Satinwood is classified in the division Magnoliophyta, class Magnoliopsida, order Sapindales, family Rutaceae.
Our reference: 09259
Please feel free to email or call us (+44 20 8809 9605) to arrange a viewing in our North London warehouse.
Shipping:
We ship worldwide and deliver to Mainland UK addresses free of charge.
A shipping cost to all other destinations must be requested prior to purchase.
To request a shipping quote for the items in your cart, please click HERE.
Delivery and return policy:
We require that someone be home on the agreed delivery day if applicable, otherwise a redelivery fee will apply.
In accordance with Distance Selling Regulations, we offer a 14-day money back guarantee if you are not satisfied with the item.
The item must be returned in its original packaging and condition.
Unless the item is not as described in a material way, the buyer is responsible for return shipping expenses.
Buyers are fully responsible for any customs duties or local taxes that may be incurred on items sent outside of the European Union.