Antique Hand Carved Black Forest Bears Inkstand 19th Century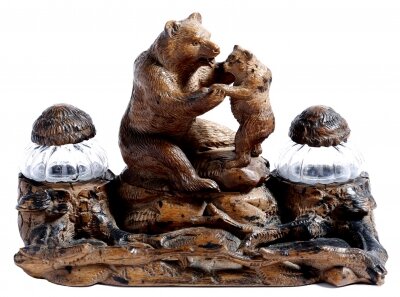 Click on image to zoom
For weekly notifications of new arrivals in your categories of interest please click HERE.
Our London showrooms
Open Mon to Fri 10am - 5pm
Open Sat 16th February 10am - 4pm
This charming antique
Black Forest
inkstand dates from circa 1880.
Beautifully modelled, hand carved from linden wood, with mother and baby bear on a naturalistically carved rocky outcrop.
The inkwells are in the form of a pair of tree trunks with fluted glass wells with carved lids and a useful pen tray in front.
Condition:

In excellent condition. As an antique item, it shows signs of use commensurate with age, these minor condition issues are mentioned for accuracy and, as seen in the accompanying photographs, the inkstand displays beautifully.
Dimensions in cm:
Height 15 x Width 23 x Depth 14
Dimensions in inches:
Height 6 inches x Width 9 inches x Depth 5 inches
History of Black Forest Carving
The idea behind the success of Brienz wood carving was quite simple. After a disastrous famine in 1816 in the Brienz area people were forced to find new areas of revenues. Driven by the need to create jobs in the Bernese Oberland, an economically underdeveloped region, the Swiss government encouraged the existing resource of timber industry to liaise with the traditional wooden craftsmanship. It took some time to improve from home requirements to sophisticated designed arts but the process was supported by the rising amount of tourists visiting the region.
Christian Fischer and other founders
Christian Fischer (1790-1848) started self-taught from simple turneries (carved bowls and other articles of daily use) to unsophisticated regional animals and people. Due to his success and the interest of the tourists, other carvers started also following his idea of carving the pristine naturalism. The Swiss government supported these start-ups with additional training of apprentices at special trade school.

Brienz School of Wood Carving
In 1884 the "School of Wood Carving, Brienz" was founded. It became an important educational institution to strengthen and develop the artistic backgrounds and exhibit an area of creativity. During the years of war in the 20th century, the demand for wooden sculptures came to rest and led to the re-orientation in areas such as toys and carvings for constructions. Beyond that the Brienz wood carving articles had to face an enormous competition from abroad. The School of Wood Carving had to get through difficult economic times but in the late 1970s wood carving enjoyed a renaissance. A lot of young people searched for elemental jobs and added a new value to school education. Today Brienz School of Wood Carving is combined with the education of turner, basket makers and coopers. The school still claims high-quality standards and follows old principles with regard to future perspectives.

Wild animals
At all times wild animals fascinate people. The highland around Brienz has large variety of different wild animals. Bears are among the most popular models for carvers. On the one hand bears are easy to cut and on the other hand they have a strong symbolized image. The enthusiasm for bears in art increased in the meantime the population endangered. One can say that hardly any other wild animal evolved from dangerous to fetish or even cute. Like the company Steiff with its Teddy bear collection, the Brienz´carvers reached inimitability.

Beyond that Brienz carvers used eagles, ibexes, chamois, deer, boars and owls frequently as models with an individual character. The Brienz School of Woodcarving even kept an own zoo with these animals to offer their students the opportunity to observe these animals on a regular basis.

Another remarkable capability of Brienz woodcarvers was their adaptability towards their customers. During the First World War several US soldiers were on R & R in the political and military neutral country of Switzerland. The American soldiers were enthusiastic about the beautiful animal sculptures and Brienz artificers started to carve local North American animals with an enormous success.
Alps´animals
Tourists were not only crazy about wild animals but they were also inspired by the typical domestic animals living in Swiss villages. Cows with their characteristic bells represent a mystery to rural life. A farm animal dedicated for production but still noticed as wild and unbroken, is an ideal illustration for artists to haunt. Goats, the headstrong all-rounder and the oldest domesticated animal, can be illustrated with great fidelity in sculptures. The St. Bernhard dog is a perfect representative of men´s.

People living in the Alps had a strong relationship to their regional living animals and it suggested itself that artists started to disguise e.g. bears. Camouflage has always been a fired artist´s imagination and license. Brienz wood carvers began to create whimsical sculptures or combinations for daily use such as a mandolin playing bear whip holder with music work integrated in the body which starts playing when something is hanged on the chamois horns.

The simple life in the Alps appealed the foreigners and encouraged artists to focus on human figures, especially hunters, poachers and shepherds. Another inspiring category were ornamental carvings of articles of daily use, such as clocks or thermometers. Since 1850 Brienz carvers started to focus on creating sculptures showing men, animals and floral motives with an outstanding and independent artist standard.
Despite of wooden sculptures Brienz carvers also created a broad range of individual furniture. The main influence to diversify in this competitive market was given by teachers from the Brienz School of Woodcarving in the late 1850s. Apart from company Gebrüder Wirth the success in standard furnishing was quite neglectable. But the Brienz carvers meet the challenge and started to develop a niche market with a significant furniture style related to Renaissance, Rococo and or Art Nouveau. They played on their strengths and combined animal carvings with furniture. The mixture of furnishings of daily use like umbrella stands with bear, dog or goose sculptures together with the bear seatings and gnome tables which were more appearance than function showed the versatility of Brienz artists. Brienz artificers created grandiose Elephant Furniture for wealthy British Indian colonists vacationing in the picturesque region around Brienz. Another high point in Brienz singularity furnishings were the so-called hall trees: a decorative perfection meeting an ingenious assembly. The majestic size of such a tree combined with the proficiency of carving and finally the whimsically look showed the uniqueness of Brienz creations.


Angelica Kauffman, RA (1741 - 1807)
was a Swiss-born Austrian Neoclassical painter who had a successful career in London and Rome. Though born as "Kauffmann", Kauffman is the preferred spelling of her name in English; it is the form she herself used most in signing her correspondence, documents and paintings.
While Kauffman produced many types of art, she identified herself primarily as a history painter, an unusual designation for a woman artist in the 18th century. History painting, was considered the most elite and lucrative category in academic painting during this time period. Under the direction of Sir Joshua Reynolds, the Royal Academy made a strong effort to promote history painting to a native audience who were more interested in commissioning and buying portraits and landscapes.
Despite the popularity that Kauffman enjoyed in British society and her success as an artist, she was disappointed by the relative apathy that the British had towards history painting. Ultimately she left Britain for the continent, where history painting was better established, held in higher esteem and patronized.
The works of Angelica Kauffman have retained their reputation. By 1911, rooms decorated with her work were still to be seen in various quarters. At Hampton Court was a portrait of the duchess of Brunswick; in the National Portrait Gallery, a self-portrait. There were other pictures by her at Paris, at Dresden, in the Hermitage at St Petersburg, in the Alte Pinakothek atMunich, in Kadriorg Palace, Tallinn (Estonia).
Satinwood
is a hard and durable wood with a satinlike sheen, much used in cabinetmaking, especially in marquetry. It comes from two tropical trees of the family Rutaceae (rue family). East Indian or Ceylon satinwood is the yellowish or dark-brown heartwood of Chloroxylon swietenia.
The lustrous, fine-grained, usually figured wood is used for furniture, cabinetwork, veneers, and backs of brushes. West Indian satinwood, sometimes called yellow wood, is considered superior. It is the golden yellow, lustrous, even-grained wood found in the Florida Keys and the West Indies.
It has long been valued for furniture. It is also used for musical instruments, veneers, and other purposes. Satinwood is classified in the division Magnoliophyta, class Magnoliopsida, order Sapindales, family Rutaceae.
Our reference: 09050
Please feel free to email or call us (+44 20 8809 9605) to arrange a viewing in our North London warehouse.
Shipping:
We ship worldwide and deliver to Mainland UK addresses free of charge.
A shipping cost to all other destinations must be requested prior to purchase.
To request a shipping quote for the items in your cart, please click HERE.
Delivery and return policy:
We require that someone be home on the agreed delivery day if applicable, otherwise a redelivery fee will apply.
In accordance with Distance Selling Regulations, we offer a 14-day money back guarantee if you are not satisfied with the item.
The item must be returned in its original packaging and condition.
Unless the item is not as described in a material way, the buyer is responsible for return shipping expenses.
Buyers are fully responsible for any customs duties or local taxes that may be incurred on items sent outside of the European Union.