Antique Pair Large French Bronze & Ormolu Two Light Candelabra 19th C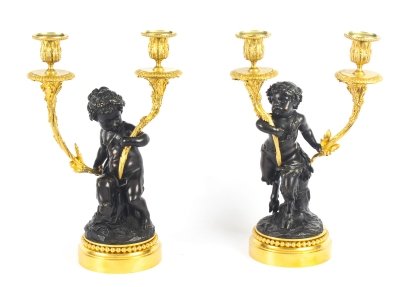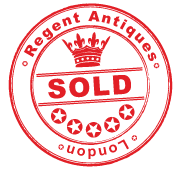 For weekly notifications of new arrivals in your categories of interest please click HERE.
This is a fine quality large antique pair of French bronze and ormolu figural candelabra, circa 1840 in date.

The pair of superbly cast candelabra features a darkly patinated seated cherub and a darkly patinated standing faun each supporting a pair of ornate gilt-bronze annular sconces with shaped drip trays on a circular base beaded base.


There is no mistaking their unique quality and design, which is sure to be cherished by any admirer of French ormolu.

Condition:
In excellent condition, please see photos for confirmation.
Dimensions in cm:
Height 38 x Width 25 x Depth 15
Dimensions in inches:
Height 1 foot, 3 inches x Width 10 inches x Depth 6 inches
Satyrs or Fauns were conflated in the popular and poetic imagination with Latin spirits of woodland and with the rustic Greek god Pan. Roman satyrs were described as goat-like from the haunches to the hooves and were often pictured with larger horns, even ram's horns. Roman poets often conflated them with the fauns.

Roman satire is a literary form of poetic essay that was a vehicle for biting, subversive social and personal criticism. Though Roman satire is sometimes linked to the Greek satyr plays, satire's only connection to the satyric drama is the subversive nature of the satyrs themselves, as the Latin word has a completely unconnected etymology, meaning in effect a mixture or miscellany.

In Renaissance art: "Satyrs and fauns were a sort of servant class, and could take on varying mixtures of human or goatish qualities as required


A putto or cherub is a figure in a work of art depicted as a chubby male child, usually naked and sometimes winged. Originally limited to profane passions in symbolism the putto came to represent the sacred cherub and in the Baroque period of art, the putto came to represent the omnipresence of God. A putto representing a cupid is also called an amorino.

The more commonly found form putti is the plural of the Italian word putto. The Italian word comes from the Latin word putus, meaning "boy" or "child". Today, in Italian, putto means toddler winged angel.

Putti, in the ancient classical world of art, were winged infants that were believed to influence human lives. In Renaissance art, the form of the putto was derived in various ways including the Greek Eros or Roman Amor/Cupid, the god of love and companion of Aphrodite or Venus. The Roman, genius, a type of guardian spirit or sometimes the Greek, daemon, a type of messenger spirit, being halfway between the realms of the human and the divine.

Putti are a classical motif found primarily on child sarcophagi of the 2nd century, where they are depicted as fighting, dancing, participating in bacchic rites, playing sports, etc.


Putto on the ceiling of Stirling Castle.
During the Middle Ages, the putto disappeared and was revived during the Quattrocento. The revival of the figure of the putto is generally attributed to Donatello, in Florence in the 1420s, although there are some earlier manifestations (for example the tomb of Ilaria del Carretto, sculpted by Jacopo della Quercia in Lucca). Since then, Donatello has been called the originator of the putto because of the contribution to art he made in restoring the classical form of putto. He gave putto a distinct character by infusing the form with Christian meanings and using it in new contexts such as musician angels. Putti also began to feature in works showing figures from classical mythology, which became popular in the same period.

Most Renaissance putti are essentially decorative and they ornament both religious and secular works, without usually taking any actual part in the events depicted in narrative paintings. There are two popular forms of the putto as the main subject of a work of art in 16th-century Italian Renaissance art: the sleeping putto and the standing putto with an animal or other objects.

Ormolu - (from French 'or moulu', signifying ground or pounded gold) is an 18th-century English term for applying finely ground, high-carat gold in a mercury amalgam to an object of bronze.The mercury is driven off in a kiln leaving behind a gold-coloured veneer known as 'gilt bronze'.
The manufacture of true ormolu employs a process known as mercury-gilding or fire-gilding, in which a solution of nitrate of mercury is applied to a piece of copper, brass, or bronze, followed by the application of an amalgam of gold and mercury. The item was then exposed to extreme heat until the mercury burned off and the gold remained, adhered to the metal object.
After around 1830 because legislation had outlawed the use of mercury other techniques were used instead. Electroplating is the most common modern technique. Ormolu techniques are essentially the same as those used on silver, to produce silver-gilt..
Angelica Kauffman, RA (1741 - 1807)
was a Swiss-born Austrian Neoclassical painter who had a successful career in London and Rome. Though born as "Kauffmann", Kauffman is the preferred spelling of her name in English; it is the form she herself used most in signing her correspondence, documents and paintings.
While Kauffman produced many types of art, she identified herself primarily as a history painter, an unusual designation for a woman artist in the 18th century. History painting, was considered the most elite and lucrative category in academic painting during this time period. Under the direction of Sir Joshua Reynolds, the Royal Academy made a strong effort to promote history painting to a native audience who were more interested in commissioning and buying portraits and landscapes.
Despite the popularity that Kauffman enjoyed in British society and her success as an artist, she was disappointed by the relative apathy that the British had towards history painting. Ultimately she left Britain for the continent, where history painting was better established, held in higher esteem and patronized.
The works of Angelica Kauffman have retained their reputation. By 1911, rooms decorated with her work were still to be seen in various quarters. At Hampton Court was a portrait of the duchess of Brunswick; in the National Portrait Gallery, a self-portrait. There were other pictures by her at Paris, at Dresden, in the Hermitage at St Petersburg, in the Alte Pinakothek atMunich, in Kadriorg Palace, Tallinn (Estonia).
Satinwood
is a hard and durable wood with a satinlike sheen, much used in cabinetmaking, especially in marquetry. It comes from two tropical trees of the family Rutaceae (rue family). East Indian or Ceylon satinwood is the yellowish or dark-brown heartwood of Chloroxylon swietenia.
The lustrous, fine-grained, usually figured wood is used for furniture, cabinetwork, veneers, and backs of brushes. West Indian satinwood, sometimes called yellow wood, is considered superior. It is the golden yellow, lustrous, even-grained wood found in the Florida Keys and the West Indies.
It has long been valued for furniture. It is also used for musical instruments, veneers, and other purposes. Satinwood is classified in the division Magnoliophyta, class Magnoliopsida, order Sapindales, family Rutaceae.
Our reference: 09007