Antique Library Bronze of Napoleon Bonaparte 19th Century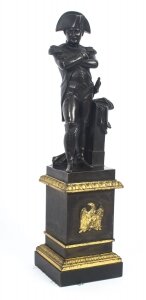 Click on image to zoom
For weekly notifications of new arrivals in your categories of interest please click HERE.
Our London showrooms
Open Mon to Fri 10am - 5pm
Open Sat 30th March 10am - 4pm
This is a finely cast brown patinated bronze and ormolu library sculpture of Napoleon Bonaparte attributed to Emile Guillemin (1841-1907), late 19th Century in date.

It features Napoleon standing contrapposto in uniform wearing a bicorn hat, epaulettes, chivalrous orders and military decorations, waistcoat, sword and knee-high boots. He stands on a decorative rectangular bronze socle, cast with trailing ormolu borders of anthemions and an applied plaque of an eagle, a symbol of imperial Rome and associated with military victory.

This high-quality bronze is made from the lost wax process, otherwise known as cire perdue.


Condition:
In excellent condition, please see photos for confirmation.
Dimensions in cm:
Height 37 x Width 10 x Depth 10
Dimensions in inches:
Height 1 foot, 3 inches x Width 4 inches x Depth 4 inches
Emile Coriolan Hippolyte Guillemin was a French artist who worked mostly in bronze. His sculptures incorporated themes inspired by the French revolution, Mediterranean mythology, and orientalist aesthetics. His oeuvre is reminiscent of other mid-eighteenth century European bronze sculptors, including Jef Lambeaux, Marcel Kleine, and Auguste Rodin. Born on October 16, 1841 in Paris, France, Guillemin learned much of his trade from his father. He spent his entire career in Paris, frequently exhibiting his work in the local salons. Guillemin died in 1907.

Napoleon Bonaparte (French:15 August 1769 – 5 May 1821) was a military and political leader of France and Emperor of the French as Napoleon I, whose actions shaped European politics in the early 19th century.
Napoleon was born in Corsica to parents of minor noble Italian ancestry and trained as an artillery officer in mainland France. Bonaparte rose to prominence under the French First Republic and led successful campaigns against the First and Second Coalitions arrayed against France. In 1799, he staged a coup d'état and installed himself as First Consul; five years later the French Senate proclaimed him emperor. In the first decade of the 19th century, the French Empire under Napoleon engaged in a series of conflicts—the Napoleonic Wars—involving every major European power. After a streak of victories, France secured a dominant position in continental Europe, and Napoleon maintained the French sphere of influence through the formation of extensive alliances and the appointment of friends and family members to rule other European countries as French client states.
The French invasion of Russia in 1812 marked a turning point in Napoleon's fortunes. His Grande Armée was badly damaged in the campaign and never fully recovered. In 1813, the Sixth Coalition defeated his forces at Leipzig; the following year the Coalition invaded France, forced Napoleon to abdicate and exiled him to the island of Elba. Less than a year later, he escaped Elba and returned to power, but was defeated at the Battle of Waterloo in June 1815. Napoleon spent the last six years of his life in confinement by the British on the island of Saint Helena. An autopsy concluded he died of stomach cancer, though Sten Forshufvud and other scientists have since conjectured he was poisoned with arsenic.
Napoleon's campaigns are studied at military academies throughout much of the world. While considered a tyrant by his opponents, he is also remembered for the establishment of the Napoleonic code, which laid the administrative and judicial foundations for much of Western Europe.

Sometimes called by the French name of 'cire perdue' or the Latin, 'cera perduta' is the process by which a bronze or brass is cast from an artist's sculpture.In industrial uses, the modern process is called investment casting. An ancient practice, the process today varies from foundry to foundry, but the steps which are usually used in casting small bronze sculptures in a modern bronze foundry are generally quite standardised.

Lost Wax Method
sometimes called by the French name of cire perdue or the Latin, cera perduta is the process by which a bronze or brass is cast from an artists sculpture.

In industrial uses, the modern process is called investment casting. An ancient practice, the process today varies from foundry to foundry, but the steps which are usually used in casting small bronze sculptures in a modern bronze foundry are generally quite standardised.
Angelica Kauffman, RA (1741 - 1807)
was a Swiss-born Austrian Neoclassical painter who had a successful career in London and Rome. Though born as "Kauffmann", Kauffman is the preferred spelling of her name in English; it is the form she herself used most in signing her correspondence, documents and paintings.
While Kauffman produced many types of art, she identified herself primarily as a history painter, an unusual designation for a woman artist in the 18th century. History painting, was considered the most elite and lucrative category in academic painting during this time period. Under the direction of Sir Joshua Reynolds, the Royal Academy made a strong effort to promote history painting to a native audience who were more interested in commissioning and buying portraits and landscapes.
Despite the popularity that Kauffman enjoyed in British society and her success as an artist, she was disappointed by the relative apathy that the British had towards history painting. Ultimately she left Britain for the continent, where history painting was better established, held in higher esteem and patronized.
The works of Angelica Kauffman have retained their reputation. By 1911, rooms decorated with her work were still to be seen in various quarters. At Hampton Court was a portrait of the duchess of Brunswick; in the National Portrait Gallery, a self-portrait. There were other pictures by her at Paris, at Dresden, in the Hermitage at St Petersburg, in the Alte Pinakothek atMunich, in Kadriorg Palace, Tallinn (Estonia).
Satinwood
is a hard and durable wood with a satinlike sheen, much used in cabinetmaking, especially in marquetry. It comes from two tropical trees of the family Rutaceae (rue family). East Indian or Ceylon satinwood is the yellowish or dark-brown heartwood of Chloroxylon swietenia.
The lustrous, fine-grained, usually figured wood is used for furniture, cabinetwork, veneers, and backs of brushes. West Indian satinwood, sometimes called yellow wood, is considered superior. It is the golden yellow, lustrous, even-grained wood found in the Florida Keys and the West Indies.
It has long been valued for furniture. It is also used for musical instruments, veneers, and other purposes. Satinwood is classified in the division Magnoliophyta, class Magnoliopsida, order Sapindales, family Rutaceae.
Our reference: 09006
Please feel free to email or call us (+44 20 8809 9605) to arrange a viewing in our North London warehouse.
Shipping:
We ship worldwide and deliver to Mainland UK addresses free of charge.
A shipping cost to all other destinations must be requested prior to purchase.
To request a shipping quote for the items in your cart, please click HERE.
Delivery and return policy:
We require that someone be home on the agreed delivery day if applicable, otherwise a redelivery fee will apply.
In accordance with Distance Selling Regulations, we offer a 14-day money back guarantee if you are not satisfied with the item.
The item must be returned in its original packaging and condition.
Unless the item is not as described in a material way, the buyer is responsible for return shipping expenses.
Buyers are fully responsible for any customs duties or local taxes that may be incurred on items sent outside of the European Union.