Antique William IV Pietra Dura Marble Top occasional table 19th C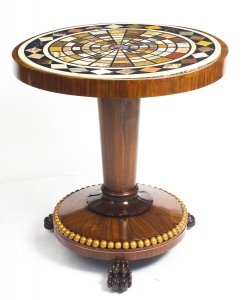 Click on image to zoom
For weekly notifications of new arrivals in your categories of interest please click HERE.
Our London showrooms
Open Mon to Fri 10am - 5pm
Open Sat 30th March 10am - 4pm
This is a superb antique William IV Gonçalo alves occasional table, circa 1830 in date, with a later inset pietra dura circular marble top, inlaid with radiating bands of specimen stones.
The Gonçalo alves ebonised & gilt centre table is inset with the pietra dura marble to the circular top, It is raised on a round tapered central column standing on a platform base with carved lion-paw feet
This elegant occasional table will make a wonderful addition to any room in your home.
Condition:

In excellent condition having been beautifully cleaned and waxed in our workshops, please see photos for confirmation.
Dimensions in cm:
Height 76 x Width 70 x Depth 70
Dimensions in inches:
Height 2 feet, 6 inches x Width 2 feet, 4 inches x Depth 2 feet, 4 inches
Pietra dura is a term for the inlay technique of using cut and fitted, highly polished coloured stones to create images. It is considered a decorative art.
Pietre dure is an Italian plural meaning "hard rocks" or hardstones; the singular pietra dura is also encountered in Italian. In Italian, but not in English, the term embraces all gem engraving and hardstone carving, which is the artistic carving of three-dimensional objects in semi-precious stone, normally from a single piece, for example in Chinese jade.
The traditional convention in English has been to use the singular pietra dura just to denote multi-colored inlay work. However, in recent years there has been a trend to use pietre dure as a term for the same thing, but not for all of the techniques it covers, in Italian.
But the title of a 2008 exhibition at the Metropolitan Museum of Art, New York, Art of the Royal Court: Treasures in Pietre Dure from the Palaces of Europe used the full Italian sense of the term, probably because they thought that it had greater brand recognition. The material on the website speaks of objects such as a vase in lapis lazuli as being examples of "hardstone carving (pietre dure)"
The Victoria & Albert Museum in London uses both versions on its website, but uses pietra dura. "A method of inlaying coloured marbles or semi-precious stones into a stone base, often in geometric or flower patterns...."
Giovanni Montelatici (1864-1930) was an Italian Florentine artist whose brilliant work has been distributed across the world by tourists and collectors. Owners of Giovanni's work included Donald Trump.

Gonçalo alves
is a hardwood (from the Portuguese name, Gonçalo Alves). It is sometimes referred to as tigerwood — a name that underscore the wood's often dramatic, contrasting color scheme, that some compare to rosewood.

While the sapwood is very light in color, the heartwood is a sombre brown, with dark streaks that give it a unique look. The wood's color deepens with exposure and age and even the plainer-looking wood has a natural luster.

Two species are usually listed as sources for gonçalo alves: Astronium fraxinifolium and Astronium graveolens, although other species in the genus may yield similar wood; the amount of striping that is present may vary.

In the high tropical forests of Central and South America, well-drained soils furnish nutrients for a variety of dense, durable hardwoods sought for maritime use, heavyconstruction, and furniture. The Spanish began harvesting in Latin American forests in the early 1500s to provide timber for boatbuilding and repair. By the early 1900s, however, steel ships had replaced wooden ones, and the interest in tropical forests by both Europeans and Americans shifted to appearance-grade woods for furniture.

Although history fails to provide us with a shopping list of species from either harvest period, it's probable that the wood we know today as goncalo alves has always been sought. That's because goncalo alves, considered one of the most beautiful of tropical woods, has a tough reputation, too. Strong and durable, it's used for construction in its homeland and secondarily for fine furniture. Woodworkers elsewhere treasure the wood for decorative items and veneer accents.

Angelica Kauffman, RA (1741 - 1807)
was a Swiss-born Austrian Neoclassical painter who had a successful career in London and Rome. Though born as "Kauffmann", Kauffman is the preferred spelling of her name in English; it is the form she herself used most in signing her correspondence, documents and paintings.
While Kauffman produced many types of art, she identified herself primarily as a history painter, an unusual designation for a woman artist in the 18th century. History painting, was considered the most elite and lucrative category in academic painting during this time period. Under the direction of Sir Joshua Reynolds, the Royal Academy made a strong effort to promote history painting to a native audience who were more interested in commissioning and buying portraits and landscapes.
Despite the popularity that Kauffman enjoyed in British society and her success as an artist, she was disappointed by the relative apathy that the British had towards history painting. Ultimately she left Britain for the continent, where history painting was better established, held in higher esteem and patronized.
The works of Angelica Kauffman have retained their reputation. By 1911, rooms decorated with her work were still to be seen in various quarters. At Hampton Court was a portrait of the duchess of Brunswick; in the National Portrait Gallery, a self-portrait. There were other pictures by her at Paris, at Dresden, in the Hermitage at St Petersburg, in the Alte Pinakothek atMunich, in Kadriorg Palace, Tallinn (Estonia).
Satinwood
is a hard and durable wood with a satinlike sheen, much used in cabinetmaking, especially in marquetry. It comes from two tropical trees of the family Rutaceae (rue family). East Indian or Ceylon satinwood is the yellowish or dark-brown heartwood of Chloroxylon swietenia.
The lustrous, fine-grained, usually figured wood is used for furniture, cabinetwork, veneers, and backs of brushes. West Indian satinwood, sometimes called yellow wood, is considered superior. It is the golden yellow, lustrous, even-grained wood found in the Florida Keys and the West Indies.
It has long been valued for furniture. It is also used for musical instruments, veneers, and other purposes. Satinwood is classified in the division Magnoliophyta, class Magnoliopsida, order Sapindales, family Rutaceae.
Our reference: 08844
Please feel free to email or call us (+44 20 8809 9605) to arrange a viewing in our North London warehouse.
Shipping:
We ship worldwide and deliver to Mainland UK addresses free of charge.
A shipping cost to all other destinations must be requested prior to purchase.
To request a shipping quote for the items in your cart, please click HERE.
Delivery and return policy:
We require that someone be home on the agreed delivery day if applicable, otherwise a redelivery fee will apply.
In accordance with Distance Selling Regulations, we offer a 14-day money back guarantee if you are not satisfied with the item.
The item must be returned in its original packaging and condition.
Unless the item is not as described in a material way, the buyer is responsible for return shipping expenses.
Buyers are fully responsible for any customs duties or local taxes that may be incurred on items sent outside of the European Union.