Vintage French Ormolu & Toleware Bouillotte Lamp, Mid Century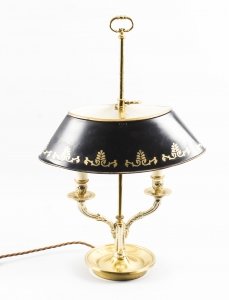 Click on image to zoom
For weekly notifications of new arrivals in your categories of interest please click HERE.
Our London showrooms
Open Mon to Fri 10am - 5pm
Open Sat 2nd March 10am - 4pm
This is a beautiful French bouillotte lamp in ormolu & toleware, circa 1950 in date.

The lamp features a black tôle shade with gold highlights. The base, which would hold the Bouillotte game pieces, is finely chased while the two arms rise out of the central column.

A a touch of French glamour to any room with this elegant pair.

Condition:
In excellent condition and in working order, please see photos for confirmation.
Dimensions in cm:
Height 64 x Width 36 x Depth 20
Dimensions in inches:
Height 2 feet, 1 inch x Width 1 foot, 2 inches x Depth 8 inches
Bouillotte is an 18th-century French gambling card game of the Revolution based on Brelan, very popular during the 19th century in France and again for some years from 1830. It was also popular in America. The game is regarded as one of the games that influenced the open-card stud variation in poker. It also gave rise to the Bouillotte lamp, consisting of one or several candlesticks with a central standard equipped with a non-flammable adjustable shade. often made of tôle, a painted or lacquered metal, reflective white on the inside, dark on the outside, that could be lowered as the candles burned down.

A piquet pack is used, reduced to twenty cards by removing the sevens, tens and Jacks. When five people play, the Jacks are not removed, and when three play, the queens are taken out as well. The ace is the highest card in play and in cutting. Two packs are usually used, so that while one deck is being used, the other can be shuffled. Counters or chips, as in poker, are used.

To determine where a person sits, a sequence of cards is taken out of the deck, equal to the number of players (e.g., with 4 players, an ace, king, queen, and nine are taken, etc.) They are shuffled, and each player draws one. The player with the ace chooses where to sit first, etc. First dealer is the player with the king.

Before the deal each player "antes" one counter to the pot, after which each, the "age" passing, may "raise" the pot; those not "seeing the raise" being obliged to drop out. Three cards are dealt to each player, and a thirteenth, called the retourné, when four play, turned up. Each player must then bet, call, raise or drop out. When a call is made the hands are shown and the best hand wins. The hands rank as follows:

Angelica Kauffman, RA (1741 - 1807)
was a Swiss-born Austrian Neoclassical painter who had a successful career in London and Rome. Though born as "Kauffmann", Kauffman is the preferred spelling of her name in English; it is the form she herself used most in signing her correspondence, documents and paintings.
While Kauffman produced many types of art, she identified herself primarily as a history painter, an unusual designation for a woman artist in the 18th century. History painting, was considered the most elite and lucrative category in academic painting during this time period. Under the direction of Sir Joshua Reynolds, the Royal Academy made a strong effort to promote history painting to a native audience who were more interested in commissioning and buying portraits and landscapes.
Despite the popularity that Kauffman enjoyed in British society and her success as an artist, she was disappointed by the relative apathy that the British had towards history painting. Ultimately she left Britain for the continent, where history painting was better established, held in higher esteem and patronized.
The works of Angelica Kauffman have retained their reputation. By 1911, rooms decorated with her work were still to be seen in various quarters. At Hampton Court was a portrait of the duchess of Brunswick; in the National Portrait Gallery, a self-portrait. There were other pictures by her at Paris, at Dresden, in the Hermitage at St Petersburg, in the Alte Pinakothek atMunich, in Kadriorg Palace, Tallinn (Estonia).
Satinwood
is a hard and durable wood with a satinlike sheen, much used in cabinetmaking, especially in marquetry. It comes from two tropical trees of the family Rutaceae (rue family). East Indian or Ceylon satinwood is the yellowish or dark-brown heartwood of Chloroxylon swietenia.
The lustrous, fine-grained, usually figured wood is used for furniture, cabinetwork, veneers, and backs of brushes. West Indian satinwood, sometimes called yellow wood, is considered superior. It is the golden yellow, lustrous, even-grained wood found in the Florida Keys and the West Indies.
It has long been valued for furniture. It is also used for musical instruments, veneers, and other purposes. Satinwood is classified in the division Magnoliophyta, class Magnoliopsida, order Sapindales, family Rutaceae.
Our reference: 08720a
Please feel free to email or call us (+44 20 8809 9605) to arrange a viewing in our North London warehouse.
Shipping:
We ship worldwide and deliver to Mainland UK addresses free of charge.
A shipping cost to all other destinations must be requested prior to purchase.
To request a shipping quote for the items in your cart, please click HERE.
Delivery and return policy:
We require that someone be home on the agreed delivery day if applicable, otherwise a redelivery fee will apply.
In accordance with Distance Selling Regulations, we offer a 14-day money back guarantee if you are not satisfied with the item.
The item must be returned in its original packaging and condition.
Unless the item is not as described in a material way, the buyer is responsible for return shipping expenses.
Buyers are fully responsible for any customs duties or local taxes that may be incurred on items sent outside of the European Union.