Antique Pair Oil Paintings "Zonnenbergh on the Spaarn" W R Dommersen 1889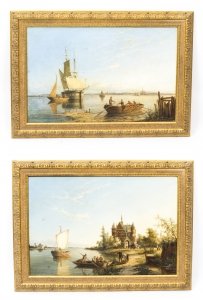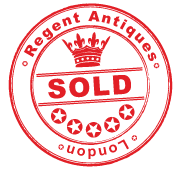 For weekly notifications of new arrivals in your categories of interest please click HERE.
A beautiful pair of waterscape paintings of fishing boats by William Raymond Dommersen (British, 1859-1927) titled "Zonnenbergh on the Spaarn", signed and dated 1889.
This pair of sensitively painted waterscapes are of the town of Spaarndam in the North of Holland. The paintings have a captivating illumunating light with beautiful vibrant colours, they depict a busy waterway with fishing and sailing boats in the foreground and the town of Spaarndam in the back ground.
Spaarndam is a small village in the province of North Holland, the Netherlands, on the Spaarne and IJ rivers. The oldest part of the village, on the western side of the Spaarne, belongs to the municipality of Haarlem; the newer part on the eastern side is a part of the municipality of Haarlemmerliede en Spaarnwoude.
Spaarndam was created around a dam where the river Spaarne flows into the IJ. This dam was built here by count Floris V of Holland in 1285. The village collected toll at this dam, and people made their living from fishing. From 1812 to 1927, the western part of Spaarndam was an independent municipality.
Spaarndam has always been strongly connected to water. Now, besides the river and the fishing, it is now also famous because of a story within the 1865 American novel, Hans Brinker or the Silver Skates. The story within the book is about a Dutch boy, "The Hero of Haarlem," who stuck his finger in a dike to prevent the town from flooding. The story became a popular legend in America, and in 1950 the local tourist bureau put a statue of this character in Spaarndam.
In one of the paintings you can see the beautiful 11
th
Century Spaarndam Old Church.
William Raymond Dommersen was a painter of genre and landscapes in and around Scotland and Northern England. His works are widely exhibited throughout the European and North American continents and are on show at many galleries worldwide.
The work of William Raymond Dommersen is now well known and acknowledged and cannot be said to be under estimated. William travelled quite extensively in Europe on painting expeditions with his father
Dommersen's paintings have been much admired over a period of time and it is evident that he is now firmly established in the history of architectural painting as is refelected in the auction prices at Christies:
Nineth century European Art: 12 September 2007, London South Kensington, Lot 29 £4,750
The Arthur Ackermann and Peter Johnson Collection: 8 May 2008, London, South Kensington, Lot 42, £4,000
Old Masters and 19th Century Art 9 November 2010, Amsterdam, Lot 110 £5,250
Nineth century European Art: 28 April 2010, London South Kensington, Lot 221 £5,250
Condition:
In really superb condition the paintings and frames having been beautifully cleaned, please see photos for confirmation.
William Raymond Dommersen was born at the end of 1859 in Stratford, West Ham, London as the only son of the Anglo / Dutch fine art painter Pieter Cornelis Dommersen and Anna Petronella Synja. His parents had moved from the Netherlands in 1855 to London, England. His uncle, Cornelis Christiaan Dommersen, was also a painter in the Netherlands. It is possible that when his father received British nationality that they changed their family name – van Dommershuijsen – into the more English sounding surname Dommersen.

Dommersen painted between 1875 and 1927 genre pieces, landscapes, marine scenes, village- and town-scenes of quality. His best known works are the European villages and towns along rivers and canals. He painted mostly in the Netherlands and England but visited also, often with his father and uncle, Belgium, France and Italy. His work such as view on the Canal Grande in Venice, river views in the Thames and Windsor Castle are well known. At some stage he lived in Royal Tunbridge Wells Kent, which was strategically placed for his travels to Europe. Whilst living in Royal Tunbridge Wells he painted The Pantiles there. Dommersen died in 1927 in London.

Angelica Kauffman, RA (1741 - 1807)
was a Swiss-born Austrian Neoclassical painter who had a successful career in London and Rome. Though born as "Kauffmann", Kauffman is the preferred spelling of her name in English; it is the form she herself used most in signing her correspondence, documents and paintings.
While Kauffman produced many types of art, she identified herself primarily as a history painter, an unusual designation for a woman artist in the 18th century. History painting, was considered the most elite and lucrative category in academic painting during this time period. Under the direction of Sir Joshua Reynolds, the Royal Academy made a strong effort to promote history painting to a native audience who were more interested in commissioning and buying portraits and landscapes.
Despite the popularity that Kauffman enjoyed in British society and her success as an artist, she was disappointed by the relative apathy that the British had towards history painting. Ultimately she left Britain for the continent, where history painting was better established, held in higher esteem and patronized.
The works of Angelica Kauffman have retained their reputation. By 1911, rooms decorated with her work were still to be seen in various quarters. At Hampton Court was a portrait of the duchess of Brunswick; in the National Portrait Gallery, a self-portrait. There were other pictures by her at Paris, at Dresden, in the Hermitage at St Petersburg, in the Alte Pinakothek atMunich, in Kadriorg Palace, Tallinn (Estonia).
Satinwood
is a hard and durable wood with a satinlike sheen, much used in cabinetmaking, especially in marquetry. It comes from two tropical trees of the family Rutaceae (rue family). East Indian or Ceylon satinwood is the yellowish or dark-brown heartwood of Chloroxylon swietenia.
The lustrous, fine-grained, usually figured wood is used for furniture, cabinetwork, veneers, and backs of brushes. West Indian satinwood, sometimes called yellow wood, is considered superior. It is the golden yellow, lustrous, even-grained wood found in the Florida Keys and the West Indies.
It has long been valued for furniture. It is also used for musical instruments, veneers, and other purposes. Satinwood is classified in the division Magnoliophyta, class Magnoliopsida, order Sapindales, family Rutaceae.
Our reference: 08192