Antique George V Royal Artillery Officers Sword John Blair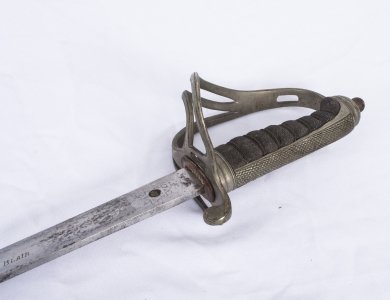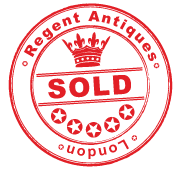 For weekly notifications of new arrivals in your categories of interest please click HERE.
A superb George V Royal Artillery officers sword in leather mounted scabbard, circa 1910 in date.

The sword features a silvered openwork and shagreen hilt with a single etched blade, double edged at the point, cut with a long deep central fuller and elaborately etched blade and inscribed John Blair, it comes with its original leather sheath.
Condition:
In excellent condition, please see photos for confirmation.
Dimensions in cm:
Height 108 x Width 11 x Depth 13
Dimensions in inches:
Height 3 feet, 6 inches x Width 4 inches x Depth 5 inches
A
sword
is a
bladed weapon
intended for both cutting and thrusting. The precise definition of the term varies with the historical epoch or the geographical region under consideration. A sword in the most narrow sense consists of a straight
blade
with two edges and a
hilt
, but depending on context, the term is also often used to refer to bladed weapons with a single edge (also referred to as a
backsword
).
Historically, the sword developed in the
Bronze Age
, evolving from the
dagger
; the
earliest specimens
date to ca. 1600 BC. The later
Iron Age sword
remained fairly short and without a crossguard. The
spatha
, as it developed in the
Late Roman army
, became the predecessor of the European sword of the Middle Ages, at first adopted as the
Migration
period sword
, and only in the
High Middle Ages
, developed into the classical
arming sword
with crossguard. The word
sword
continues the
Old English
,
sweord
.
The use of a sword is known as
swordsmanship
or (in an early modern or modern context) as
fencing
. In the
Early Modern period
, western sword design diverged into roughly two forms, the thrusting swords and the sabers.
The thrusting swords such as the
rapier
and eventually the
smallsword
were designed to impale their targets quickly and inflict deep stab wounds. Their long and straight yet light and well balanced design made them highly maneuverable and deadly in a duel but fairly ineffective when used in a slashing or chopping motion. A well aimed lunge and thrust could end a fight in seconds with just the sword's point, leading to the development of a fighting style which closely resembles modern fencing.
The saber and similar blades such as the cutlass were built more heavily and were more typically used in warfare. Built for slashing and chopping at multiple enemies, oftentimes from atop a horse, the saber's long curved blade and slightly forward weight balance gave it a deadly character all its own on the battlefield. Most sabers also had sharp points and double edged blades, making them capable of piercing soldier after soldier in a cavalry charge. Sabers continued to see battlefield use until the late 19th century. The US Navy kept tens of thousands of sturdy cutlasses in their armory well into WW2 and many were issued to marines in the Pacific as jungle machetes.
Non-European weapons called "sword" include single-edged weapons such as the Middle Eastern
saif
, the Chinese
dao
and the related Japanese
katana
. The Chinese
jian
is an example of a non-European double-edged sword, like the European models derived from the double-edged
Iron Age sword
.
Angelica Kauffman, RA (1741 - 1807)
was a Swiss-born Austrian Neoclassical painter who had a successful career in London and Rome. Though born as "Kauffmann", Kauffman is the preferred spelling of her name in English; it is the form she herself used most in signing her correspondence, documents and paintings.
While Kauffman produced many types of art, she identified herself primarily as a history painter, an unusual designation for a woman artist in the 18th century. History painting, was considered the most elite and lucrative category in academic painting during this time period. Under the direction of Sir Joshua Reynolds, the Royal Academy made a strong effort to promote history painting to a native audience who were more interested in commissioning and buying portraits and landscapes.
Despite the popularity that Kauffman enjoyed in British society and her success as an artist, she was disappointed by the relative apathy that the British had towards history painting. Ultimately she left Britain for the continent, where history painting was better established, held in higher esteem and patronized.
The works of Angelica Kauffman have retained their reputation. By 1911, rooms decorated with her work were still to be seen in various quarters. At Hampton Court was a portrait of the duchess of Brunswick; in the National Portrait Gallery, a self-portrait. There were other pictures by her at Paris, at Dresden, in the Hermitage at St Petersburg, in the Alte Pinakothek atMunich, in Kadriorg Palace, Tallinn (Estonia).
Satinwood
is a hard and durable wood with a satinlike sheen, much used in cabinetmaking, especially in marquetry. It comes from two tropical trees of the family Rutaceae (rue family). East Indian or Ceylon satinwood is the yellowish or dark-brown heartwood of Chloroxylon swietenia.
The lustrous, fine-grained, usually figured wood is used for furniture, cabinetwork, veneers, and backs of brushes. West Indian satinwood, sometimes called yellow wood, is considered superior. It is the golden yellow, lustrous, even-grained wood found in the Florida Keys and the West Indies.
It has long been valued for furniture. It is also used for musical instruments, veneers, and other purposes. Satinwood is classified in the division Magnoliophyta, class Magnoliopsida, order Sapindales, family Rutaceae.
Our reference: 07390