Antique Longcase Clock Chiming on Bells - 19th Century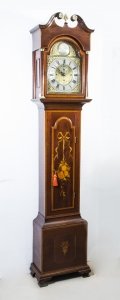 Click on image to zoom
For weekly notifications of new arrivals in your categories of interest please click HERE.
Our London showrooms
Open Mon to Fri 10am - 5pm
Open Sat 29th September 10am - 4pm
This is a beautiful antique late Victorian, marquetry and mahogany, 8 day musical chiming longcase clock, circa 1880 in date.

It has an eight-day three train movement, an arch dial and musically chimes the Westminster tune on 8 bells each quarter hour and strikes the time each hour on a large bell.

The arched dial has a silvered chapter ring having Roman numerals with small Arabic numerals above and foliate divisions between the numerals. The centre of the dial is gilded and has a subsidiary seconds dial. The rest is gilded, the four corners are adorned with mask baroque spandrels and the arch incorporates an engraved Tempus Fugit panel.

The hood has a beautiful cornice which is beautifully crossbanded. The hood door is flanked by Corinthian columns with brass capitals.

The case of the clock is smothered with beautiful inlaid marquetry and crossbanded decoration, the work of a Victorian master craftsman. The beautifully inlaid door opens to reveal three weights and a brass pendulum.

With working locks and key as well as the original winding key.

Play the video below to hear the clock striking.

Condition:
In really excellent fully restored working condition, please see photos for confirmation.
Dimensions in cm:
Height 230 x Width 50 x Depth 27
Dimensions in inches:
Height 7 feet, 7 inches x Width 1 foot, 8 inches x Depth 11 inches
Flame Mahogany
Thomas Sheraton
-
18th century furniture designer, once characterized mahogany as "best suited to furniture where strength is demanded as well as a wood that works up easily, has a beautiful figure and polishes so well that it is an ornament to any room in which it may be placed." Matching his words to his work, Sheraton designed much mahogany furniture. The qualities that impressed Sheraton are particularly evident in a distinctive pattern of wood called "flame mahogany."

The flame figure in the wood is revealed by slicing through the face of the branch at the point where it joins another element of the tree.
The Westminster Quarters is the most common name for a melody used by a set of clock bells to chime on each quarter hour. The number of chime sets matches the number of quarter hours that have passed. It is also known as the Westminster Chimes, or the Cambridge Chimes from its place of origin, the church of St Mary the Great, Cambridge.

This chime is traditionally, though without substantiation, believed to be a set of variations on the four notes that make up the fifth and sixth measures of "I know that my Redeemer liveth" from Handel's Messiah. This is why the chime is also played by the bells of the so-called 'Red Tower' in Halle, the native town of Handel.

It was written in 1793 for a new clock in St Mary the Great, the University Church in Cambridge. There is some doubt over exactly who composed it: Revd Dr Joseph Jowett,Regius Professor of Civil Law, was given the job, but he was probably assisted by either Dr John Randall (1715–99), who was the Professor of Music from 1755, or his brilliant undergraduate pupil, William Crotch (1775-1847).

In the mid-19th century the chime was adopted by the clock tower at the Palace of Westminster (where Big Ben hangs), whence its fame spread. It is now possibly the most commonly used chime for striking clocks. According to the church records of Trinity Episcopal Church (Williamsport, Pennsylvania), this chime sequence was incorporated into a tower clock mechanism by the E. Howard & Co., Boston, MA. The clock and chime in Trinity's steeple base was dedicated in December 1875. It holds the distinction of being the first tower clock in the United States to sound the Cambridge Quarters.
Whittington chimes is the name of a clock chime melody, also called St. Mary's. The melody is usually the secondary chime selection for most chiming clocks, the first being the Westminster. It is also the one of the two clock chime melody that have multiple variation, the other being the Ave Maria chimes.
Dick Whittington story
The customary English theater story, adapted from the life of the real Richard Whittington, is that the young boy Dick Whittington was an unhappy apprentice running away from his master, and heard the tune ringing from the bell tower of the church of St. Mary le Bow in London in 1392. The penniless boy heard the bells seemingly saying to him "Turn again Dick Whittington". Dick returned to London upon hearing the bells where he went on to find his fortune and became the Lord Mayor of London four times. Whittington used the tune as a campaign song for his three returns to the office of mayor. A short version of the campaign song goes:
'Turn again Dick Whittington,
Right Lord Mayor of London Town.'
Marquetry
is decorative artistry where pieces of material (such as wood, mother of pearl, pewter, brass silver or shell) of different colours are inserted into surface wood veneer to form intricate patterns such as scrolls or flowers.
The technique of veneered marquetry had its inspiration in 16th century Florence. Marquetry elaborated upon Florentine techniques of inlaying solid marble slabs with designs formed of fitted marbles, jaspers and semi-precious stones. This work, called opere di commessi, has medieval parallels in Central Italian "Cosmati"-work of inlaid marble floors, altars and columns. The technique is known in English as pietra dura, for the "hardstones" used: onyx, jasper, cornelian, lapis lazuli and colored marbles. In Florence, the Chapel of the Medici at San Lorenzo is completely covered in a colored marble facing using this demanding jig-sawn technique.
Techniques of wood marquetry were developed in Antwerp and other Flemish centers of luxury cabinet-making during the early 16th century. The craft was imported full-blown to France after the mid-seventeenth century, to create furniture of unprecedented luxury being made at the royal manufactory of the Gobelins, charged with providing furnishings to decorate Versailles and the other royal residences of Louis XIV. Early masters of French marquetry were the Fleming Pierre Golle and his son-in-law, André-Charles Boulle, who founded a dynasty of royal and Parisian cabinet-makers (ébénistes) and gave his name to a technique of marquetry employing shell and brass with pewter in arabesque or intricately foliate designs.
Angelica Kauffman, RA (1741 - 1807)
was a Swiss-born Austrian Neoclassical painter who had a successful career in London and Rome. Though born as "Kauffmann", Kauffman is the preferred spelling of her name in English; it is the form she herself used most in signing her correspondence, documents and paintings.
While Kauffman produced many types of art, she identified herself primarily as a history painter, an unusual designation for a woman artist in the 18th century. History painting, was considered the most elite and lucrative category in academic painting during this time period. Under the direction of Sir Joshua Reynolds, the Royal Academy made a strong effort to promote history painting to a native audience who were more interested in commissioning and buying portraits and landscapes.
Despite the popularity that Kauffman enjoyed in British society and her success as an artist, she was disappointed by the relative apathy that the British had towards history painting. Ultimately she left Britain for the continent, where history painting was better established, held in higher esteem and patronized.
The works of Angelica Kauffman have retained their reputation. By 1911, rooms decorated with her work were still to be seen in various quarters. At Hampton Court was a portrait of the duchess of Brunswick; in the National Portrait Gallery, a self-portrait. There were other pictures by her at Paris, at Dresden, in the Hermitage at St Petersburg, in the Alte Pinakothek atMunich, in Kadriorg Palace, Tallinn (Estonia).
Satinwood
is a hard and durable wood with a satinlike sheen, much used in cabinetmaking, especially in marquetry. It comes from two tropical trees of the family Rutaceae (rue family). East Indian or Ceylon satinwood is the yellowish or dark-brown heartwood of Chloroxylon swietenia.
The lustrous, fine-grained, usually figured wood is used for furniture, cabinetwork, veneers, and backs of brushes. West Indian satinwood, sometimes called yellow wood, is considered superior. It is the golden yellow, lustrous, even-grained wood found in the Florida Keys and the West Indies.
It has long been valued for furniture. It is also used for musical instruments, veneers, and other purposes. Satinwood is classified in the division Magnoliophyta, class Magnoliopsida, order Sapindales, family Rutaceae.
Our reference: 06994
Please feel free to email or call us (+44 20 8809 9605) to arrange a viewing in our North London warehouse.
Shipping:
We ship worldwide and deliver to Mainland UK addresses free of charge.
A shipping cost to all other destinations must be requested prior to purchase.
To request a shipping quote for the items in your cart, please click HERE.
Delivery and return policy:
We require that someone be home on the agreed delivery day if applicable, otherwise a redelivery fee will apply.
In accordance with Distance Selling Regulations, we offer a 14-day money back guarantee if you are not satisfied with the item.
The item must be returned in its original packaging and condition.
Unless the item is not as described in a material way, the buyer is responsible for return shipping expenses.
Buyers are fully responsible for any customs duties or local taxes that may be incurred on items sent outside of the European Union.