Antique Art Deco Dining Table Burr Walnut c.1930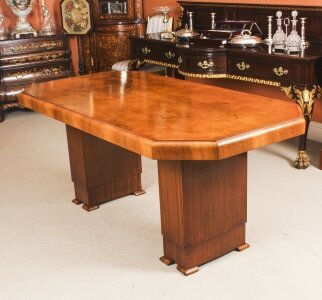 Click on image to zoom
For weekly notifications of new arrivals in your categories of interest please click HERE.
Our London showrooms
Open Mon to Fri 10am - 5pm
Open Sat 2nd March 10am - 4pm
This lovely antique Art Deco dining table dates from 1930, crafted in burr walnut, it can comfortably seat six people.
Standing on twin pedestal supports this table is crafted from lovely burr walnut. With canted corners the antique dining table has been French polished to bring out the full beauty of the burr walnut grain.
Condition
As the photographs demonstrate, this Art Deco dining table is in excellent condition having been beautifully restored in our own workshops.
More About Burr Walnut
True burr walnut comes from taking the wood from a rare growth that occurs on walnut trees where literally hundreds of tiny new branches start growing from the main trunk. However, most walnut display the swirling burr figure when cut and polished particularly in the wood taken from where the tree trunk joins the roots. This antique Art Deco dining table shows the swirling figure off to perfection in the tabletop. The figure is particularly brought out by the French polishing.
More About Art Deco
Art Deco started in France between 1910 and 1914, and the early incarnation of the style featured very bright colours and largely floral motifs. It was an eclectic style drawing from a range of sources including the orient, and with the growth of industrialisation and technology it embraced and incorporated features and elements denoting all that was modern. It influenced every area of design throughout the 1920s, 30s, and 40s. Buildings, cars, trains, ocean liners, furniture, fashion, jewellery and all the other decorative arts incorporated its design principles, including everyday objects such as fridges and telephones.
Influenced by Cubism it used geometric forms and angles as well as very bright colours and exotic materials such as ebony. In the 1920s it was associated with elegance, luxury, exuberance and faith in technological and social progress, employing the finest craftsmanship. As the era progressed, and in response to the great depression, the style became more muted with curved surfaces and designers started to use newly invented materials such as stainless steel, chrome plating and bakelite, an early form of plastic. Objects started to be mass produced and often featured highly polished surfaces. The 1930s saw the style take on the curves of aerodynamic 'bullet' shapes invented to reduce wind resistance and the bullet shape was used not just in moving objects such as cars and trains but also in buildings, furniture and other decorative objects. The style faded after the second world war.
More Information
We are always delighted to answer any queries or questions you might have about our Art Deco antique dining tables. Please email or call us quoting reference number 06906a. We can also arrange for you to view this item and our other antique dining tables at our North London warehouse. Just email or call to arrange an appointment.
Shipping, Delivery and Return
We can pack and ship antique dining tables to any destination worldwide. However, you will need to call for a shipping quotation before ordering the piece so we can make sure of your full requirements, and you will need to make sure someone is available to take delivery, otherwise you will be liable for re-delivery charges.
We ship to all mainland UK destinations free of charge.
We operate at 14-day money back guarantee in accordance with the Distance Selling Regulations if you are not satisfied with your purchase. Please note that you will need to return the item in its original packaging and condition for the refund. You are also liable for the return shipping costs unless you have received something that is materially different than what your ordered.
You are also responsible for any customs duties or internal taxes that become due outside the European Union.
Dimensions in cm:
Height 78 x Width 93 x Depth 183
Dimensions in inches:
Height 2 feet, 7 inches x Width 3 feet, 1 inch x Depth 6 feet, 0 inches
Angelica Kauffman, RA (1741 - 1807)
was a Swiss-born Austrian Neoclassical painter who had a successful career in London and Rome. Though born as "Kauffmann", Kauffman is the preferred spelling of her name in English; it is the form she herself used most in signing her correspondence, documents and paintings.
While Kauffman produced many types of art, she identified herself primarily as a history painter, an unusual designation for a woman artist in the 18th century. History painting, was considered the most elite and lucrative category in academic painting during this time period. Under the direction of Sir Joshua Reynolds, the Royal Academy made a strong effort to promote history painting to a native audience who were more interested in commissioning and buying portraits and landscapes.
Despite the popularity that Kauffman enjoyed in British society and her success as an artist, she was disappointed by the relative apathy that the British had towards history painting. Ultimately she left Britain for the continent, where history painting was better established, held in higher esteem and patronized.
The works of Angelica Kauffman have retained their reputation. By 1911, rooms decorated with her work were still to be seen in various quarters. At Hampton Court was a portrait of the duchess of Brunswick; in the National Portrait Gallery, a self-portrait. There were other pictures by her at Paris, at Dresden, in the Hermitage at St Petersburg, in the Alte Pinakothek atMunich, in Kadriorg Palace, Tallinn (Estonia).
Satinwood
is a hard and durable wood with a satinlike sheen, much used in cabinetmaking, especially in marquetry. It comes from two tropical trees of the family Rutaceae (rue family). East Indian or Ceylon satinwood is the yellowish or dark-brown heartwood of Chloroxylon swietenia.
The lustrous, fine-grained, usually figured wood is used for furniture, cabinetwork, veneers, and backs of brushes. West Indian satinwood, sometimes called yellow wood, is considered superior. It is the golden yellow, lustrous, even-grained wood found in the Florida Keys and the West Indies.
It has long been valued for furniture. It is also used for musical instruments, veneers, and other purposes. Satinwood is classified in the division Magnoliophyta, class Magnoliopsida, order Sapindales, family Rutaceae.
Our reference: 06906a
Please feel free to email or call us (+44 20 8809 9605) to arrange a viewing in our North London warehouse.
Shipping:
We ship worldwide and deliver to Mainland UK addresses free of charge.
A shipping cost to all other destinations must be requested prior to purchase.
To request a shipping quote for the items in your cart, please click HERE.
Delivery and return policy:
We require that someone be home on the agreed delivery day if applicable, otherwise a redelivery fee will apply.
In accordance with Distance Selling Regulations, we offer a 14-day money back guarantee if you are not satisfied with the item.
The item must be returned in its original packaging and condition.
Unless the item is not as described in a material way, the buyer is responsible for return shipping expenses.
Buyers are fully responsible for any customs duties or local taxes that may be incurred on items sent outside of the European Union.