Antique Gillows Oak Armchair by Bruce Talbert c.1860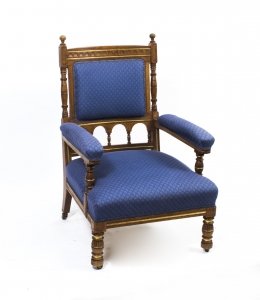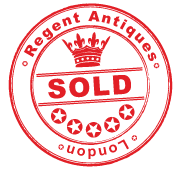 For weekly notifications of new arrivals in your categories of interest please click HERE.
This is a wonderful antique oak armchair attributed to Bruce James Talbert, circa 1860 and manufactured by Gillows & Co.

It is made of solid oak, has beautiful hand carved decoration and fabulous blue upholstery.

It is stamped Gillow twice on the underside, see photos..

There is no mistaking the unique quality and design, which is certain to make it a talking point in your home.

Condition:
In excellent condition, please see photos for confirmation of condition.
Dimensions in cm:
Height 95 x Width 61.5 x Depth 73
Dimensions in inches:
Height 3 feet, 1 inch x Width 2 feet, 0 inches x Depth 2 feet, 5 inches
Bruce James Talbert (1838–1881)
was a Scottish architect and interior designer. He studied at the High School of Dundee, then under a Dundee woodcarver named Millar. In Glasgow, he was apprenticed to architect Charles Edward (ca. 1855-57), worked as an assistant to architect William Nairne Tait (1857–60), and as a draftsman for architect Campbell Douglas (1860–62). He moved to Manchester in 1862 to design furniture for Doveston, Bird & Hull; but later that year was hired by Francis Skidmore at Art Manufactures in Coventry. At Art Manufactures he did drafting work on Sir George Gilbert Scott's Hereford Screen (1862), and on Scott's Albert Memorial (designed 1863, completed 1872).
He moved to London in 1866 to design furniture for Holland & Sons. The following year his Reformed Gothic designs won a silver medal at the 1867 Paris Exhibition.
In addition to furniture, Talbert designed metalwork, tiles, stained glass, textiles, and wallpaper.
His first book, Gothic Forms Applied to Furniture, Metal Work, and Decoration for Domestic Purposes, was published in London in 1868, and in the United States in 1873. That was followed by Examples of Ancient & Modern Furniture, Metal Work, Tapestries, Decorations, published in London in 1876, and in the United States in 1877. A third book, Fashionable Furniture: A Collection of Three Hundred and Fifty Original Designs Representing Cabinet Work, Upholstery and Decoration (1881), was published posthumously.
Talbert died at age 43 of alcoholism and overwork.
In the United States, he influenced the Modern Gothic work of Kimbel and Cabus, Frank Furness, and Daniel Pabst.

Examples of his works can be viewed all over the world here in London Victoria & Albert has the following pieces on display:

* Sleeping Beauty Sideboard (1867) - manufactured by Holland & Sons
* Pet Sideboard (1871) - manufactured by Gillow & Co
* Juno Cabinet (1878) - manufactured by Jackson & Graham (1878) - the cabinet won the Grand Prix at the 1878 Paris Exhibition.

Oak
is a tree or shrub in the genus Quercus - Latin "oak tree" having approximately 600 extant species. Oak wood has a density of about 0.75 g/cm3, great strength and hardness, and is very resistant to insect and fungal attack because of its high tannin content. It also has very appealing grain markings, particularly when quartersawn. Oak wood is very durable, easy to maintain and resistant to wear and tear which is why it can be easily handed to the next generations if taken well care of.

Oak wood virtually lasts forever and you can still admire oak furniture in museums and palaces even if it was made many centuries ago. Oak has been prized since the Middle Ages for use in interior panelling of prestigious buildings such as the debating chamber of the House of Commons in London and in the construction of fine furniture.

Gillow & Co. -
was originally founded in Lancaster in 1730. Gillow's of Lancaster was a household name in Victorian Britain, and the firm exported furniture throughout the Empire. Key to the company's success was the dynamic father and son team at its core.

The London branch was opened in 1775. Among Gillow's most successful pieces during this period were those made in the Neoclassical style from original drawings by Robert Adam. In the period 1813-1820 the Gillow family gradually withdrew from personal involvement with the business.

In 1897 Gillow & Co. merged with a Liverpool firm and they henceforth traded as Waring & Gillow.
Angelica Kauffman, RA (1741 - 1807)
was a Swiss-born Austrian Neoclassical painter who had a successful career in London and Rome. Though born as "Kauffmann", Kauffman is the preferred spelling of her name in English; it is the form she herself used most in signing her correspondence, documents and paintings.
While Kauffman produced many types of art, she identified herself primarily as a history painter, an unusual designation for a woman artist in the 18th century. History painting, was considered the most elite and lucrative category in academic painting during this time period. Under the direction of Sir Joshua Reynolds, the Royal Academy made a strong effort to promote history painting to a native audience who were more interested in commissioning and buying portraits and landscapes.
Despite the popularity that Kauffman enjoyed in British society and her success as an artist, she was disappointed by the relative apathy that the British had towards history painting. Ultimately she left Britain for the continent, where history painting was better established, held in higher esteem and patronized.
The works of Angelica Kauffman have retained their reputation. By 1911, rooms decorated with her work were still to be seen in various quarters. At Hampton Court was a portrait of the duchess of Brunswick; in the National Portrait Gallery, a self-portrait. There were other pictures by her at Paris, at Dresden, in the Hermitage at St Petersburg, in the Alte Pinakothek atMunich, in Kadriorg Palace, Tallinn (Estonia).
Satinwood
is a hard and durable wood with a satinlike sheen, much used in cabinetmaking, especially in marquetry. It comes from two tropical trees of the family Rutaceae (rue family). East Indian or Ceylon satinwood is the yellowish or dark-brown heartwood of Chloroxylon swietenia.
The lustrous, fine-grained, usually figured wood is used for furniture, cabinetwork, veneers, and backs of brushes. West Indian satinwood, sometimes called yellow wood, is considered superior. It is the golden yellow, lustrous, even-grained wood found in the Florida Keys and the West Indies.
It has long been valued for furniture. It is also used for musical instruments, veneers, and other purposes. Satinwood is classified in the division Magnoliophyta, class Magnoliopsida, order Sapindales, family Rutaceae.
Our reference: 05528