Antique Biedermeier German Secretaire Chest c.1830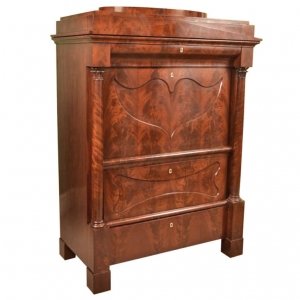 Click on image to zoom
For weekly notifications of new arrivals in your categories of interest please click HERE.
Our London showrooms
Open Mon to Fri 10am - 5pm
Open Sat 29th September 10am - 4pm
This is a lovely antique German Biedermeier flame mahogany secretaire abbatant, circa 1830 in date.

The clock has striking architectural design, typical of the very best furniture of the Biedermeier period.

The secretaire is flame veneered, with a cushion frieze drawer above a gilt tooled leather lined fall. Inside there is an arrangement of seven rosewood drawers and a cupboard, above two full width drawers, flanked by a pair of solid mahogany Corinthian columns.
It is a lovely piece which would look grand in any surroundings.
Condition:
In excellent condition having been beautifully restored in our workshops, please see photos for confirmation.
Dimensions in cm:
Height 156 x Width 112 x Depth 61
Dimensions in inches:
Height 5 feet, 1 inch x Width 3 feet, 8 inches x Depth 2 feet, 0 inches
Biedermeier - refers to an era in Central Europe during which arts appealed to common sensibilities in the historical period between 1815, the year of the Congress of Vienna at the end of the Napoleonic Wars, and 1848, the year of the European revolutions.
Although the term itself is a historical reference, it is predominantly used to denote the artistic styles that flourished in the fields of literature, music, the visual arts and interior design.
Biedermeier was an influential style of furniture design from Germany during the years 1815–1848, based on utilitarian principles. The period extended into Austria and Scandinavia.
Throughout the period, emphasis was kept upon clean lines and minimal ornamentation. As the period progressed, however, the style moved from the early rebellion against Romantic-era fussiness to increasingly ornate commissions by a rising middle class, eager to show their newfound wealth.
The idea of clean lines and utilitarian postures would resurface in the 20th century, continuing into the present day. The Biedermeier style was a simplified interpretation of the influential French Empire Style of Napoleon I, which introduced the romance of ancient Roman Empire styles, adapting these to modern early 19th century households. Biedermeier furniture used locally available materials such as cherry, ash and oak woods rather than the expensive timbers such as fully imported mahogany.
Biedermeier furniture and lifestyle was a focus on exhibitions at the Vienna applied arts museum in 1896. The many visitors to this exhibition were so influenced by this fantasy style and its elegance that a new resurgence or revival period became popular amongst European cabinetmakers.
This revival period lasted up until the Art Deco style was taken up. Biedermeier also influenced the various Bauhaus styles through their truth in material philosophy.
Mahogany
is probably one of the largest 'families' of hardwood, having many different varieties within its own species.
Mahogany has been used for centuries in ship building, house building, furniture making etc and is the core structure of just about every 19th century vanity box, dressing case or jewellery box. It became more of a Victorian trend to dress Mahogany with these decorative veneers, such as Rosewood, Kingwood, Burr Walnut and Coromandel, so that the actual Mahogany was almost hidden from view.
Mahogany itself is a rich reddish brown wood that can range from being plain in appearance to something that is so vibrant, figured and almost three dimensional in effect.
Although Mahogany was most often used in its solid form, it also provided some beautifully figured varieties of veneer like 'Flame' Mahogany and 'Fiddleback' Mahogany (named after its preferred use in the manufacture of fine musical instruments).

Cuban Mahogany was so sought after, that by the late 1850′s, this particular variety became all but extinct.

Rosewood is a rich warm reddish brown wood that has a distinct grain with dark brown and black outlining. One variety of Rosewood can vary significantly from another even though it is of the same species. These Rosewoods, native of India, South East Asia and Brazil, were dense and awkward to work with. It was renowned for quickly bluntening cutting tools and visibly darkening in colour when over prepared.
The Brazilian species of Rosewood was by far the most beautifully figured and therefore it became the most sought after and rare. This was the wood of choice for the great box makers, David and Thomas Edwards who used it to veneer some of their finest pieces.
Angelica Kauffman, RA (1741 - 1807)
was a Swiss-born Austrian Neoclassical painter who had a successful career in London and Rome. Though born as "Kauffmann", Kauffman is the preferred spelling of her name in English; it is the form she herself used most in signing her correspondence, documents and paintings.
While Kauffman produced many types of art, she identified herself primarily as a history painter, an unusual designation for a woman artist in the 18th century. History painting, was considered the most elite and lucrative category in academic painting during this time period. Under the direction of Sir Joshua Reynolds, the Royal Academy made a strong effort to promote history painting to a native audience who were more interested in commissioning and buying portraits and landscapes.
Despite the popularity that Kauffman enjoyed in British society and her success as an artist, she was disappointed by the relative apathy that the British had towards history painting. Ultimately she left Britain for the continent, where history painting was better established, held in higher esteem and patronized.
The works of Angelica Kauffman have retained their reputation. By 1911, rooms decorated with her work were still to be seen in various quarters. At Hampton Court was a portrait of the duchess of Brunswick; in the National Portrait Gallery, a self-portrait. There were other pictures by her at Paris, at Dresden, in the Hermitage at St Petersburg, in the Alte Pinakothek atMunich, in Kadriorg Palace, Tallinn (Estonia).
Satinwood
is a hard and durable wood with a satinlike sheen, much used in cabinetmaking, especially in marquetry. It comes from two tropical trees of the family Rutaceae (rue family). East Indian or Ceylon satinwood is the yellowish or dark-brown heartwood of Chloroxylon swietenia.
The lustrous, fine-grained, usually figured wood is used for furniture, cabinetwork, veneers, and backs of brushes. West Indian satinwood, sometimes called yellow wood, is considered superior. It is the golden yellow, lustrous, even-grained wood found in the Florida Keys and the West Indies.
It has long been valued for furniture. It is also used for musical instruments, veneers, and other purposes. Satinwood is classified in the division Magnoliophyta, class Magnoliopsida, order Sapindales, family Rutaceae.
Our reference: 05503
Please feel free to email or call us (+44 20 8809 9605) to arrange a viewing in our North London warehouse.
Shipping:
We ship worldwide and deliver to Mainland UK addresses free of charge.
A shipping cost to all other destinations must be requested prior to purchase.
To request a shipping quote for the items in your cart, please click HERE.
Delivery and return policy:
We require that someone be home on the agreed delivery day if applicable, otherwise a redelivery fee will apply.
In accordance with Distance Selling Regulations, we offer a 14-day money back guarantee if you are not satisfied with the item.
The item must be returned in its original packaging and condition.
Unless the item is not as described in a material way, the buyer is responsible for return shipping expenses.
Buyers are fully responsible for any customs duties or local taxes that may be incurred on items sent outside of the European Union.