Truly Magnificent Antique Victorian Dining Tables

Regent Antiques offer a wide range of the finest antique Victorian dining tables. In today's blog post, we would like to show you some of the most exceptional models. 
The Victorian Era (1837-1901) was a time which produced plenty of remarkable furniture. Dining tables were foremost among them, and the diversity of the pieces that evolved within this grouping was enormous. 
Whether hardwood or softwood, solid or veneered, these dining tables – if well cared for – developed a lustrous, mellow patina over time. At Regent Antiques, we take pride in offering only the finest pieces with these important aesthetic qualities.
This antique Victorian oval dining table made from top quality solid mahogany and dating from around 1860 is a very fine example.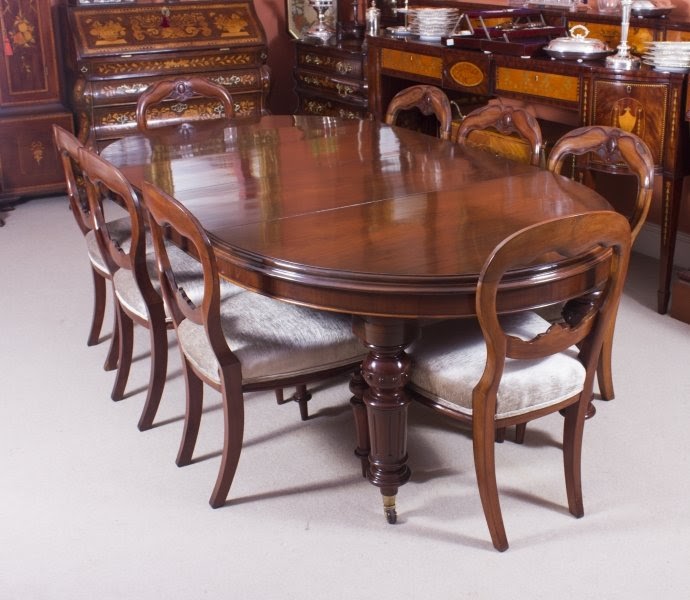 This antique Victorian dining table is both beautiful to look at and versatile for day-to-day use. This is because it is an extending dining table which can be increased in length to suit the requirements of the occasion.
The dining table is oval in shape and is supplied with its two original extension leaves. When the leaves are fitted, the table can comfortably seat eight people. Fitting the extension leaves is made easy by the presence of a special winding mechanism.
This lovely antique dining table is hand-crafted from top quality solid mahogany which has a beautiful grain and colour. The table stands on beautiful yet sturdy turned and fluted legs that terminate in brass and porcelain castors making it easy to move around when required (the chairs shown in the photographs are available if required). 
Not all Victorian dining tables were of the extending variety
Another popular form was the loo table. In the early 19th century, this table was used for the card game loo, but subsequently became widely utilised as a dining table. In fact, it is of the same height as a dining table and can, therefore, be used for that, and a multitude of other purposes.
The typical loo table has an oval or round top and a hinged mechanism fitted to a pedestal base, enabling the table to easily collapse and be stored when not in use.
One such example is this exquisite antique Victorian loo table in burr walnut and marquetry, dating from around 1860 and made from fine quality solid walnut as well as featuring an abundance of very attractive marquetry decoration.
The top is oval in shape with various contours and embellishments that make it interesting and attractive in its own right. However, when your eyes catch the superb floral marquetry decoration that is a lovely feature of this table, you will understand why this piece is so special.
The base has been skillfully hand-carved from solid walnut. It has beautiful cabriole legs which are still fitted with their original brass and porcelain castors for ease of movement.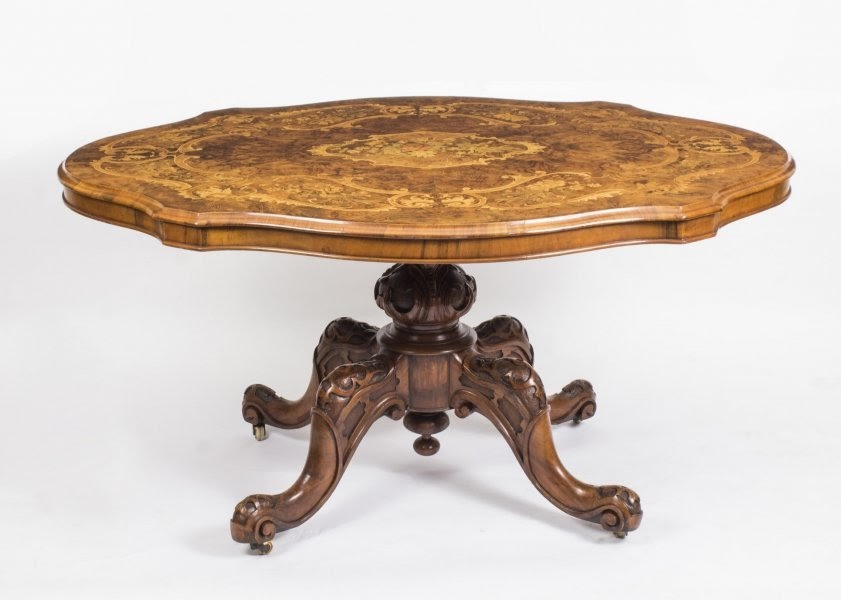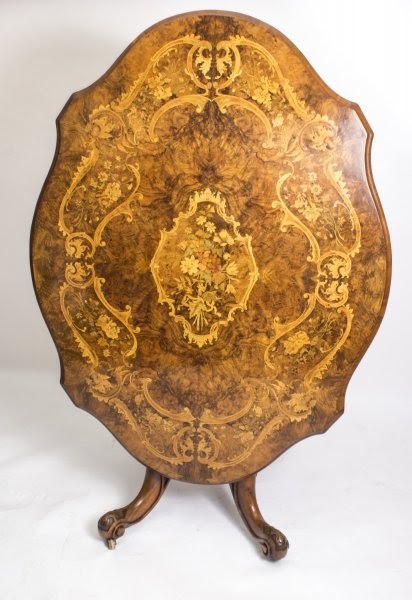 The centre table
The centre table originally came into fashion to furnish the space in the middle of a room whilst also being the centre of attention. Usually, they were highly ornamental. 
The Victorians produced grand centre tables with opulent carving. Walnut, mahogany and oak were the predominant timbers, but burr varieties of native woods, as well as imported exotics such as amboyna, thuya, and maple were highly sought after. The top of the tables was often embellished with floral marquetry decoration, specimen marbles, porcelain plaques, or painted decoration.
Available for sale at Regent Antiques is this fine exhibition quality antique marquetry centre table attributed to the London master cabinet makers Edwards & Roberts, dating from around 1880. It is quite simply stunning and must be seen to be believed.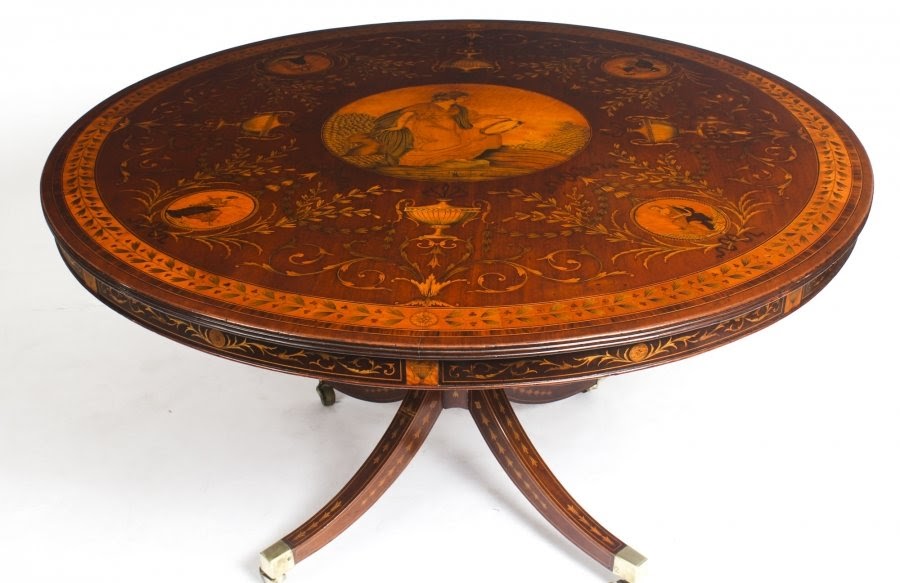 This circular antique marquetry centre table features the very highest quality satinwood crossbanding with fine marquetry circular panels depicting stunning classical figures representing the arts, surrounded by Adam style urns and floral decoration in satinwood. It stands on a circular fluted stem with four floral inlaid splayed legs that terminate in square cup casters. The top can be tilted through to 90 degrees when required by using the brass catch on the underside.
The firm Edwards & Roberts was one of the best English antique furniture cabinet makers of the second half of the eighteenth century. Founded in 1845, the company grew to occupy more than a dozen buildings in Wardour Street, London, where they continued to trade until the end of the 19th century. Edwards & Roberts became one of the leading London cabinet makers and retailers, producing high-quality furniture and working in a variety of styles, both modern and revivalist. The quality of timber used was always the best quality with fine burr walnuts, mahogany, and lighter-toned satinwood as they specialised in marquetry, inlay and ormolu, as exemplified by this Victorian mahogany round table.
This superb antique marquetry centre table – which has the added advantage of being foldable to save space – is extremely versatile and will make an elegant addition to any room in your home. Its breathtaking beauty will surely provide a genuine talking point.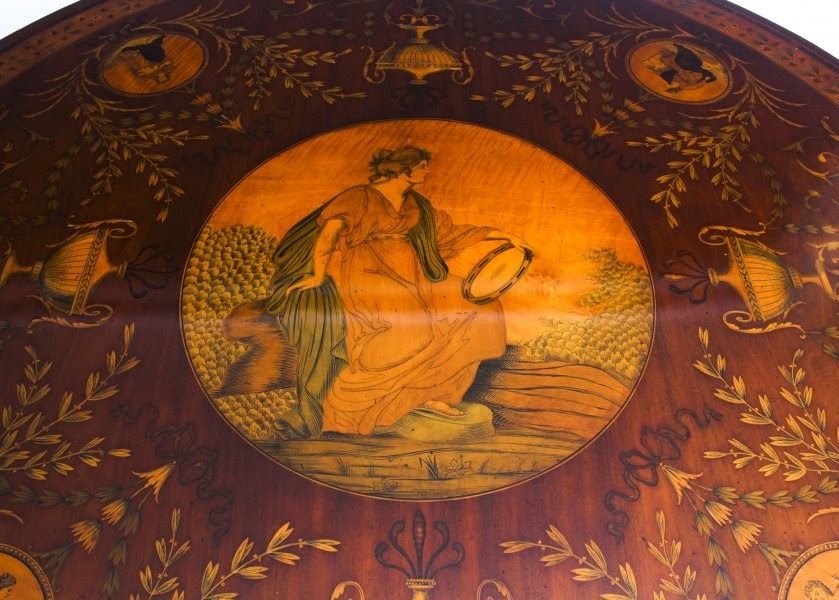 If you are looking for styles or periods other than the ones explored here, we have a wide range of antique dining tables.