Antique Bronze Sculptures at Regent Antiques

Antique bronze sculptures exude fascination and deep meaning. At Regent Antiques, we offer many of the finest examples.
They come in every size and shape and in different materials, including antique bronze and marble.
Antique Sculptures 
This splendid antique bronze sculpture, for example, will no doubt become the centrepiece of your collection. It is a truly magnificent antique Victorian bronze figure of the famous Greek God Apollo, circa 1860 in date. It features Apollo in classical pose after the celebrated marble sculpture of Apollo Belvedere.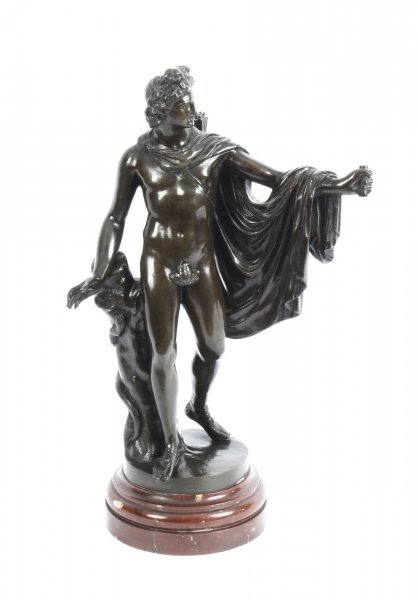 The nude figure is standing tall with his right arm resting on a tree with his left arm  outstretched. Slung over Apollo's shoulders is his quiver held in place by a strap. As in the original Apollo Belvedere, the God here appears in magnificent form and physique, and he is shown just moments after releasing his arrow. Apollo stands "contrapposto", with one leg remaining rigid while the other is relaxed. 
It stands on a beautiful rouge marble plinth and the base is engraved 'Musee Du Vatican'. This high-quality hot cast solid bronze was produced using the traditional "lost wax" process, otherwise known as the "cire perdue" method.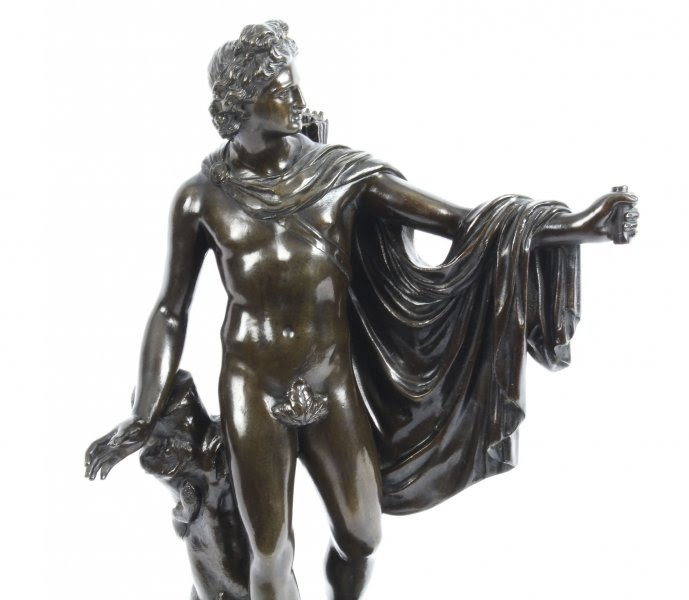 Another fine example is this superb antique patinated bronze equestrian statue of Bartolomeo Colleoni, circa 1860 in date. It is after the original Renaissance sculpture which was executed by Andrea del Verrocchio in 1480–88, in Italy. Exactly as in the original, it portrays the commander Bartolomeo Colleoni, who served for a long time under the Republic of Venice, wearing typical battle-ready military equipment while riding his horse.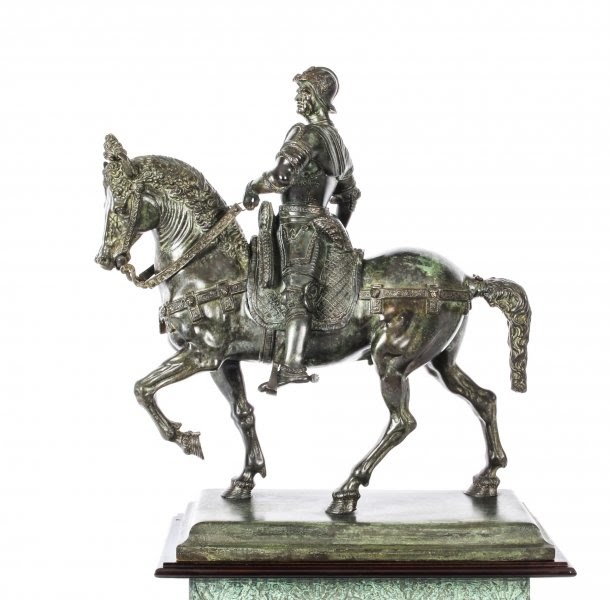 The artist has faithfully replicated the original pose of the horse who is moving with a raised leg and is supported by the other three legs, conveying a great sense of movement. The figure of Colleoni himself is extremely life-like to convey the idea of a strong military commander, emanating power and energy. 
It is raised on an equally magnificent rectangular bronze and hardwood base with the bronze part being inscribed in Latin ' Bartolomeo Coleono Bergomense Militare' and 'Loane Mavro Et Marino Venerio MCCCCLXXXXV'. Indeed, the craftsmanship is second to none throughout all aspects of this striking bronze.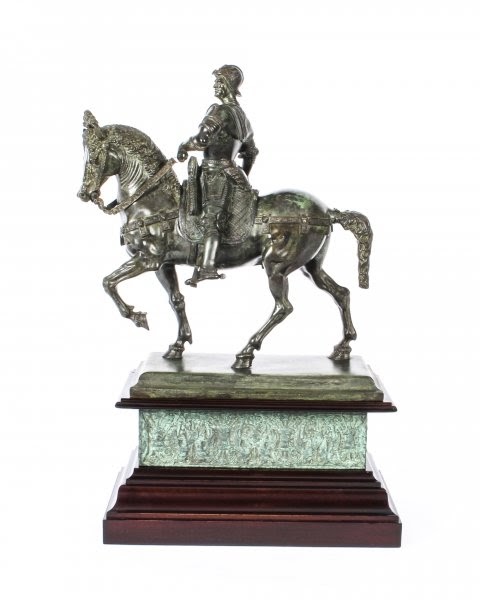 Antique Sculptures with a Female Subject
Turning to female subjects, we would like to bring your attention to this splendid antique French Art Nouveau snow-white and red alabaster sculpture of a graceful dancing lady in classical dress, circa 1890 in date.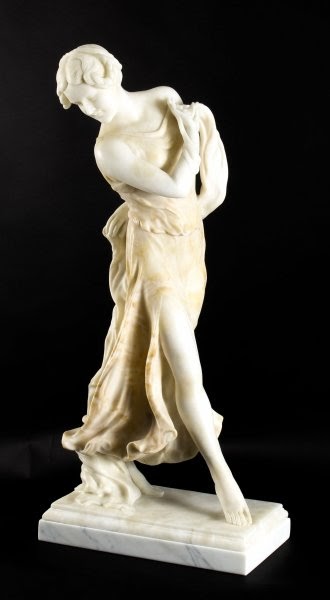 This finely carved sculpture depicts a beautiful young lady graciously dancing in bare feet in a long sleeveless classical robe. She is exquisitely depicted bending slightly backwards, with one leg standing forward in tiptoe. She is gently twisting around with her right arm placed on her left shoulder and the other arm behind her back.
She is candidly smiling and looking downward while making gentle movements with her hair carefully tied up. She gracefully dances in front of us and the sculptor has clearly made the sculpture come to life. It stands on a sturdy and robust rectangular alabaster base. 
Please take a few seconds to watch the video as it captures perfectly the grace and beauty of this antique marble sculpture. 
To conclude this short overview of antique sculptures, we would like to present a striking silvered cast bronze sculpture of a shepherdess, signed on the reverse by the world-renowned sculptor Claudius Marioton (1844-1919), circa 1870.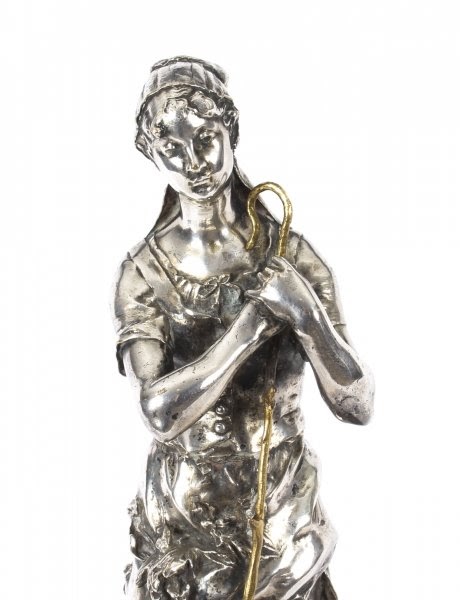 It features a very finely-sculpted figure of a beautiful young shepherdess who stands on a rocky outcrop holding a gilded shepherd's crook with a lamp by her side.
The sculpture sits on a cast leaf mounted rouge marble column on a square plinth base titled "PASTORALE" – which conveys the meaning of dealing with shepherds or rural life, typically drawing a contrast between the innocence and serenity of the simple life and the misery and corruption of city or court life.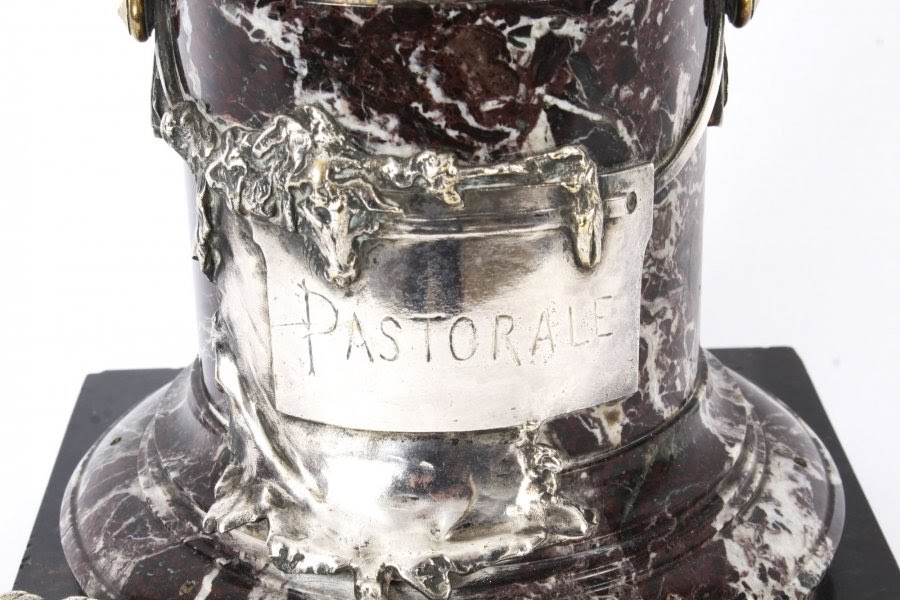 At Regent Antiques, we have many more superb antique sculptures – from the popular model of the celebrated figure of Mercury after Giambologna to the Medici and Borghese Vases, as well as splendid Grand Tour treasures. Please contact us to find the special historical item you are looking for.