The Glamour of Bespoke Marquetry Furniture at Regent Antiques

Regent Antiques regularly take on commissions for fabulous bespoke marquetry furniture bearing a variety of intricate decorations such as family crests or coats of arms.
In today's blog post, we would like to show you some fabulous examples of what we can offer. There are few constraints with bespoke marquetry furniture that is made to order from Regent Antiques as our third generation craftsmen in Italy can execute the uniquest of decorations. Indeed, if you can envisage it in your mind, then the chances are we will be able to make it a reality for you!  
Large bespoke marquetry dining tables with pewter, lapis lazuli and agate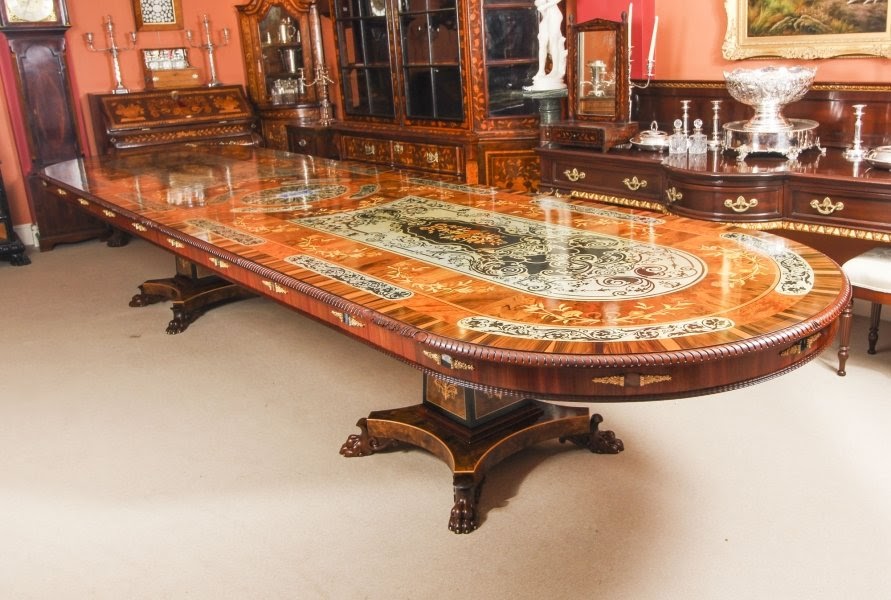 To start off, we offer exceptional marquetry dining tables such as this wonderful bespoke handmade Victorian style large dining table. Crafted in burr walnut, it features exceptional quality marquetry with pewter, lapis lazuli and agate. 
Seating sixteen people in royal comfort, it is an amazing piece of luxury furniture which will add splendour to any room. Also appropriate for a conference room or any commercial space such as a featured piece in a hotel dining room or lobby, it is sure to be a talking point.
Due to its beautifully figured grain, burr walnut has been used for centuries by fine furniture makers. This large dining table has been further embellished with superb inlaid floral marquetry with burr walnut inlaid in pewter as well as various coloured veneers such as cherry, pear, amboyna, burr walnut, magnolia, and tulipwood with inserts of lapis lazuli.
To highlight the natural grain of the wood and the excellent artistry of the marquetry, we have French polished this large dining table by hand.The skirt of the table is decorated with ormolu mounts inset with agate.
This wonderful large dining table is raised on two burr walnut ebonised and inlaid pedestals that are raised on hand-carved solid mahogany lion's paw feet.
Please take a few moments to watch our video which explains how this wonderful large dining table was made.
Bespoke inlaid burr walnut and marquetry plasma TV lift cabinet
Turning away from dining tables, we would like to present this elegant bespoke, made to order, ormolu-mounted, burr walnut and marquetry TV cabinet with motorized pop-up lift incorporated. This particular example was made to go at the end of a bed, so it is finished on both sides and the TV swivels 90 degrees each way.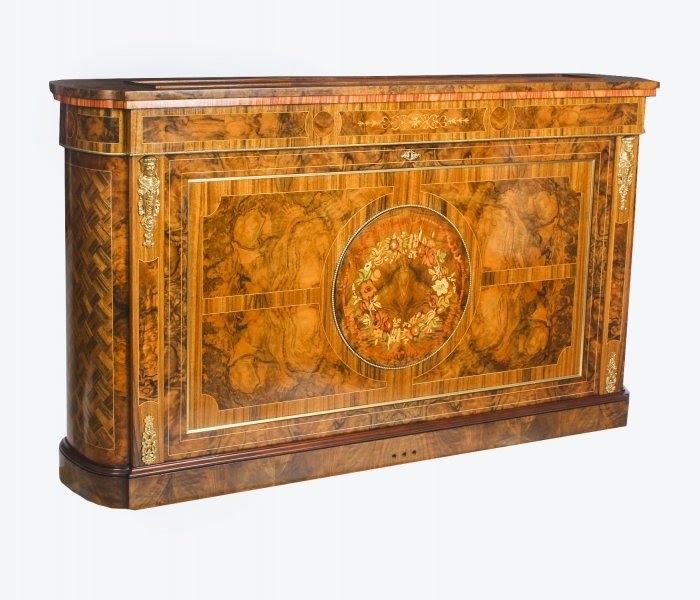 Adding to its truly unique character, it is crossbanded in kingwood, inlaid with floral marquetry, and French polished to highlight the beautiful grain of the burr walnut.
Made to order in any style and size you require, this example was made in consultation with the clients and their architectural designers for a West London home. We can make one just like this for you or make one to your own unique design and specification. This item will be made to order and the lead time is 6 to 8 weeks.
Bespoke Sheraton revival burr walnut and marquetry open bookcase
Our third featured item is this beautiful bespoke marquetry open bookcase in the Sheraton style, with adjustable shelves. As always it is made in our workshops in Italy by third-generation master craftsmen.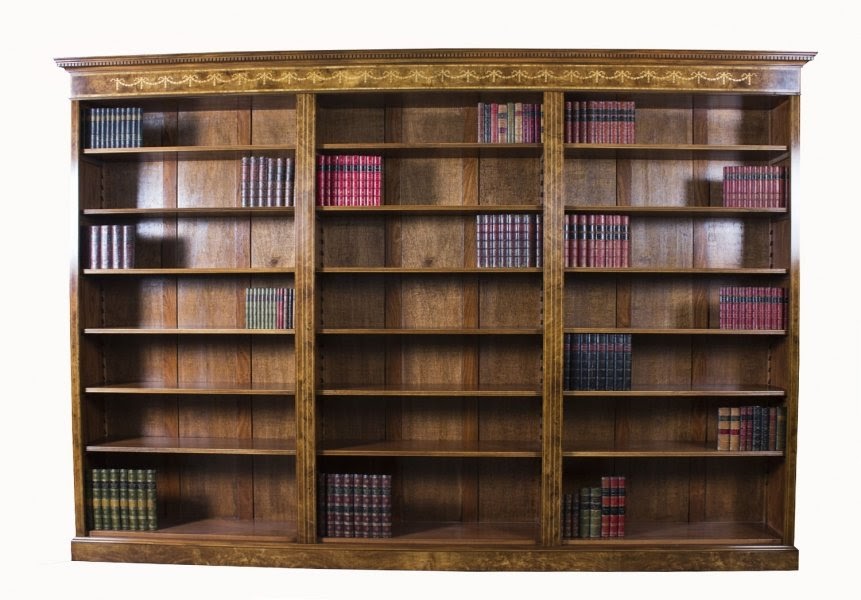 This elegant bookcase has three sections each with six adjustable shelves, is made from burr walnut, and has superb satinwood inlaid marquetry decoration. Satinwood has long been valued for furniture. It is a hard and durable wood with a satin-like sheen – much used in cabinetmaking – especially in marquetry. It comes from two tropical trees of the family Rutaceae. East Indian or Ceylon satinwood is the yellowish or dark-brown heartwood of Chloroxylon swietenia. 
This bookcase is exquisitely made in the Sheraton style. Thomas Sheraton (1751-1806) was an English cabinetmaker and one of the leading exponents of Neoclassicism. Sheraton gave his name to a style of furniture characterised by a feminine refinement of late Georgian styles and became the most powerful source of inspiration behind the furniture of the late 18th century.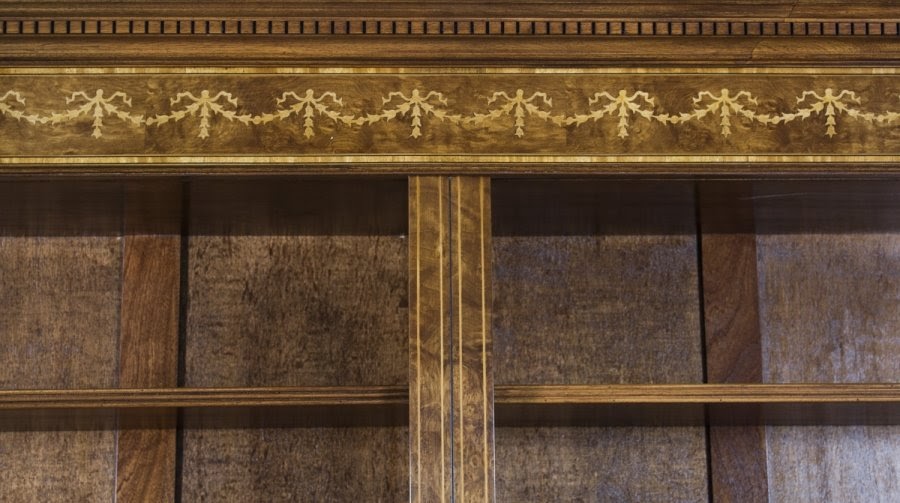 There is no mistaking the unique quality and design, which is certain to make this splendid bespoke marquetry open bookcase a talking (and indeed reading!) point in your home.