The Classic Charm of Antique English Silver

If you are looking for top quality antique English silver, you can always be sure to find something rare and wonderful at Regent Antiques.
As specialists in antique silver, we have a vast collection of items that include everything from antique silver kitchen and dining sets, such as silver jugs, sugar bowls, silver cruets and of course silver tea sets and coffee sets, through to more varied sterling silver items, such as cigarette holders, biscuit barrels, table lamps and many more.
We've had a nice selection of new arrivals including many decorative and functional antique English silver items, so today we would like to take an opportunity to show you some fine examples from our stock.
Beautiful and Rare Antique English Silver
We are always pleased to be able to offer to our customers antique English silver from the UK's finest silversmiths, such as Walker & Hall, William Hutton and Paul Storr.
One such example is this exceptional antique George III sterling silver salver by Paul Storr, dating from 1811.
This stunning piece is typical of his work featuring the raised gadrooned rim with anthemion on shells and at intervals, on four fabulous foliate bracket feet.
The centre is engraved with a crest featuring a stag with antlers holding a key in its mouth, above a motto 'True and Fast'.
This superb sterling silver salver is a wonderful example of the elegant design that characterises the exceptional artistry of Paul Storr.
Another striking item is this gorgeous antique Victorian sterling silver punch bowl bearing the maker's mark of the renowned silversmiths Walker & Hall and hallmarks for Sheffield, 1893.
It has beautiful and incredibly detailed embossed half fluted decoration and is raised on a pedestal foot.
This exquisite punch bowl is also ideal as a champagne cooler. It is truly a special item which is sure to make a stylish statement wherever it is placed.
Next, we would like to present to you this truly amazing antique twelve place setting silver plated cutlery set, dating from circa 1930.
This beautiful set consists of 169 pieces in the highly desirable Grecian pattern by A E Poston & Co Ltd. It is beautifully housed in an English made walnut canteen case that is raised on cabriole legs, complete with the original key and features a fitted lift up top with two drawers below, all with custom fittings in green felt.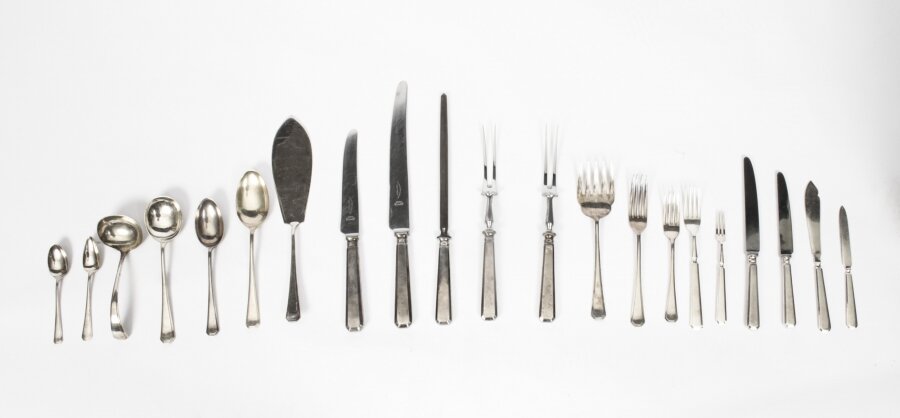 This is a complete set and the cutlery features the Grecian double bevelled edges pattern.
Here is a rare opportunity to own such a magnificent set, since it is highly unusual to find such a nice patterned set without even a single piece missing!
Last but not least, we are delighted to show you this fabulous antique Victorian silver plated cruet set, dating from circa 1885.
The set comprises a highly decorative silver plated cruet stand with cut glass containers for salt, pepper and mustard.
The antique silver plated cruet features motoring interest with a central handle, gadrooned edging, a pierced frieze and three wheels.
The craftsmanship is second to none and this exceptional piece is sure to add an elegant touch to your dining table.
Buying antique English silver allows you to build a collection of truly amazing objects which not only look beautiful but have real intrinsic value.
Silverware also makes a lovely gift, and with the holidays just around the corner, you might want to check our range of antique sterling silver and silver plated items to find some great gift ideas.
You are also encouraged to visit our north London showroom if possible where we always have a good selection of antique English silver, and other silverware on display.
Our inventory changes regularly so be sure to sign up for our free new arrivals notifications service which ensures that we will send to you weekly notifications of any fresh items that appear in your categories of interest.